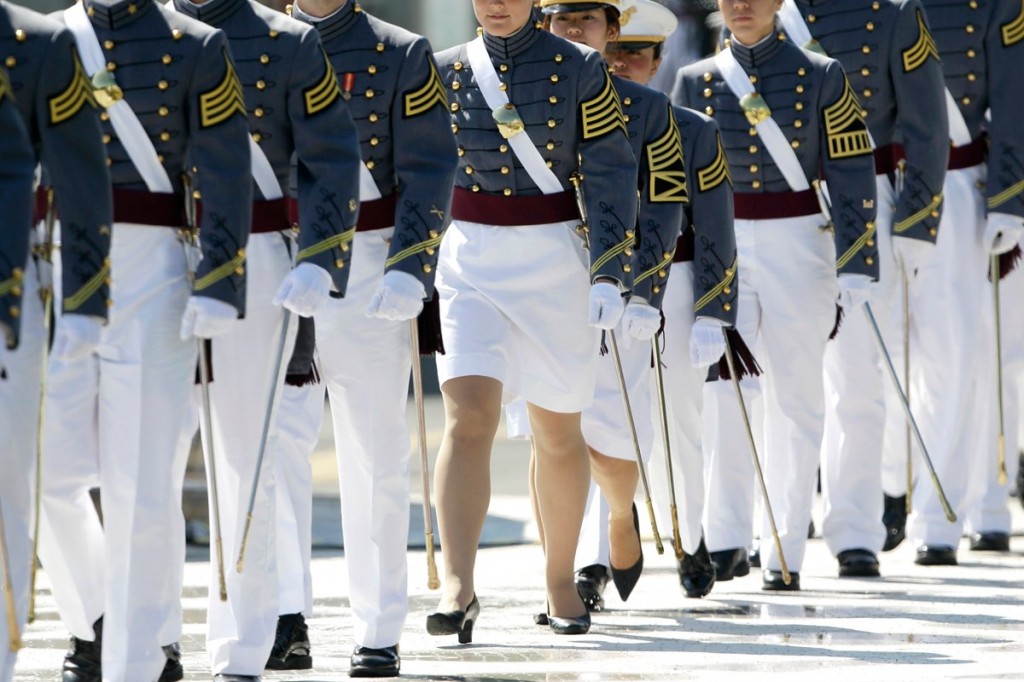 From the Tailhook scandal in 1991 to the arrest of Lt. Col. Jeff Krusinski—the chief of the Air Force's Sexual Assault Prevention and Response Office—the The New York Times among others have been busy tracking the history of sexual assault in the U.S. military.
A Centers for Disease Control (CDC) survey now estimates that in the United States about 1 in 5 women are the victims of rape or attempted rape at some point in their lives, but such national statistics mask what happens within particular institutions. In the U.S. military, 1 in 3 servicewomen are sexually assaulted, and in 2011, 22,800 violent sex crimes were reported. What this means is that military women in combat are more likely to be raped by a fellow soldier than killed by enemy fire. Adding insult to injury, the soldiers who commit rape have an estimated 86.5% chance of keeping their crime a secret. They have an even better chance— 92% —of avoiding a court-martial (military judicial punishment).
Sociologists argue that in order to make sense of the prevalence and persistence of such assaults, we need to face the fact that the problem is not a problem of a "few bad apples," but is rather institutional, entrenched and systemic. The assaults need to be examined as manifestations of rape culture, which scolars refer to "a complex of beliefs that encourages male sexual aggression and supports violence against women" (Buchwald, et. al).
Why is Sexual Assault so Prevalent in the Military?
The Invisible War
As we saw in the award-winning documentary film,The Invisible War, a senior officer dismissed reports of sexual assault at the Tailhook Convention by expressing a not uncommon belief that, "That's what you get when you go down the hall with a bunch of drunk aviators." The officer in this instance can be understood as drawing from a repertoire of myths that collectively characterize a rape culture — namely that such assaults are inevitable and perhaps natural.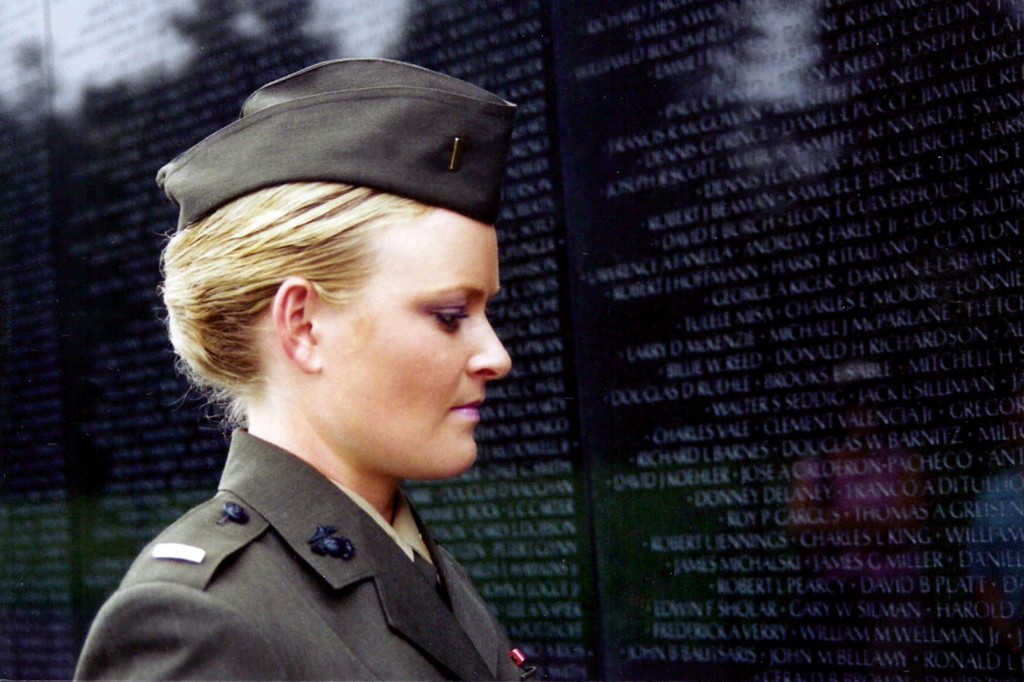 Similarly, when the officer leading the Tailhook investigation remarks that "some of these women were kind of bringing it on themselves," he is effectively blaming the victims for their assaults. The fact that these remarks were spoken by men with formal and legitimate power is added evidence that the sentiments run deep within the military, but it is also significant that these remarks are somewhat compatible, and taken together, formulate a relatively coherent logic.
Sadly, the movie illustrates a pernicious thread of thinking that comprises the military rape-cultural repetoire: First, servicewomen who do not learn their places in male-dominated spaces will inevitably be raped. Second, their rape will be no one's fault but their own. On this score, Germaine Greer's famous observation has a certain resonance: "Women have very little idea how much men hate them" [Greer is considered one of the major voices of second-wave feminism].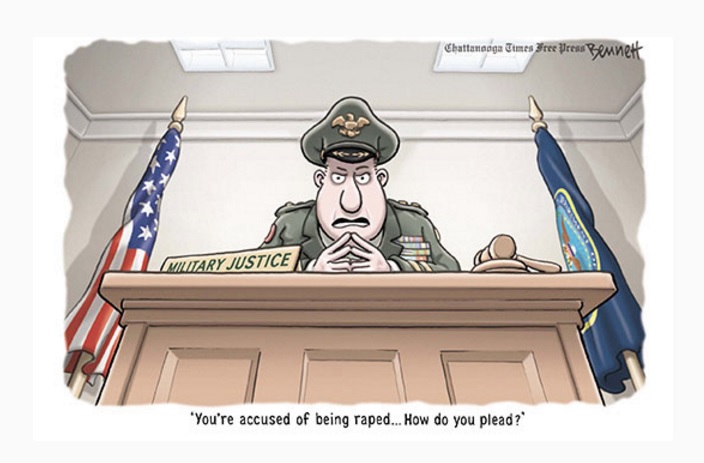 Bitch, Whore, Feminist, Terrorist
The following video is a spoken word performance given by Cassandra Faith, an Iraq veteran, in Brooklyn, New York. The transcript for the video follows here for the clip below:
September 2002, upon completing basic training, my Company Commander shared the following with the women of Bavo Company 795. "In this world you will always be a 'bitch' or a 'whore' — decide now which you prefer they call you."  We'd just learned to maintain and fire M-16s effectively, but we've not yet been indoctrinated properly. And her words were preparing us for front-lines of a different kind.
Like February 2003, when I had not yet mastered tactical maneuvers after dinner and drinks, was ill-prepared for the blockading of "no" from my mouth. It wasn't forcefully. More like an apprehensive surrender. My exposed skin, white flag, soft target — I became easy prey to a Staff Sergeant who promised he'd square me away. This would later include $315, a drive to and from an abortion clinic, and a plea not to tell his wife about what we'd done.
June 2009, for refusing a [Depo-Provera Birth Control] shot strongly suggested to deploying female soldiers, a fellow squad member accused me of wanting to get pregnant. As if I had in mind an EPT Test "blue "+" sign to be my ticket home and early trip back from Iraq. As if my choice of birth control with anybody's business but my own he stated, "Well if bitches can't be counted on to keep their legs closed overseas, they damn sure can't be trusted to take a pill every day." I would later hold convoy security alongside him, drive, gun, or at the same checkpoints he did, search women and children he couldn't, ensuring our safety. Once home, his wife thanked me for helping him to get back in one piece.
Today, planted along Capitol steps, a daisy chain of trip wires —  Bills against women lie and await, rape redefined, the attempt to overturn of Roe v Wade, restrictions on birth control —  politicians spew, "It is unpatriotic to use this phrase 'War on Women.'" The phrase was somehow disrespectful to the millions of Americans who actually served in a real war. But each time they speak, they awake the 144 women who've died while serving in Iraq and Afghanistan, spinning them over in graves and unearthing their sacrifice. Listen closely. You will hear a platoon of ghostly voices question, "What else should we call this, then, because war is a state of hostility, a struggle between opposing forces for a particular end, and this here is women against Right Wing so-called 'Christian' men. It's a [Rush] Limbaugh or a [Donald] Trump verses 'sluts' or 'prostitutes"'who are to to lay down, take it, roll over, beg like the good bitches they trained us to be —  unable to make decisions concerning our own bodies, yet able to die unacknowledged for this country."
It has always started with the name, bitch, whore, feminist, terrorist… And I fought enough wars to know labels, that strip us of our humanity, make mass murder easy.
U.S. Air Force Academy Rape Scandal
An investigative report on sexual violence and other misconduct at the United States Air Force Academy (AFA) offers a wildly disturbing look at campus rape culture at the prestigious military school. Disturbing, but here once again the story is sadly familiar. In the latest incident, cadets on the school's athletic teams were alleged to have sexually assaulted female classmates. To make matters worse, their crimes were largely ignored by coaches and administrators. When cadets were held accountable, the school took no further action to discipline the coaches and other officers who failed to act. The report exposes, as Alan Pyke of ThinkProgress put it, "the intersection of hero culture and rape culture."
Here are just a few of the findings from Colorado Springs Gazette reporter Tom Roeder's work on the story:
"'The girls' drink (Captain Morgan with the blue lid) was only for girls to drink (at one party at the school),' [Office of Special Investigations] confidential informant cadet Eric Thomas told investigators in a written statement obtained by The Gazette. The blue-capped bottle, he explained, was laced with 'roofies,' a street term for flunitrazepam, a powerful sedative known as a date-rape drug."
"After academy leaders were told about the allegations of rape and drug use, OSI agents planned their own party, one with informants in the crowd and special agents nearby to bust bad actors. But leaders determined that the risk that women would be raped was so high that the idea of a January 2012 sting was quashed, academy officials said."
"In the 2012-2013 academic year, cadets reported 45 sexual assaults, representing nearly two thirds of the 70 reported assaults at all three service academies."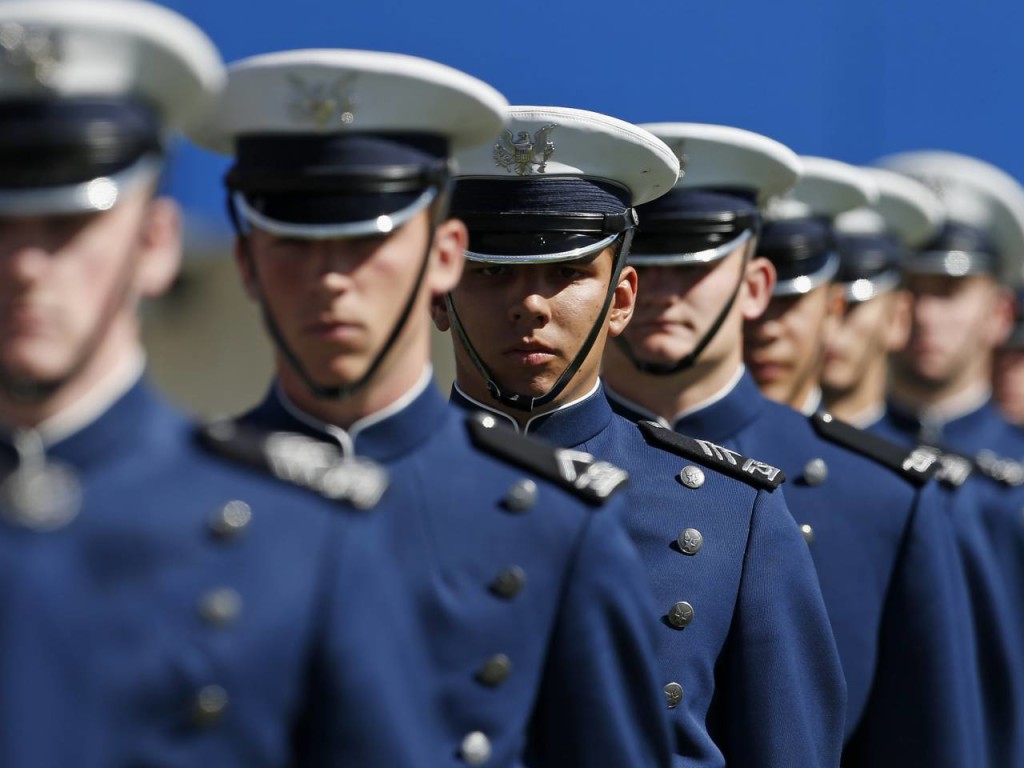 These things are, of course, outrageous and unacceptable. They are also depressingly common, both at military and non-military schools. Roeder's in-depth examination shows just how bad things are at AFA and with Title IX. Title IX — in all its weak imperfection — doesn't protect cadets at AFA or any other service academy. So despite being taxpayer-funded institutions, they are all exempted from the federal anti-sex discrimination law. That means victims of sexual assault at these schools are more or less on their own, more so than students at other universities who are already quite on their own.
Sexual assault at these schools "is something that's being tracked, but doesn't get a lot of attention because the academies fall in this middle ground between an academic environment and a military environment," Service Women's Action Network (SWAN) policy director Greg Jacob told Salon. "But there is no reason the academies shouldn't be included in Title IX. It would bridge the gap between what Congress is trying to do with colleges and what they tried to do with the active duty military."
And as Roeder's report makes clear, AFA officials mostly framed the sexual violence problem on their campus as a matter of a few bad apples who don't meet the school's "strict conduct rules" rather than a systemic lack of accountability that started at the very top.
There has been some movement toward reform — AFA Superintendent Lt. Gen. Michelle Johnson ordered a review of the athletic department, a few cadets were punished following the OSI investigation, and other cadets started a sexual assault awareness group — but, as Roeder points out, "While pains were taken to punish the cadets for the conduct, there's little evidence that academy leaders asked wider questions about whether the misconduct of so many athletes exposed deeper problems within the sports programs."
This is the problem with "bad apple" thinking, Jacob said. "How many times do you have to try to point out the bad apples before you realize the whole bushel basket needs to be thrown out? How many bad apples do you have to eat before you cut down the poison tree?"
Failures of accountability at the service academies can have serious consequences throughout the military, since most generals and admirals come from these elite schools. "When you look at the number of four-star generals in the military — the military academies are unique not only because of the nature of the education, but also the influence their graduates have on these institutions," Jacob noted. "All of the top leaders come from the academies."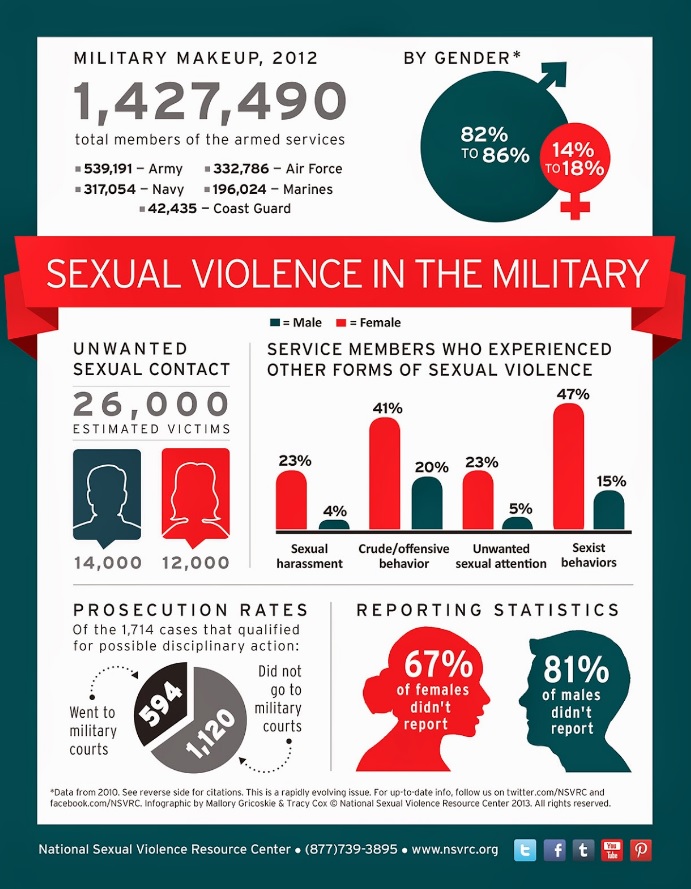 Solutions
The solution is not just self-correction from AFA and other military schools, but for Congress to act to bring them under the umbrella of Title IX. "This is why we have Title IX," Jacob explained. "We have an atmosphere right now where a student has to be worried about being sexually harassed or assaulted. How are they supposed to learn when they have to look over their shoulder walking to and from class?"
Thankfully, there's real momentum right now to give the federal anti-sex discrimination law some teeth, but if service academies continue to be exempted, survivors at these schools won't be able to share in those gains. "The service academies are the hothouse, where you're either going to sprout leaders or predators," Jacob said. "It's a unique challenge, but it's really one that Congress hasn't taken up. They should."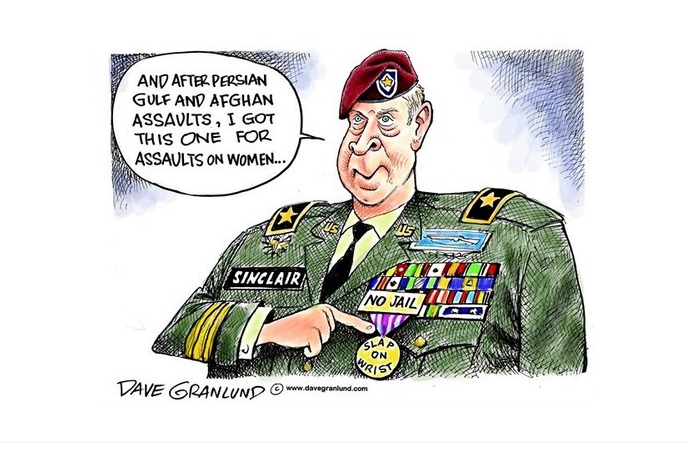 Sources
The Sociological Cinema. Downloaded from http://www.thesociologicalcinema.com/videos/the-us-military-and-its-rape-culture Last accessed March 2016.
"Rape culture at the Air Force Academy: The shocking truth no one wants to confront," by Katie McDonough. Downloaded from http://www.salon.com/2014/08/05/rape_culture_at_the_air_force_academy_the_shocking_truth
_no_one_wants_to_confront/ Last accessed March 2016.
Discussion Questions
Were you aware of the magnitude of the problem of rape in the U.S. military?
In light of the statistics presented, both in the film and by the CDC, what do you think about the current state of affairs?
What do you think should be done to men who committ these crimes against service women and other men?
What do you think can be done to more effectively solve the problem?
After watching the film and becoming more aware of the crime statistics, are you more or less likely to recommend military service to women as a career option?