Young working class men prepare for their enlistment physical.
The old saying "rich man's war, poor man's blood" might be applied to nearly every conflict in the history of warfare. It also speaks to a recognition of how social inequality is bound up with military service. Sociologists might ask questions here about how this history continues to repeat itself. How is it that outcome of almost every war testifies to the way working class people became easy marks for wealthy con men, who recruited them to fight and die in wars to secure their moneyed interests? What's in it for the working class, if not money, power, and wealth? How do working class people to some extent opresss themselves by being the chief advocates for nationalistic and patriotic values, and thereby socially reproducing themselves as a class always subject for recruitment and exploitation?
There is a long standing tension that lies at the heart of sociology; namely, it is one that aims to interrogate the relation between "Agency" and "Social Structure." In this illustration, we might question:  Are working people merely victims of overwhelming structural economic forces? Are they cultural dupes? Or are they empowered agents making individual choices, given a range of other options, to serve in the military and fight the wars? The answer here lies in understanding it may be all of these things.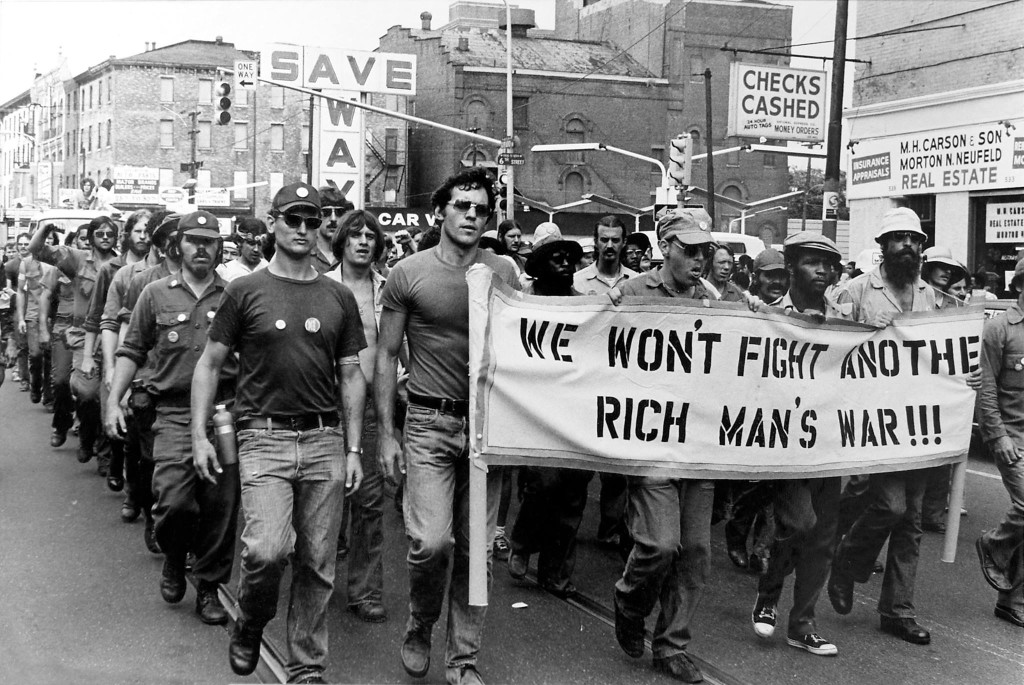 War Gives Us Meaning  
"War is a Force that Gives Us Meaning," is a book written by Chris Hedges. Hedges is a former combat journalist who writes about his wartime experiences as he reflects on the power of war to create existential meaning for people. Such meaning, he argues, is difficult to attain when people are struggling with life in dead-end towns with low wage jobs and little hope of social mobility. Under such circumstances, narratives of rugged individualism, American exceptionalism, and the American dream are difficult to sustain. But war can change all that. The "myth of heroism," says Hedges, is a compelling social force that can entice young people to head off to war. According to him, "War is a Drug:"
"for those who swallow the nationalist myth, life is transformed….collective glorification permits people to abandon their usual preoccupation with the petty concerns of daily life…..they get to see themselves as players in a momentous historical drama….this vision is accepted at the expense of self-annihilation."
This is one rationale we might consider to explain why poor, young, working class men and women willingly and even eagerly commit themselves to the cause of war. Perhaps it explains why, even when they retain some awareness of the fact that the cost benefit equation rarely works out in their favor, they are nonetheless willing to risk life and limb.
The decision to go to war then, while it clearly driven in large part by economics, is also motivated by affective dynamics that cannot be measured or justified with rational economic actor modes. As Hedges infers, the meaning-making process is a lot more complicated. This is why we must aim to understand how there may be more powerful motivating factors not limited to economics, which motivate military service among working class men. Sebastian Junger, also a combat journalist, also takes up the issues of meaning-making in his book "War," which accounts for his experiences in the Korengal valley, Afghanistan, where he and fellow journalist Tim Hetherington spent time embedded with a small unit of young male American soldiers. Junger in the following passage makes a point of distinguishing war from combat:
"combat is the smaller game that young men fall in love with, and any solution to the human problem of war will have to take into account the psyches of these young men. For some reason there is a profound and mysterious gratification to the reciprocal agreement to protect another person with your life, and combat is virtually the only situation in which that happens regularly."
Military service (combat in particular) offers a young person the "whole package," which is to say, the perfect combination of public service, glory, heroism, social honor, street cred, and coolness, all wrapped in the flag. Service provides people with what they percieve to be an an opportunity to act honorably, rather than only attend to their own selfish interests, much ike a firefighter or police officer. Gender, furthermore, is also part of the equation, as these kinds of jobs are traditionally respected as appropriate masculine career alternatives for working class men who lack the means/desire to aspire to become a banker, doctor, or lawyer – instead of getting rich they get to protect their loved ones from the "bad guys."
This narrative, once again, can be particularly compelling for young people who perceive they lack access to appropriate good-paying jobs, Some might volunteer service to escape their past as "fuckups" – joining the military gives them a way to redeem themselves at the same time as it potentially opens up doors to college. The latter issue is a point of contention in the United States, where it's increasingly impossible for a lot of young people to go to college without incurring a life of debt peonage.
Junger goes on to say:
"these hillsides are where the men feel not most alive – that you can get skydiving – but the most utilized. The most necessary. The most clear and certain and purposeful. If young men could get that feeling at home, no one would ever want to go to war again, but they can't." 
Interviews with veterans establish that for many of them, military service gives them an opportunity to "get back in the game." It helps them feel useful and purposeful through employment that supplies them with a certain level of dignity, which proved hard to come by in low wage jobs.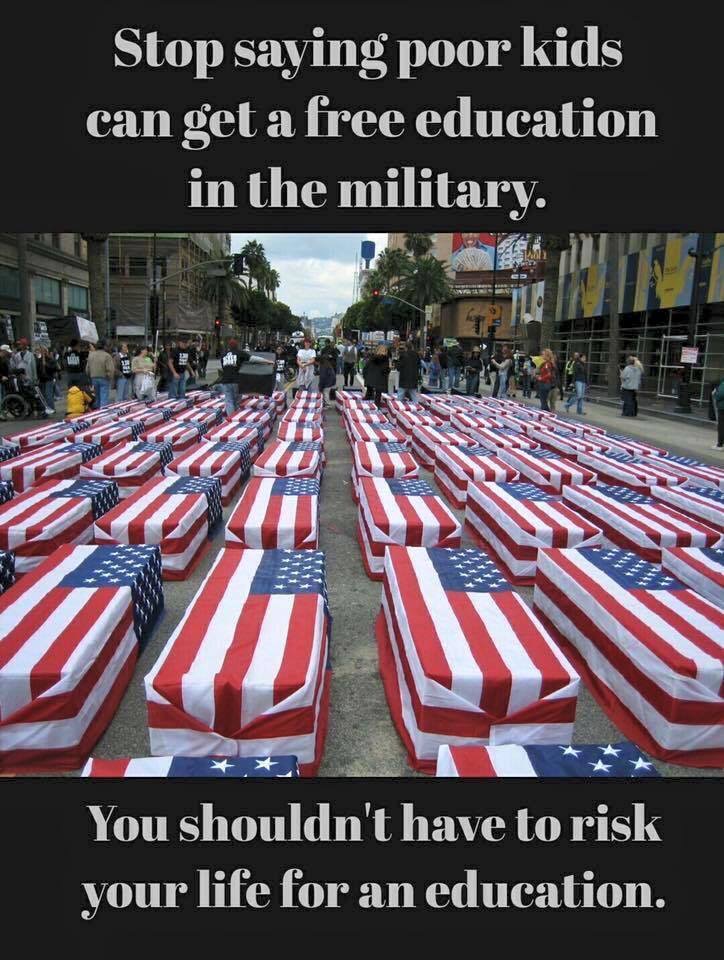 No Way Out
Matt Damon's character in the film Good Will Hunting speaks to the struggles of the working class in the following video clip, where he illustrates how a lack of jobs in a difficult economy creates problems for poor and working class men and women, many of whom feel they have no choice but to turn to military service as their only means of escape.

Discussion Questions:
How does your social identity as an American, or for that matter an American man or woman, potentially influence what you think about war?
Do you think war is "natural" –  an unavoidable necessary evil? Or do you think that most wars are engaged as a matter of choice?
Do you think wars are conducted for reasons having to do with values (i.e. freedom), or do you think those values are used by powerful people to get others to fight their wars, so they can accomplish their own objectives, which may be independent of the stated values or, for that matter, any specified national interest?
Do you think it is the special destiny of the United States [American Exceptionalism] to bring freedom and democracy to other parts of the world?
Have you ever felt like you are personally "missing out" because you did not opt for military service or because you have not fought in a war? How might your gender influence the way you feel about this. Does not serving make you feel like less of a man or woman? 
How might your social class position influence the way you think about U.S. martial power — do you think your material position has any bearing on what you think about war?
Does your class position influence your ideas about whether or not you or your children might opt for military service?
Can you see how money and material gain is not the only service motivator? There may be other benefits in connection with social esteem and status honor, which may prove more compelling, because they permit economically weak individuals make relevant claims to social power.
Do you think the government should provide non-military funded service options for young people, particularly those who want to attain a college education, as a means to facilitate social mobility and career success. In other words, should we financially reward young people for serving their communities, rather than only providing them with benefits when they are willing to risk their life and/or kill people?
Is military service perhaps a disguised form of socialism—a government jobs program —that employs the unemployable when markets fail to provide?
Have your beliefs about any of these issues changed over time? If so, how?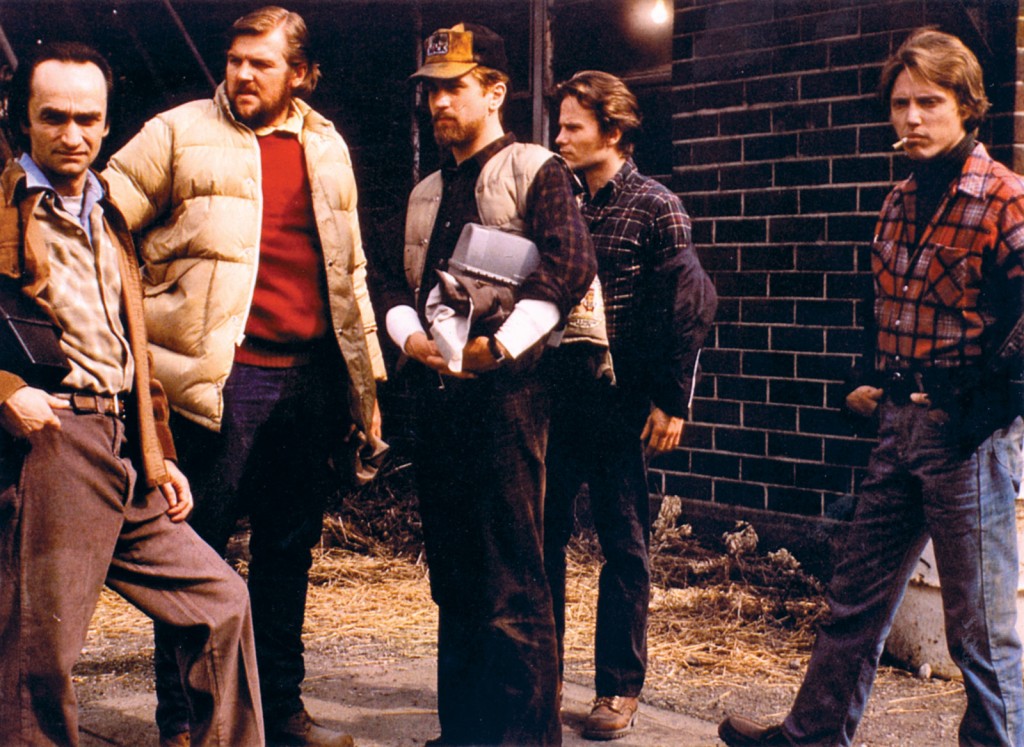 Robert De Niro and Christopher Walken in Michael Cimino's film "The Deer Hunter."