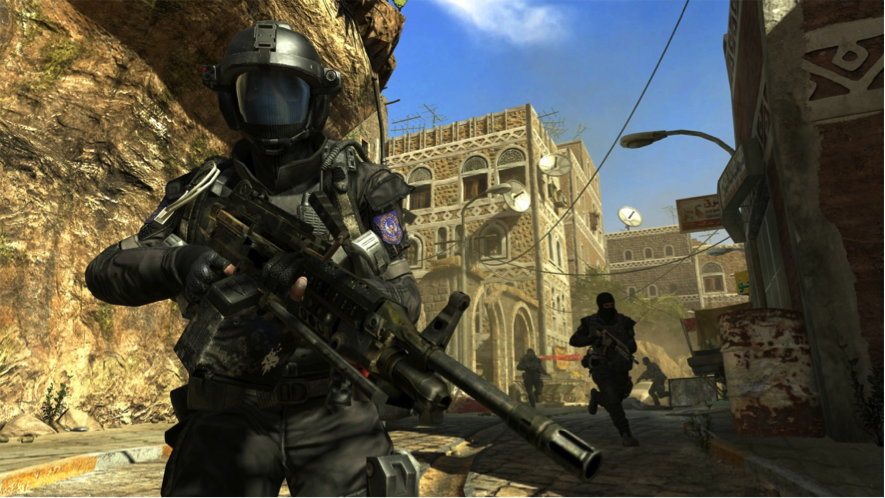 War is Fun
The notion of war as entertainment – and the idea that there might be a functioning military entertainment complex – is not the stuff of fantasy. On the contrary, there is a long and well-established history of collaboration between the military, entertainment, and even the education industries.
Research findings have established that public concerns about the potential links between violent video game playing and incidents of mass violence (i.e. school shootings) are not supported. Similar concerns were registered in the 1980s about violent Hollywood movies and the research produced similar results. But that is not to say that we should not be concerned about developments in the gaming industry and how they might impact the social development of young people.
In his book "War Play: Video Games and the Future of Armed Conflict,", CUNY professor, Corey Mead, documents the history of the military and the gaming industry. Mead writes about how they evolved together rather than separately – a fact that appears to not be well known. Even more interesting, he traces a path that reveals the history of the military's engagement with education innovation and computer based learning.
But Not for Girls
If recent trends are an indicator, the normalizing of violence (especially gender violence) in video games is culturally problematic, even if the effects as such cannot be quantified and measured. Military themed video games in particular are noted for their enforcement of gender norms in role play as well as scripting. Women who violate gender norms are almost always punished and/or sanctioned; both in the game and in society. Thus we see here how art imitates life.
Self-identified "gamers" on Twitter have been actively debating these issues, with some arguing that there's no room to debate social issues and issues of political correctness in the arena of game play, which is designed solely for entertainment purposes. Others argue, alternatively, that it's impossible to draw a rigid line between "game playing" and real life. This especially holds true in a medium that aims with every new release to constantly challenge that boundary.
Discussion Questions
What do you think of the way war is portrayed in games, movies, music, and television?
Do you think violent video games are responsible for school shootings and other incidents of mass violence?
Do you think that violent video games have a corrosive social impact – that they might incite acts of violence among young people – or do you think such fears are overblown? What does the research say about this?
What happened when Amy Schumer's character decided to play a military themed video game?
What is she saying about gender roles and violence with respect to both gamer culture and military culture?
How/why do video games appear to normalize misogyny and gender violence? Is this a reflection of the people who design/create the games? Or is it merely a reflection of sub-cultures they are trying to simulate (i.e. military)?
Why is misogyny being used as a marketing tool to sell video games to young males? What does this say about the significance of violence to the socialization of young males in our culture?