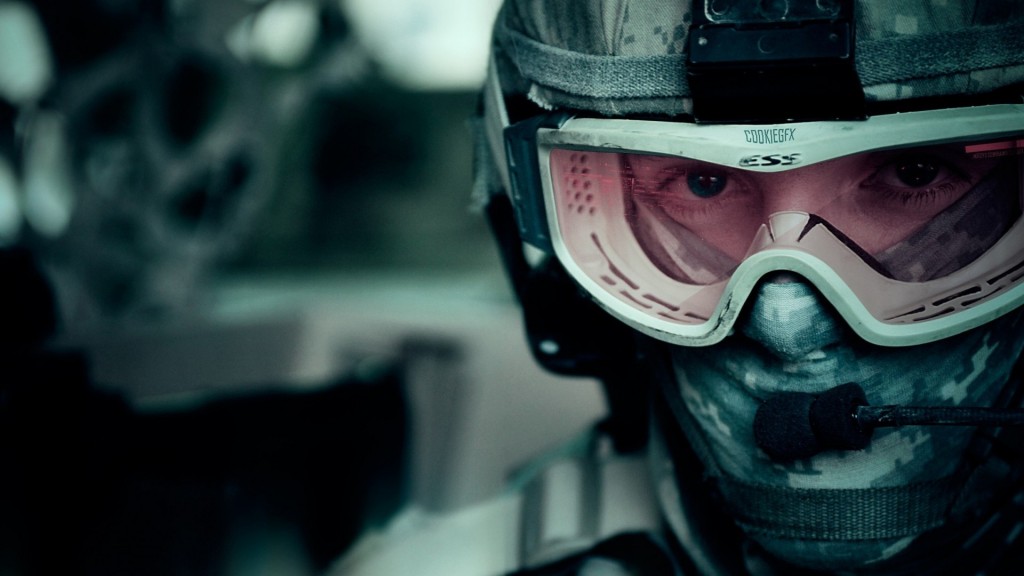 Policing Evolution or Revolution? The New Military Urbanism
Authors Stephen Graham and Radley Balko both argue in their respective books, "Rise of the Warrior Cop:The Militarization of America's Police Forces" (Balko) and "Cities Under Siege:The New Military Urbanism," (Graham) that a shift is underway, where military doctrine, battlefield tactics, and methods of population control are increasingly being integrated into urban police forces. These developments, according to Graham, "dramatically blur the juridical and operational separation between policing, intelligence, and the military; distinctions between war and peace; and those between local, national, and global operations." The end result of this process is what he calls the "new military urbanism."
Aggressive police practice, while not new, is getting increased attention due to the proliferation of social media and organizations dedicated to calling attention to high profile incidents of police crime and violence.
Normalizing Police Militarization and Violence
As we have discussed in class, the military equipment associated with SWAT operations and the military mentality that the use of such equipment apparently breeds is not confined to those special operations units. Increasingly, they're permeating all forms of policing.
Karl Bickel, a senior policy analyst with the Justice Department's Community Policing Services office, observes that police across America are being trained in ways that emphasize force and aggression. The dominant model in police training today is a stress-based regimen that aspires to mimic military boot camp. This model has replaced the more relaxed academic setting that a minority of police departments still employ. The result, in his view, is that young officers become acculturated to an idea of policing that privileges "kicking ass" rather than working with the community to make neighborhoods safe. Likewise, we increasingly see police departments adopting different versions of the military battle-dress uniforms (BDUs) for patrol officers. These militaristic, typically black or olive-drab jumpsuits, according to Bickel, make them less approachable and possibly also more aggressive in their interactions with the citizens they're supposed to protect.
Oddly enough, the authoritarian approach stands in opposition to the dominant philosophy that distinguished twenty-first-century American police thinking: community policing. This model of policing emphasized "keeping the peace" by creating and maintaining partnerships of trust in the communities served. The community policing model, which also happens to be the official policing philosophy of the U.S. government, sees officers as protectors that are also problem solvers; they're supposed to care who lives in their community and about how their community see them. According to this model, officers don't command respect, so much as they earn it. Rather than aiming to instill fear, officers are supposed to work to foster trust.
Police Recruiting
Police recruiting videos (like those from California's Newport Beach Police Department and New Mexico's Hobbs Police Department) don't play up the community policing angle, but rather emphasize military adventurism and aim to attract young men with the promise of Army-style high-tech toys. Policing, as depicted in videos like the one shown here, isn't about calmly solving problems; it's about the boys "getting their war on" by breaking down doors in the middle of the night.
A small research project at Johns Hopkins University appears to back up Bickel's claims. People were shown pictures of police officers in their traditional uniforms and in BDUs. Respondents in the survey indicated they would much rather have a police officer show up in traditional dress blues. Perhaps like this?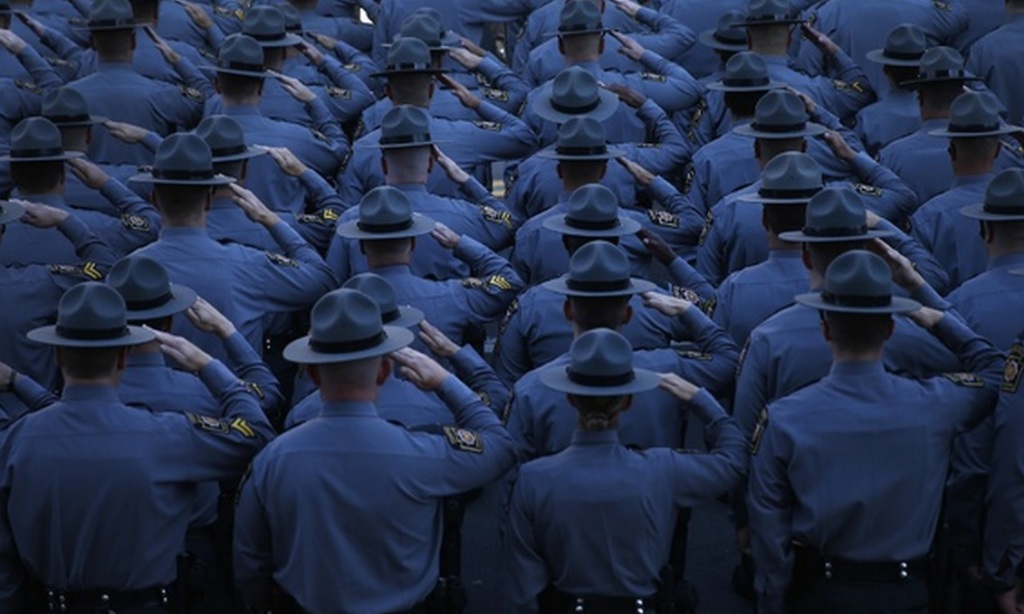 Summarizing the survey findings, Bickel writes, "The more militaristic look of the BDUs, much like what is seen in news stories of our military in war zones, gives rise to the notion of our police being an occupying force in some inner city neighborhoods, instead of trusted community protectors."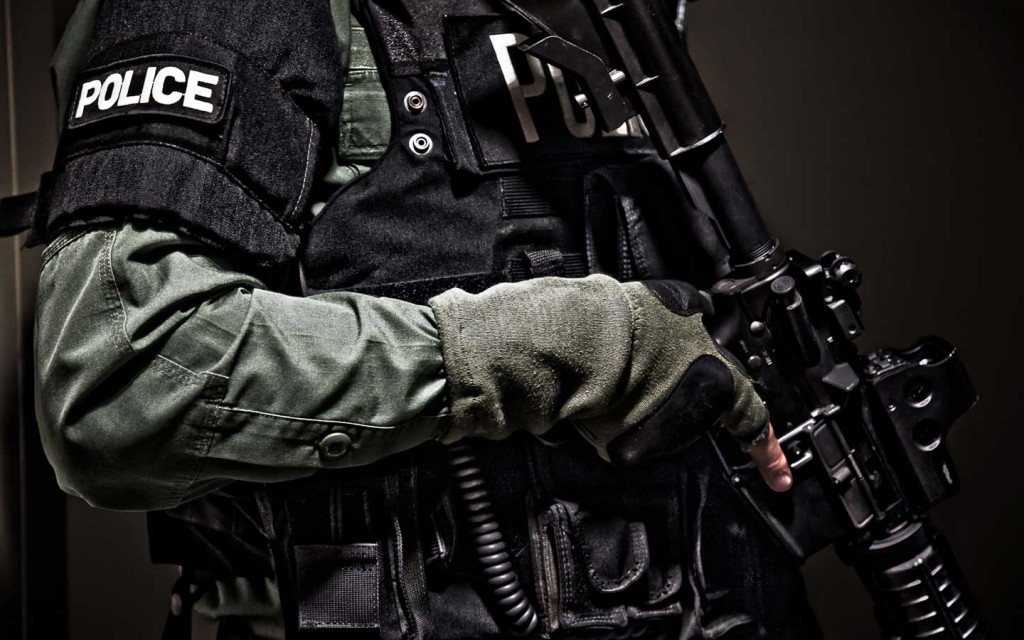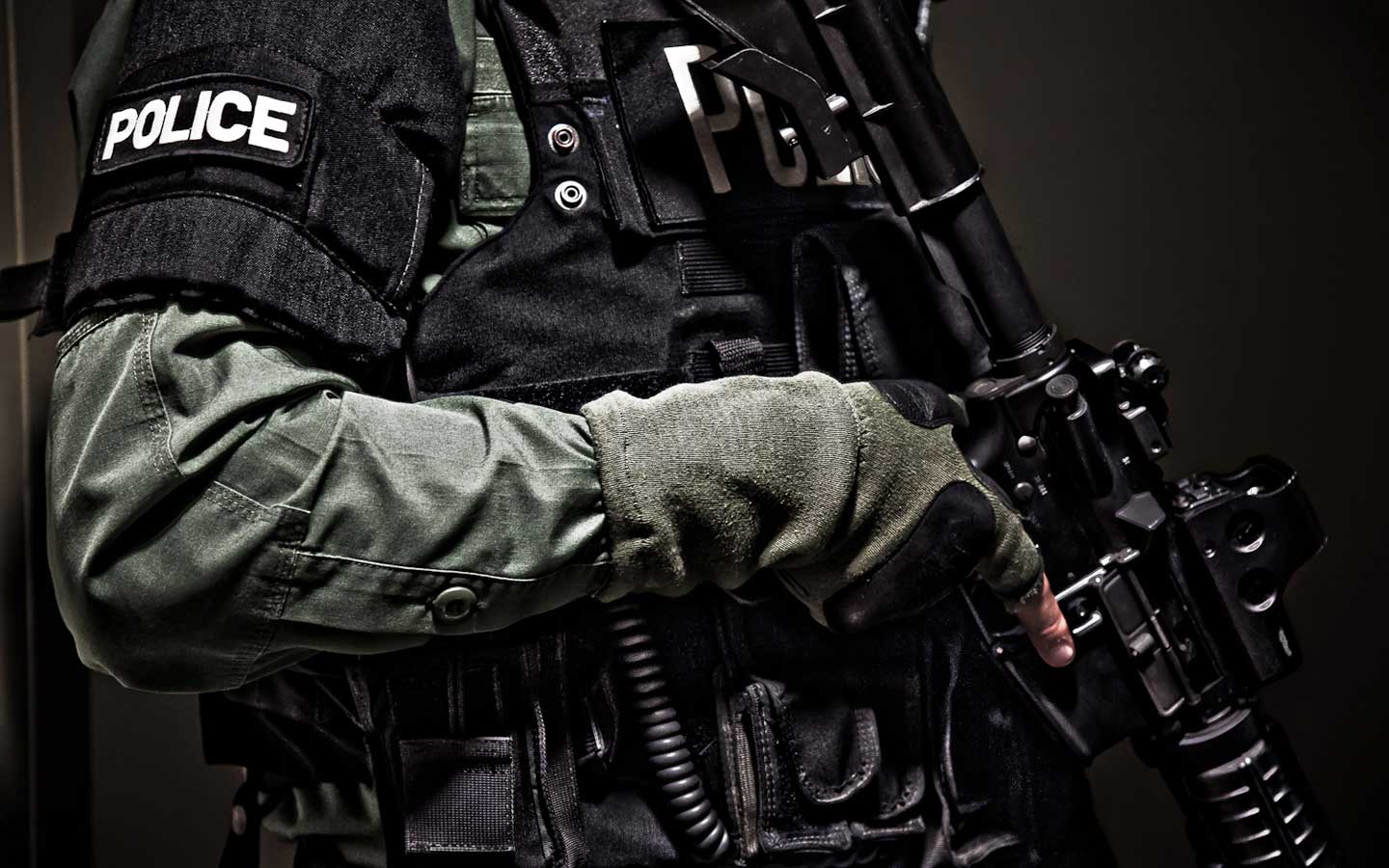 Militarizing Childhood: Get Em' While They're Young
Research on the interaction between police departments and children is presently lacking. Judging from the photos below, however, the indoctination process appears to be starting early.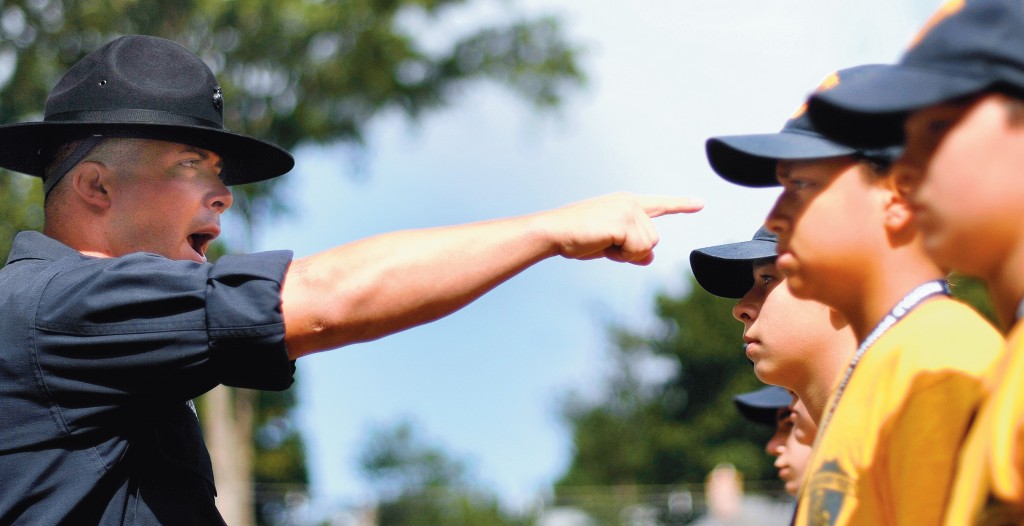 Drill Instructor, Asbury Park NJ Youth Police Academy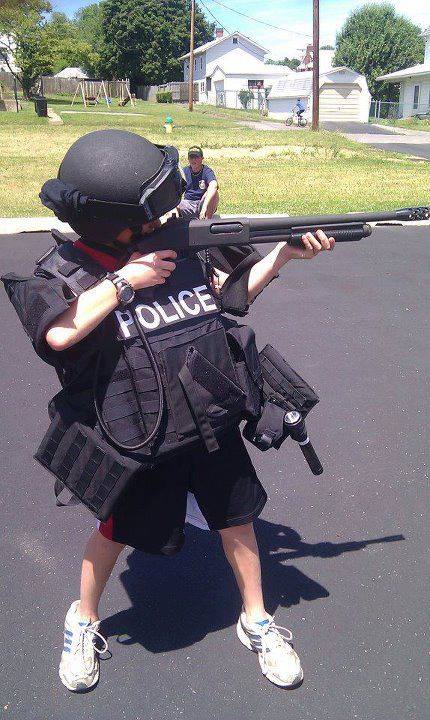 Summer camp for kids run by the Cumberland, MD police department.
Police Militarization Doesn't Affect Me
Photo/video evidence alone, unfortunately, is not enough to make change happen. It's no longer enough to simply express shock. Absent action, either at the policy level or as a result of individual citizens organizing for change, we are left with media imagery that merely functions as a form of spectacle. They arouse our emotions momentarily; inspire outrage, shock, and anger–they may even entertain us–but then we move along to read the next story, watch another YouTube video, and return to our daily routines. As we know by now, for many of us (perhaps college students in particular) the reality depicted in the video clips will never touch our own lives (or so we think); the violence that appears to occur so regularly will never hurt anyone we love. Too many of us have the luxury of getting on with life, conveniently forgetting that minority lives, particularly black lives, have been devalued and targeted for elimination in this country for centuries.
In light of all of this, if none of the images of police violence disturb you; if you don't think socializing children into the culture of firearms and violence is potentially problematic; and/or you simply don't think police militarization is a problem, then it is unlikely that additional evidence or research will convince you otherwise. Perhaps at some point in the future, if you are subject to an accidental no-knock raid on your home that kills your dog or maims your child, you might arrive at a different understanding. But until then, you're good.
Alternatively, if caring about the physical, emotional, and inhumane trauma inflicted upon your fellow citizens is not a priority, then let's look at how it hits you in your wallet. Consider the following statistics as a taxpaying citizen:
San Diego paid $5.9 million to compensate for sexual assault against multiple women by one officer.
A city southwest of Tucson AZ spent $3.4 million to pay for one deadly SWAT raid.
Boston settled a single case of police brutality for $1.4 million that left a man with permanent brain injury.
Scottsdale AZ paid $4.25 million for the fatal shooting of an unarmed man.
Baltimore paid $5.7 million in private settlements plus an additional $5.8 million in legal fees for police brutality.
Minneapolis paid close to $21 million since 2003
Oakland CA paid $74 million from 1990 to present
Los Angeles paid $54 million in 2011 alone; recently they paid $1.5 million on a single case of a California Highway Patrol officer beating a homeless woman senseless at a traffic stop.
Chicago paid $521 million over the past decade; $84.6 million in 2013 (includes court and legal fees).
And the King of them all ……
The New York City Police Department spent nearly 1 billion dollars on settlements in connection with police brutality; 964 million froom 2000 – 2010; $765 million in 2012. The New York figure is expected to reach $815 million by 2016.
Keep in mind, most of these city-wide figures do not always take into account the legal costs of cases thatare processed through the "justice" system, where violent police officers are excused and victims are left with nothing. It doesn't count the money individuals who are not compensated must spend to take care of medical expenses (like the parents of the baby hit by the flash-bang grenade, who were recently told by their local municipality that there was no evidence of wrongdoing and that no damages would be awarded).
Discussion Questions:
What do you think about recent concerns expressed by people with regard to the militarization of police? Do you think this is a problem?
Do you think police forces should interact with the public in a decidedly different way than soldiers? And by this I mean as peace officers, not as members of a hostile occupying army.
What if lawsuits and settlements were taken directly out of police budgets (instead of taxpayer funds)? Do you think that would have an impact decreasing police brutality? What if individual police officers were required to obtain the equivalent of malpractice insurance?[this is a standard practice for attorneys, medical doctors, and other professionals]
When you reflect on your own encounters with police, do you think of them as civil servants who "serve and protect," or do you see them as agents of repression and/or "revenue generators" that are potentially hostile?
Why are people surprised that in a culture that glorifies gun ownership and violence, individual people may be disposed to engage in violent behavior? [using the language of sociology, we might say there appears to be a relationship between macro-level violent social structures and micro-level violent inter-personal social encounters].
Why does aggression and violence appear to be normalized within police culture and not a simple matter of a few bad apples as many are prone to argue? Do you think specific aspects of police training might contribute to the problem?
When you look at the video, do you think you are simply seeing a sensational record of a few a-typical incidents of behavior? Do you think these types of violent incidents are increasing, or are we finding that social media combined with aggressive reporting merely reflects activity that has always been there, but can now be seen easily and often because of new technology?
Some of the content for this post appears in an article written by Matthew Harwood, entitled "To Terrify and Occupy: How the Excessive Militarization of the Police Is Turning Cops Into Counterinsurgents." You can find the full content of the article posted here: http://www.truth-out.org/news/item/25584-to-terrify-and-occupy-how-the-excessive-militarization-of-the-police-is-turning-cops-into-counterinsurgents