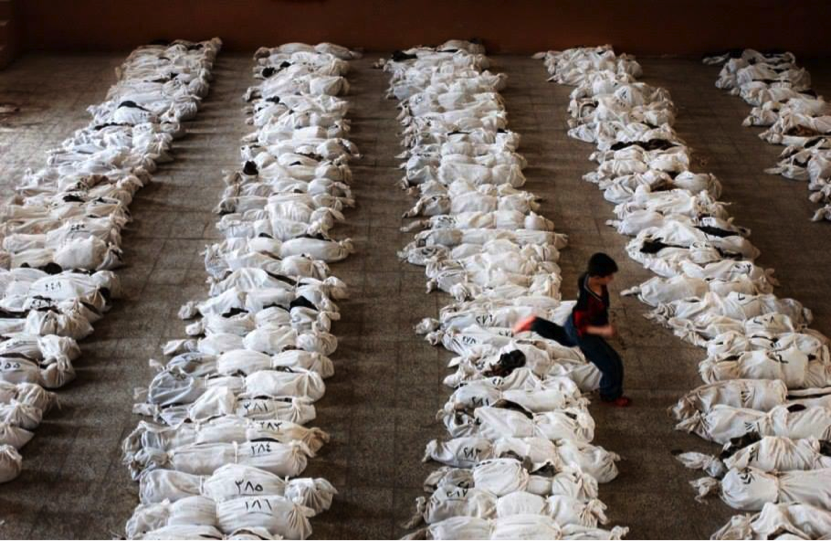 The body as a figure is often conscripted to foster public approval and ongoing support for war. One of the more visible images circulating is a photo depicting hundreds of unidentified bodies wrapped in white shrouds. Here, the specter of the body was put on full display; the fragile mortal human body. In this instance the juxtaposition is particularly striking: stark white figures contrasted against an unremarkable background; nameless lifeless bodies foregrounded by the youthful vigor and innocence of a lone skipping child, whose playful stride negotiates the chasm between life and death. Bodies effectively disembodied—dead flesh uninhabited—the body reduced to a container —no longer a subject. Such bodies can no longer speak their trauma. But even in death they might communicate without benefit of a voice. Simple bodies laid out in neat tidy rows are suggestive of one of the many fictions that conflict narratives propagate: the idea that war's human terrain is manageable and that order might be achieved from chaos—all while life dances in the balance.
The story of this photograph proved to be a great deal more complex than was originally assumed, as the bodies depicted in it were not from Syria, but from Iraq.The original photo, taken in March of 2003, documented a recovery operation from a mass grave outside of Baghdad. The deception in this case, deliberate or otherwise, was overlooked not only by the U.S., but by other news organizations and governments, many of whom were using the photo to support calls for attacks on Syria [photo credit: Marco di Lauro. The photographer's online portfolio can be accessed on his personal website at http://www.marcodilauro.com/blog/bbc-mistakenly-runs-dated-iraq-photo-to-illustrate-the-syrian-massacre/].
How do different images of bodies make us feel about war? What are your feelings about seeing images of soldiers' bodies, civilian bodies, and children's bodies displayed in the media? Do you think your are seeing the complete picture when you look at media portrayals of war casualties? Are some bodies more noticeable than others? Do you think it is appropriate for the media to censor graphic images of war and if so, why?