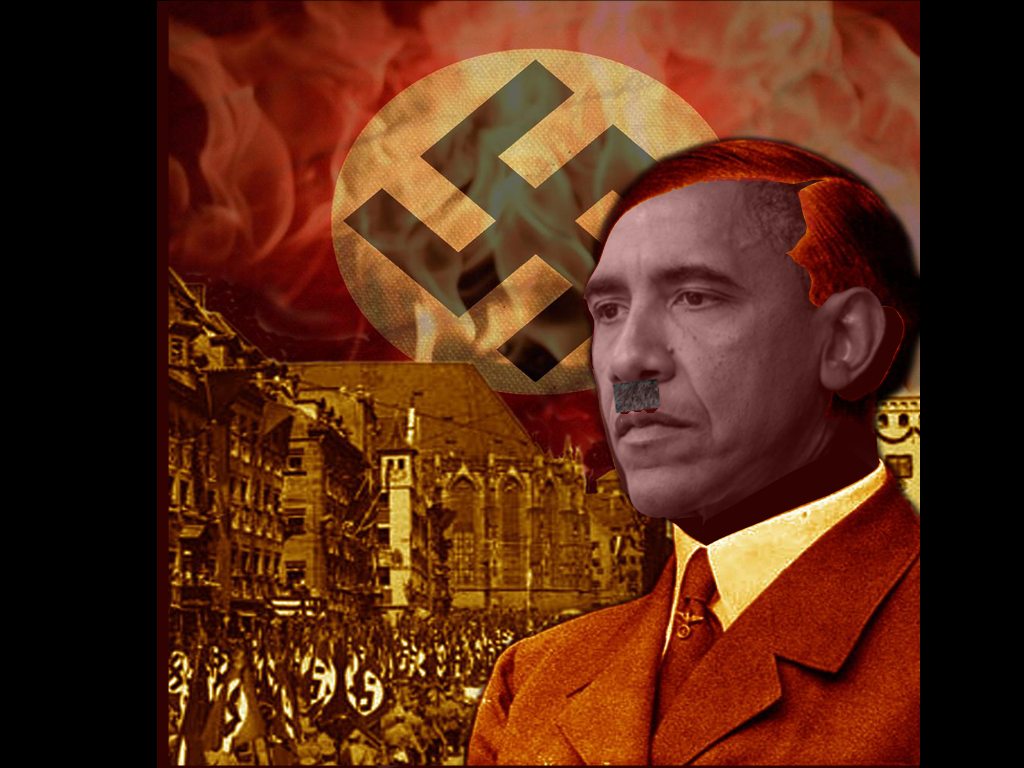 Most People Don't Know What Capitalism Is – Ditto for Fascism, Communism, and Socialism
Mark Twain once wrote, "If you don't read the newspaper, you're uninformed. If you read the newspaper, you're misinformed." Contemporary media outlets, both online as well as print media have, are increasingly privileging entertainment values over information values. This makes it difficult for the average person with limited time and resources to stay informed on important news and other developments that impact their lives and well-being economically, politically, as well as socially. If you view yourself as "politically conscious"' or "informed"' and yet you only engage important issues using labels (like the ones shown above) presented to you by corporate-owned media and political operatives – sources that represent a very limited spectrum of views and ideas – you are probably not politically conscious at all. Doubtless, you are also not informed.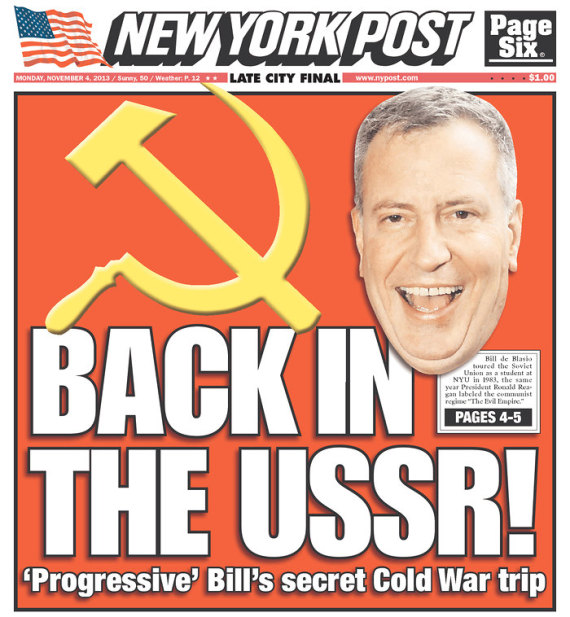 Labeling Theory of Government & Social Systems
In order for you to be truly engaged and satisfy your needs for information, you have to first develop a habit of mind, where you don't accept everything you read at face-value; you must also cultivate broad sources of information. Otherwise, despite your best intentions to be informed, you will only ever be getting restricted information; perhaps even worse, your thoughts and ideas are likely to come across as superficial and ill conceived.
Political labels like "Marxist" "Fascist," "Communist," and "Socialist" are perfect examples of this. The labels, of course, are derived from what we might call the BIG 4 – isms: Marxism, Communism, Fascism, Socialism. Labeling appears to be a favorite political pastime, as people are prone to toss these words around like hand grenades in public debates, where scarcely a thought given to their substantive meaning.
People make arguments about these system and typically juxtapose them with some notion of what they believe to be a "free market." Simply put. This is a delusion. As a political matter, governments impose all kinds of rules and regulations on "the market," beginning with the protections of property (in law and in police).
In other words, "the market" is fundamentally a political and social construct – not something that exists in nature.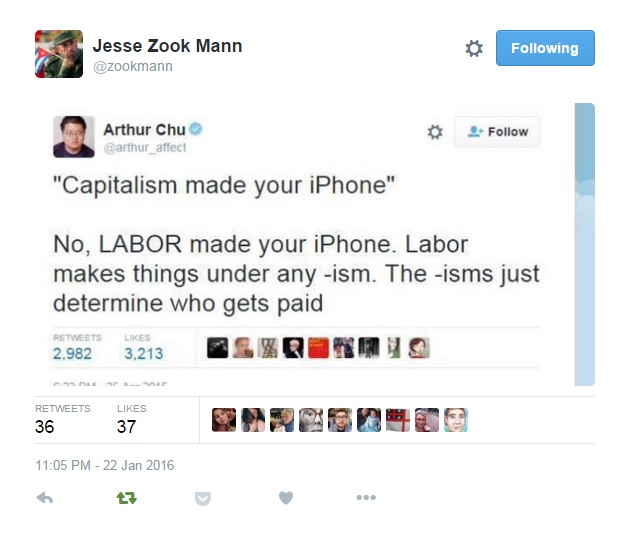 Another election is barely past and so it is easy to recall the labels and insults. Senator Bernie Sanders was savaged by candidates like Trump among others for the seeming crime of being a Socialist. Other pundits debate whether or not Donald Trump is a
Pundits, likewise, debated (and continue to debate) whether or not Donald Trump is a Fascist.
Substantive debate about actual social policies tended to be overrun by the gamesmanship and name-calling. Voters seemed to be more reponsive to emotion-based appeals, not logic and reason.
What's the Difference Between Socialism, Democratic Socialism, and Communism?
Political Scientist Jeffrey Isaac explains:
"in the most general terms, 'socialism' is the idea that the productive wealth of a society—factories, offices, large-scale service firms, etc.– should not be owned, controlled, and deployed for the benefit of a small class of people, but should be owned, controlled, and deployed for the benefit of the society as a whole. The basic rationale for such "socialization" of productive wealth is simple: the knowledge, techniques, and relations of production that produce wealth are all social. In the story of Robinson Crusoe an individual works more or less from scratch (with his "man Friday!") on "virgin" nature. But in reality all wealth is social. Particular individuals may innovate. They may even deserve special rewards for their innovations. But most members of "the one per cent" are not innovators of this kind. Further, even those that are innovators did not grow up in the wild and innovate through their own efforts alone. They matured in a society with an educational system and a knowledge base and an infrastructure and a division of labor, and their innovations involved a complex network of others.
The idea of socialism is the idea that because all innovation and all production is "social" in this way, the production process ought to be organized in a way that ensures some democratic social control and some broad social welfare. Socialism is a very old idea, and it can be traced back to Plato, the early Christians, Sir Thomas More, and many important modern writers who wrote before Karl Marx was even born. Marx and Engels were socialists who claimed that their socialism was "scientific." Marxism is a complex subject. Suffice it so say that the founder of Soviet Communism—Lenin—was a Marxist, but so too were founders of German social democracy and advocates of a parliamentary road to socialism, such as Eduard Bernstein and Karl Kautsky. More importantly, while most Marxists have been socialists, and some even democratic socialists, most socialists are not Marxists at all. Some examples include Albert Einstein, George Orwell, Bertrand Russell, W.E.B. Dubois, and perhaps even Martin Luther King, Jr.
Democratic socialism is a variant of socialism that emphasizes the importance of democracy in two ways: a socialist society ought to be run on a democratic basis and not as a dictatorship—as Lenin and his Soviet and Chinese followers believed—and it ought to be achieved by working through the institutions of a liberal, representative democracy, mobilizing citizens and voters, winning elections, and legislating social reform.
In the 20th century U.S. a number of important figures were democratic socialists, most notably Eugene V. Debs, Norman Thomas, and Michael Harrington, whose book Socialism is the best book on the topic. Harrington was the founder of Democratic Socialists of America, a group that is strongly backing Bernie Sanders. This group does NOT believe in state control of all economic assets. It believes in the use of a democratic state to institute egalitarian social reforms and a more "progressive" system of taxation, and to steer social investments in more public ways (think public transportation as opposed to publicly-subsidized, privately owned sports mega-statiums). Sanders has had some ties to this group—which has always seen itself as "the left wing of the Democratic party—and the things he supports are the kinds of things this group has long supported, and also the kinds of things that European social democrats—in Germany, the UK, France, and Scandinavia—have long supported.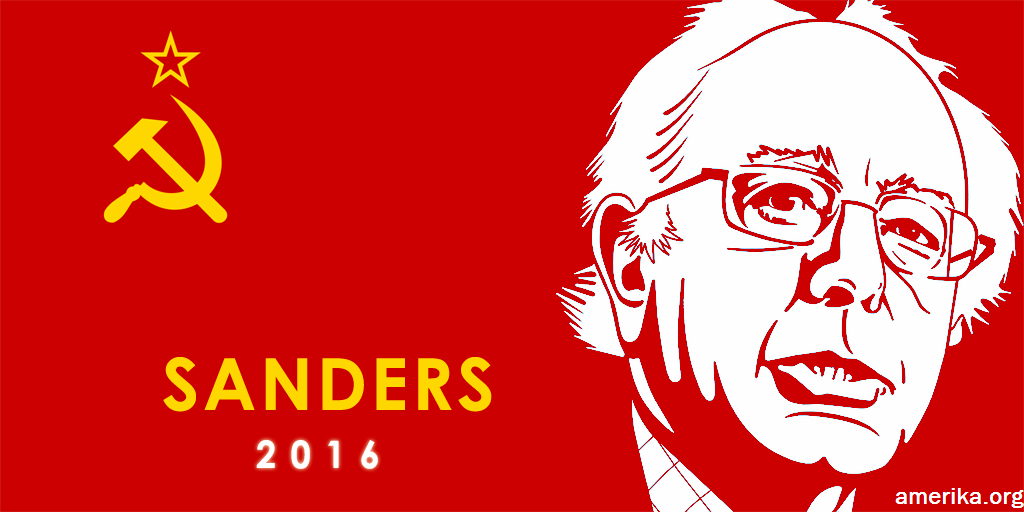 People like Donald Trump are red-baiting when they call Bernie Sanders a 'Communist,' even though this vision of socialism is democratic and historically it is anti-Communist.
If the broad mass of Americans were more historically informed, they would know that self-styled socialists have played an important role in U.S. history, that most of the leaders of the early trade and industrial union movement were socialists, that important New Deal figures were socialists, that one of the most important leaders of the U.S. civil rights movement—Bayard Rustin—was a socialist, and that a socialist—Michael Harrington—is widely credited with having inspired LBJ's "Great Society" programs through his book on poverty, The Other America.
Indeed, the so-called "neoconservative" movement in the U.S. was founded by former socialists, many of whom had earlier been not just simple socialists, but Communist Trotskyists. These people turned hard to the right. Others like Harrington and Irving Howe, the founder of Dissent magazine, and also Sanders, continued to be active in the struggle to democratically achieve democratic socialism."
But Isn't There a Strain of Democratic Socialism That Advocates for State Control of the Economy?
Issac continues: "This is a complicated question. The simple answer is no.  One of the defining features of modern democratic socialism is an opposition to the widespread "collectivization" of the economy as was practiced by the Soviets.  Some European democratic socialist parties have supported public enterprise and some forms of nationalization of certain industries—but so have non-socialists in Europe. (Indeed, one need look no further than the enormous bailout of U.S. banks in 2008 to see that it is not only socialists who advocate for government socialization—they simply advocate socializing the losses of big business, and not the gains.) But none support the wholesale collectivization of the economy. Sanders, for example, supports a "mixed economy," as any of his statements and/or position papers makes clear.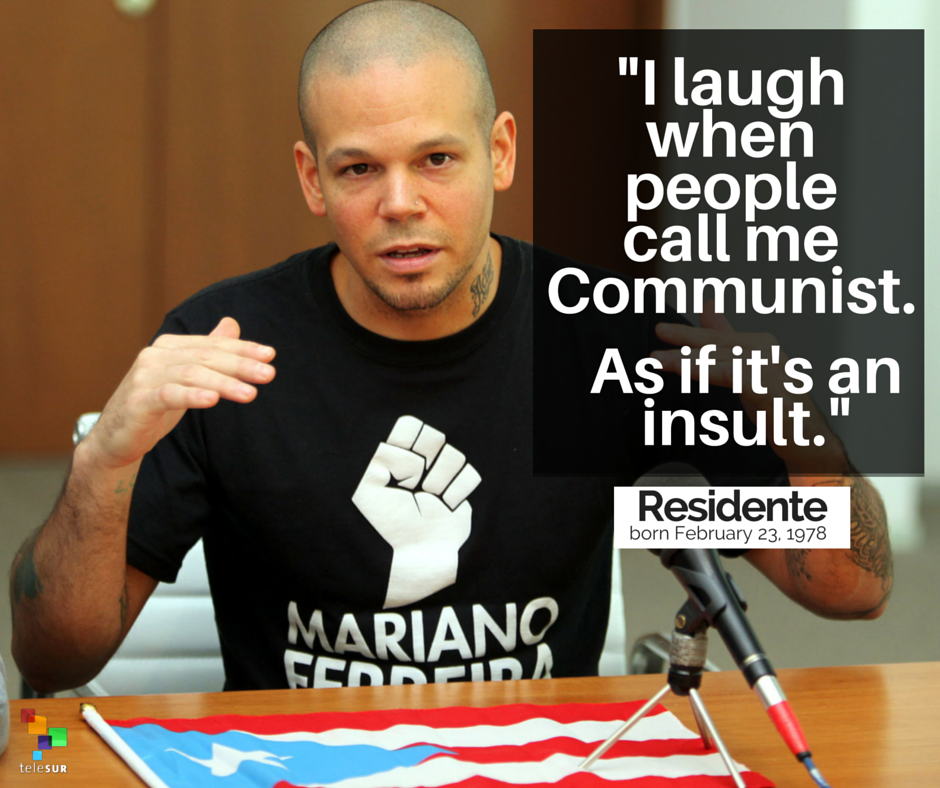 Puerto Rican rapper Residente! Residente, real name Rene Perez Joglar, is one of the founders of the alternative rap group Calle 13. He has won 24 Grammy awards in total; making him the Latin artist who has won the most gold-plated gramophones. He is also a socialist. His father was a member of the Puerto Rican Socialist Party who traveled to Cuba and Nicaragua during the Sandinista Revolution.
How is what Sanders wants the same/different from what modern European social democrats want/have? Or from modern Russia? Or China?
It is very similar to what European social democrats have long advocated and enacted, as he himself has stated repeatedly.  It is also much less ambitious than the most ambitious social democratic party platforms.
For reasons explained above, it is totally different from the Soviet or Chinese or Cuban or North Korean models.
Sanders does NOT advocate the abolition of private property in the means of production. He does not even advocate massive wealth expropriations. He advocates breaking up banks and more progressive income taxes and the public subsidization of health care and public education (most of these things are quite common in Europe). Further, all of his policy proposals are contributions to the ongoing democratic debate of a democratic society, advanced as proposals to be legislated when and if a democratic majority of citizens can bring such an agenda into office through democratic elections.
Sanders is running for President of the U.S. and seeking the freely given electoral support of American citizens. He is not organizing a vanguard revolutionary party intent on seizing power! He is, in other words, a democratic socialist.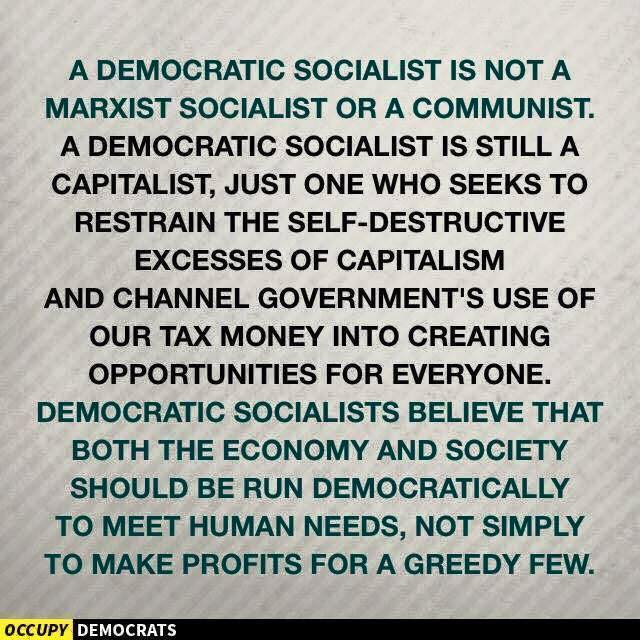 Sources
Jeffrey C. Isaac, "Bernie Sanders, Democratic Socialist: A Primer," by Jeffrey C. Issac  Last accessed Feb 12, 2016.
Discussion Questions
Take a brief moment (after looking up definitions for the terms) and consider the following questions:
Are Marxists the same as Communists?
What are the defining characteristics of a Fascist?
Is it possible to be a Fascist, a Communist, and at the same time a Socialist?
What is a Democratic Socialist?
How is being a Democratic Socialist different from being a Socialist and from being a Communist?
Do you think labels like this contribute to productive political discourse, or do they confuse important issues?