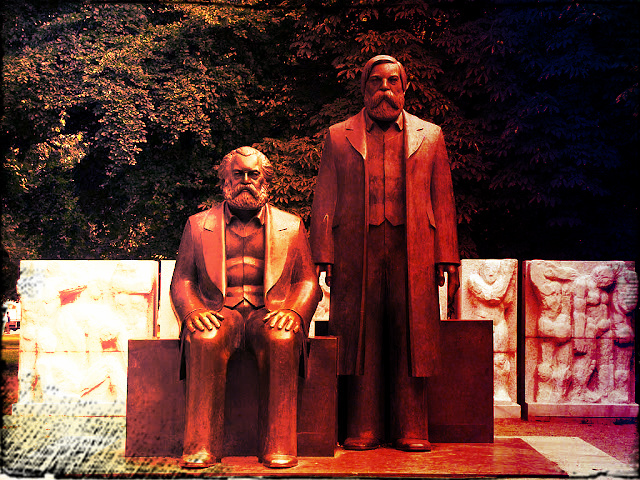 Few philosophers inspire more vitriol and enmity across the political divide than Karl Marx. The stock arguments against him and his theories of economy and society tend to fall along the lines of "he's the father of Communism" or "he's the guy that says everyone should be equal and not own private property." The videos posted here below, each in their own way, address issues in connection with social organization, wealth distribution, and social inequality.

This video is an RSA animation short narrated by David Harvey (your professor's professor), Distinguished Professor of Geography at the CUNY Graduate Center. Harvey explains how Marx's work continues to be relevant in the present day in terms of its ability to explain the contemporary crisis(es) of capitalism.

Comedian Russel Brand talks with interviewer Jeremy Paxman about economic inequality, social inequality, and their relation to global capitalism.

Historical Materialism: "Shit Does Not Just Happen." Søren Goard talks about what scholars and academics refer to as the materialist conception of history (a theory famously developed by Marx). He explains how we might use Marx's theory to understand recent events such as the uprising in Bosnia and the London riots of 2011. Crucially, he points out that ordinary people, even those that feel exploited and oppressed, can act collectively to make history–a better history–provided they are willing to exercise their agential capacity to do so.

Pay for Pay Legislation: "Congress is a Brothel." Carl Gibson provides a college-aged person's take on how the system works (warning: adult language).

Finally, Ice Cube's video montage explores some of these same themes from the perspective of a recording artist (warning: adult language).
All of the videos are addressing the same problem: social inequality and its relation to capitalism, social organization, and change; all echo the basic sentiment that lies at the heart of Marx's argument: people need to wake up and get on with the business of re-making our social world – becasue capitalism is not the solution, it's the problem.
Discussion Questions
What do you think about the issue of social inequality? Are unequal outcomes and social differences "natural," which is to infer that they are a simple product of individual drive, talent, and effort? Is it fair to assume that all poor people are poor because they did/do not work hard or smart?
Do you think that policies aimed at wealth "redistribution" are an example of Marxist/socialist efforts to take money away from people who earned it so that it can be given as a "handout" to people who did not earn it (i.e. welfare recipients); or do you think social welfare policies and aid to the poor might are necessary to help counteract the disproportionate influence that wealth and power exert on the political process?
Do you think capitalism is helping or hurting people?
How might Marx's work be used to help explain contemporary social problems? How does the Occupy Movement's message resonate with Marx's thinking?
How do the arguments of Brand and Gibson resonate with Marx? What are they saying about the "fetishism" of channeling our social collective energies into non-violent electoral politics? Is this form of direct action in our present day politics merely a symbolic acting out of citizenship as Brand implies?
Do you think voting matters anymore, or does the current state of affairs call for a more direct, and some would argue (Marx and Gramsci among them) violent overthrow of the current system?
Do you think people like the interviewer (in Brand's video) who appear comfortable with the with the status quo system of rewards in society are likely to ever advocate for reforms that would help people born outside of that system access its reward structures?
What do you think we might do to reform the current system? Where does social change/reform come from in society–from "above" or "below?"
Do you think it might be in the interest of some members of society to keep others (particularly college students)in the dark and confused about the actual substance of Marx's political philosophy?