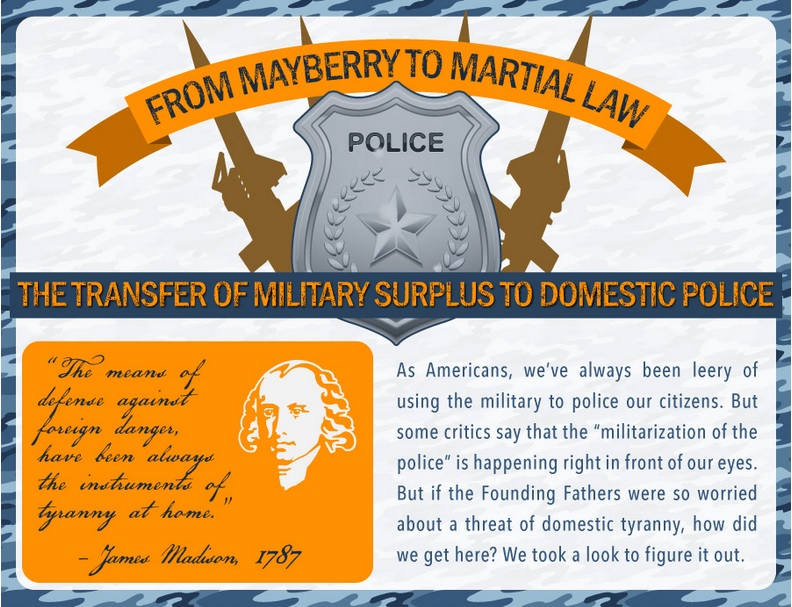 Funding Police Militarization
What do local law enforcement have to do with the United States Military? As it turns out, apparently a lot.
In 1997, Congress passed the National Defense Authorization Act. Burried deep inside this legislation was the 1033 Program. What does this program do precisely? The 1033 Program allows the Law Enforcement Support Office to transfer excess Department of Defense property to law enforcement agencies across the United States and its territories. The Law Enforcement Support Office (LESO) serves as a bridge between the U.S. military and local law enforcement agencies with oversight conducted by the Pentagon. The LESO has two slogans: "Transferring Property from the Warfighter to the Crimefighter" and "Get with the Program."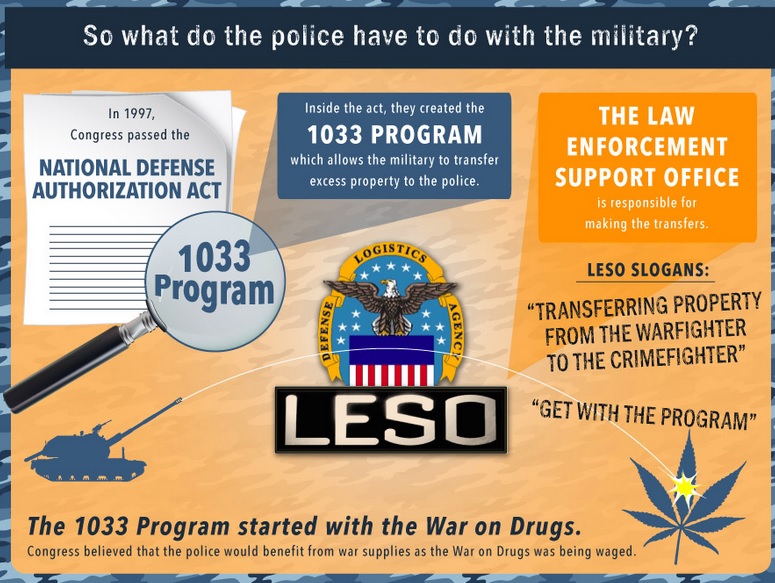 The 1033 Program's original mission was to provide additional support for the War on Drugs, which commenced back in the 1970s. Increased funding for law enforcement was at this time triggered during the Nixon administration. It was given addtional support from President George W. Bush's War on Terror, declared in aftermath of 9/11, which provided a massive boost to the militarization of American police forces. Congress decided at this time that if law enforcement personnel were waging a drug war, they needed to be outfitted like warriors.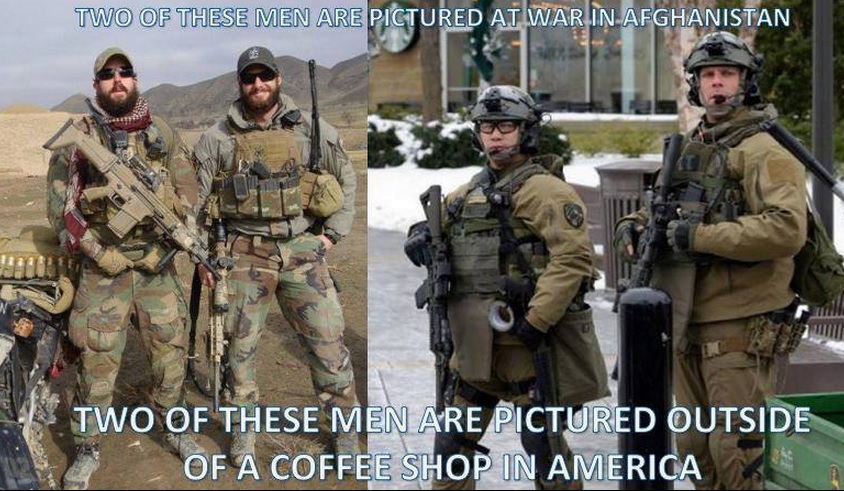 Serve and Protect or Search and Destroy?
So how many surplus weapons are we talking about? By the end of 2014, the 1033 Program will have transferred over $5 billion worth of military property to local police forces.
During the first six months of 2014, the 1033 Program had transferred almost $750 million (¾ of a billion dollars) worth of equipment–a figure that represents nearly double 2013's entire yearly total of $450 million. It's about the same amount transferred through the program from 2000 until 2007.
If we continue at the current rate in 2014, the total dollar value of equipment promises to approximate 1.5 billion dollars. In other words, one third (30%) of the entire 17 years worth of equipment transfers will have been accomplished in 2014 alone.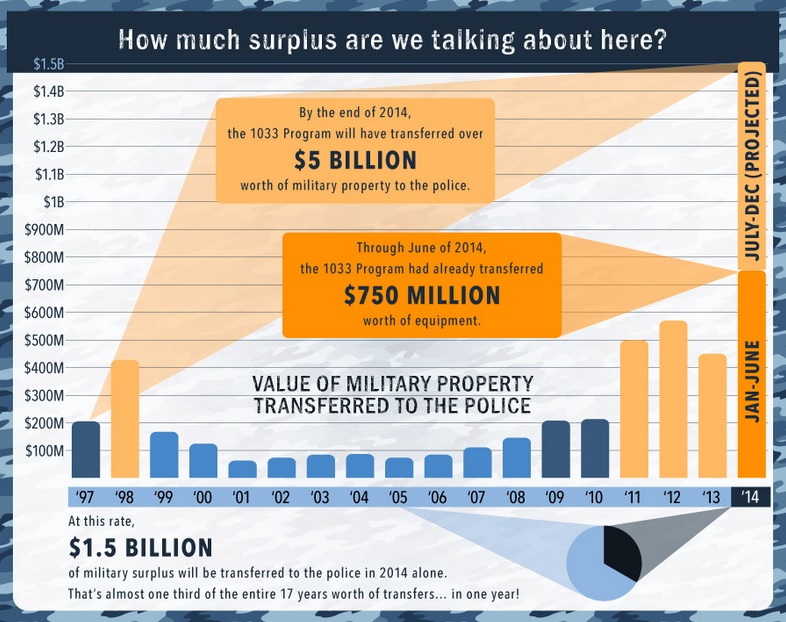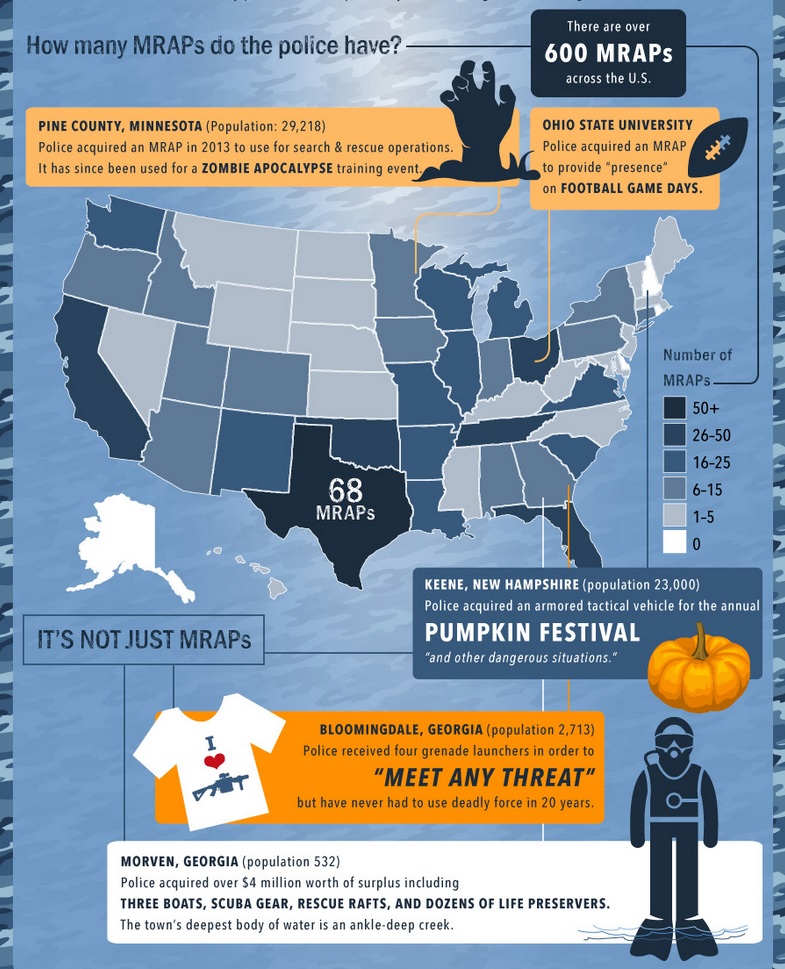 This is what an MRAP looks like…a nice pretty blue one!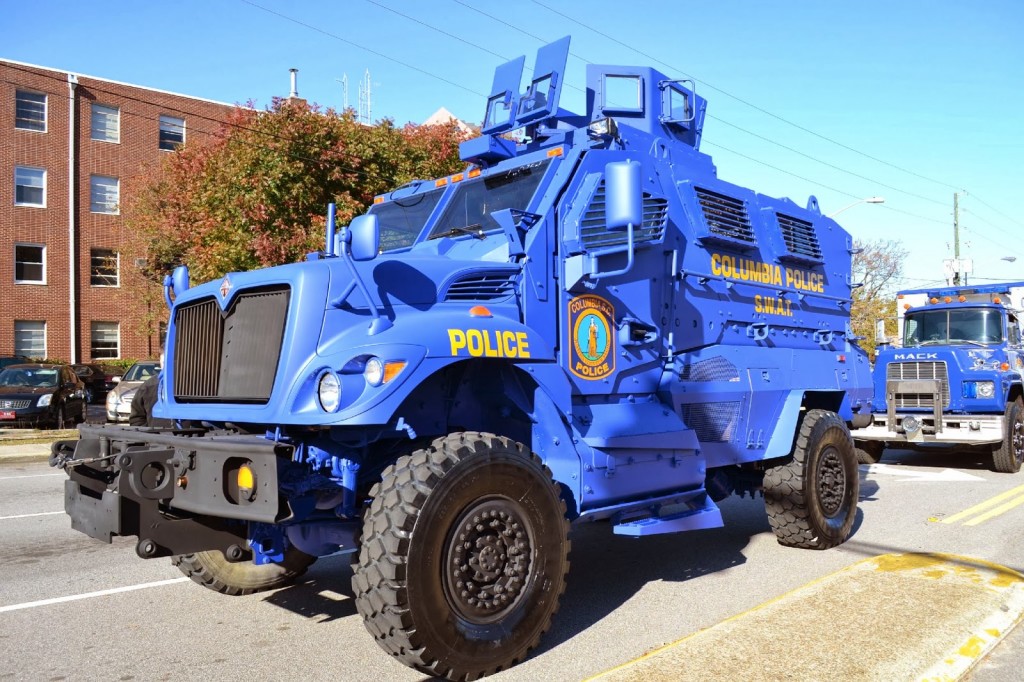 Columbia South Carolina Police Department

U.S. Army unit posing with their MRAP in Iraq
The progressive arming of police departments with military grade hardware is troubling for obvious reasons. Even more troubling is how all of this has occured in spite of the following contradicitions:
Crime has been trending downward in many parts of the United States for years, falling an estimated 19% between 1987 and 2011.
The job of being a police officer has become safer, as the number of police killed by gunfire plummeted to 33 in 2013 — a rate that indicates a 50% decrease from 2012. Incidents of police officers being killed on the job are  documented to be at their lowest level since the year 1887, a time when the U.S. population was 75% lower than it is today.
A report by the Justice Policy Institute, a not-for-profit justice reform group, shows that state and local spending on police has soared from $40 billion in 1982 to more than $100 billion in 2012. When you add federal level spending on law enforcement (including FBI, Alcohol, Tobacco and Firearms, the Drug Enforcement Agency, and much of the Homeland Security Department budget, in addition to federal grants to state and local law enforcement) this more than doubles that total.
The federal Bureau of Justice Statistics reports that the ranks of state and local law enforcement personnel swelled from 603,000 to 794,000 between 1992 and 2010. This number represents almost two-thirds as many men and women as are presently serving in the entire active-duty US military.
Privatizing Prison Profits
The following short clip offers a critical perspective on these developments and considers them in light of increasing profits that are being made as a result of states outsourcing prision services to private corporations:
What this means is that the large scale deployment of law enforcement personnel armed with military equipment is occuring precisely at a moment in time when crime is trending downward. In short: police activity in America is ramping up at the same time as the crime rate is falling.
Social science research cites a variety of reasons are likely to be driving decreasing crime rates. Experts agree, first of all, that crime rates started falling far in advance of police militarization activity. So it's not a simple case of increased investment in law enforcement causing crime to fall. The story is a good deal more complex. Some researchers cite increased immigration as a factor which influences the trends down, because of those families' emphasis on strong family ties. Others point to an aging population—older people commit fewer violent crimes.
But what about terrorism? Isn't it the case that if we're fighting them "over there" it's only a matter of time before we are fighting them "over here?" The nation recieved over 34 billion dollars in federal funding from Homeland Security grants to help local police fight terrorism (some of this money was paid on top of funds for the 1033 program).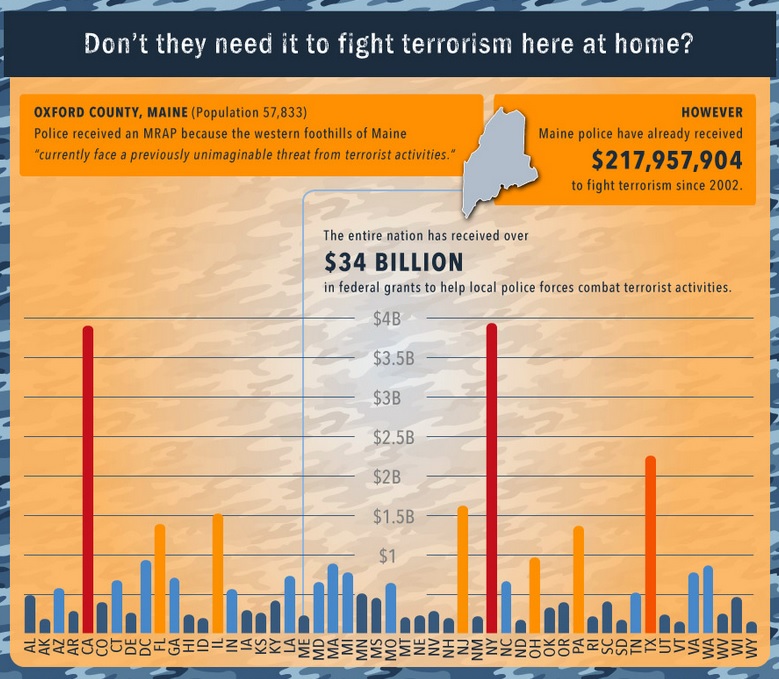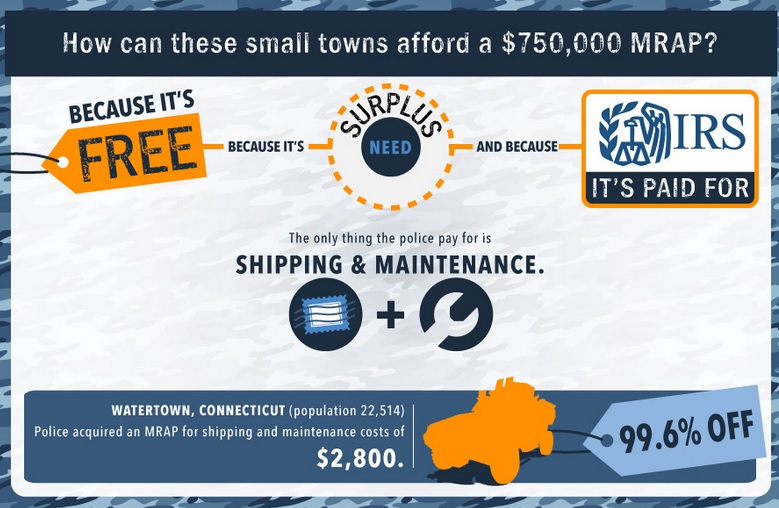 All of the equipment transferred under the 1033 Program is considered military surplus. This is provided at no added cost to taxpayers, because it's already been paid for once with federal income taxes. The only additional funds required are funds for shipping and maintenance. The Pentagon confirmed, however, that more than 1/3 of everything transferred through the 1033 Program is brand new. By creating what is essentially a new "market" for military hardware, defense contractors and the Pentagon have cleared the way to spend more taxpayer dollars on the purchase of newer toys and hardware.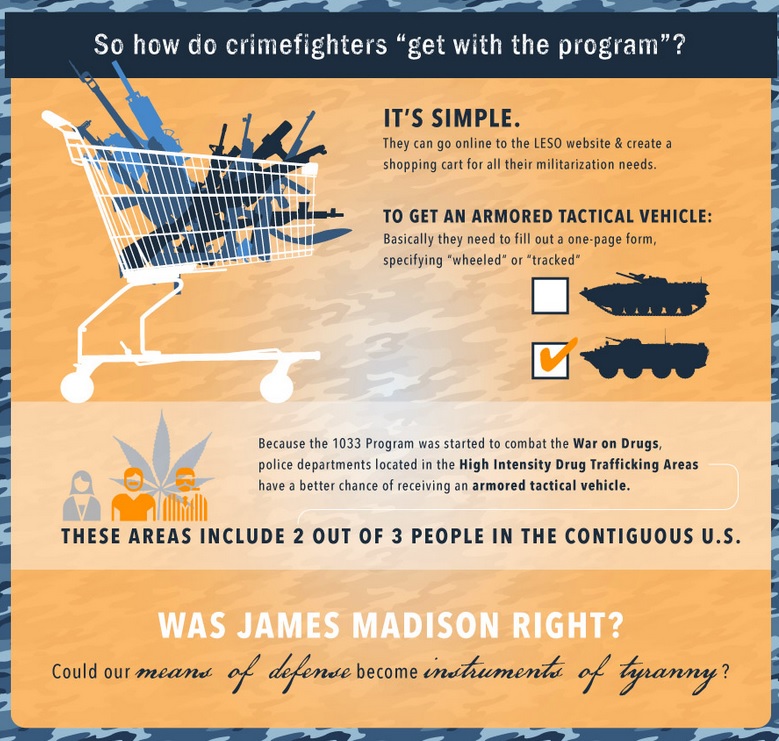 Again, it is important to remember that the 1033 Program was started to combat the War on Drugs. Local police departments thus stand a much greater chance of getting equipment if their jurisdiction falls within one of the designated 28 High Intensity Drug Trafficking Areas determined by the DEA— this drug surveillance zone covers territory that includes 2 out of 3 (60%) people in the contiguous U.S. Stop now and think about that. Because if you are having any thoughts as you sit here reading this that it's not likely to impact you and the neighborhood that you live in….that YOU are not a target. You might want to think about that again.