Recent years have seen cyber wars erupting in different forms, ranging from the infamous WikiLeaks data ops to smaller scale disruption and denial of service operations, such as those directed against Scientology, the Westboro Baptist Church, the Steubenville rapists, and most recently in Ferguson, Missouri. The world-wide Web has become  crucial terrain in an ongoing political struggle to attain the strategic high ground of information dominance. Anonymous is an amorphous political collective that operates within this new multi-dimensional landscape; with that,  it's anybody's guess who they are and what they intend to do. Do you think they are freedom fighters or or are they terrorists?
Journalist Richard Stallman asks us to consider: "Is Anonymous the incarnation of the long-awaited altruistic invisible army of hackers needed by various social movements, as promised by science-fiction writers for the last decade? Or is Anonymous a phenomenon more similar to a mass panic, a sort of collective behavior that falls outside of organized politics, an 'Internet Hate Machine' that embodies the libidinal subconscious of the lost children of the Web?"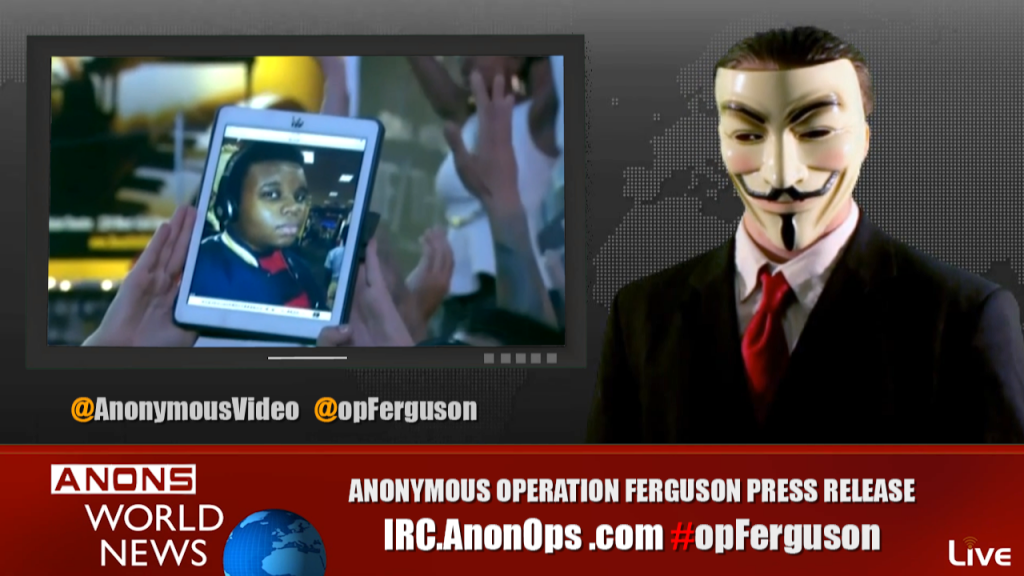 #OpKKK: Hands Up! Hoods Off!
Regardless of what some might think, they present a compelling ongoing challenge to any authority that aims to control the flow of infomation in society. In the case of this last video, Anonymous declares "We Are The Law Now."
Discussion Questions:
Why is it that governments and institutions appear to be more zealous in their prosecution/imprisonment of  computer hackers, protesters, and journalists, when war criminals, torturers, and criminal bankers are free to walk and continue business as usual?
How is it possible that extreme corporate domination over traditional media and communication systems has evloved uncontested in a democratic country like the United States? Is it possible that a socially constructive role might be played by non-linear, distributed, and fragmented organizations like the Anonymous collective? Or are they simply too disorganized and law-less to be considered effective? Do you think they pose an inherent danger to civil society or might they help us hold authorities and corporations responsible for their actions?