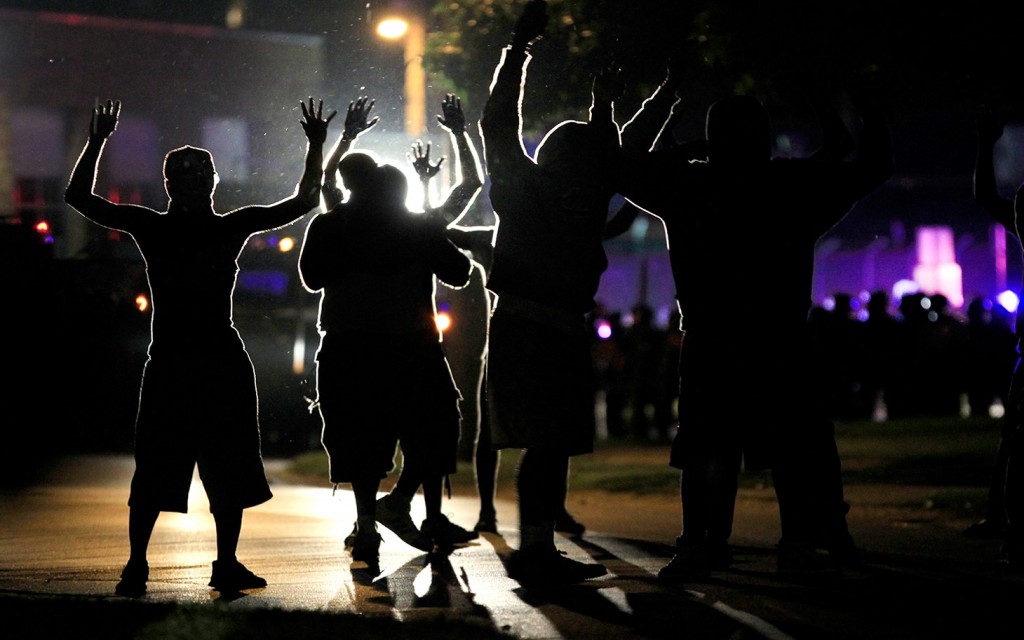 Photo credit – Jeff Roberson, AP
The Battle of Ferguson
People across the United states and around the world have been transfixed by the events unfolding in Ferguson, Missouri. The uprising originated when an unarmed black teenager, Michael Brown, was shot and killed by a white police officer. While the event is noteworthy in itself, critics claim it is not an isolated incident and that police abuse in Ferguson pre-dates the killing of Brown. They argue that conflict has been smoldering in the community for a considerable length of time, fueled in large part by racial animosity and a history of repression directed against Ferguson's majority African American residents.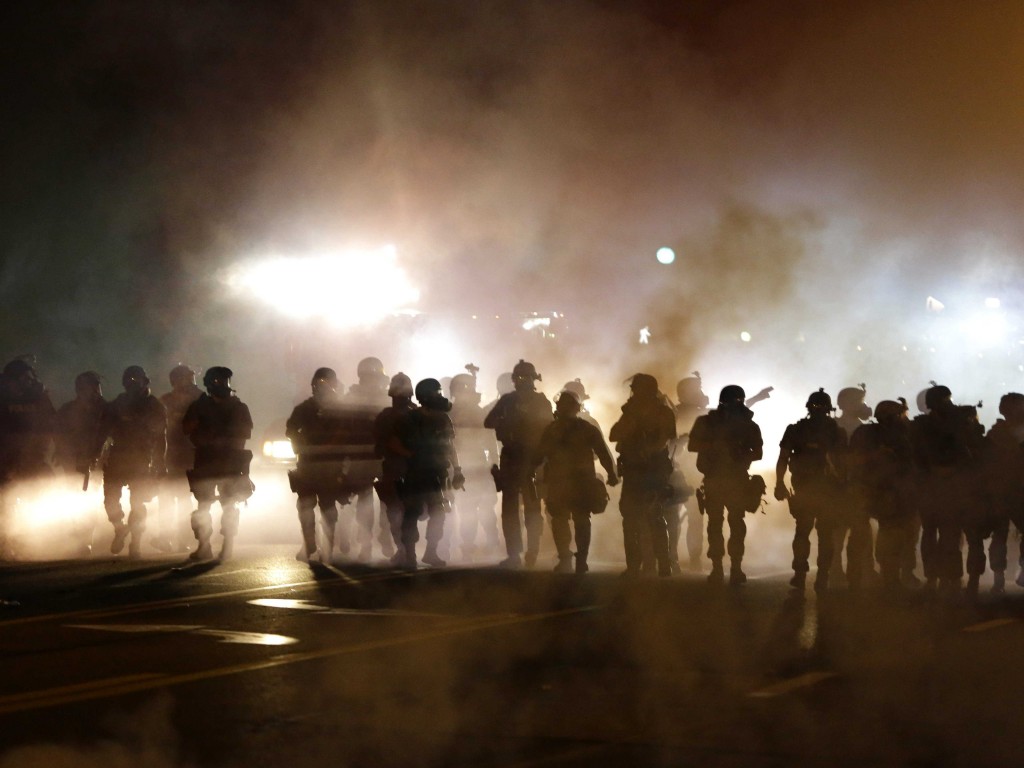 To say these events have been polarizing is a radical understatement. Interviews with residents and others outside the immediate vicinity of Ferguson reveal there is a complete lack of agreement reality about nearly everything pertaining to Michael Brown's shooting. Basic facts regarding the events that day and how they unfolded continue to be disputed (i.e. how many shots were fired? was the officer attacked?). Preliminary polling results document extreme differences of opinion. These differences, as it turns out, correlate strongly with demographic indicators of social identity (i.e. race, class, gender, socio-economic status, residence, and political party affiliation). The understanding of fact, in other words, appears to be contingent upon social identity, which plays a powerful role in determining how people interpret what happened.
This is why some people see Michael Brown as a criminally deviant teenager; one whose failure to comply with a law enforcement officer's reasonable requests resulted in him being shot by a police officer; whereas others see his shooting as the outcome of a more complex array of social forces: murder sanctioned by a toxic combination of institutionalized racism, police militarizationn, implicit racial bias, hyper-criminalization of black youth – all outcomes of what some have termed is a reflection of a society driven by "white racial supremist capitalism."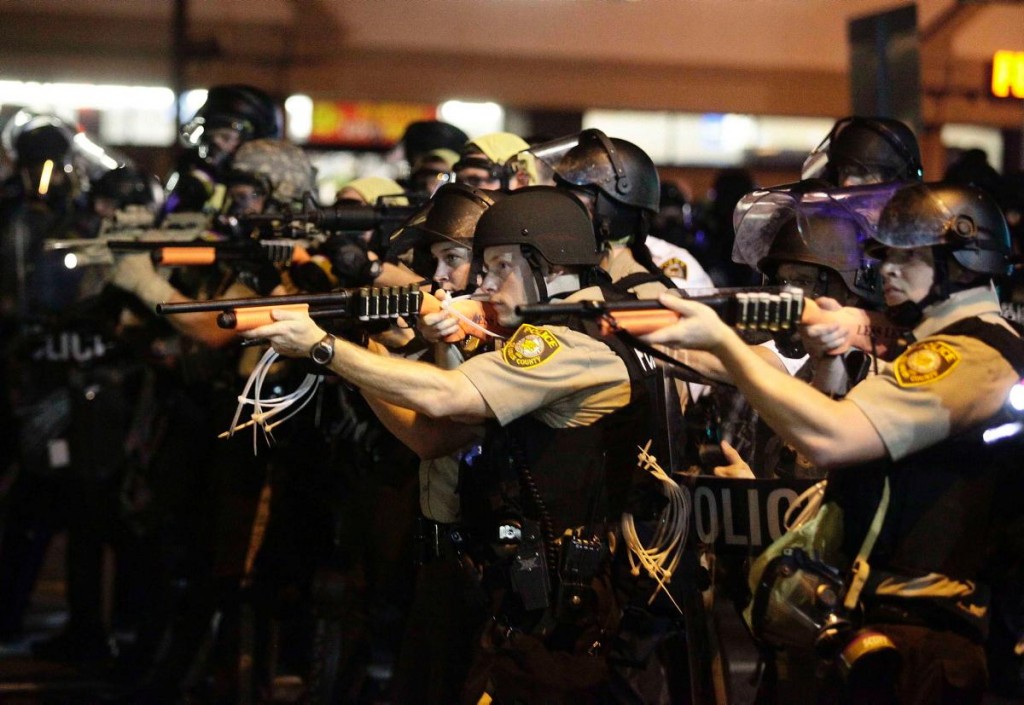 American Apartheid
Amnesty International published a report filed by the delegation they sent to monitor police activity in Ferguson and report human rights violations. Observers called attention to what academics (particularly sociologists) in the United States have been writing about for years: social inequality in the U.S., as indicated by widespread, nationally persistent, patterns of racialized social segregation is made worse by racially discriminatory police practices.
Report findings were coupled with demands that the U.S. government do more to address what was termed "systemic racial discrimination." Navi Pillay, formerly the United Nations High Commissioner for Human Rights said "Privately I was thinking that there are many parts of the United States where apartheid is flourishing." Another observer commented: "I saw a police force, armed to the teeth, with military-grade weapons. I saw a crowd that included the elderly and young children fighting the effects of tear gas. There must be accountability and systemic change that follows this excessive force."
It's important to bear in mind that debates about human rights abuses are typically directed at countries outside the United States, where often the U.S. acts in concert with international institutions like the United Nations to propose legal sanctions to curtail such abuses when they occur. Now the situation appears reversed. According to Steven Hawkins, Executive Director of Amnesty International USA, "What Amnesty International witnessed in Missouri on the ground this summer underscored that human rights abuses do not just happen across borders and oceans."
The question remains: How will the world act when the abuser is the United States taking action against their own people?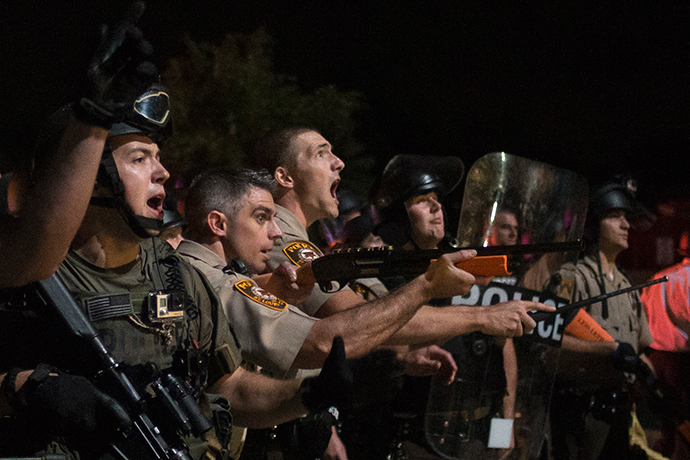 Our course readings take aim at the myriad and different ways the issues and controversies about Ferguson are presently being discussed. Drawing from a combination of articles published by academics as well as by others in social media, we'll take a close look at the discourses and narratives that are being produced as a result.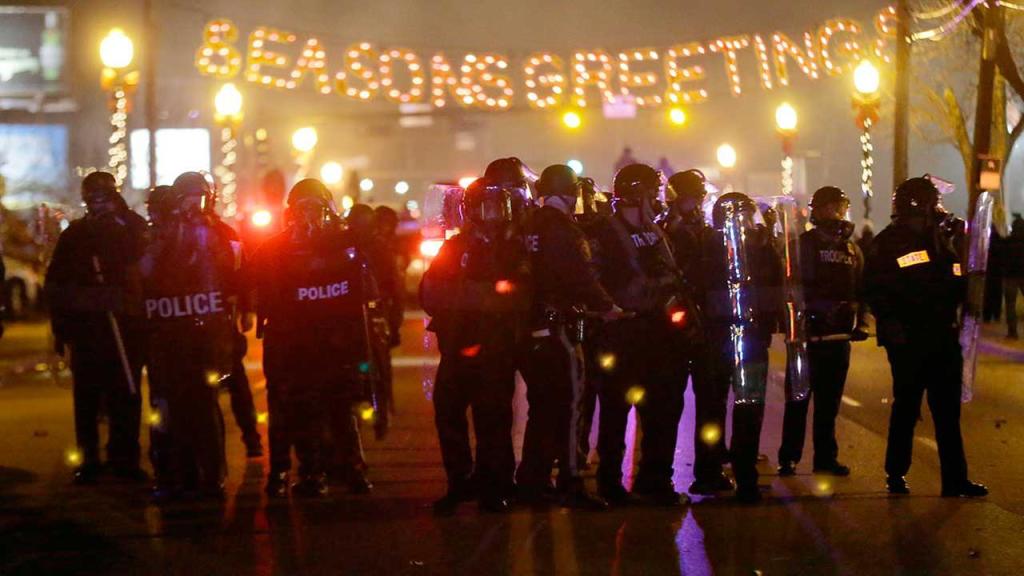 One issue that has managed to generate attention has to do with the increased militarization of local police forces. In light of this, we'll review how community policing has changed over the years and talk about different policy initiatives that scholars, journalists, and civil rights activists all agree are having a damaging impact on our residential communities.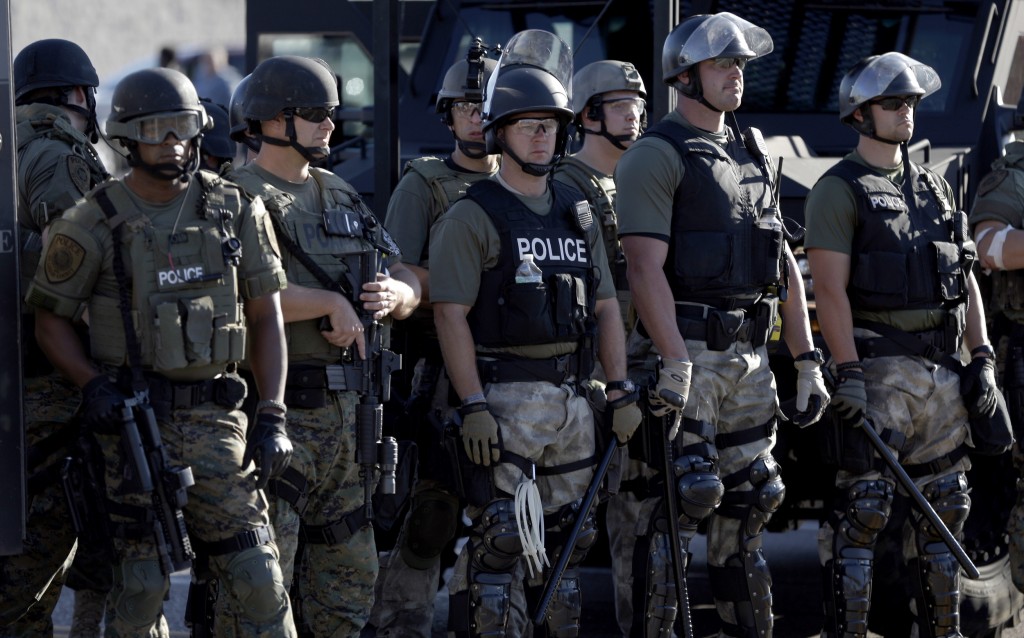 The aggressive posture taken by local, state, and county law enforcement in Missouri has drawn attention these issues in a way that abstract arguments about militarization and equipment transfers never did. Numerous photos and videos circulating in both traditional as well as social media dramatically illustrate what can only be described a palpable "us vs. them" mentality that was put on display. When police act this way, they are essentially telling the public: "You will obey us. And you will obey us regardless of whether or not our behavior is lawful. If you don't obey us, bad things might happen to you."
Protestors and local residents in Ferguson were (and continue to be) treated by the police in a manner that is not much different than the way an Army treats a hostile enemy. Military hardware and military-style weapons, including flash-bang devices, are being used as standard operating practice in Ferguson. While marketed as non-lethal, flash-bangs have been documented on many occasions to cause serious injury and even death.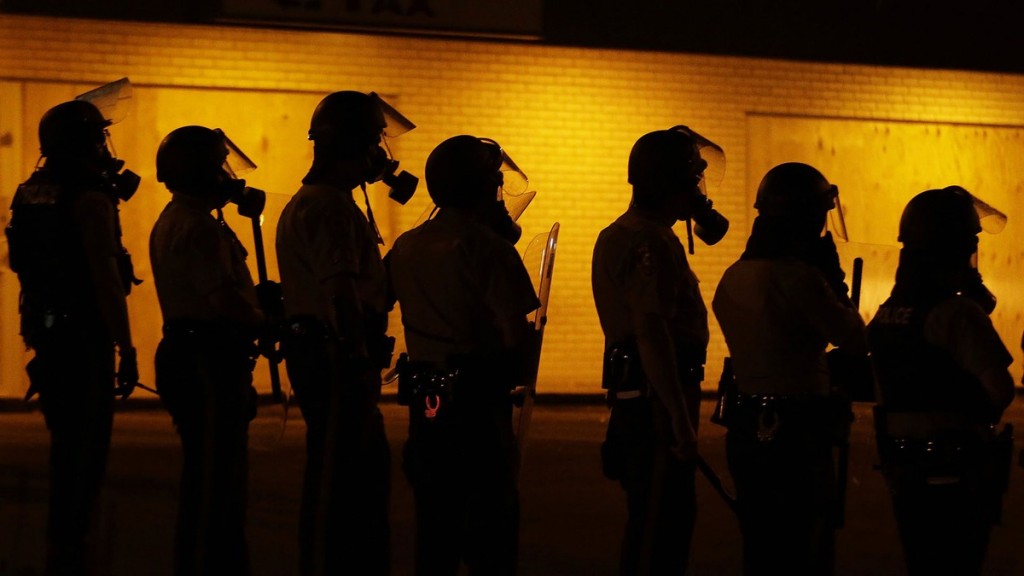 Photo Credit – Charlie Riedel, AP
#BlackLivesMatter
Another topic we'll tackle together relates to the issue of race and policing. According to a report published by ProPublica, data confirm that black youth in the United States aged 15 to 19 were killed at a rate of 31.17 per million, compared to 1.47 per million for their white counterparts. The disparity, in this instance, reflects blacks are 21 times more likely to be shot by police than whites (statistics derived from data reported to the FBI between 2010 and 2012). The report went on to say, furthermore, that it's mostly white officers who are responsible for the killings.
On Twitter, the hashtag #BlackLivesMatter served as a vehicle to mobilize critique against the grand jury decisions not to indict police officers Darrell Wilson and Daniel Pantaleo. Social media, in this respect, rallied around the deaths of Michael Brown, Eric Garner, and so many others, in order to ingite a conversation about institutionalized racism that many believe to be endemic to police power, the state, and the criminal justice system in the United States; a system that many feel sanctifies the actions of white police officers with impunity at the same time as it affirms disposability of Black lives.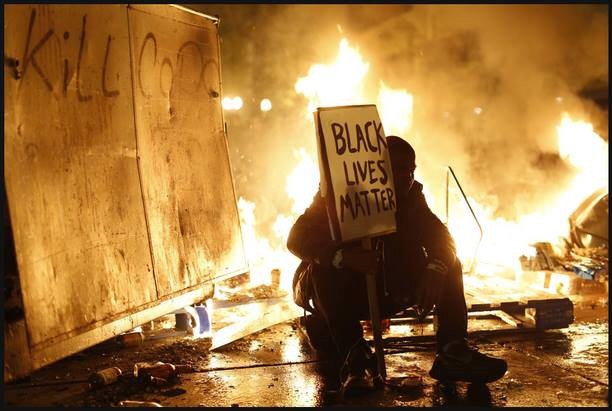 The report further noted that reporting the killing of civilians is optional. Consequently, the actual numbers and corresponding rate is likely to be much higher.A recent episode of the Daily Show used humor to point out the absurdity of voluntary reporting. You can watch the interview, which features discussion with criminologist and author David Klinger, by pasting this link into your browser: http://www.imdb.com/video/hulu/vi3051466521/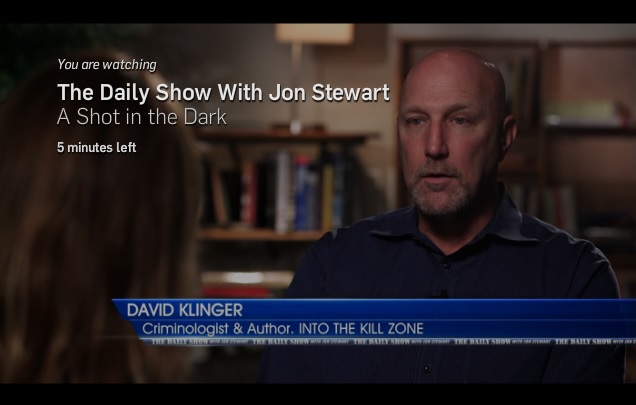 In a startling admission, the Bureau of Justice Statistics confirmed that the government's own data on so-called police-involved deaths have been off for more than a decade — by more than 100 percent.The report estimates that there were "an average of 928 law-enforcement homicides per year" from 2003-2009 and 2011 — which means that previous yearly tallies by the BJS and the FBI included fewer than half of all such deaths. The FBI, for example, reported an average of only 383 "justifiable homicides by law enforcement" per year over the same period. The BJS was slightly closer to reality, averaging 454.These numbers, by the way, do not include the deaths of bystanders, deaths during vehicular pursuit, or deaths at the hands of federal agents.
Many Fergusons
Long simmering community resentment over issues of race and class based social inequality boiled over in Ferguson, particularly as this relates to law enforcement and police practice. Whereas the residential population in Ferguson is approximately 65% black, the police force is 98% white. But as scholars and critics have argued, the problems of Ferguson are problems that many communities throughout the United States struggle with; in other words, there are essentially many Fergusons. Consequently, there is evidence mounting that racial tension here potentially threatens more wide-spread social disruption.
The situation was made worse when St. Louis supporters of Darren Wilson (the police officer who shot Michael Brown) sold t-shirts for fans to wear as a show of support at a St. Louis Cardinals playoff game. "Go Cards' was hand-painted on the front and "Darren Wilson 6″ on the back. The significance of the "6," which was also emblazoned on wristbands as "We got your 6,″ is military parlance that means "I got your back." The number 6, coincidentally, is also the precise number of gunshot wounds Brown suffered in the shooting.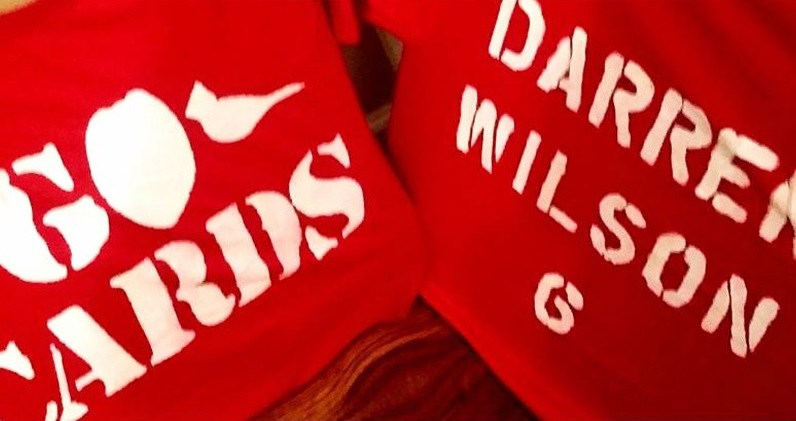 Digital Surveillance
Finally, we'll talk about the increasing prevalence of surveillance technology, how we all might encounter it differently, and how it is being deployed by law enforcement against citizens and vice versa. Thus we find, for example, that in spite of the fact that court systems in the United States have repeatedly ruled it is legal for citizens to film police officers, police continue to harass, beat up, and arrest citizens and journalists who exercise their constitutional rights to do so. Some of this new technology has scholars and activists expressing deep concern, as they warn that anyone and everyone is potentially at risk and can be deemed a threat.
Stingrays, also known as "IMSI catchers" and "cell site simulators," are particularly invasive surveillance devices that mimic cell phone towers. So, what does the technology do precisely? It effectively puts up a wall between the user's phone and their cell service provider, forcing phones in a targeted area to send data to the police instead of the nearest cell towers. The phones, in other words, are "tricked" into passing data to the government/police, who are connecting to users personal devices without their knowledge or consent. Clearly, this raising serious privacy concerns, as many question how they (and the data) are being used.
The effective range of the technology is considerable: devices can gather records of every cellphone call, text message and data transfer up to a half a mile away. Potentially, non-criminal, non-protesting bystanders are easily caught up in the sweep. This means you don't have to be a criminal, suspect, or protestor to have your information intercepted- you merely need to be in range of an event and have an operating cellphone in your possession. Stingrays were originall deployed during the Occupy Wallstreet demonstrations to track known "agitators," however, they are now widely deployed whenever there is planned large-scale political protest activity taking place – protests that ostensibly represent protected "free speech."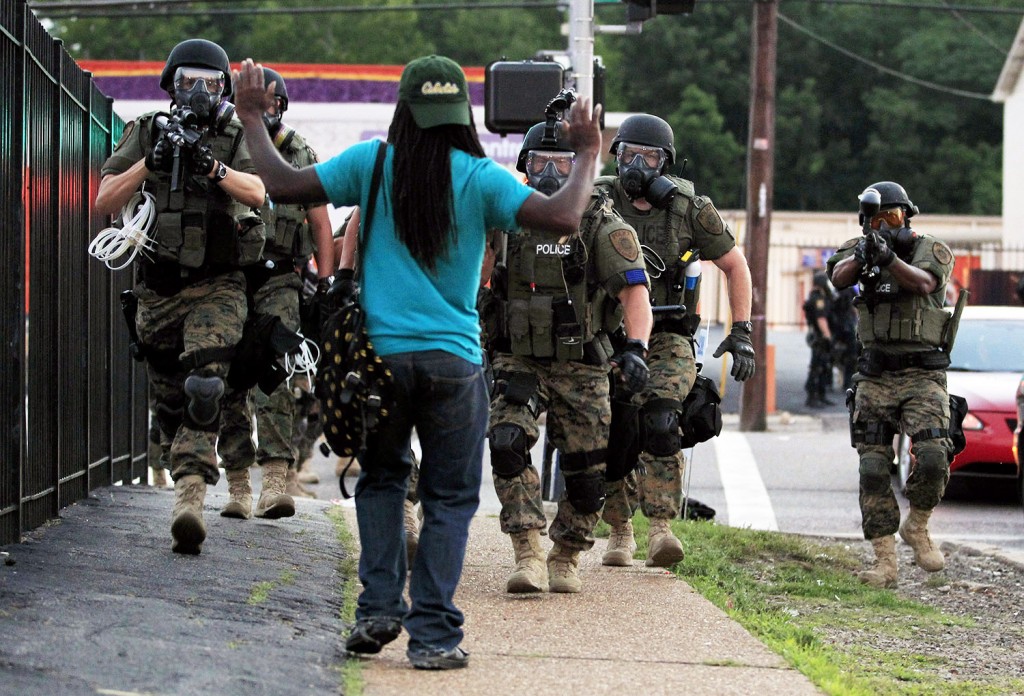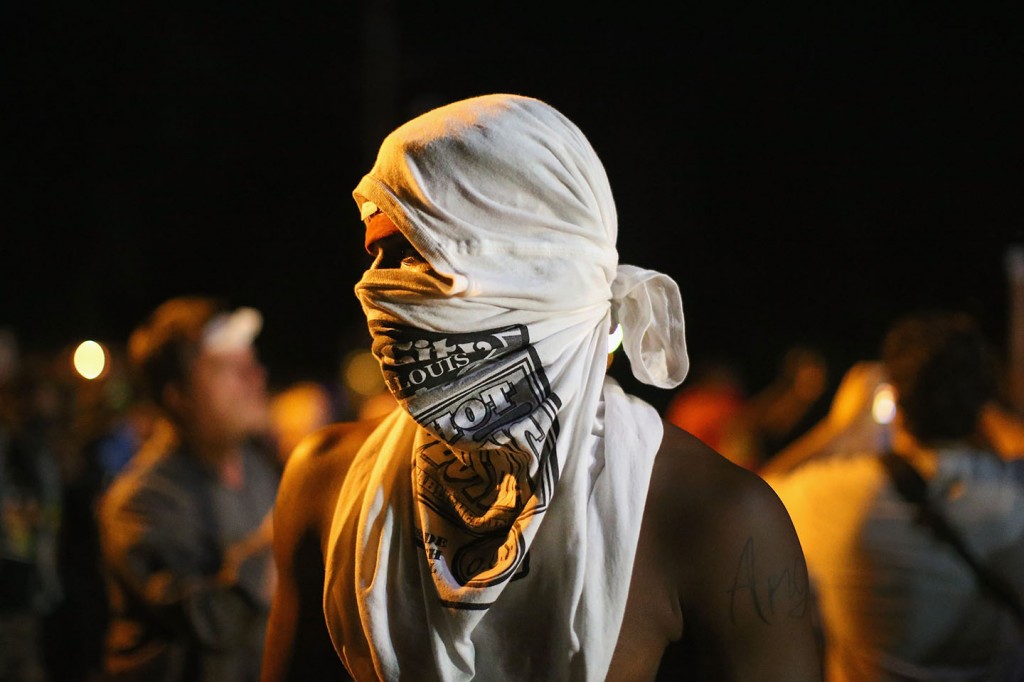 Discussion Questions
Do you think it's okay for a police officer to shoot an unarmed individual if they don't stop running away?
What about threatening an inidvidual with arrest without a justifiable cause?
What do you think about police tactics like "Stop and Frisk?" and tactics that target political protestors? Do you think these tactics violate a person's basic civil rights? Do they make you feel safe or threatened?
Do you think the police unfairly profile some groups of people more than others? Or are they merely focusing limited police resources on high crime areas?
How do you think your own social positioning relative to dominant power structures potentially influences your views of law enforcement in general and police officers in particular?

When you reflect on your own personal experiences with law enforcement, do you think they are reflective of the full spectrum of reality or perhaps just a small local slice of it?
Do you think you can be critical — that is, can you render an objective assessment — or do you find it too hard to entertain the idea (particularly if you benefit from privilege) that the system might not operate the same way for everyone?
What do you think about the proliferation of cameras and other forms of video technology? Do you think it is having an impact on what we see and think about police activity?
Does it bother you to know that you personal privacy is not secure and that your individual movements are being tracked through public and cyberspace?
How has social policy in the United States contributed to not only the "ghettoization," but "hyper-ghettoization" of many urban American neighborhoods?
Sources
Read more about Amnesty International's report filing and findings at the link here: http://thefreethoughtproject.com/amnesty-international-ferguson-cops-violate-human-rights/#p0eromI5kqgdJcUY.99