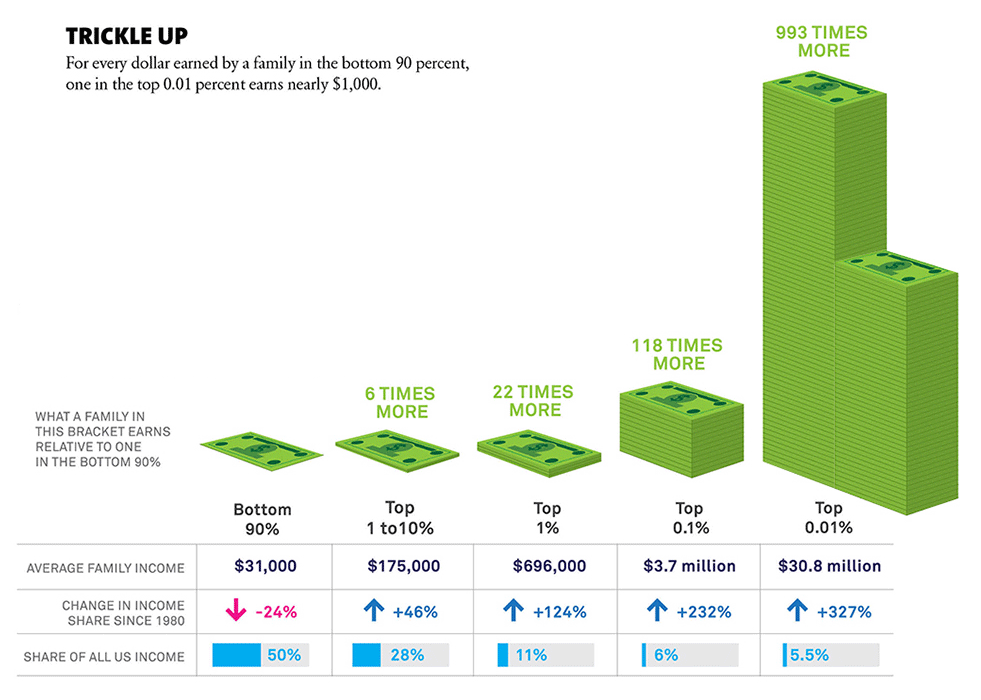 Recent economic data paints a bleak picture of the economy in regards to the financial health of middle class Americans. This particular group is rapidly losing ground to another group sometimes derisively referred to as the "one-percenters," (or as Marx called them the "bourgeois") a group that averaged $5 million in wealth gains over just three years. The Global 1% increased their wealth also, growing their income from $100 trillion to $127 trillion in just three years
Let's break that down into some an analogies we can all relate to:
Each Year Since the Recession, America's Richest 1% Have Made More Than the Cost of All U.S. Social Programs
What you have here effectively is a reverse transfer from the poor to the rich. Even as political conservatives blame Social Security for being too costly and social welfare programs for being too generous, most of the 1% wealth club members are continuing to accumulate wealth at record speeds. The numbers are nearly unfathomable. Different estimates cite the American 1% as taking in anywhere from $2.3 trillion to $5.7 trillion per year.
Even the smaller estimate of $2.3 trillion per year is more than the budget for Social Security ($860 billion), Medicare ($524 billion), Medicaid ($304 billion), and the entire safety net ($286 billion for SNAP, WIC [Women, Infants, Children], Child Nutrition, Earned Income Tax Credit, Supplemental Security Income, Temporary Assistance for Needy Families, and Housing).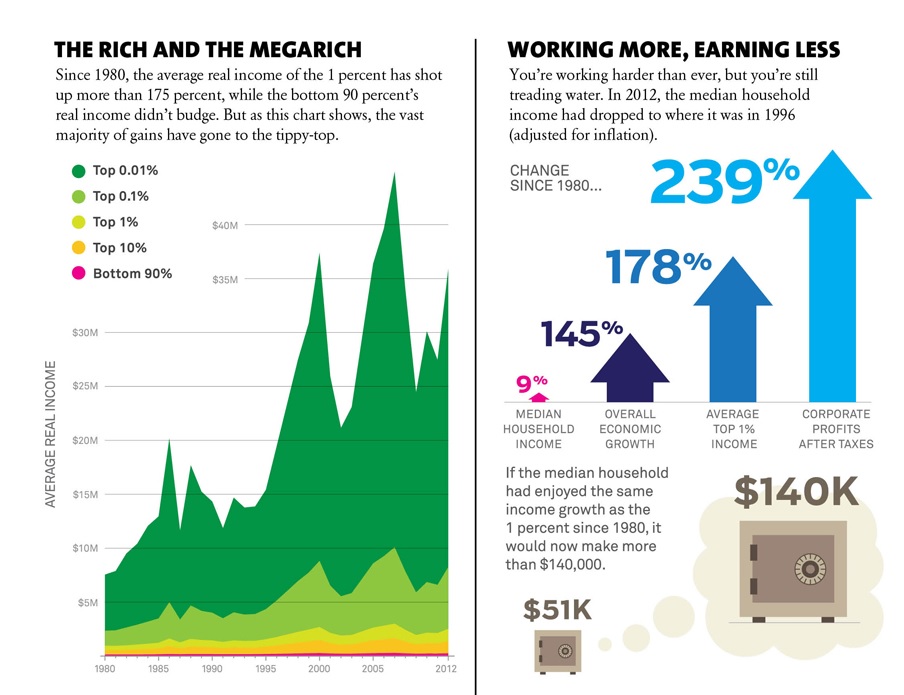 Even the Upper Middle Class Is Losing 
In just three years, from 2011 to 2014, the bottom half of Americans lost almost half of their share of the nation's wealth, dropping from a 2.5% share to a 1.3% share.
Most of the top half lost ground, too. The 36 million upper middle class households just above the median (6th, 7th, and 8th deciles) dropped from a 13.4% share to an 11.9% share. Much of their portion went to the richest one percent.
This is big money. With total U.S. wealth of $84 trillion, the three-year change represents a transfer of wealth of over a trillion dollars from the bottom half of America to the richest 1%, and another trillion dollars from the upper middle class to the 1%.
Almost None of the New 1% Wealth Led To Innovation and Jobs
In 2005, for example, every $1 of financial wealth there was 66 cents of non-financial (home) wealth. Ten years later, for every $1 of financial wealth there was just 43 cents of non-financial (home) wealth. What happens to all this financial wealth?
Over 90% of the assets owned by millionaires are held in low-risk investments (bonds and cash), the stock market, and real estate. Business startup costs made up less than 1% of the investments of high net worth individuals in North America in 2011. A recent study found that less than 1 percent of all entrepreneurs came from very rich or very poor backgrounds. They come from the middle class.
On the corporate side, stock buybacks are employed to enrich executives rather than to invest in new technologies. In 1981, major corporations were spending less than 3 percent of their combined net income on buybacks, but in recent years they've been spending up to 95 percent of their profits on buybacks and dividends.
Just 47 Wealthy Americans Own More Than Half of the U.S. Population
Oxfam reported that just 85 people own as much as half the world. Here in the U.S., with nearly a third of the world's wealth, just 47 individuals own more than all 160 million people (about 60 million households) below the median wealth level of about $53,000.
The Upper Middle Class of America Owns a Smaller Percentage of Wealth Than the Corresponding Groups in All Major Nations Except Russia and Indonesia.
The upper middle class in the U.S., defined as everyone in the top half below the richest 20%, owns 11.9 percent of the wealth. Indonesia at 10.5 percent and Russia at 7.5 percent are worse off, but in all other nations the corresponding upper middle classes own 12 to 27 percent of the wealth.
America's bottom half compares even less favorably to the world: dead last, with just 1.3 percent of national wealth. Only Russia comes close to that dismal share, at 1.9 percent. The bottom half in all other nations own 2.6 to 10.2 percent of the wealth.
Ten Percent of the World's Total Wealth Was Taken by the Global 1% in the Past Three Years
As in the U.S., the middle class is disappearing at the global level. An incredible one of every ten dollars of global wealth was transferred to the elite 1% in just three years. A level of inequality deemed unsustainable three years ago has gotten even worse.
For more on this, consider the following: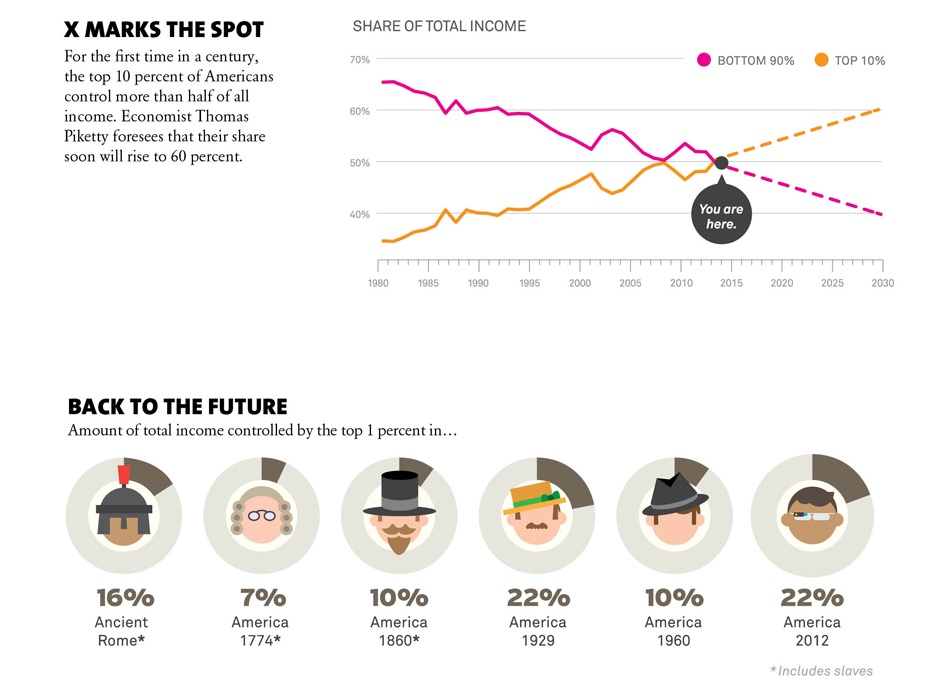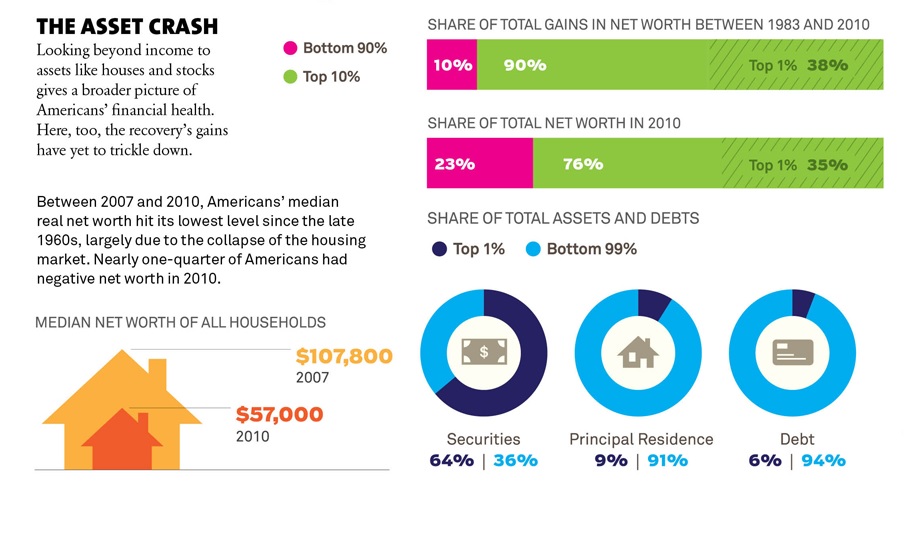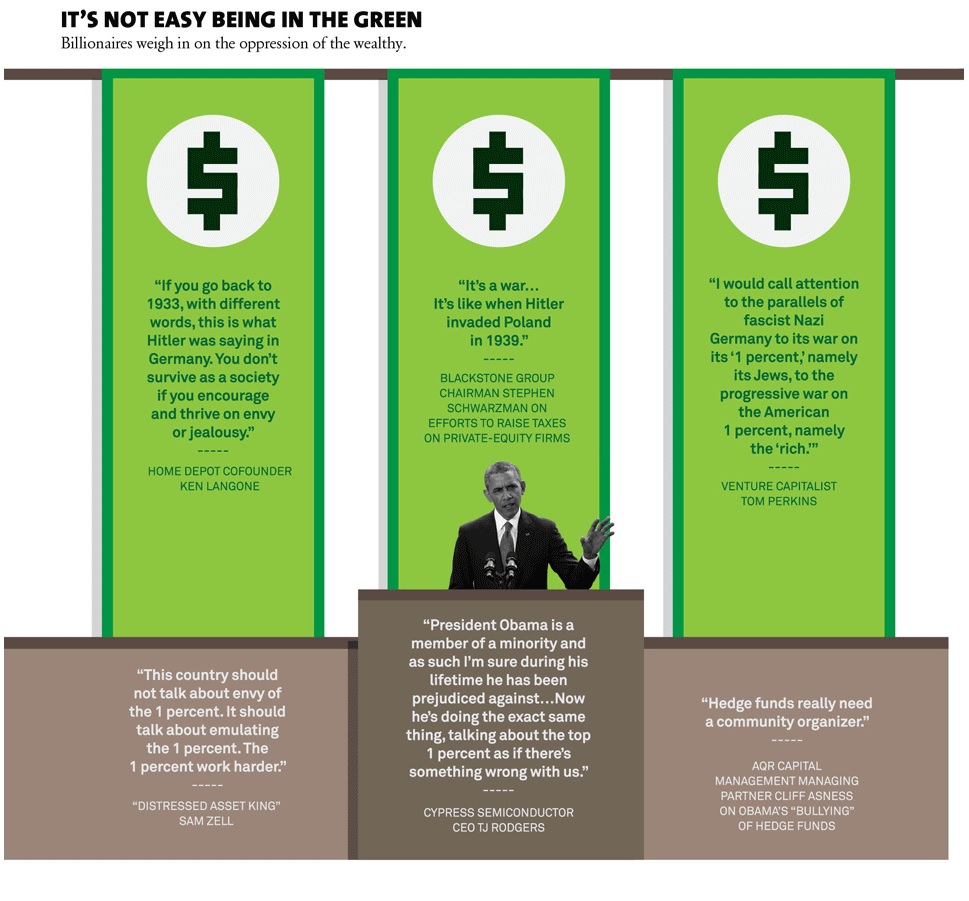 The Emperor's New Clothes
The rich are getting richer, everyone else is struggling. Is that fair? Watch Russell Brand's new documentary The Emperor's New Clothes when it debuts in selected cinemas on April 21, 2015.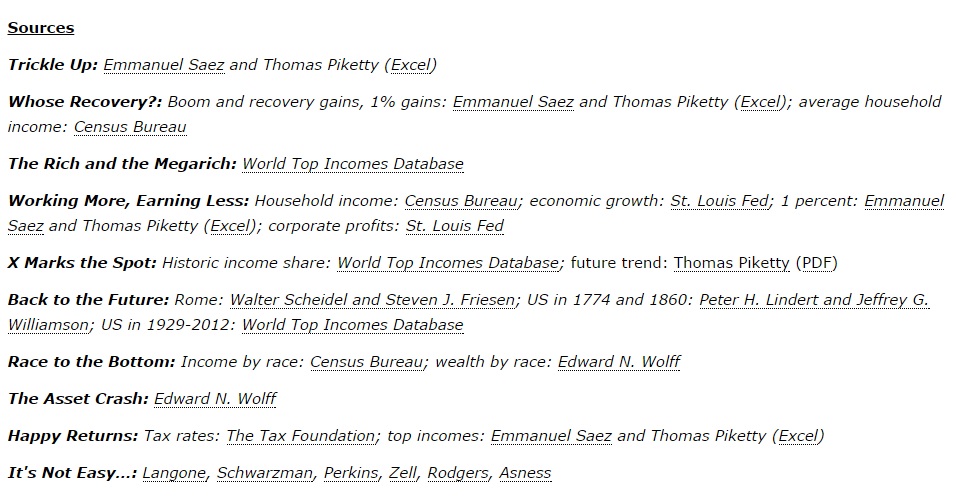 Graphics shown here are published by Mother Jones magazine, which can be accessed at the following link:
More information appears in an article originally published by Alternet, which features data published by the Credit Suisse 2014 Global Wealth Databook (GWD). You can access it here: http://www.alternet.org/economy/stark-facts-global-greed-disease-challenging-climate-change
Discussion Questions
Despite overwhelming data and evidence that present day global economic policies, including domestic policies in the U.S., are by their very design transferring public sector wealth (tax dollars) into private hands, why do you think average Americans remain oblivious and even applaud this process? Why do they get upset about "welfare entitlements," which pale in comparrison to the amount of their individual tax dollars that get used to underwrite the financial adventures (and misadventures) of wealthy people?
How do you think the different financial crises will impact you (i.e. global economic crisis, student loan debt, housing debt)?
Why is wealth and not just income inequality a problem?