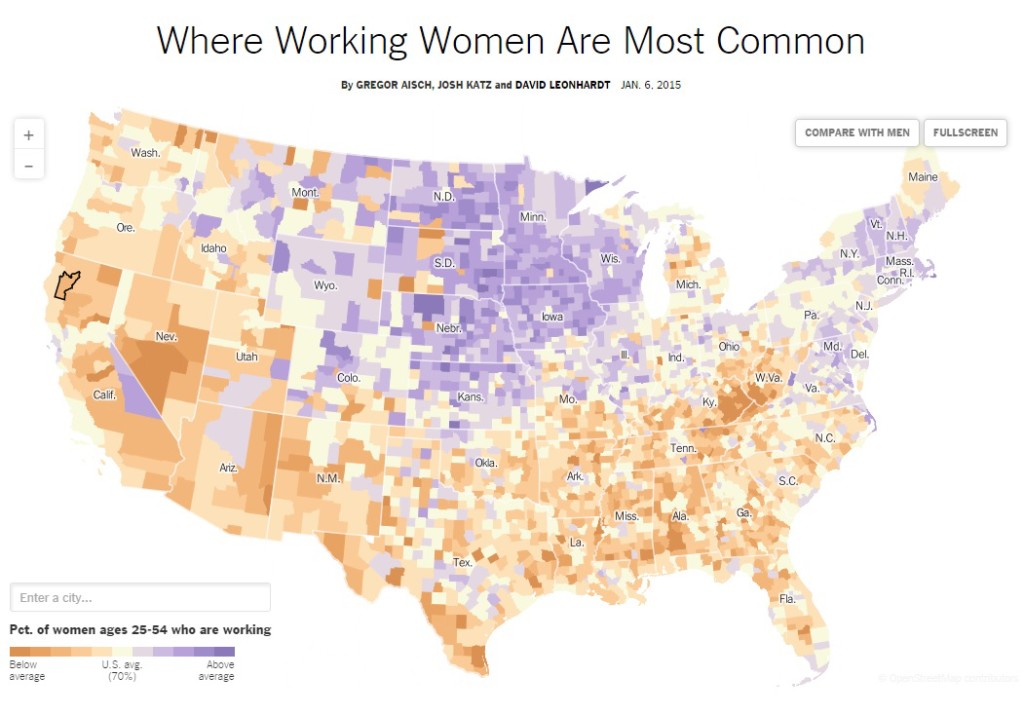 For men of working age, not working tends to be a distinctly unpleasant experience. They exercise less than when they had a job, and they say that their relationships with family members worsen — despite having more time to spend with those relatives.
For women, the situation is more complicated. They're more likely to say that their health and their relationships with friends and family have improved since they stopped working.
In a similar vein, the geography of female employment and nonemployment tends to be more complicated than the male geography.
The towns and counties where the lowest share of men between the ages of 25 and 54 are employed tend to be some of the tougher places in the United States to live, including Appalachia, Northern Michigan, the Deep South and the interior Southwest.
The places with low levels of female employment have a lot of overlap with these high-poverty places, as an Upshot analysis of census data shows. That's hardly surprising: Lack of employment has a strong and obvious correlation with poverty. Yet the geographic patterns of female work also have more nuances than the male patterns.
Female employment rates are relatively low in some fairly affluent areas, including Utah and other heavily Mormon areas — as well as on the Upper East Side of Manhattan. The East 80s and the suburbs of Salt Lake City may be very different places, but both have local cultures with a bent toward stay-at-home parenting, which still is far more likely to be done by mothers. In this way, they are extreme examples of a national trend: a modestly increased interest in full-time parenting in recent years.
On the other hand, female employment rates are notably high, especially compared with male rates, in New England and parts of the upper Midwest, which tend to be fairly well off. Female rates are also comparatively high in a swath of lower-income rural areas across the middle of the country. In all these places, education — the fact that women are now more educated than men — plays a big role in these contrasts.
Over all, the share of prime-age women with jobs rose throughout much of the latter decades of the 20th century, driven by the feminist movement. But the generally disappointing economy of the last 15 years — combined with the uptick in stay-at-home parenting — has caused the rate to fall since 2000.
Currently, about 30 percent of women between the ages of 25 and 54 are not employed, compared with 26 percent in 1999. By contrast, female employment rates have continued rising in most rich countries. The employment for prime-age men in the United States has been falling for most of the past half-century.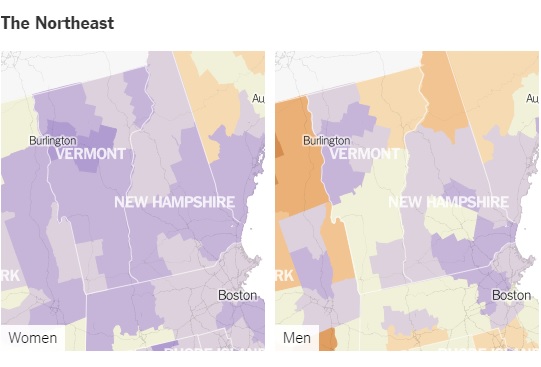 Throughout much of New England, employment rates for prime-age women — relative to their national average — are higher than rates for prime-age men. To be clear, men in New England between the ages of 25 and 54 are more likely to be working than their female counterparts. But female employment rates in some areas exceed the national average, while male rates tend to trail the national average. Why? New England is a highly educated region, with a large number of white-collar jobs, and women nationwide now are more likely to graduate than men.
New England also has a history as a center of manufacturing, which has long been male-dominated. As factories have closed in recent decades and white-collar work has expanded, women have been in a better position to take advantage. The pattern is evident in and around Boston and Burlington, Vt., but it's especially strong in New Hampshire. In the northern part of the state, the prime-age nonemployment rates are nearly identical for the sexes, both around 25 percent.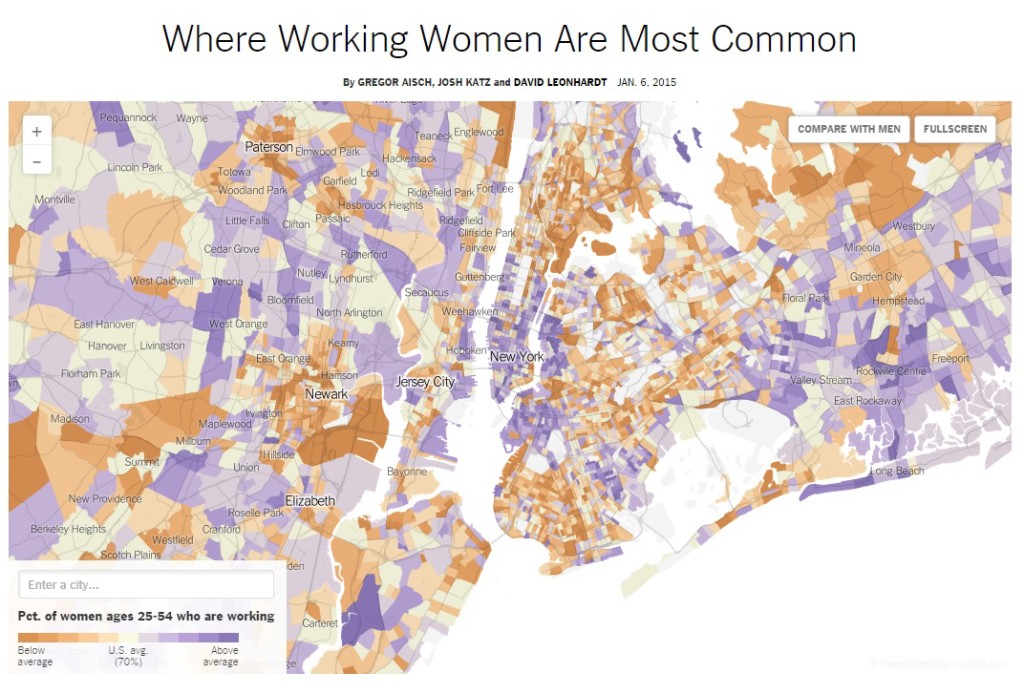 For men, nonemployment rates tend to be higher in poorer areas. That's true for women, too — but their nonemployment rates can also be high in the richest areas.
On the Upper East Side of Manhattan, about half of the women who live on the blocks adjacent to Central Park do not work. On this strip — one of the wealthiest areas of the city — the chance a woman does not work is about as high as it is in some of the poorest parts of the country.
Sources:
The full text for this article can be accessed at New York Times Interactive. Last access Feb 2015. Downloaded from http://www.nytimes.com/interactive/2015/01/06/upshot/where-working-women-are-most-common.html?_r=0&abt=0002&abg=0#/11/40.71/-74
Discussion Questions:
What do the women in your family do for work? Are they employed in a professional or semi-professional capacity or do they not work at all?
What social factors do you believe had the greatest influence on their choice (or lack of choice) of occupation?
If you grew up with a mother or mother figure in your household, did that person ever lose their job? If so, can you describe the impact on your family?
How might have the career choices of the women in your life impacted your decisions about what is possible and desirable for you, in terms of your own potential career trajectory?