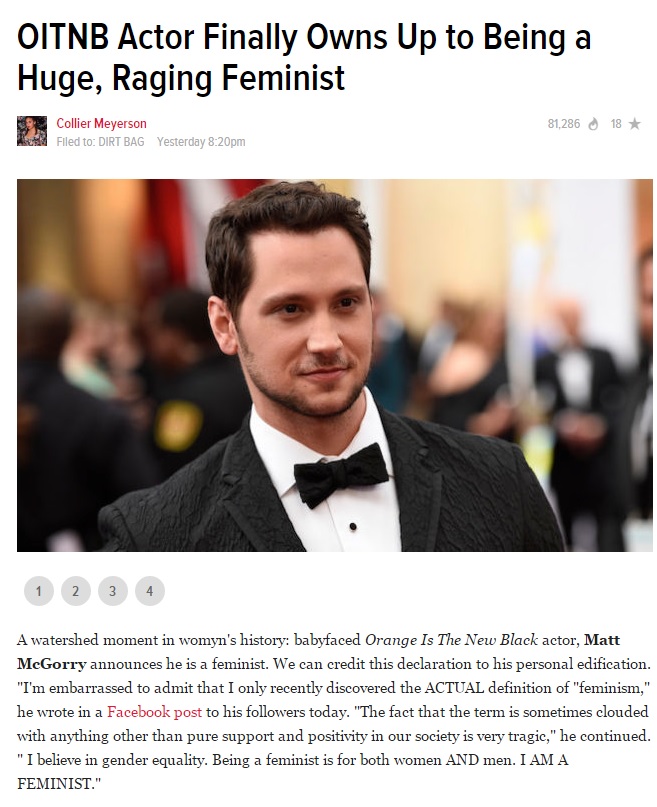 Who is a Feminist? This is a question I always ask students in my introductory courses. The response pattern in a class of 30 is typically less than 5 students. And of this small group, sadly almost none identify as men. What is happening here? Why is the word feminist so controversial? What does it mean to be a feminist? Or should I say: What do people perceive that it means to be a feminist?
The following chart illustrates results for women voters who are self-described "feminists." On the right side of the chart, you can see how the numbers change (they go up) when women are asked again after they are provided with a simple definition of feminism (see below).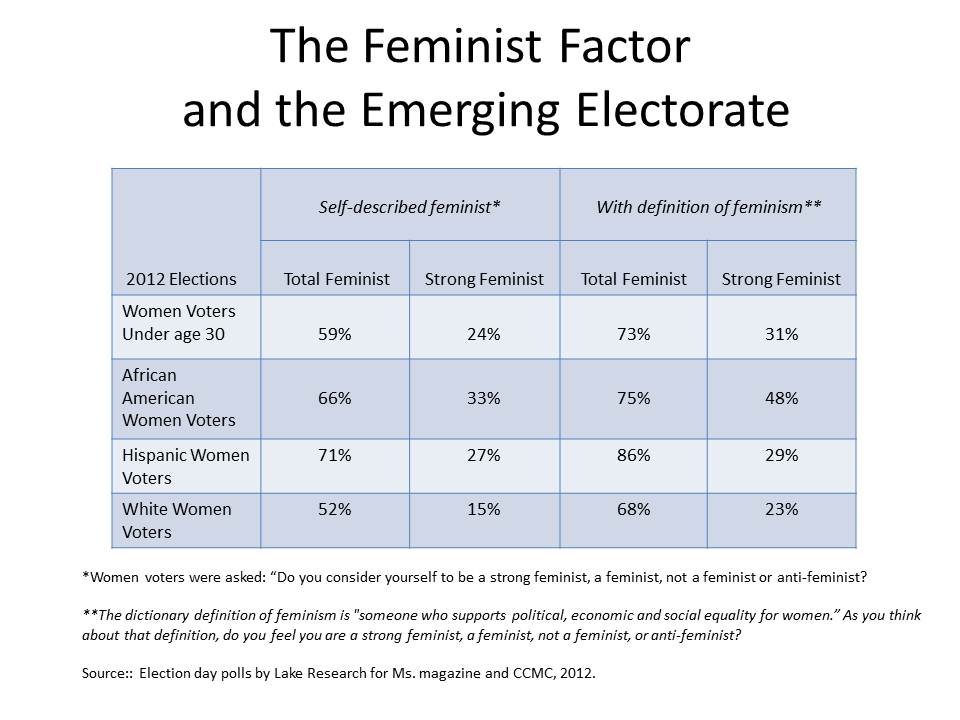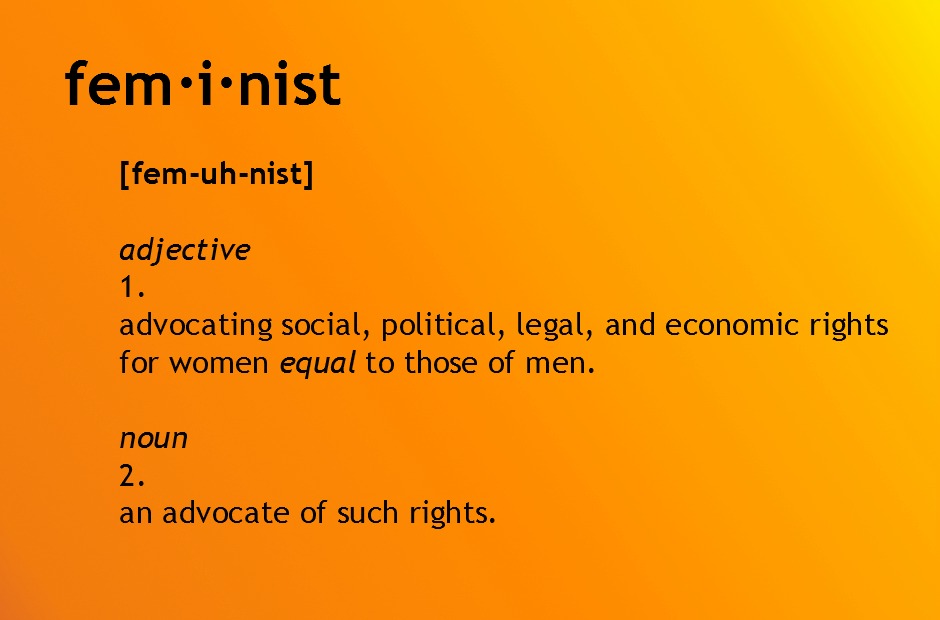 Or we might say simply this: Feminism is the belief that women are and should be treated as potential intellectual equals and social equals to men. While the basic idea seems easy enough to grasp, people try nevertheless to "thread the needle" so to speak, where they are willing to concede agreement with the general notion of equality, but reject the very same feminism in practice that has for more than 50 years advocated for women's equality. What gives here?
A recent spate of celebrities have made attempts to "re-brand" feminism more or less, by drawing attention to issues and problems in ways that academic feminists have sometimes fallen short – using humor and style. This includes people like Ryan Gosling, whose feminist advocacy is famously "memed," Beyonce, Emma Watson, Aziz Ansari, and Matt McGory among others.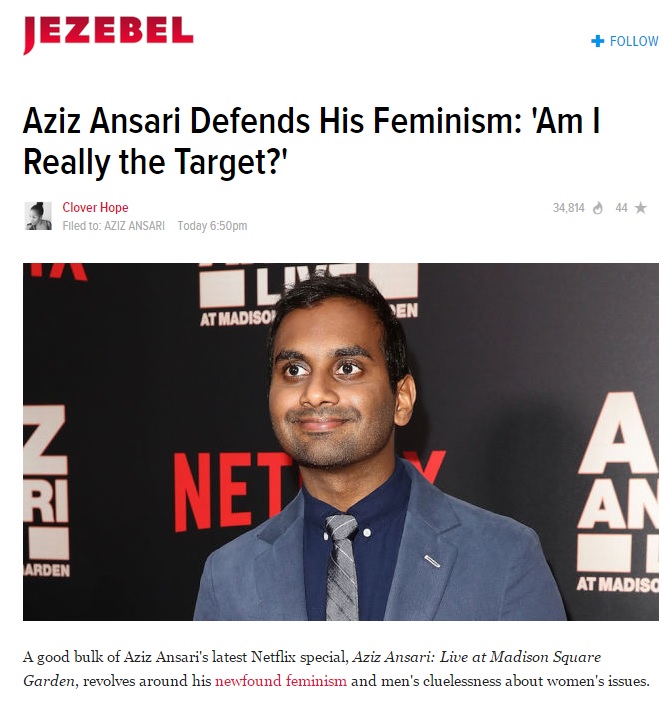 Queen Bey – Entertainer, Mother, Wife and Feminist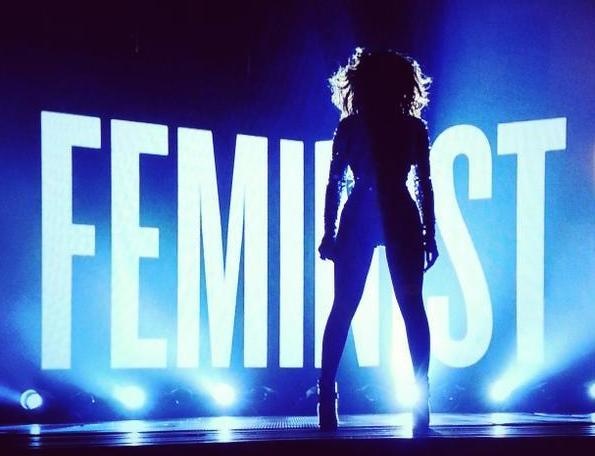 Still feel uncomfortable declaring yourself a feminist? Well, at least you are in good company. Malala Yousafzai, the young woman from Pakistan, who recently won a Nobel Peace Prize was  asked "Would you consider yourself a feminist?" She hesitated at first, then offered the following answer: "Well, I fight for women's rights."
Now, you might wonder why a world-famous emissary and forceful advocate and for the rights of women and girls would hesitate to use the word "feminist?" I would submit to you that she does this for the same reason many college students do – because of the polarizing and often extreme feelings/debates the term "feminist" conjures.
To identify as a feminist is to simultaneously identify with a legacy of politically charged issues with which feminists have historically championed and addressed through advocacy politics:
the right to vote
the right to hold public office
the right to work
the right to work for fair wages/equal pay
the right to own property
the right to an education
the right to enter contracts
the right to have equal rights in marriage
the right to have maternity leave
the right to have bodily autonomy and integrity
the right to have reproductive rights (access to contraception and abortion)
the right to protect woman and girls from rape, sexual harassment, and domestic violence
These issues, taken at face value, should not be controversial – but they are. And sometimes they are even controversial among feminists!
Many people, and sometime young women in particular, operate under the mistaken impression that  issues like the ones listed above are a quaint relic from the past; that these problems have all been settled more or less, that discrimination no longer happens, or that such issues are not longer the big deal that they once were. The record shows, however, that this is not the case. Feminist movements continue to campaign for many of these rights. And not just around the world. This is not simply a problem of the global south or a problem of women who live in poor countries. These basic rights are under attack at the state and federal level in the United States.
Recognizing that there are as many different "feminisms" as there are issues of concern, we might go another step further and define feminism as a collection of different movements and ideologies that share a common goal: to define, establish, and achieve equal political, economic, cultural, personal, and social. Feminist theory, which emerged from the different feminist movements of the past (sometimes referred to as 1st, 2nd, and 3rd wave feminism) aims to understand the multi-faceted nature of gender oppression and social inequality by taking a closer look at the social roles that women play, their lived experiences, and the public institutions that might be of service to champion women's rights.
But here again, stereotypes of "who is a feminist" often prevail when there is a lack of knowledge and understanding. Take, for example, the 3rd wave feminist pictured below. What we have here, unfortunately, is a reductive stereotype; a caricature that by far sells short the diversity of thinking and  writing by modern feminists. The stereotype is, admitedly, powerful. But it is also dangerous, because it is designed to trivialize and render impotent the critiques and arguments of contemporary feminists, who are trying to draw attention to women's issues and talk about them in complex ways.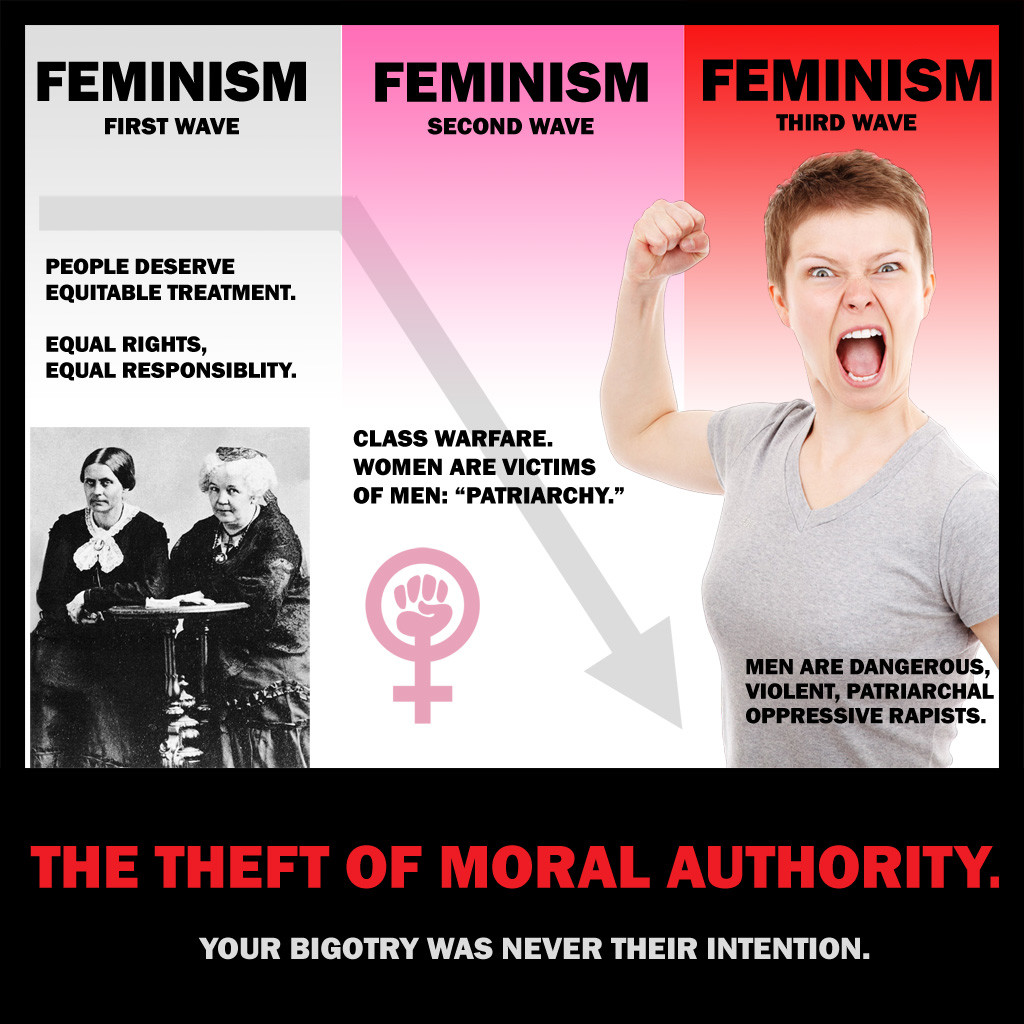 So then, just so we are clear – not all feminists are alike. They don't look alike, nor do they think alike. Thus, while feminists might agree women's empowerment is essential, they don't always agree on the best way to achieve this through policy and practice. Even more important, not all feminists are women. Yes, really. Men can uphold similar values and demonstrate concern with women's issues, which means men can be feminists too! Just like our friends here, Ryan Gosling and Tom Hardy: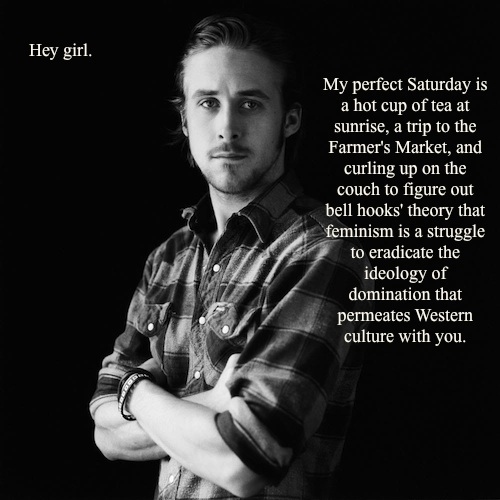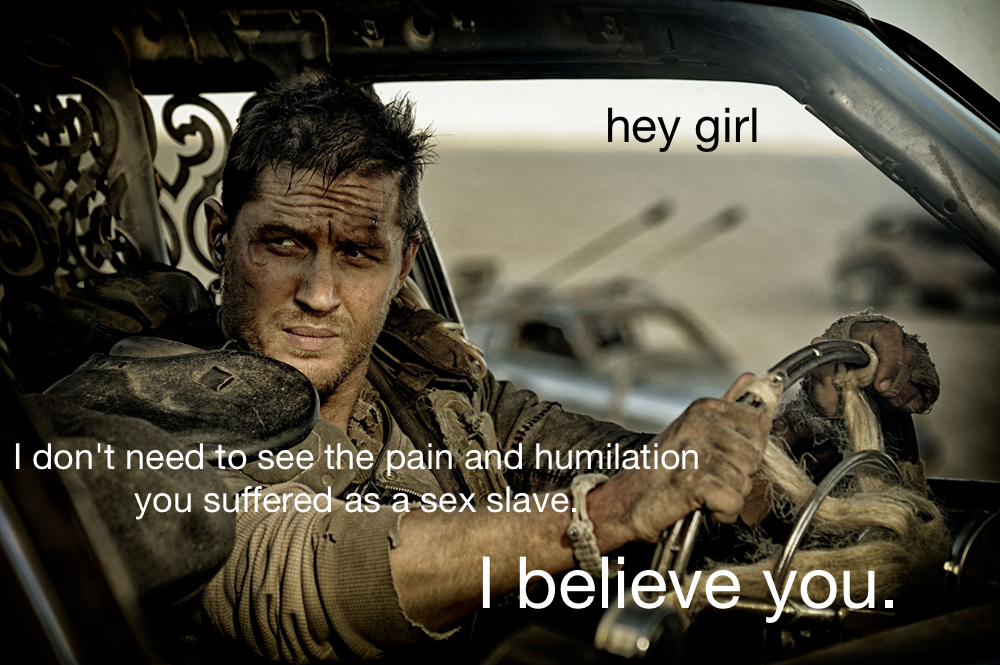 Intersectionality
Some forms of feminism have been criticized for only representing white, middle-class, educated perspectives. This critique led to the creation of ethnically specific and multiculturalist forms of feminism. Feminist theory has developed different theories and uses different conceptual tools across the disciplines and through direct action to address these different issues. Think about our class discussions about the idea that gender is "socially constructed," or that gender is "performed." Intersectionality theory studies the intersections of different forms of oppression, domination, and discrimination. This theory was first advanced by Kimberle Crenshaw in 1989 (though it traces its roots to the 19th century). The theory looks at how social identity is experienced along multiple and simultaneous axes: gender, race, class, ability, sexual orientation, religion, caste, species. These identity categories work together in different ways to contribute to systematic social inequality. Consequently, these classical conceptualizations of oppression within society do not act independently of one another. Instead, these forms of oppression interrelate, creating an interlocking system of oppression that reflects the "intersection" of multiple forms of discrimination.
The work of Patricia Hill Collins, likewise, furnishes us with another example of this type of theorizing. Collins, a leading voice for Black Feminism, argues that the experience of being a black woman cannot be understood in terms of being black, and of being a woman, considered independently, but must include the interactions of other variables like social class, which might dynamically alter that experience. In other words, race, class, and gender are always interacting and producing different experiences for different women. Which is to say, in other words, that not all women have the same experiences.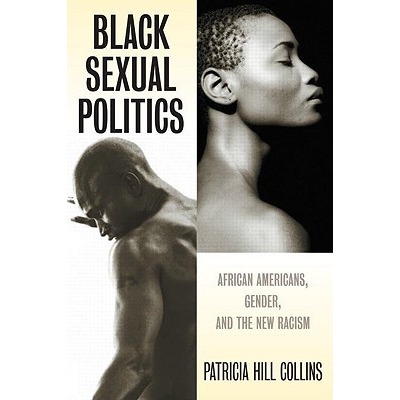 Feminist advocacy is mainly focused on women's rights, but authors like bell hooks  among others, argue for the necessity for it to include men's liberation, because men are also harmed by traditional gender roles. Scholars like Michael Kimmel and R.W. Connell have focused on social issues and problems as they relate to what they call "hegemonic masculinity."  This term is used to explain how and why men maintain dominant social roles over women, and other gender identities, which are perceived as "feminine" in a given society.
As a sociologic concept, the hegemonic nature of "hegemonic masculinity" derives from the theory of cultural hegemony by Marxist theorist Antonio Gramsci, which analyzes power relations among the different social classes in a given society. "Hegemonic" thus not only refers to the cultural dynamics by means of which a social group claims, and sustains, a dominant position in a social hierarchy; it refers to the cyclical pattern that demonstrates how these relations are produced, reproduced, and perpetuated to the detriment of woman AND men.
So for example, culturally idealized manhood that is idealized such an extent it is not attainable for MOST men is potentially a social problem. This ideal of manhood  tends to be socially and hierarchically exclusive. Often it is concerned with wage earning/bread-winning or projecting embodied forms of masculinity that reflect idealized body types – six pack abs.  This can be anxiety-provoking for men to the extent that it results in violence (either violence directed inward or outward toward others). This is not only a problem for feminists; it's a problem for everyone.
Many sociologists criticized this definition of hegemonic masculinity as a fixed character-type, because they find it analytically limited for reasons that it excludes complex and different competing forms of masculinity. As a result, hegemonic masculinity was reformulated to include gender hierarchy (patriarchy), a more broad spectrum of masculine configurations, the processes of social embodiment, and the psycho-social dynamics of different varieties of masculinity.
As a concept then, hegemonic masculinity is conceptually useful for understanding gender relations, because it is applicable to understanding a range of different areas of social life that are of particular interest to social scientists: education, life-span issues, criminology and deviance, health and illness, institutions, work and occupations, as well as understanding the different representations of women and men in mass media and communications.
Still not sure if you are a feminist? Here's one feminst's attempt to break it down into something more simple: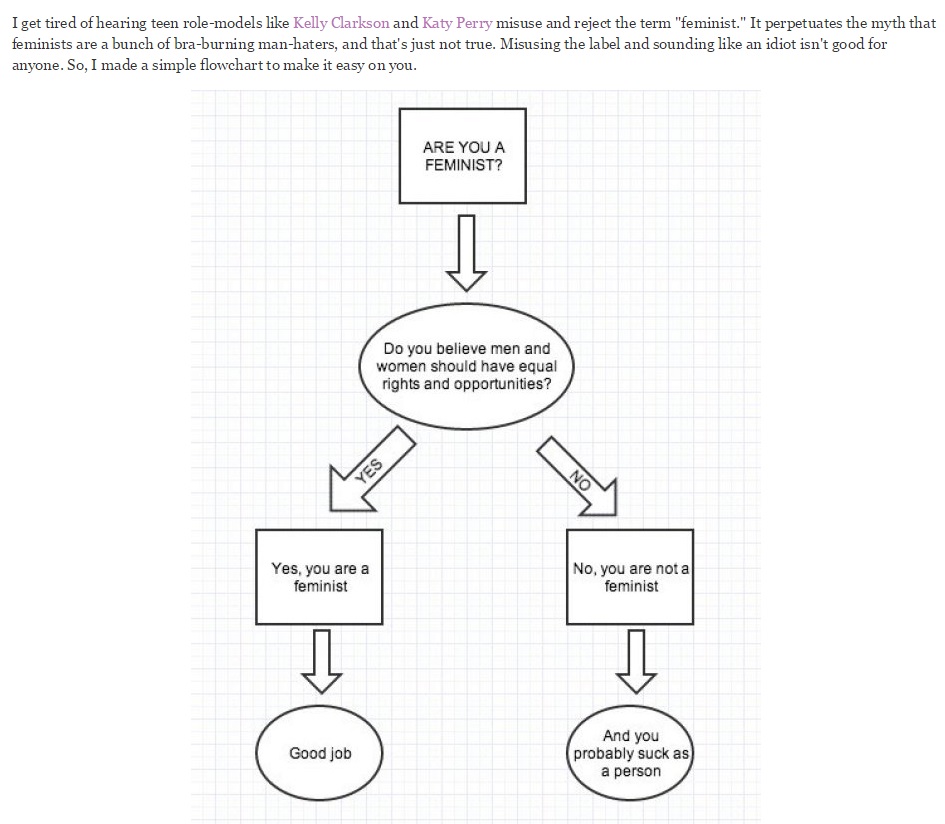 So go ahead. Say it. "I am a feminist." Or don't.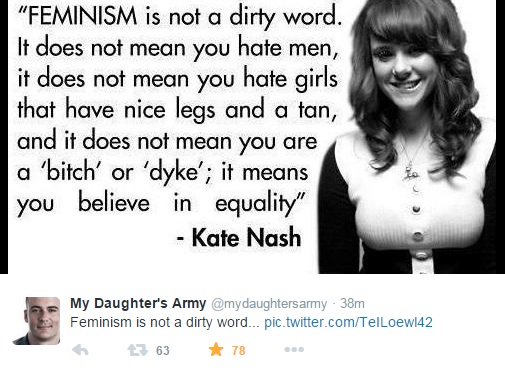 Sources:
Discussion Questions:
Do you define as a feminist? If not, why not?
When you look at the simple definitions provided, does it change your perspective on feminism? Does it make it easier or have no impact on your understanding of feminism, feminist issues, or feminist causes?
If you define yourself as a woman, can you think of a time you modified your behavior or took away from your own empowerment to appear more appealing to men? Has it ever been suggested to you that you should walk, different, talk different, or put less effort in careers or academics, because you want to be perceived as "lady-like?"
If you define yourself as a man, can you think of a time where rigid social constructs in regards to how you present as a male in society make you feel uncomfortable or even stressed? By this I mean, emphasis on being the sole bread-winner in a household, demonstrating masculine strength, and by way of contrast, not demonstrating inclination toward "book learning" and/or developing and demonstrating emotional capacity.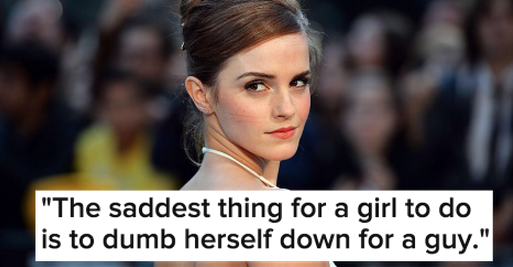 The always procative Emma Watson