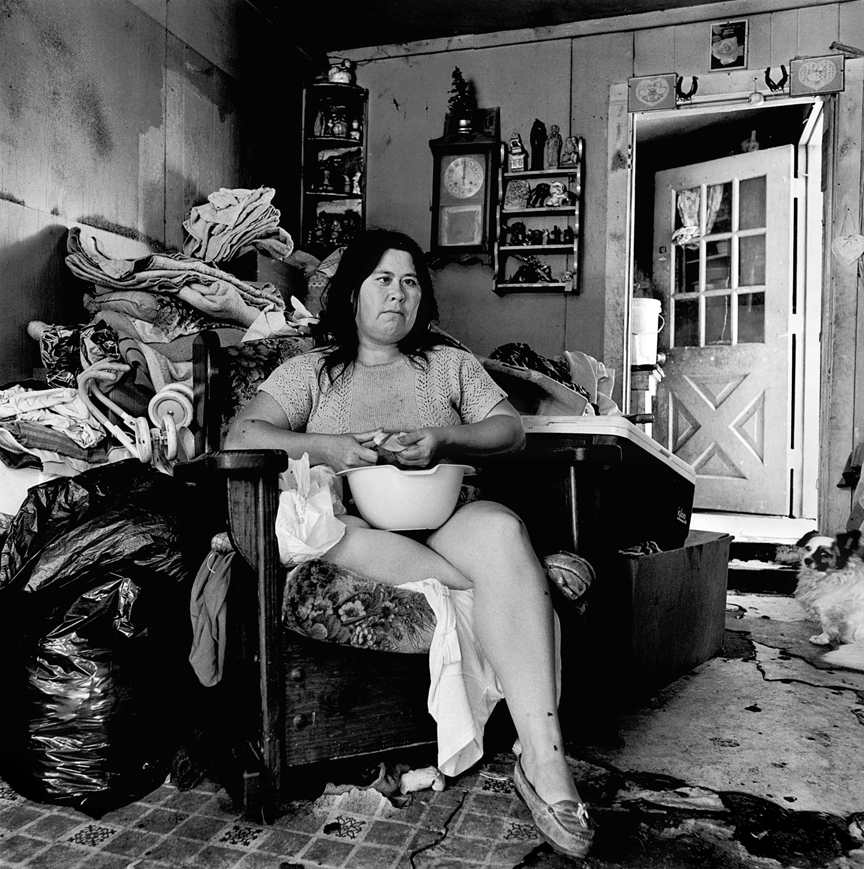 From the article "The myth destroying America: Why social mobility is beyond ordinary people's control," by Sean Mcelwee
A Perfect Problem In An Imperfect World
Many cultures have viewed poverty as an inescapable part of an imperfect world. Throughout history, societies have suffered from two kinds of poverty: social poverty, which withholds from some people the opportunities available to others; and biological poverty, which puts the very lives of individuals at risk due to lack of food and shelter. Perhaps social poverty can never be eradicated, but in many countries around the world, biological poverty is a thing of the past.
Until recently, most people hovered very close to the biological poverty line, below which a person lacks enough calories to sustain life for long. Even small miscalculations or misfortunes could easily push people below that line, into starvation. Natural disasters and man-made calamities often plunged entire populations over the abyss, causing the death of millions.
Today most of the world's people have a safety net stretched below them [note: the very idea of a "safety net" is under attack in the United States for political reasons and ideologies born out of "free market" fundamentalism; some politicians have referred to the net as a "hammock"]. Individuals are protected from personal misfortune by insurance, state-sponsored social security and a plethora of local and international NGOs. When calamity strikes an entire region, worldwide relief efforts are usually successful in preventing the worst. People still suffer from numerous degradations, humiliations and poverty-related illnesses, but in most countries, nobody is starving to death. In fact, in many societies, more people are in danger of dying from obesity than from starvation.
As science began to solve one unsolvable problem after another, many became convinced that humankind could overcome any and every problem by acquiring and applying new knowledge. Poverty, sickness, wars, famines, old age and death itself were not the inevitable fate of humankind. They were simply the fruits of our ignorance.
We are living in a technical age. Many are convinced that science and technology hold the answers to all our problems. We should just let the scientists and technicians go on with their work, and they will create heaven here on earth. But science is not an enterprise that takes place on some superior moral or spiritual plane above the rest of human activity. Like all other parts of our culture, it is shaped by economic, political and religious interests.
Poverty, consequently, rather than being seen as a "technical" problem that might be fixed is often seen as a moral failing: it is the poor themselves that are to be blamed.
Research on Poverty
According to a new report from the Pew Research Center, Americans are almost evenly split over who is responsible for poverty and whether the poor have it easy or hard. Here are some factoids from the data:
44% think that the government should do more for the needy, even if it means more debt
51% think the government can't afford to do more for the needy and shouldn't
45% think that poor people today have it easy
47% think that poor people have it hard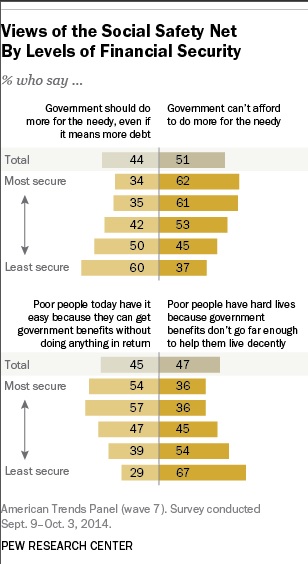 What is interesting here is how survey responses correlate with whether the respondents themselves are rich or poor. Not surprisingly, a proportionately larger number of the least economically secure (2/3rds) think government benefits don't go far enough; the proportion of people who share this view diminishes among economimcally secure people (only 1/3rd). The pattern repeats again when people are asked whether the government should and can do more – 60% of the least economically secure say "yes," while 62% of the most secure say "no."
The Myth of the American Dream
In the United States, there is a strongly held conviction that with hard work, anyone can make it into the middle class. Pew finds, however, that Americans are far more likely than people in other countries to believe that work determines success, as opposed to other factors beyond an individual's control. Unfortunately, this positivity comes with a negative side — a tendency to pathologize those living in poverty. In other words, Americans are more inclined to blame individuals for structural problems. Thus we find that 60 percent of Americans (compared with 26 percent of Europeans) say that the poor are "lazy." Only 29 percent of Americans say those living in poverty are trapped in poverty by "factors beyond their control" (compared with 60 percent of Europeans).
Again, it is important to distinguish here how the survey responses provided by people reflect "beliefs" – not data and evidence. While a majority of Americans might think that hard work determines success and that it should be relatively simple business to climb and remain out of poverty, the empirical reality is that the United States has a relatively entrenched upper class, but very precarious, ever-shifting lower and middle classes.
As for welfare, while many Americans hate welfare, the data suggest they are fairly likely to fall into it at one point or another. In their recent book, "Chasing the American Dream," sociologists Mark Robert Rank, Thomas Hirschl and Kirk Foster argue that the American experience is more fluid than both liberals and conservatives believe. Using Panel Survey of Income Dynamics (PSID) data — a survey that tracked 5,000 households (18,000 individuals) from 1968 and 2010 — they show that many Americans have temporary bouts of affluence (defined as eight times the poverty line), but also temporary bouts of poverty, unemployment and welfare use.
Keep in mind that "welfare" is not just food stamps. This study tracked use of Medicaid, Temporary Assistance to Needy Families/Aid to Families with Dependent Children (food stamps), Supplemental Security Income, and any other cash/in-kind programs that rely on income level to qualify. The chart below illustrates different measures of economic insecurity experienced by people relative to time spent claiming benefits.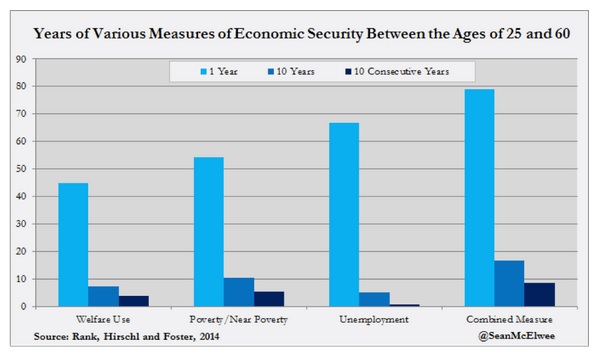 Researchers found that a large number of Americans eventually fall into one of the "welfare" categories, but few stay "welfare dependent" for long. Instead, the social safety net does as it is intended – it catches them – and allows them to get back on their feet.
The same authors also found that the risk of poverty is higher for people of color. (Since the PSID began in 1968, most non-white people in the survey have been black.) And while most Americans will at some time experience affluence, again, this experience is segregated by race.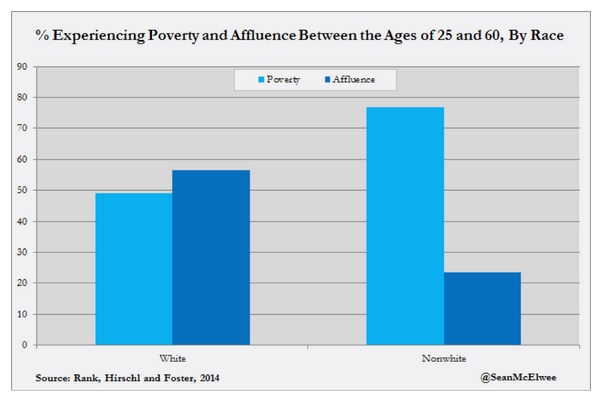 Social Mobility
In a study published earlier this year, Rank and Hirschl examine the 1 percent, and find that entry into it is more fluid than previously thought. They find that 11 percent of Americans will enter the 1 percent at some point in their lives. But here again, access is deeply segregated. Whites are nearly seven times more likely to enter the 1 percent than non-whites. Further, those without physical disability and those who are married are far more likely to enter the 1 percent.
The researchers didn't measure how being born into wealth effects an individual's chances, but there are other ways to estimate this effect. For instance, a 2007 Treasury Department study of inequality allows us to examine mobility at the most elite level. On the horizontal axis (see below) is an individual's position on the income spectrum in 1996. On the vertical level is where they were in 2005. To examine the myth of mobility, I focused on the chances of making it into the top 10, 5 or 1 percent. We see that these chances are abysmal. Only .2 percent of those who began in the bottom quintile made it into the top 1 percent. In contrast, 82.7 percent of those who began in the top 1 percent remained in the top 10 percent a decade later.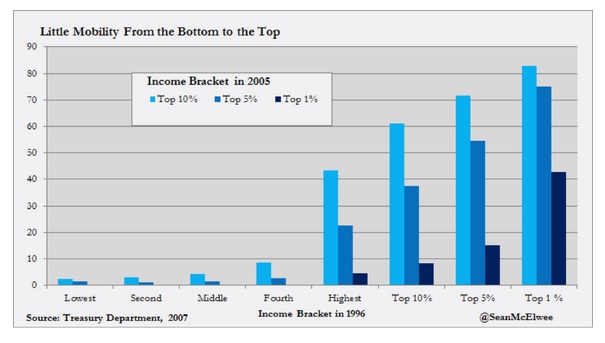 One recent summary of twin studies suggests that "economic outcomes and preferences, once corrected for measurement error, appear to be about as heritable as many medical conditions and personality traits." Another finds that wages are more heritable than height. Economists estimate that the intergenerational elasticity of income, or how much income parents pass onto their children, is approximately 0.5 in the U.S. This means that parents in the U.S. pass on 50 percent of their incomes to their children. In Canada, parents pass on only 19 percent of their incomes, and in the Nordic countries, where mobility is high, the rate ranges from 15 percent (in Denmark) to 27 percent (in Sweden).
There is reason to believe that wealth, which is far more unequally distributed than income, is also more heritable. In his recent book, "The Son Also Rises," Gregory Clark explores social mobility in societies spanning centuries. According to Clark, "current studies… overestimate overall mobility." He argues as follows:
"Groups that seem to persist in low or high status, such as the black and the Jewish populations in the United States, are not exceptions to a general rule of higher intergenerational mobility. They are experiencing the same universal rates of slow intergenerational mobility as the rest of the population. Their visibility, combined with a mistaken impression of rapid social mobility in the majority population, makes them seem like an exception to a rule. The are in instead the exemplary of the rule of low rates of social mobility."
Clark finds that the residual effects of wealth remain for 10 to 15 generations. As one reviewer writes, "in the long run, intergenerational mobility is far slower than conventional estimates suggest. If your ancestors made it to the top of society… the probability is that you have high social status too." While parents pass on about half of their income (at least in the United States), Clark estimates that they pass on about 75 percent of their wealth. Thus, what Rank and Hirschl identify, an often-changing 1 percent, is primarily a shuffling between the almost affluent and the rich, rather than what we would consider true social mobility.
The American story, then, is different than normally imagined. For one, many Americans are living increasingly precarious existences. In another paper, Hirschl and Rank find that younger Americans in their sample are more likely to be asset poor at some point in their lives. But more importantly, a majority of Americans will at some point come to rely on the safety net. Rather than being a society of "makers" and "takers," we are a society of "makers" who invest in a safety net we will all likely come in contact with at one point or another.
The Gini Coefficient measures how equally distributed resources are, on a scale from 0 to 1. In the case of 0, everyone shares all resources equally, and in a society with a coefficient of 1, a single person would own everything. While income in the U.S. is distributed unequally, with a .574 gini, wealth is distributed far more unequally, with a gini of .834 — and financial assets are distributed with a gini of .908, with the richest 10 percent own a whopping 83 percent.
Wealth and financial assets are the ticket to long-term financial stability; those who inherit wealth need never fear relying on the safety net. And it is these few individuals, shielded from the need to sell their labor on the market, who have created the divisive "makers" and "takers" narrative. Using race as a wedge, they have tried to gut programs that nearly all Americans will rely on. They have created the myth of the self-made individual, when in fact, most Americans will eventually need to rely on the safety net. They treat the safety net as a benefit exclusively for non-whites, when in reality, whites depend upon it too (even if people of color are disproportionately affected).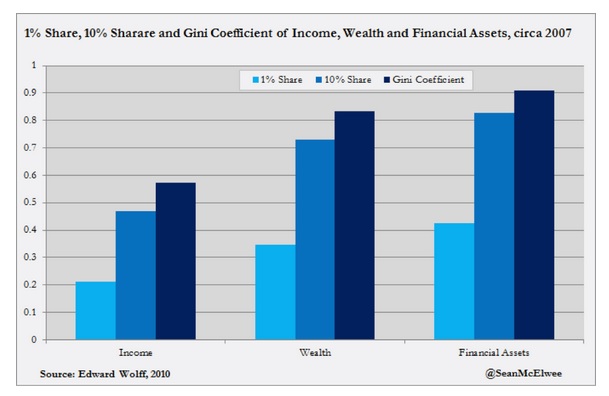 As many scholars have noted before, the way the welfare state works (primarily inefficient tax credits for the middle class) is a big part of why this delusion has been sustained. It is therefore not that Americans believe themselves to be "temporarily embarrassed millionaires," but rather "self-made men" (with a dose of racism), that drives opposition to the welfare state. And by this, I mean that while most people understand they are not likely to become millionaires, few among them realize how much government programs have benefited them throughout their lives.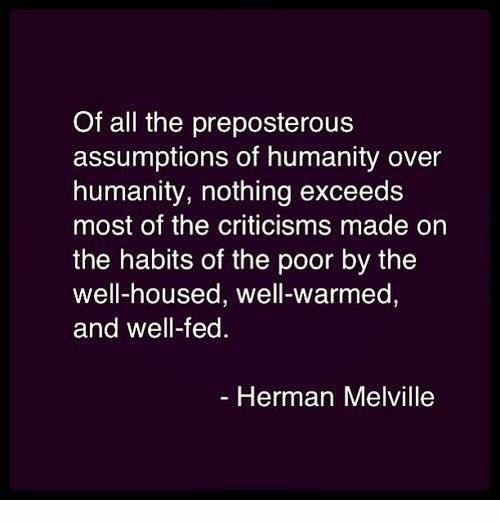 Sources
The source for this article, including the charts referenced in it is Sean Mcelwee. His original article, published by Salon, is entitled "The myth destroying America: Why social mobility is beyond ordinary people's control." Link no longer available.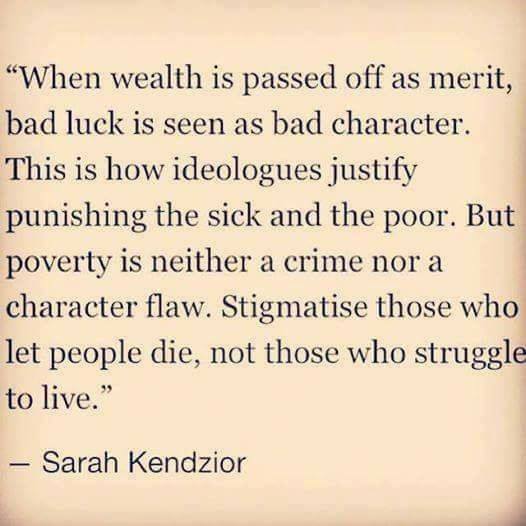 Discussion Questions
How do you think a developed country like the United States should provide for a social safety net? (or do you think it should not?)
Do you think there are minimum levels of individual subsistence that should be provided for people under circumstances of economic stress?
What do you think about programs like Medicaid and Medicare? Do you know what they are and how they work? (one is an anti-poverty program and the other is a benefit funded through payroll deductions over the course of one's working lifetime). What do you think, for example, would happen if we got rid of Medicaid?
How might "personal responsibility" narratives make it difficult to deal with social problems at the policy level?
How do you think we might address the problem of persistent inter-generational social inequality (think about places like Appalachia and the rural south)? Do you think that government providing things like job training and food stamps are enough to fix the problem?