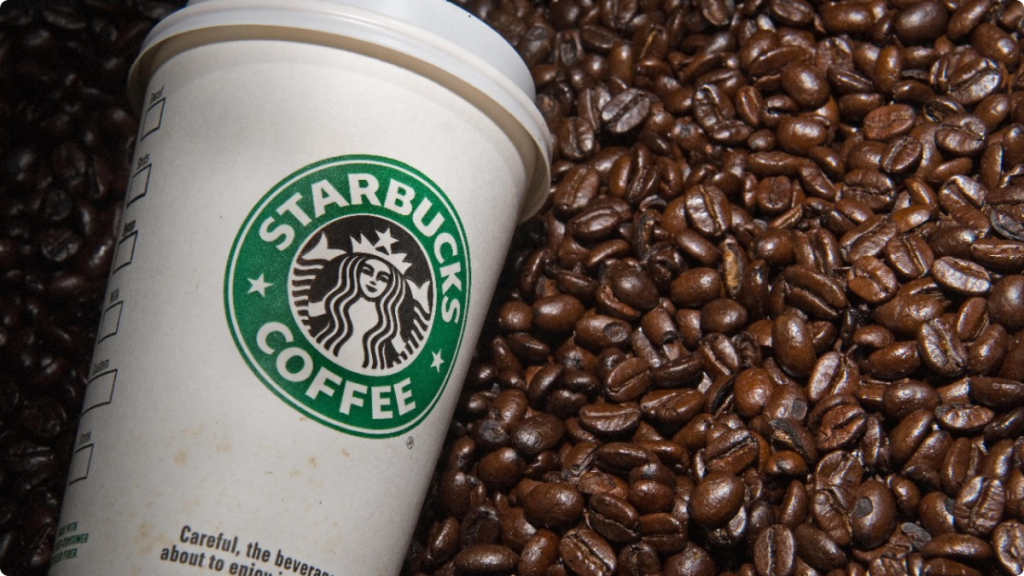 Last month, Starbucks kicked-off its Race Together campaign. The company said it launched the initiative because it wanted do its part in helping to raise social awareness about race in the United States. The basic idea here, according to CEO Howard Schultz, was to take advantage of an "opportunity to begin to re-examine how we can create a more empathetic and inclusive society – one conversation at a time." Starbucks published an insert in 2 million copies of USA Today to explain why it wanted to do engage a conversation about one of the country's more sensitive topics. The eight-page insert, which appeared March 20, 2015, included a series of statements like:
"White people control almost 90 percent of the nation's wealth."
This number is striking when you take into consideration that only 67 percent of households are white. This occurs in spite of the fact that census documents and research indicate that the U.S. population is increasingly shifting toward minority-majority status (numbers based on Federal Reserve statistics published in 2013).
Baristas were asked to write #RaceTogether" on customers' coffee cups while serving them; that was how they let them know they were specially selected to engage in a conversation on the topic. This part of the campaign was abruptly ended within the short period of a week after causing a backlash of criticism.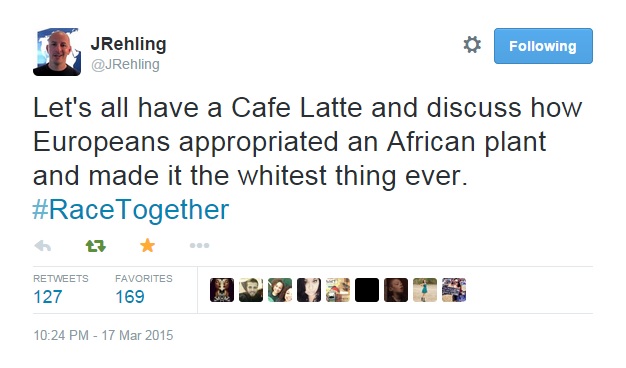 Race Under Fire

Criticism was swift, severe, and….well, sadly funny. Many pointed to the event as a classic example of a corporate top-down driven initiative; one undertaken without much foresight or planning. Others pointed to the hypocrisy of a predominantly wealthy white management structure asking its comparatively non-white workforce to shoulder the burden of a conversation that was disingenuous and saturated with contradiction. For example, at a salary of $21 million per year, CEO Schultz makes about $10,000 an hour. Starbucks baristas, on the other hand, make on average twice that amount— annually!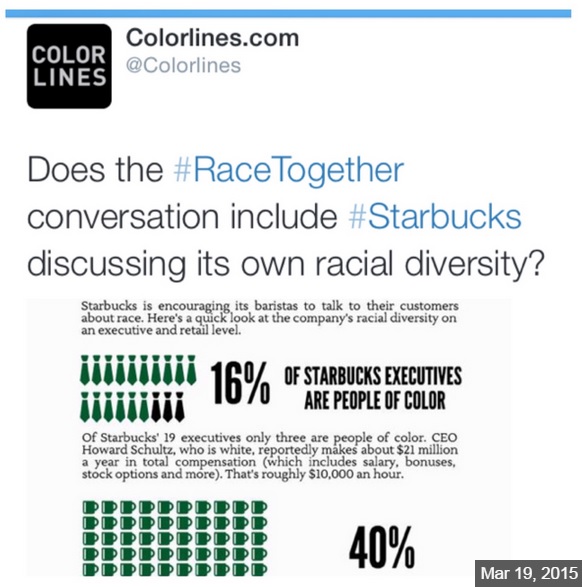 In other words, if Starbucks really cared about race and racial justice, it would do more than simply encourage people chat up a barista about it over coffee; it would take a hard look at its own contribution to the country's growing inequality — which Starbucks, like many other large corporations in the U.S., demonstrates through example how its business practices tend to reinforce rather than mitigate against these socio-economic trends.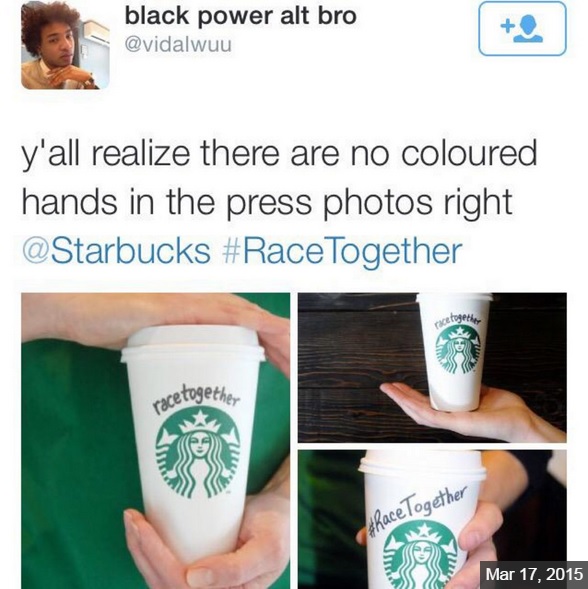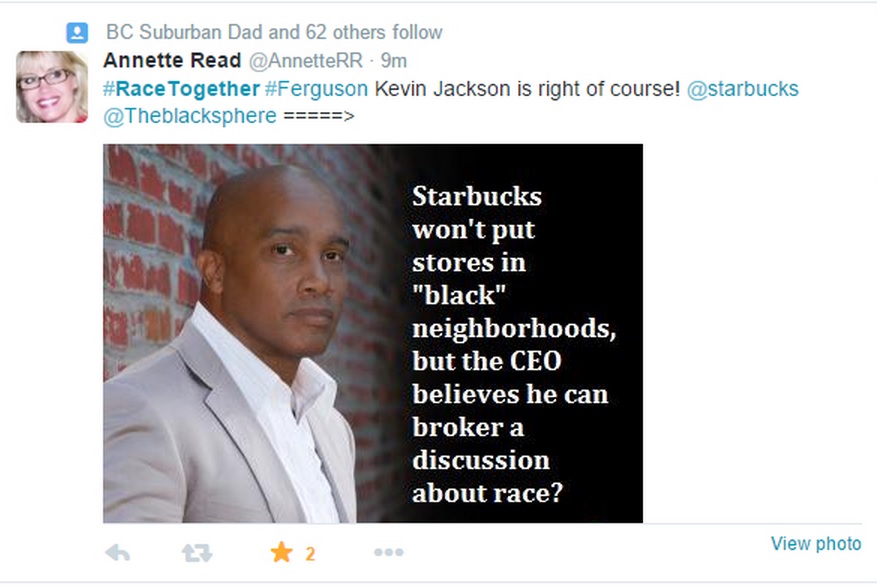 Parody is Flattery ….or maybe not
"Saturday Night Live" ridiculed Starbucks' campaign in a skit announcing the launch of a mock campaign called "Genderflect" that encouraged mechanics to talk about gender and sexual identity with customers. "We think Starbucks is on the right track," a narrator says in the mock ad. "So we at Pep Boys are starting a conversation too. This month all Pep Boys mechanics are encouraged to start a dialogue with you about gender and sexual identity … because if we don't talk about these issues, who will?"

#RaceTogether and the Harm of Racial Ignorance
To some, encouraging people to talk about "race" sounds like a step up from a culture that prefers to indulge the post-racial fantasy that racism is a "thing of the past."
The problem here is that rather than thinking through the best practices that might foster a productive discussion about race and racism, Starbucks company executives seemed content to just sort of tell everyone else that they need to discuss the topic without providing any educational resources or guidelines. In a letter to his employees, CEO Schultz stated that he conceived of the idea "not to point fingers and not because we have answers, but because staying silent is not who we are." In other words, while Schultz thinks race is a really important topic, he has nothing in particular to say about it except that there is no one to blame.
Sociologist Crystal Flemming writes that "one of the reasons why it is so difficult to have public conversations about race is the fact that very few people have actually studied race seriously, either on their own or within an educational setting. Starbucks is actually contributing to the misconception that "race" is something that doesn't require education to discuss. The truth is that many people have never taken a class on the subject, attended an anti-racist workshop or even read a book about the history of racism. Conversations based on racial ignorance are actually quite harmful and have the potential to alienate people who have experienced racism or lost loved ones to racial violence." Consequently, we stand to do more harm than good when we encourage random members of the public who have not studied race to share their uninformed opinions with others who are likely to be similarly uninformed.
Research on Talking About Race
Research on racial attitudes has demonstrated that there are wide swaths of the majority population who believe that talking about race at all is itself racist. Some have gone as far as to say that critiques of white people, individual or collective, are inherently hateful – merely an example of racialized groups "playing the race card." This critique proposes that racism is over, the real racists are the ones that want to talk about race.
Such thinking, unfortunately, by virtue of its aim to minimize and outright deny the existence of racial inequality, makes worse and perpetuates a cultural ideology of white supremacy. As philosopher Charles Mills explains, these various attempts at denial produce an "epistemology of ignorance"–a way of knowing and constructing the world built on a lack of knowledge about the social and political realities of race.
Eduardo Bonilla-Silva, a professor of sociology at Duke University, conducted extensive empirical research on racial attitudes among college students. These findings are published in his acclaimed book "Racism Without Racists." The book documents how beneath our twenty-first century contemporary conversation about race lies a full-blown arsenal of arguments, phrases, and stories that whites use to account for—and ultimately justify—racial inequalities. This "new racism," as he calls it, is of a more hidden and difficult-to-detect variety than the overt forms of racism that pre-dated the civil rights movement.
Bonilla-Silva says: "It is a mistake to think that just because Barack Obama is in office, racism is over." Instead he says that racism has only changed faces; rather than outright discrimination, people of color experience more subtle forms of racism that rely on socially coded cues and loaded language to reflect bias. In short, Bonilla-Silva explodes the belief that America is now a color-blind society.
Patricia Hill Collins, a sociology professor at the University of Maryland, examines race as a system of power, which she compares to other systems of power, i.e. patriarchy and heterosexism. She's particularly interested in acknowledging the different ways in which power (particularly that which infuses transnational politics and institutions) underlies transnational forms of authority. This power, she notes, depends on sustaining historically constructed notions about racialized, gendered identities, which were (and still are) instrumental in validating this authority.
In light of this work, we might reflect and consider how an institution like Starbucks, which represents a globalized culture, both reflects and reinforces the intersectional effects of race, class, and gender.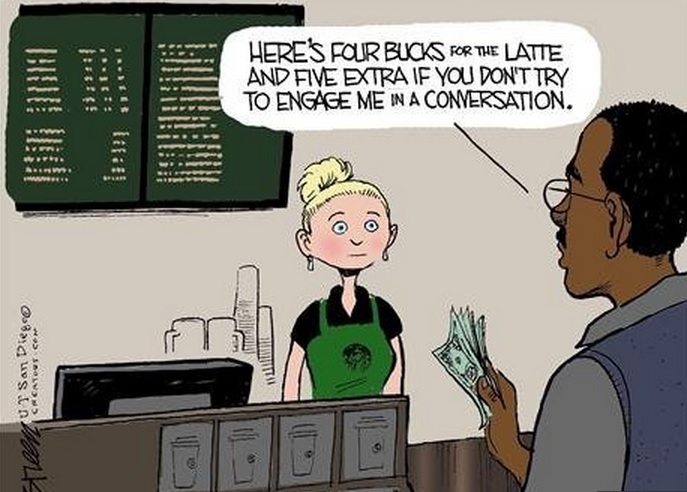 Discussion Questions:
Why is Starbucks' senior management team trying to lead a national conversation about racial diversity when they don't reflect the value of diversity in their own business practices?
What is the problem here? Isn't it anti-racist to take a stand and say that racial inequality is a legitimate and important topic of conversation?
Do you think that people, whites and non-whites alike, might have felt racially profiled when receiving their cup of coffee with the hashtag? How would you personally have felt about being asked to have this conversation?
Do you think the company might have provided employees with guidelines or store training in regards to how to invite customers to "join" in the conversation?
What about the issue of consent? How do you think people might feel about being asked about race? Can you imagine there might be people who would feel uncomfortable or simply have no desire to be asked about a painful topic by a perfect stranger?
Lastly, if you look at issues like this and don't see why it's a big deal, there is perhaps an interesting question you might ask yourself: What is it like to be socialized in such a way that you can resopond with emotional detachment to the strong/upset reactions people of color have to the problem of racism in society? Did you grow up in a racially homogeneous environment, where you had low/no level of social contact with non-white people? And if so, what would it take for you arrive at a place of understanding?