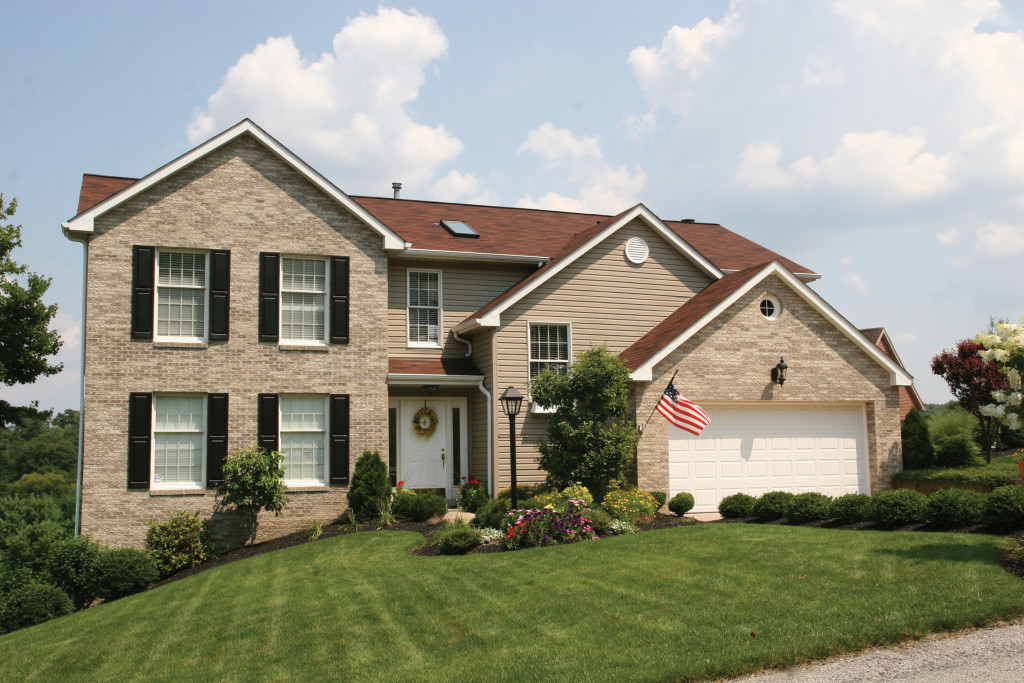 When you read a report about how the "middle class has shrunk" or that the president gave a speech vowing to "strengthen the middle class," what does it mean?
Given how much attention is paid to the "middle class," you may be surprised to learn that there isn't a hard official definition of who gets to be in it. The vague parameters may help to explain why people aren't great at deciding whether they themselves are middle class or not.
For example, while we know that wealth inequality is growing, and therefore presumably those in the middle class are showing signs of falling down the economic ladder (or for a rare few, up), the number of Americans who report being in the middle class has remained largely unchanged for years – until recently. What is perhaps more surprising and even a little bit galling is that some of the wealthiest Americans in the country consistently self-report their status as "middle class."
An analysis published by the Pew Charitable Trust took a look at this question. Pew defined middle class households as those earning 67%-200% of a state's median income.
Take a look at the chart below. Pew computed their range using median income numbers published by the US Census Bureau's 2013 American Community Survey. The ACS median numbers are listed in the leftmost column. Pew shows the median figure opposite the range, which it breaks out further by state, to show how much middle-class earners make in each state. The states are listed in descending order based on median income.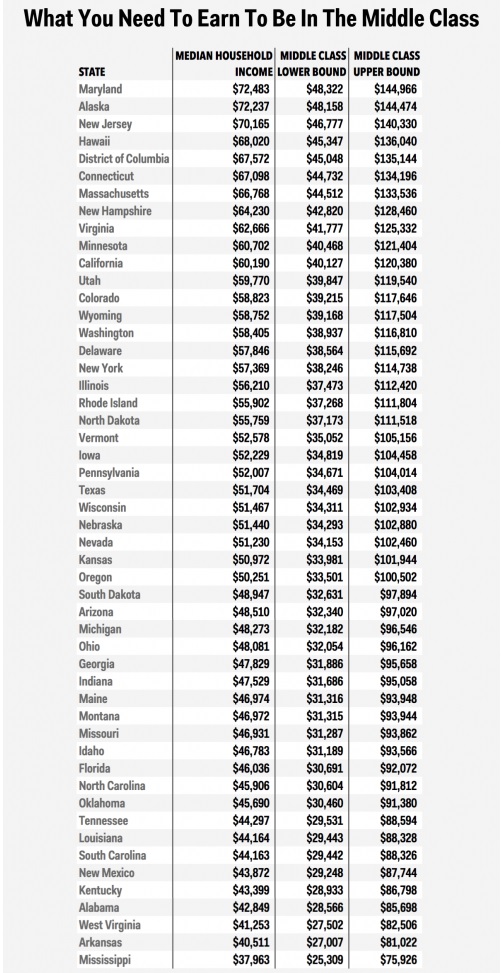 Middle Class but Economically Insecure
Middle-classness is very often not as much about actual earnings, but about how people actually feel. And as it turns out, people's feelings (in terms of their identifying with middle class status) are remarkably broad. Many wealthy as well as poor people can be found to simultaneously identify as middle class, even when their incomes fall far outside of the middle range. Earnings and assests are thus, for many of us, only part of the definition of class. That is to say, there is an important "psychological" component to class that interacts in a dynamic way with the economic dimensions.
Consequently, you might look at this chart and think that the "lower bound" middle class income category doesn't really feel like middle class at all. That's because the term "middle" here is being used in its most literal sense. Middle income, in other words, does not always signify middle class. So if you find yourself located in the middle range, but find that this doesn't feel like middle class to you, it might have something to do with the skyrocketing cost of living, which is being driven up principally by housing costs, and the fact that the majority of people aren't seeing large boosts to their salaries. Lost jobs, stagnating income, and general feelings of insecurity are all as important as economic criteria in determining how a given individual feels about their class status.
Interestingly now, because there is such an extreme concentration of earnings at the top end of the scale, the "middle" number is starting to show signs of trending higher over time. If the trend persists, more and more people fall outside this range. It's no wonder that a Pew survey found that between the years 2000 and 2013, the number of people considered "middle class" fell in every single state. People are falling out of the middle class at an alarming rate! These numbers should serve as a stark reminder of just how little most Americans actually have. The take-away here is that middle class ain't what it used to be.
More than this, there isn't one middle class, rather, there are "many" middle classes. What all of them require, according to experts, are feelings of income security. Without income security then, theoretically and practically speaking, there can be no middle class.
[Note: using the "median," rather than the "mean" measure of income, generally produces a statistical result that reflects a more accurate picture of income/earnings, because data are less likely to be skewed by abnormalities in the extreme ends].
Median Household Income and the US Economy
Since 1980, U.S. gross domestic product (GDP) per capita has increased 67%, while median household income has only increased by 15%. An economic recession will normally cause household incomes to decrease, often by as much as 10%.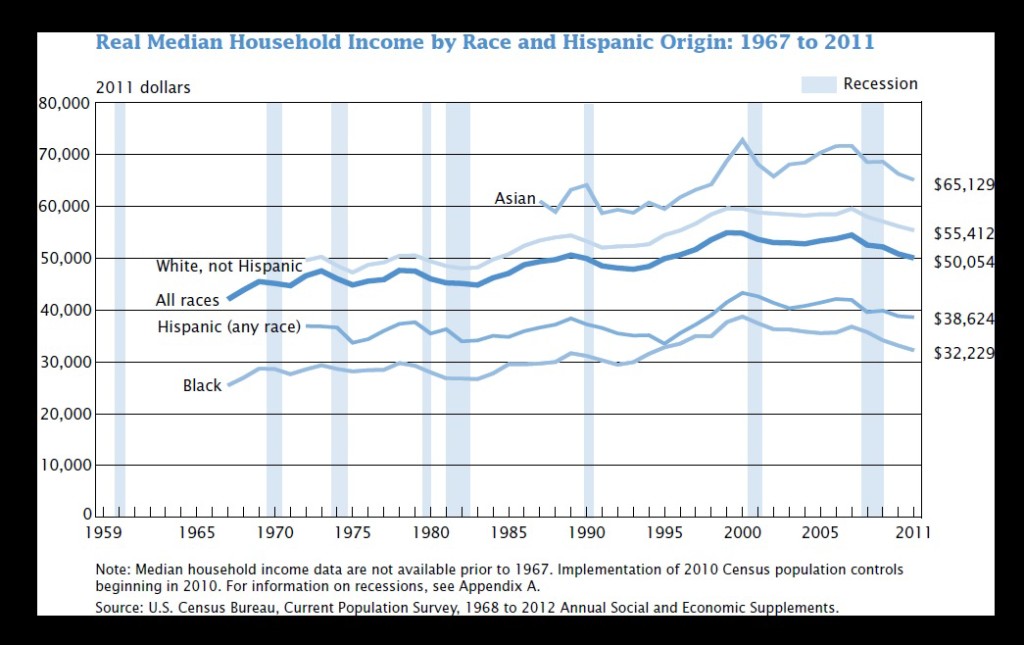 Median household income is a politically sensitive indicator. Voters can be critical of their government if they perceive that their cost of living is rising faster than their income. Figure 1 shows how American incomes have changed since 1970. The last recession was the early 2000s recession and was started with the bursting of the dot-com bubble. It affected most advanced economies including the European Union, Japan and the United States.
The current crisis began with the bursting of the U.S. housing bubble, which caused a problem in the dangerously exposed sub prime-mortgage market. This in turn has triggered a global financial crisis. In constant price, 2011 American median household income is 1.13% lower than what it was in 1989. This corresponds to a 0.05% annual decrease over a 22-year period. In the mean time, GDP per capita has increased by 33.8% or 1.33% annually.
The Politics of Poverty
Now, if we were to think about these findings in light of poverty issues, the picture becomes even more grim. The federal guidelines for what we consider the "poverty line" set an income threshold to determine who is poor enough to qualify for benefits. That threshold, as it turns out, is painfully set at a very low level.
So for example, according to the 2015 guidelines, anything above $11,770 and, as far as the government is concerned is an indicatior that you aren't really poor. Unfortunately, this delusion has real world consequences. Everything from healthcare subsidies to food stamps to help with housing is based on this rigid guideline, which has demonstrated that it is difficult to change for reasons that are largely political. This means that many people who are struggling can't get access to the help they need.
Discussion Questions
How do you feel about your individual or family status, based on what is reflected on the income chart?
Do you feel anxiety about your earnings ability and your ability to secure a comfortable lifestyle?
How do the psychological dimensions of class interact with the economic dimensions of class in your own life? Do the numbers say one thing, and your feelings another? In other words, do you sometimes feel conflicted about your class status?