The hashtags #BlackLivesMatter, #BlueLivesMatter, and #AllLivesMatter entered the lexicon not long ago and opened the door to ongoing controversy and dog-whistle politics. For this reason, we need to take a closer look at the meanings implied by the competing tags/memes to see how they operate within the larger social context.
#BlackLivesMatter
Activists for #BlackLivesMatter hashtag/movement adopted a micro/macro approach to critique, where on the one hand there is a particular focus on the individual cases of black men and women killed by police; on the other hand, there is a more generalized critique aimed at the social system.
The social system, according to their view, comprises toxic elements of White supremacy, social inequality, police brutality, and police "immunity" from prosecution – all of these things work together to produce the ongoing and countless numbers of senseless murders by police every year. The vast majority of police killings of black people, they say, hardly register a blip on the media radar, let alone lead to a protest. Activist protesting aims to bring into the public consciousness what is alleged to be an institutionalized system of organized legal violence in law enforcement; one that normalizes murder of the citizenry under the guise of acceptable policing practice.
To put this in perspective, consider the following from a Rollingstone journalist who embedded with BLM activists for a period of a year while writing a story:
"If BLM being described as nonviolent sounds strange to you, then you're probably watching too much Fox News. The movement has been wildly misunderstood partly because of how it's caricatured and demonized by right-wing media. "We absolutely don't consider Black Lives Matter a hate group," says Heidi Beirich, the head of the Southern Poverty Law Center's Intelligence project, which tracks hate groups. "Black Lives Matter is not a racist group; anyone can join. It's a movement to expand civil rights for the oppressed in this society. It's a peaceful protest against oppression. There's simply no equivalence between Black Lives Matter and a hate group. It's truly offensive to equate them" (Toure).
Dummies Guide to Black Lives Matter – Kamau Bell
Click here for an insightful talk about #BLM.
#BlueLivesMatter
Activists for #BlueLivesMatter, by playing off the hashtag activism of the former, have in the process reduced the #BlackLivesMatter movement to a simple concern for murder. They argue that the latter is only concerned about the lives of black people without a concern for others. This effort to simplify as well as reduce the cause to a focus on murder, in effect, de-centers the lives/deaths of black people (the focus of the BLM movement) as calls for a more balanced focus on the deaths of murdered police officers (i.e. Brian Moore). This is classic dog-whistle politics (sending a message about racial minorities that remains inaudible on one level, though it is clearly heard on another by those who recognize what is meant by the coded language.
The tradition of dog-whistle politics started in the 1960's with George Wallace and Richard Nixon, continued through the Reagan era, and now is more relevant than ever in the age of the Tea Party and, more recently, Trump. In what is a now infamous 1981 interview, Lee Atwater, while working for the Reagan Whitehouse, explained how Republicans could win the vote of racists without sounding like racists (this is the dog-whistle) politics worked
You start out in 1954 by saying, "Nigger, nigger, nigger." By 1968 you can't say "nigger"—that hurts you, backfires. So you say stuff like, uh, forced busing, states' rights, and all that stuff, and you're getting so abstract. Now, you're talking about cutting taxes, and all these things you're talking about are totally economic things and a byproduct of them is, blacks get hurt worse than whites.…"We want to cut this," is much more abstract than even the busing thing, uh, and a hell of a lot more abstract than "Nigger, nigger."
BlueLivesMatter functions on a similar level to the extent that trafficks in coded language while employing the "fair and balanced" strategy of argumentation. In doing so, it effectively locks the two movements into an oppositional conflict dynamic. Do you support BLM? Well, if you do that means you don't support cops – so the logic goes. Supporting one means you are assumed to be against the other (even though this is not said out loud). The rhetorical move sets up a false equivalency argument: #BlueLivesMatter activists often ask: "Where is the outrage and protest when cops are killed? Don't their lives/murders warrant a commensurate response?" The answer is – "No they do not."  And here is why.
Situating the entirely unrelated killing of a police officer within the context of the larger problem of police brutality causes everyone to miss the real point; a point that is only now being addressed by journalists and researchers: Why are so many black people being killed by the police?
The false equivalency rhetoric evokes a false sense of parity: "we killed one of 'theirs,' now 'they' killed one of 'us.'" President Obama engaged the same equivalency logic when he played the "two sides" card during the Baltimore uprising in 2016. He said "both sides need to soul-search" when talking about the riots.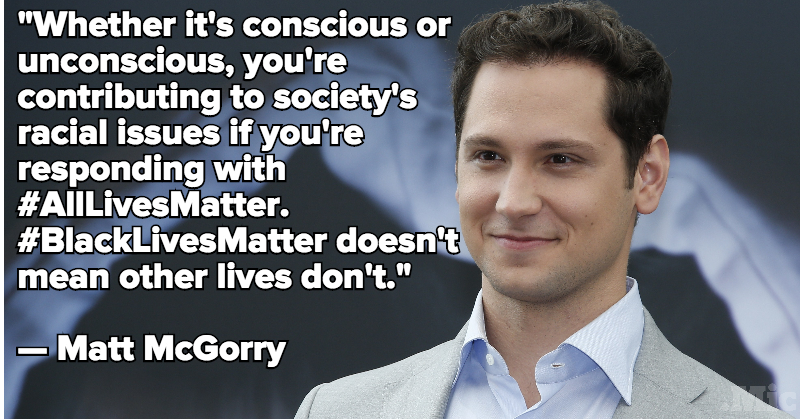 #AllLivesMatter
In a classic "split the difference" move, the #AllLivesMatter hashtag/movement seeks to eliminate the differences represented by the other two sides of the debate in one fell swoop. It is worth noting that much like the "BlueLivesMatter movement seeks to also eliminate nuance from critique, this movement does the same and at the same time may appeal to an even wider swath of people, who may feel it is less combative and more productive to eliminate any and all suggestion of human difference. People who espouse this view are doing two things: 1) they assume those who advocate on behalf of #BLM hold views that other lives don't matter or they don't matter as much as black lives (a falsehood); 2) they seek to avoid conflict and in doing so eliminate nuance from the conversation. There is a tendency here to desire a simple solution for a complex problem. Unfortunately, this type of reasoning reflects more on the reasoning capacity of people making this argument than it does say anything about the actual issue at hand.
People who espouse this view are doing two things: 1) they assume those who advocate on behalf of #BLM hold views that other lives don't matter or they don't matter as much as black lives (a falsehood); 2) they seek to avoid conflict and in doing so eliminate nuance from the conversation. There is a tendency here to desire a simple solution for a complex problem. Sometimes this is merely born out of a desire to avoid conflict. In any case, it fails as a conflict mitigation technique and subtly or not so subtly contributes to the racial problem.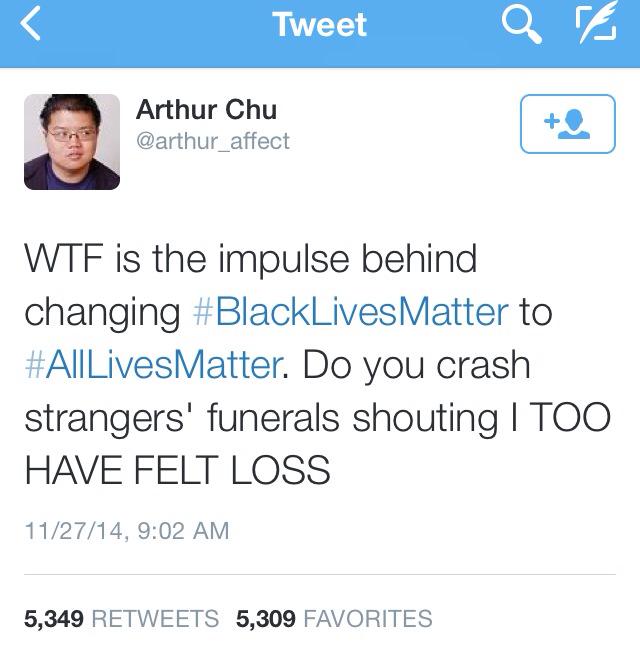 By seeking to eliminate rhetorical differences, the ALM appeal to simplicity leaves us with an argument devoid of content. Put another way, if #BlackLivesMatter is trying to get people in the United States to acknowledge how black people are being targeted in a way that white people are not. When people say "AllLivesMatter" they are more or less telling people to shut up and deal with the situation.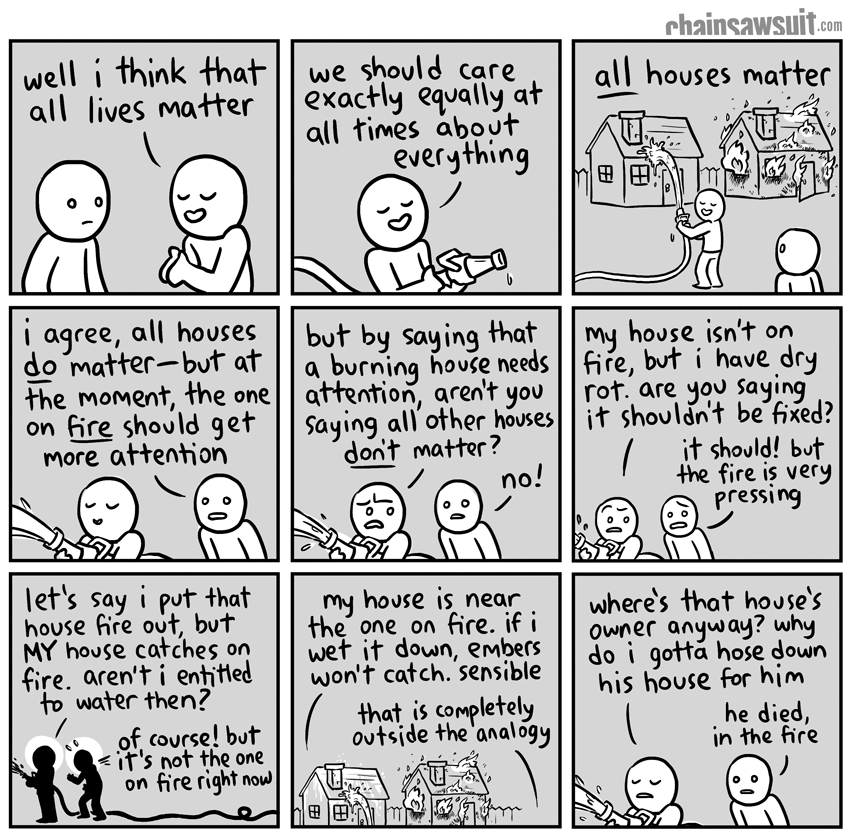 Big Picture – Arguments have More Than 2 Sides
There is arguably a larger propaganda goal being served here by the false equivalency trope (Black Lives vs. All Lives; Black Lives vs. Blue Lives) to the extent that these other hashtags/movements work in ways that effectively undermine the goals and objectives of the original #BlackLivesMatter movement.
People are protesting cops killing citizens because this type of activity is has been permitted to continue, more or less, without consequence. The same cannot be said for cop killers, who are almost always are dealt with swiftly and are further subjected to a system of justice that is often denied to the group on the other side of the power dynamic.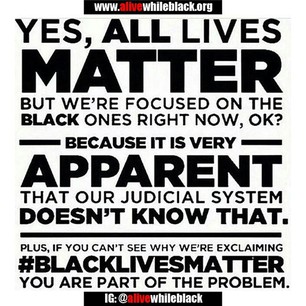 Brian Moore's murderer (a police officer who was killed), much unlike Eric Garner's murderer, was summarily arrested and charged. He will likely be subject – unlike Michael Brown's murderer – to an adversarial trial with a hostile DA. He will in all likelihood – unlike Tamir Rice's murderer- spend the rest of his life in prison.
Mike Brown's death, for example, was never simply about street justice for someone who was an obvious "thug." It doesn't matter in the least if he was a thug; it's not a police officer's job to serve as judge, jury, and executioner – a fact that seems to elude many people.
Mike Brown's death and the resulting protest was about how blacks are assumed to be inherently criminal and how they are disproportionately and often unjustly targeted by law enforcement.
BLM continues to call attention to how it is systemic racism (institutional racism) that frames the way in which black people, and most especially men, are often viewed.  This is about how blacks (even their corpses) are criminalized and put on trial when too often their white killers go unindicted and, to make matters worse, they are applauded for "doing their job."
Many argued that if Mike Brown had merely "followed the officer's instructions" he would be alive. The list below, which sadly continues to grow, demonstrates this logic is not supported by evidence. For it appears no amount of following instructions can save Black people when they are being pursued by the police. This is why they run.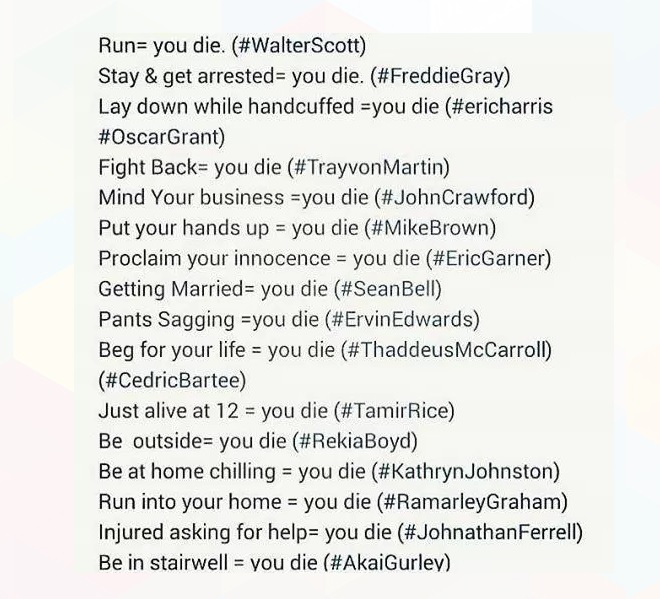 False Equivalency Arguments
Another argument used to undermine the #BlackLivesMatter movement goes something like this: "Blacks kill each other" at incredibly high rates; in other words, "more of them die at the hands of their own people than die from police killing them"….so why all the fuss about a few blacks getting killed by white police officers?
Criminologists have, however, been compiling data for years that demonstrate most murder/killing is intra-racial. According to FBI homicide statistics, around 91 percent of Black victims are murdered by Black assailants. But guess what? The same pattern is evidenced among whites. Crime statistics document that approximately 83% of white victims are killed by white assailants. Again, this is because the vast majority of violent crime is committed within — not between — racial groups. Crime is a matter of proximity and opportunity. People tend to victimize their own rather than drive across town to victimize someone else.
Another problem with the "black-on-black" crime argument is that it tries to infer is that there's nothing normal about black intra-racial crime; black-on-black crime is somehow "pathological" in a way that white-on-white crime is not. "White-on-white" crime is this sense normalized. How do we know? Because it is simply called crime.
This faulty logic, nonetheless, proliferates in different forms across major media outlets and social media – it is chiefly and perhaps most prominently espoused by no less than the former New York City Mayor, Rudy Giuliani, who stated in an interview on television:
"I find it very disappointing that you're not discussing the fact that 93 percent of blacks in America are killed by other blacks. I would like to see the attention paid to that that you are paying to this."
Again, there are a few problems with this. First, being concerned about the shooting of unarmed black men doesn't preclude being concerned over violence within the black community at large (in other words, caring about one doesn't mean you can't simultaneously care about the other).  Giuliani and others suggest a dichotomy where none exists
Second, the "black-on-black crime" argument elides a coded form of racism (remember Bonilla-Silva's argument -it's covert rather than overt). Even worse, proponents of the argument act/pretend as if they are truly concerned about the state of black America, when this is not likely to be the case.
To be fair, people of all races– blacks included — will often argue passionately that if blacks were to simply stop killing their own and become more respectable, this would alleviate the effects of racism (see "respectability politics"). Such misinformed thinking, however, ignores the complex history that explains why white cops kill unarmed black teenagers.
Another variation of this argument, where statistics are misrepresented can be found in the "black man-on-white woman" crime trope.  This invokes a historical trope "the defense of White womanhood," which throughout history depicted black men as an existential danger to white women. Accordingly, black men are understood to be inherently criminal, even bestial. And their favorite target of opportunity is always the white women. Here's an example of a somewhat benign, but no less damaging depiction of the theme: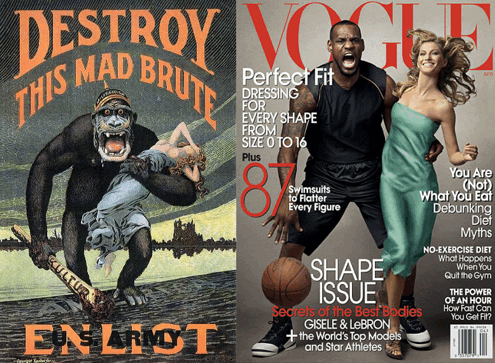 A Mother's Letter To Her Community – by Kate Riffle Roper
As a white mother of two black children, three white children, who all have a white father, I have something to say.
Racism exists. It is real and tangible. And it is everywhere, all the time.
When I brought my boys home they were the cutest, sweetest babies ever. Wherever we went, people greeted us with charm and enthusiasm. Well, not all people and not everywhere. But, to me, they were the "wacko" exceptions. I thought to myself, "Get over it."
Now my boys look like teenagers. Black teenagers. They are 13. Let me ask you these questions. Do store personnel follow your children when they are picking out their Gatorade flavors? They didn't follow my white kids. Do coffee shop employees interrogate your children about the credit card they are using to pay while you are in the bathroom? They didn't interrogate my white kids. When your kids trick-or-treat in, dressed as a Ninja and a Clown, do they get asked who they are with and where they live, door after door? My white kids didn't get asked. Do your kids get pulled out of the TSA line time and again for additional screening? My white kids didn't.
Do your kids get treated one way when they are standing alone but get treated a completely different way when you walk up? I mean a completely different way. My white kids didn't. Do shoe salespeople ask if your kids' feet are clean before sizing them for shoes? No one asked me that with my white kids. Do complete strangers ask to touch your child's hair? Or ask about their penis size? Or ask if they are "from druggies"? No one did this with my white kids.
Did you tell your kids not to fight back because they will seen as aggressive if they stand up for themselves? Have you had to honestly discuss with your husband whether you should take your children to the police station to introduce them to the officers so they would know your children are legitimate members of your community? Have you had to talk to your children about EXACTLY what to say and not to say to an officer? Have you had to tell your children that the objective of any encounter with police, or security in any form, is to stay alive? It never occurred to me to have these conversations with my white children. In fact, it never occurred to me for myself either.
There is no question that my boys have been cloaked in my protection when they were small. What I did not realize until now is that the cloak I was offering them was identification with my whiteness. As they grow independent, they step out from my cloak and lose that protection. The world sees "them" differently. It is sweet when they are adopted little black boys so graciously taken in by this nice white family. But when they are real people? Well, it is not the same. And they still look like little boys. What happens to them when they look like the strong, proud black men I am raising?
The reason why the phrase All Lives Matter is offensive to black people is because it isn't true. Right now, in America, my black children are treated differently than my white children. So when you say All Lives Matter as a response to the phrase Black Lives Matter you are completely dismissing the near daily experience of racism for those with pigment in their skin, curl in their hair and broadness of their nose.
I am posting this so you can see the reality I have witnessed and experienced, because, frankly, I didn't believe it was true until I saw it up close, directed at two souls I love, over and over again. So, please, use this post as a pair of glasses to see the racism that surrounds you. Then we can actually make progress toward all lives being valued and cherished.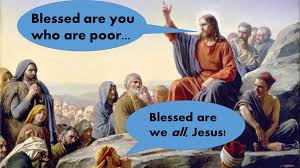 But Isn't Police Violence a Problem?
Supporting BLM doesn't mean that you don't support police; it doesn't mean that you don't care about the lives of police officers. As for the violence, all of this is occurring within a social context where violence directed at police officers is (as of 2016) trending at an all-time low. Despite considerable sensationalizing in the media, there is no evidence that suggests the BLM movement is inspiring a new "wave" of violence against police officers.
Correspondingly, there is cause for concern when police behavior inspires mass outrage and citizen complaint, as we have recently found to be the case. Because this makes police work potentially more lethal for police officers. For if citizens don't share information or contribute to police investigations, that makes policing more difficult, dangerous, and unavoidably more deadly.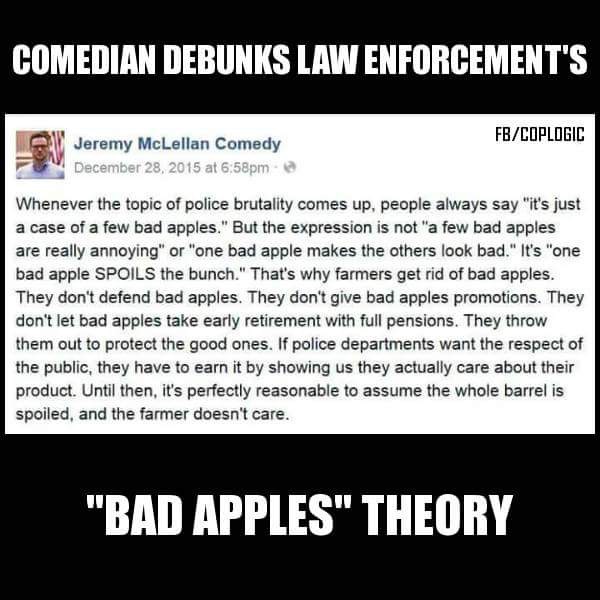 Summary:
The protests in Ferguson, New York, Baltimore, and Cleveland are do not attest to nor do they provide evidence to suggest that black people are intrinsically criminal, animalistic, and deviant. What they do showcase beyond the shadow of a doubt is that criminally negligent behavior practice by police officers is not confined to "one-off" incidents in disparate communities; it's part of a national pattern of behavior. Protestors have been villainized; they've been called terrorists and worse for having arrived at a point of utter desperation in their efforts to call attention to problems in their communities.
As uncomfortable as this is for many people, the protests reveal there is a nation of angry people, black and otherwise, who are sick and tired of seeing their friends and family members subjected to the mercy of a justice system that we see by way of action almost daily that it does not value black life and livelihood.
Note: for more on dog-whistle politics, see Ian H. Lopez's book that goes by the same name. He gives an incisive account of the history of this development as a tactic in politics. According to the author, dog whistle appeals generate middle-class enthusiasm for political candidates who promise to crack down on crime, curb undocumented immigration, and protect the heartland against Islamic infiltration, but ultimately vote to slash taxes for the rich, give corporations regulatory control over industry and financial markets, and aggressively curtail social services. White voters, convinced by powerful interests that minorities are their true enemies, fail to see the connection between the political agendas they support and the surging wealth inequality that takes an increasing toll on their lives. The tactic continues at full force, as the Republican Party continues to use racial provocations to drum up enthusiasm for weakening unions and public pensions, defunding public schools, and opposing health care reform.
Sources:
Excerpts from this posting are derived from essays written by two authors:
"A Year Inside the Black Lives Matter Movement," by Toure
"What Does 'Black-on-Black Crime' Have to Do With Ferguson?" By Julie Craven.
"Dear Facebook 'friends': No, We Shouldn't Protest When Police are Killed." By Adam Johnson.
Facebook essay posted by Kate Riffle Roper
Discussion Questions:
How have you tended to view these different hashtags and their framing of the issues when you think about the killings and protests that have transpired over the past year?
Did you read anything here that changed your thinking? If so, please explain.
How might your social class/status, race, gender, and neighborbood residence impact the way you think about these issues?