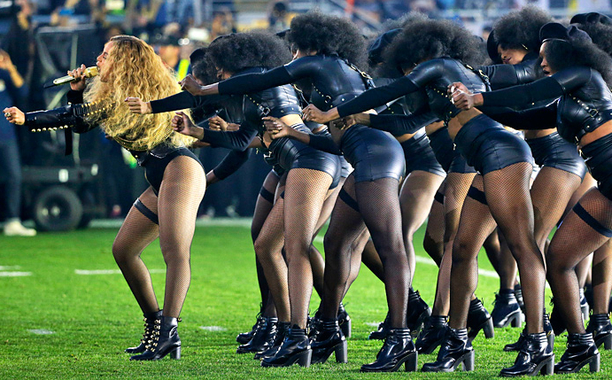 Why Everyone So Turnt?
When Beyoncé took to the field during the Super Bowl 50 halftime show, she had a political message to convey. No everyone, of course, agreed with the message, nor did they interpret it the same way. Some people were inspired. Others read the perfomance as a call to violence.
Clad in a black leotard with a gold embellished jacket, Beyoncé was flanked by dancers who sported afros and black berets – a clear reference to the Black Panther Party (2016 marks the 50th anniversary of the Black Panther Party). Not everyone appreciated the message. Perhaps most telling, by focusing on superficial comparisons between her dancers and the Black Panthers, they betrayed a lack of understanding of history; they failed to appreciate the details and the nuances of that history, of which Beyonce demonstrated clear understanding with regard to the role they played int the struggle for civil rights in the United States.
The Black Pather history, to be sure, was willfully invoked. Though Beyoncé's outfit was intended to evoke a similar fashion statement made by Michael Jackson. And if this was not enough to disturb critics, Beyoncé and her backup dancers together gave a salute and formed an X formation, which the Twitterverse quickly declared to be a reference to Malcom X.  Later that night (and some might say adding insult to injury), her dancers were filmed in a video that was posted on the Black Lives Matter Twitter page. In the video clip, the dancers held up a sign that read "Justice 4 Mario Woods" [Woods was shot and killed in San Francisco by police officers on the afternoon of Dec. 2, 2015].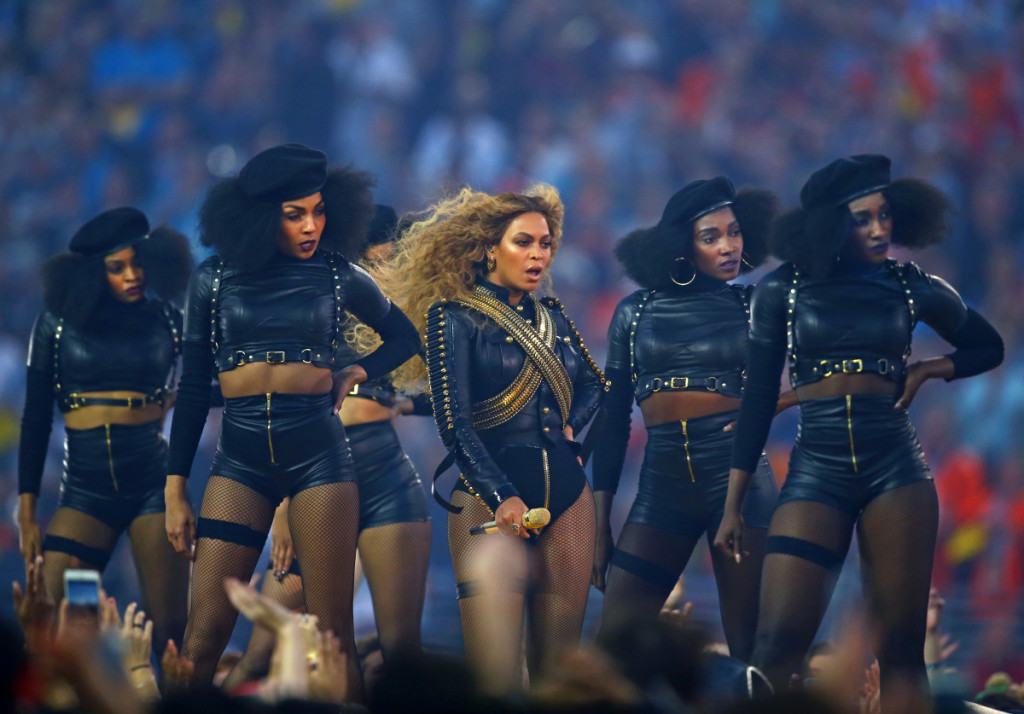 Photo Credit: Mark J. Rebilas-USA TODAY Sports
Doubtless, Beyoncé was  making a political statement. And despite the fact that many praised her for this, critics acused her "politicizing" the Super Bowl. One such critic, former New York Mayor Rudy Giuliani, was interviewed on the Fox network and had this to say: "I think it was outrageous."  He further added that didn't "get it" from an artistic standpoint and didn't agree with Beyoncé's support of "Black Lives Matter."
"The halftime show I thought was ridiculous anyway. I don't know what the heck it was. A bunch of people bouncing around and all strange things. It was terrible," Giuliani said.
Giuliani went on to explain his view that the performance was offensive to "middle Americans," whom he said expect the Super Bowl to provide "wholesome" family entertainment. Giuliani rejected the political statement. "This is football, not Hollywood," he said, "and I thought it was really outrageous that she used it as a platform to attack police officers who are the people who protect her and protect us, and keep us alive."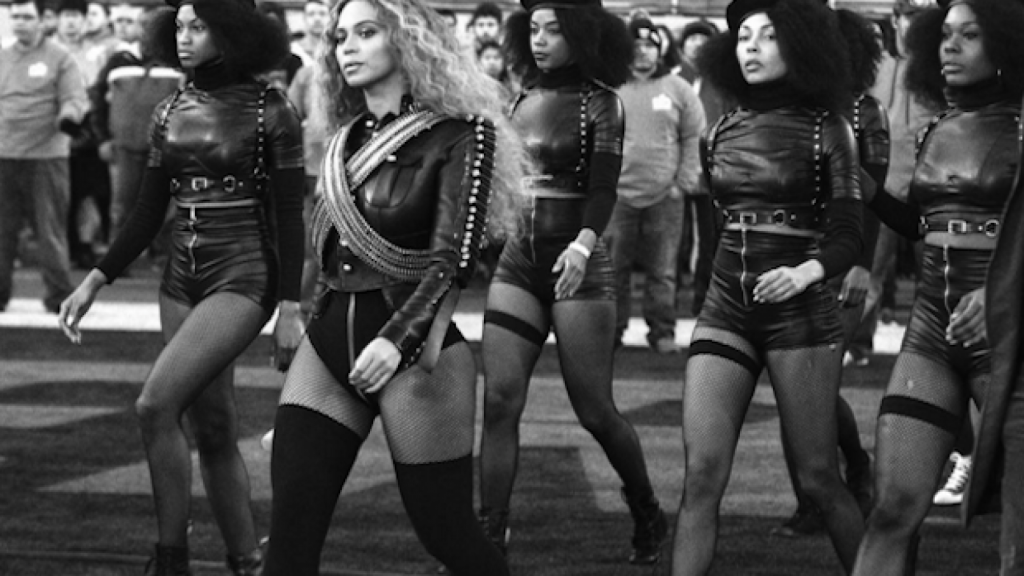 Beyoncé shown wearing a bandolier of bullets, similar to the one famously worn by Michael Jackson when he performed in the Super Bowl during his 1993 world tour.
Formation – "I Came to Slay"
One day before taking the stage with Coldplay and Bruno Mars at Super Bowl 50, Beyoncé released the music track and video "Formation" — her first new single since 2014. Set against the backdrop of New Orleans, the video includes references to Hurricane Katrina, Creole culture and police brutality — oh, and hot sauce! Her daughter, Blue Ivy, also has a cameo.
The video, much like her superbowl performance, was interpreted as a rallying cry for the "Black Lives Matter" movement. That "Formation" references Black Lives Matter is clear; it includes an image of Beyoncé on top of a sinking police car, walls strewn with "Stop Shooting Us" graffiti, and a young African American boy in a hoodie dancing in front of police officers. The title of the track itself, "Formation," evokes military parlance for a coordinated assembly of soldiers. Beyoncé's critique, however, does not stop and end here. She used her performance to give a vocie to other issues and problems like racism.
Colorism, Complexion, and Worth
Academics, while generally positive about Beyoncé's performance, have called attention to problems with her representation of race and ethnicity in Formation. Yaba Blay, a dark-skinned, New Orleans-bred scholar, whose research addresses issues of skin color and identity politics, suggested there may be problems afoot with regard to race and representation. Beyoncé, she points out, was also sending about complexion and worth. Blay notes: "While Bey let all the folks who've been talking crazy about Blue Ivy's hair have it with, "I like my baby hair, with baby hair and afros," I can't help but wonder why the two little girls in the video playing with Blue are significantly darker than her and dressed like old women afraid of the sun while Blue shines, hand on hip, in a sundress." I cheer Bey on as she sings, "I like my Negro nose with Jackson Five nostrils." But I cringe when I hear her chant, "You mix that Negro with that Creole make a Texas bamma" about her Alabama-born dad and her mom from Louisiana. This is the same reason I cringed at the L'Oreal ad that identified Beyonce  as African-American, Native American and French and why I don't appreciate her largely unknown song "Creole." Having grown up black-Black (read: dark-skinned) in colorstruck New Awlins, hearing someone, particularly a woman, make a distinction between Creole and "Negro" is deeply triggering.This isn't just for me but for many New Orleanians.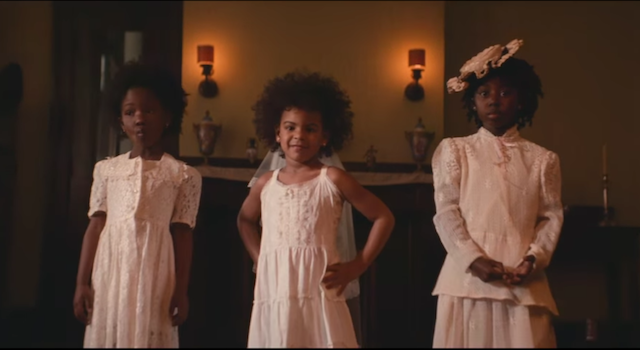 For generations, Creoles—people descended from a cultural/racial mixture of African, French, Spanish and/or Native American people—have distinguished themselves racially from "regular Negroes." In New Orleans, phenotype— namely, "pretty color and good hair" —translates to (relative) power."
"In this context," Blay continues, "people who are light skinned, with non-kinky hair and the ability to claim a Creole heritage have had access to educational, occupational, social and political opportunities that darker skinned, kinkier-haired, non-Creole folks have been denied. In many ways, among those of us who are not Creole and whose skin is dark brown, the claiming of a Creole identity is read as rejection. And I'm not just talking about history books or critical race theory. I'm talking about on-the-ground, real-life experiences."
And so she concludes: "So while it may seem innocent that Beyoncé describes herself as a mixture of Creole and "Negro," this particular celebration of her self invokes a historical narrative that forces some of us to look at her sideways. Even in the midst of her Blackest Blackity Black Blackness, we find remnants of anti-Blackness. And yet, we still rock with her."
Comparing the Black Panthers to the KKK
People questioned Beyoncé's use of Black Panther-type uniforms, whereupon they invoked a comparison with the KKK. They asked "would it be acceptable if a band – a white band – came out in hoods and white sheets? The problem here lies in the false equivalency that is suggested; equivalence between the Black Panthers and the KKK.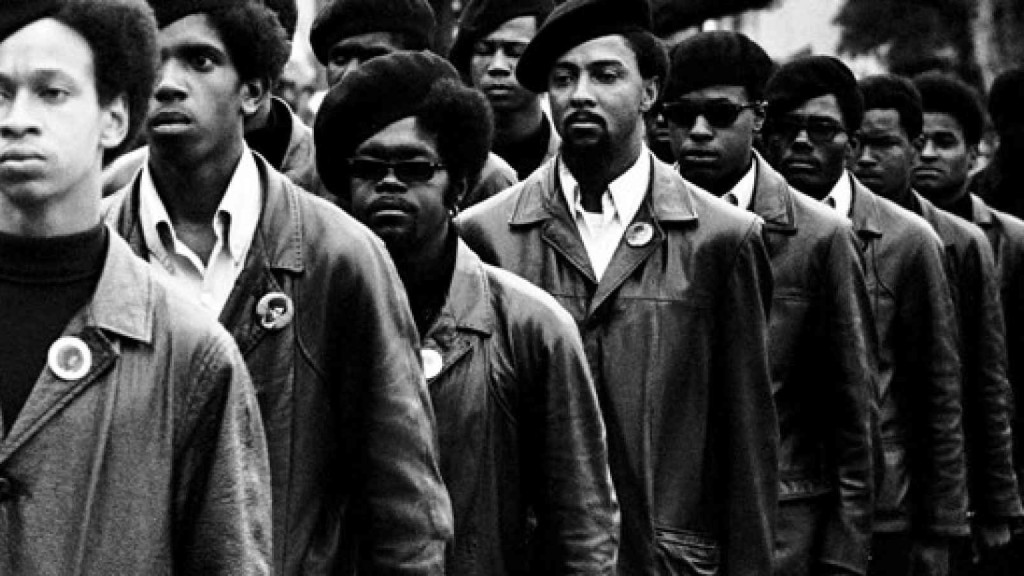 On the contrary, not only is this a false equivalency, it is overtly reductionist to suggest both are simply subversive hate groups that practice racial antipathy towards groups defined as their racial opposite. A brief history lesson is in order (though I would encourage you to look into this history in greater depth):
The Ku Klux Klan started in the south in the late 1800's.The Klan is primarily a white supremacist group, but it was and remains a hate group, guilty of terrorist acts and hate crimes. Donning their famous "white sheets," it is estimated that the KKK was, for a period of more than 100 years, responsible for terrorizing, raping, castrating, burning, and murdering thousands of black people in the U.S.
The Black Panthers were created to fight for the civil and economic right of African Americans in the U.S. They also wanted to address the police brutality and economic injustice in the Black community. So for example, they developed programs to address black unemployment and stop childhood hunger. In contrast with Martin Luther King Jr., the Black Panthers rebuked his calls for non-violence as ineffectual, and called instead for blacks to defend themselves by taking up arms. In their view, social, political, and economic institutions were not serving black people, and so they were willing to use violence if necessary to bring about social change.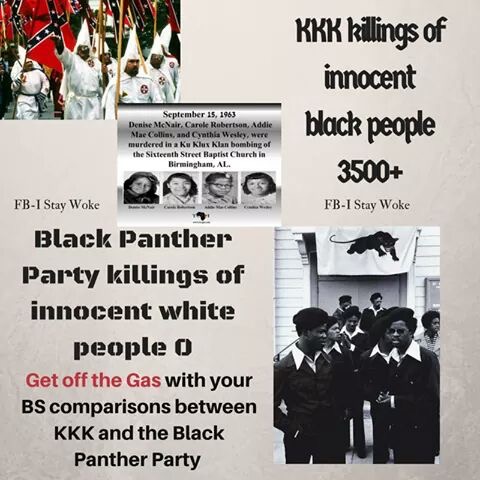 While the acts of violence by both groups are inexcusable, the actions conducted by the Ku Klux Klan (KKK) were far worse that those of the Black Panthers. The KKK had the funding and resources to attack large groups of blacks in addition to other ethnic groups they hated, without fear of intervention by the community and law enforcement. In other words, the Klan enjoyed a structurally advantaged position from which they projected power over minority groups in the U.S. The Black Panthers did not occupy a similar equivalent structural position of power; they were not practicing "reverse racism" against whites. Rather, they sought to defend themselves against people that they saw engaged in systematically sanctioned activity aimed at oppressing them.
Nonetheless, while the Black Panther Party believed in Black nationalism and Black culture, it did not believe either will lead to Black liberation or the overthrow of the capitalist system.
The Klan, on the other hand, targeted entire racial groups; this poses a direct contrast with the Black Panthers, who directed their violence at people that they believed had intent to harm them. It is also worthy of note that the Black Panthers allowed members of other races to join their cause, provided they were willing to take up arms.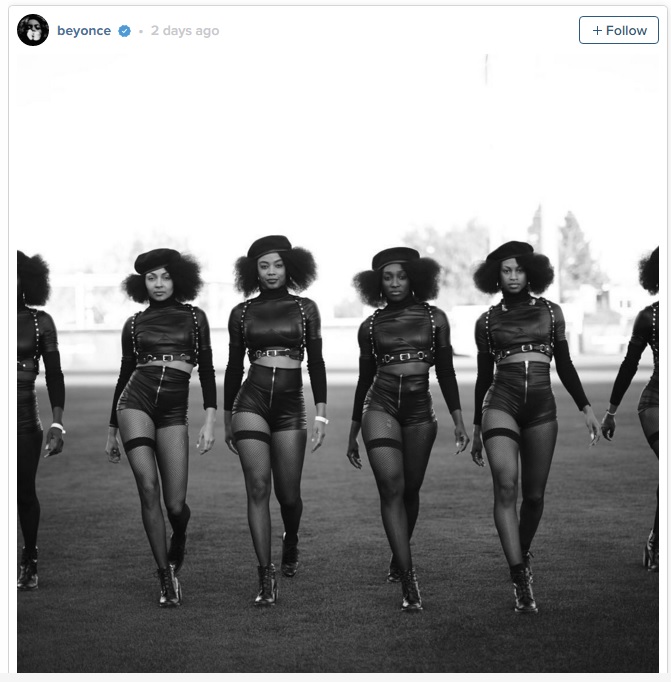 Twitter Breaks It Down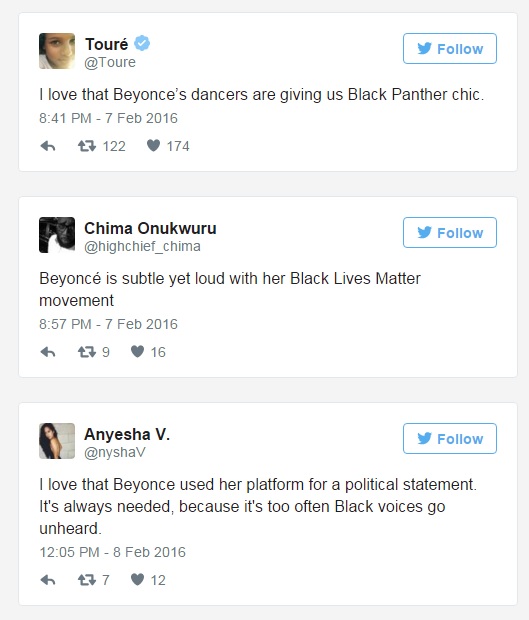 What's Race Got To Do With It?
It took a comedian from the Daily Show to put the controversy into perspective.Jessica Williams, perhaps more than any other "serous" journalist, managed seemingly effortlessly to call attention to the contradictions – and in many cases the outright hypocrisy – of media converage of  Beyoncé's performance. She gave Fox's Stuart Varney and everyone who agrees with him the answer they didn't want to hear.
"Race was brought in," she said "because Beyoncé was brought in and, brace yourself, you might want to sit down for this, but Beyoncé is… black! And as a black person, you walk around every day constantly reminded that you are black. Beyoncé is black and this song is her message. And good artists get their message across, whether they're playing for three people in a bar or hundreds of millions at the Super Bowl."
Challenging Guiliani's interpretation (and disgust) of the performance, Williams conceded one point in regards to the issue of wholesome entertainment:
"The fans deserve wholesome entertainment……like watching 300-pound men give each other concussions while the crowd cheers like we're extras in Gladiator?"
"So, what is wrong with Beyoncé, everyone? Were you not entertained?"
Black Lives Matter activist Erika Totten said Beyoncé's message accomplished exactly what the movement is supposed to. "I think [the message] absolutely belongs in the Super Bowl," Totten said. "Our goal is to disrupt the status quo and bring the message wherever the message may not be heard."
Meanwhile, "Black Lives Matter" activist Deray McKesson hailed the star's performance, tweeting "At its core, she is reminding us that economic justice is a key component to liberation work." And he cannot recall a time when Beyoncé brought a political message to a spotlight as mainstream as the Super Bowl.
Bakari Kitwana, the CEO of Rap Sessions and author of the "Hip-Hop activism in the Obama Era," says that while mainstream stars like Beyoncé and her husband Jay-Z have not necessarily portrayed themselves as activists, they are evolving and they have access to mainstream platforms. "There's definitely an evolution going on with Beyoncé. It shows you how smart she is. She's tapping into the same consumer culture that she's always tapped into but she's doing it with some political overtones."  "In terms of Black Lives Matter, we're in this really hyper politicized movement where blackness is being discussed in the mainstream, so it's a smart move for her to play with that type of imagery," Kitwana said. "it achieved what it was meant to do. People are talking about it."
 Why is Black Empowerment Always Construed to be Anti-Police?
One of the more  troubling narratives that emerges from the controversey is how Black empowerment is conflated with the position of being "anti-police." Realistically speaking, however, U.S. history more or less furnishes the reasons for this: policing in the U.S. was founded on the formation of what were known as "slave patrols."  White plantation owners hired and paid white law men to capture and return to custody runaway slaves, who even after the Civil War were still treated as property. The institution was in this sense founded upon an ideology of white supremacist capitalism.
Today, some might argue not much has changed since that era – that police are still working on behalf of the moneyed classes, where they continue to focus their policing efforts on black people. Order and control of black bodies is prioritized over social justice.
Blacks, in turn, established their history as one that resisted (and continues to resist) that opression. Claiming their power has in this in respect always meant resisting the police.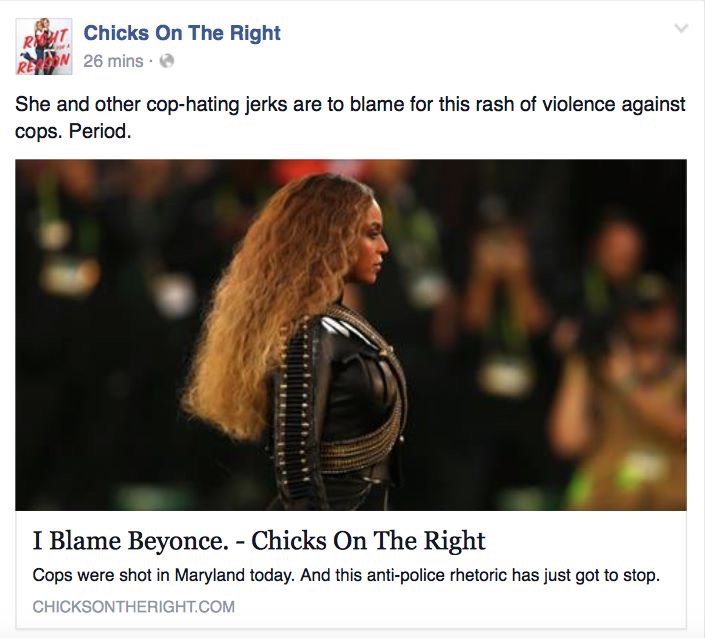 A History of Violence
Last but not least, we might want to reflect on the collective outrage that is being focused on an entertainer using their art and public platform to make a statement about police violence. That this occurs as part of a sporting event that glorifies as well as embodies interpersonal violence says a lot about the people who are doing the complaining. The real outrage should be reserved for the almost daily killings of American citizens at the hands of police in this country.
To say that this violence does not discriminate is to miss the point: blacks are killed at a rate documented to be more than 20 times the rate of other racial/ethnic groups in this country. For many people, not only is this not problematic, it is assumed to be deserved. Failure to obey = death. Black violence is taken to be pathological, whereas police violence, if it is recognized at all, it assumed to be normal and appropriate.
Rather than channeling outrage at a black woman's dance performance, maybe it's time to take a hard look at how violence is more than a spectacle – it is institutionalized and fundamentally ingrained in American culture.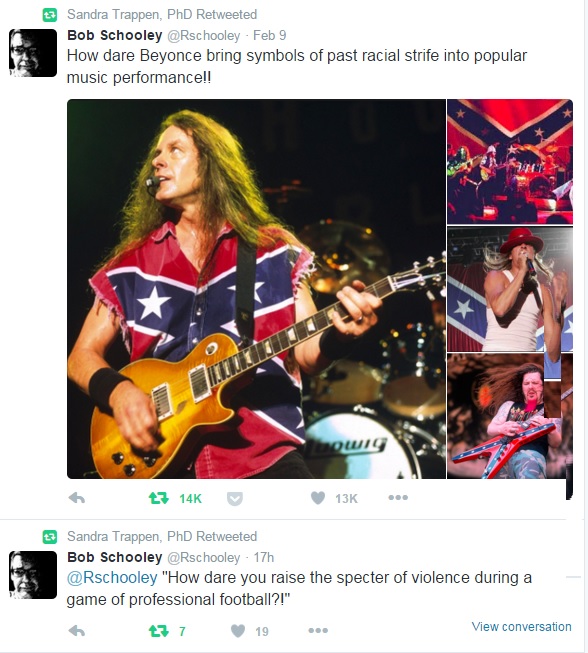 Sources
Information contained in this post was derived in part from the following articles:
Yaba Blay (2016) "On 'Jackson Five Nostrils,' Creole vs. 'Negro' and Beefing Over Beyonce's 'Formation.'" Published in "Colorlines."
Fox News online – Downloaded from http://www.foxnews.com/entertainment/2016/02/08/beyonce-references-black-panther-party-at-super-bowl-halftime-show Last accessed Feb 2016.
CNN News online – Downloaded from http://www.cnn.com/2016/02/08/politics/beyonce-super-bowl-black-lives-matter/ Last accessed Feb 2016.
Discussion Questions
What did you think of the performance?
Did you like it or were you offended? Please explain.
How do race, class, and gender operate together, both in terms of the performance as well as in people's different responses to the performance?
Do you think it is appropriate to conflate Black power/empowerment with the political position of being anti-police?
Do you think being "pro" police accountability is the same as being anti-police?
How does Beyoncé and her work embody the "contradictions" of capitalism?