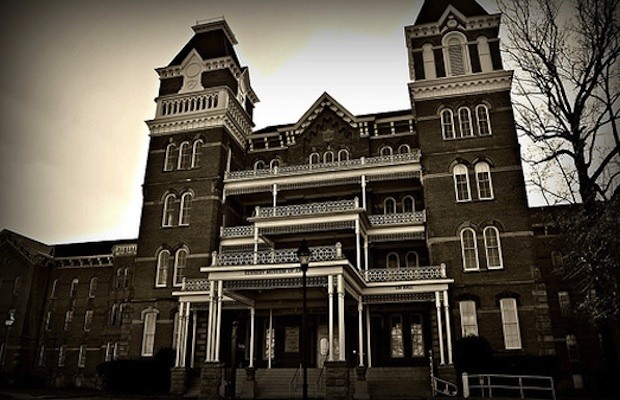 Depicted here is the old Athens Lunatic Asylum (now a conference center and art gallery). An ominous structure, the complex of buildings remain standing today, situated high on a hill overlooking Ohio University in Athens, Ohio. As a college freshman in the early 1980's, your professor was a volunteer here, where I worked in the locked men's ward.
History
Early psychiatric asylums were imposing structures. Hundreds to hundreds of thousands of patients were held in these buildings for everything from depression to criminal behavior, and then there were those who, medically speaking, suffered from no mental condition at all. Historical records document one of the more common "afflictions" for which people were committed in the Athens Lunatic Asylum was "excessive masturbation."
These were improvements, however, over no treatment or the condemnation to prisons, which had previously been the norm. Yet eventually many of these new psychiatric facilities saw an unmanageable increase in the number of patients. Staff and investigative journalistic reports indicated the overuse and unnecessary use of treatments in order to manage these growing populations. However, it was not until the 1990s when many of these expansive asylums were completely overhauled into modern medical centers or closed because of underuse, underfunding, or scandal.
Much was learned during that period in psychiatric history, but much remains to be done in terms of advancements and understanding of medical disorders globally. Stories of abuses, tragic deaths, and murders can be found in old newspaper archives for many of these buildings that remain as towering ghosts. Most of the structures have crumbled, but like the memories of their patients, they remain.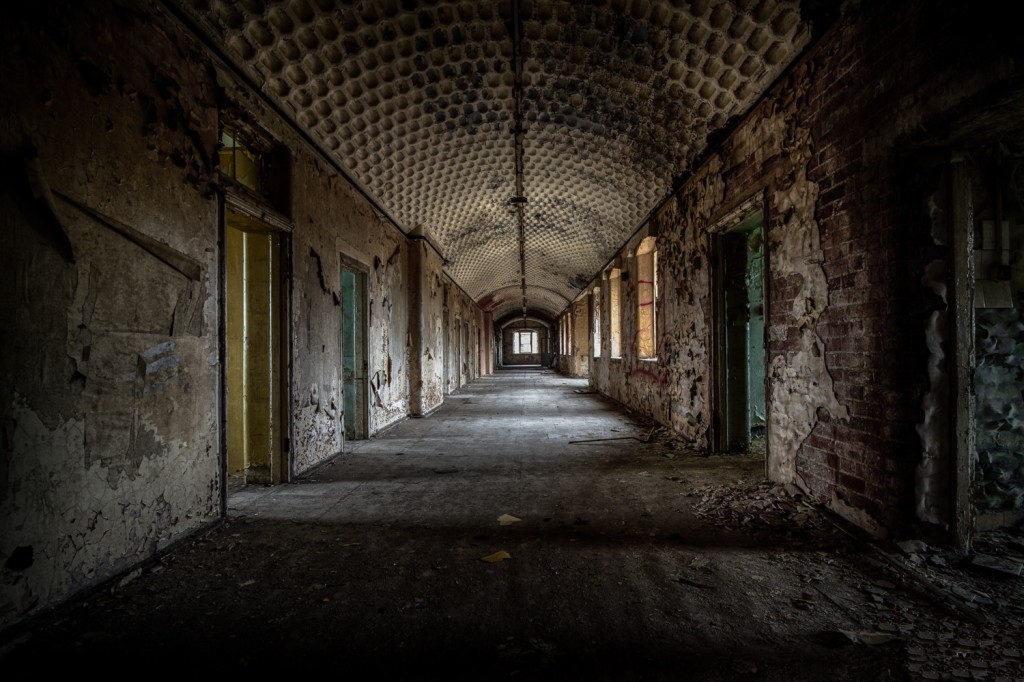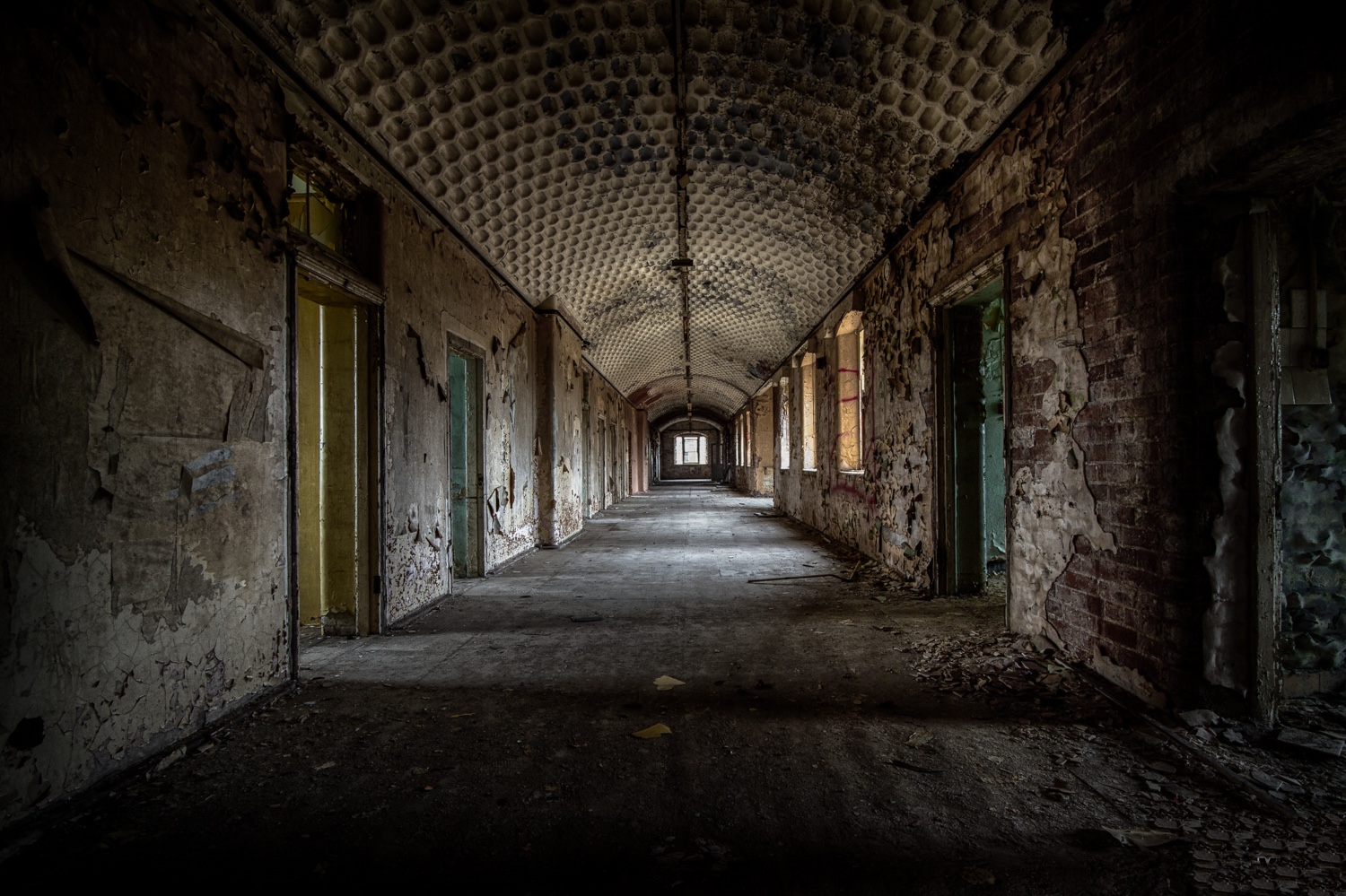 This particular asylum was built in 1852 and enlarged on several subsequent occasions in 1859, 1866, 1881 and 1902. Finally closed in 1989/1990, it was bought by a property developer, who a few years later converted half of the site into houses. The main asylum buildings are Grade II listed buildings, which means they are protected and cannot be changed or demolished [we used this lower-level corridor to move between the buildings when the weather was bad. imagine walking here at night!]
Erving Goffman
The full title of sociologist Erving Goffman's work is Asylums: Essays on the Social Situation of Mental Patients and Other Inmates. The book, although somewhat dated at this point, was considered during its time to be a key text in the development of deinstitutionalization in the United States; it represents one of the first sociological examinations of the social dynamics bound up in being a mental patient.
Theory & Methods
Goffman's book conveys the substance of his participant observation field work and outlines a theory of what he calls the "total institution." From Autumn 1954 to the end of 1957 Goffman was a visiting member of the Laboratory of Socio-environmental Studies of the National Institute of Mental Health in Bethesda, Maryland. Goffman conducted field work at St. Elizabeths Hospital, where he posed as a pseudo-employee of the hospital (he was fired to assist the athletic director). This permitted him to make observations and collect ethnographic data on selected aspects of patients' social life. As it is typically the case with most participant observation studies, controls, measurements, and statistical evidence were not used.
The focus of this book, as Goffman makes clear, is the world of the patient – not the world of the staff. To this end, Goffman made his personal bias a matter of record, for he admitted he arrived at the hospital with no great respect for the agencies involved with psychiatric practice nor for the discipline of psychiatry.
According to David Mechanic, "Goffman brought to the hospital his own personal biography and assumptions, which shaped how he saw events. To a middle-class, independent-minded professor, who strongly valued personal autonomy and the right to be eccentric, the regimentation of the mental hospital must have looked repressive indeed. Later in Goffman's life, after he had to live through an episode of mental illness involving another person close to him, he is said to have remarked that had he been writing Asylums at that point, it would have been a very different book."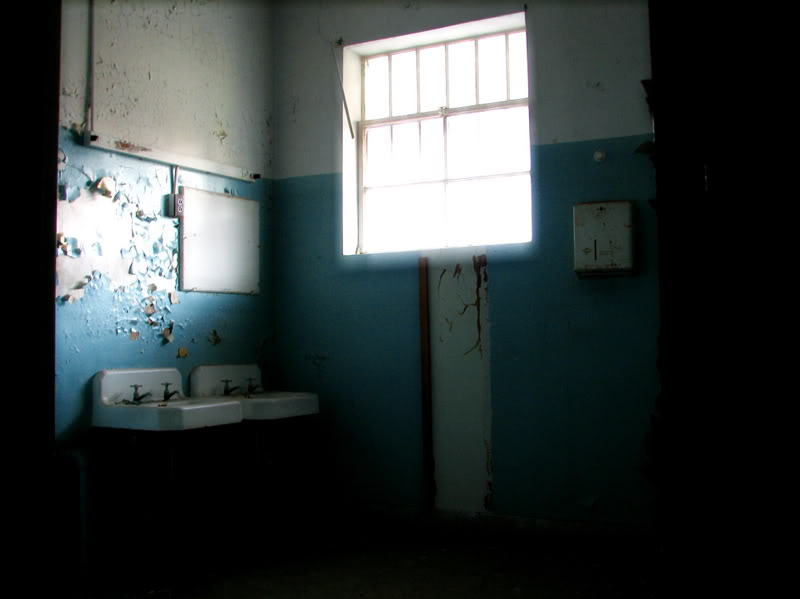 The concept of the total institution is perhaps the most significant theoretical contribution of the book; students of social theory might notice that, as a construct, it shares much in common with Max Weber's "Ideal Type." For Goffman, a total institution is a place of work and residence where large numbers of similarly situated people, cut off from the wider community for a considerable time, come together to live an enclosed formally administered life [Note that as we move forward and later take up the work of Michel Foucault in Discipline and Punish, we will see yet another example of how a theorist discusses total institutions, which Foucault describes as "complete and austere institutions"].
Goffman's Typology of Total Institutions – 5 Types
Institutions established to care for people felt to be both harmless and incapable: orphanages, poor houses, and nursing homes.
Institutions established to care for people felt to be incapable of looking after themselves and a threat to the community, albeit an unintended one:leprosariums, mental hospitals, and tuberculosis sanitariums.
Institutions organized to protect the community against what are felt to be intentional dangers to it, with the welfare of the people thus sequestered not the immediate issue: concentration camps, P.O.W. camps, penitentiaries, and jails.
Institutions purportedly established to better pursue some worklike tasks and justifying themselves only on these instrumental grounds: colonial compounds, work camps, boarding schools, ships, army barraks, and large mansions from the point of view of those who live in the servants quarters.
Institutions designed as retreats from the world even while often serving also as training stations for the religious; examples are convents, abbeys, manasteries, and other cloisters.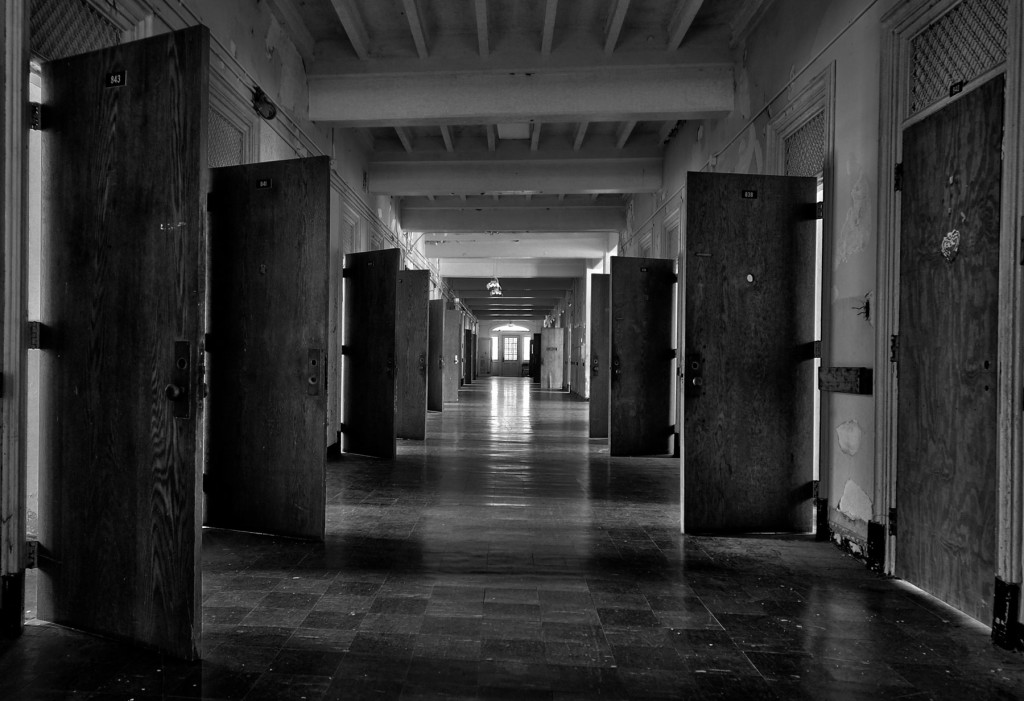 Intellectual Focus
A key part of Goffman's work can be described as "close observation of individual behavior in a social context."  There are two important ends here — individual behavior and social context.  Goffman wants to shed light on both poles of this description.  In particular, he almost always expresses interest in the social norms that surround action — the expectations and norms through which other people interpret and judge the individual's conduct.
In Asylums, Goffman is mainly focused on providing descriptive detail as he aims to account for the institutional socialization process that occured when someone was hospitalized in a psychiatric hospital. He defines this process as "institutionalization." He looks at the process and effort that is required in order to instill and maintain predictable and regular behavior on the part of both "guard" and "captive," suggesting that many of the features of such institutions serve the ritual function of ensuring that both classes of people know their function and social role – this is how they are inescapably institutionalized.
The central feature of total institutions, in Goffman's view, was that they broke down barriers separating sleep, play, and work. The totalistic features of asylums, he wrote, could be be found in other institutions, namely commercial and medical establishments [and I would add here prisons too].
The handling of many human needs is another key factor of the bureaucratic institution. According to Goffman, the institutionalization process socialises people into the role of a "good patient." That is, someone who is 'dull, harmless and inconspicuous', which in turn reinforces notions of chronicity in severe mental illness. Related to this is a process that Goffman describes as the mortification of the self. A patient's notions of self was subjected to a dramatic change for the worse due to the debilitating atmosphere in all total institutions, regardless of how therapeutic or non-therapeutic a hospital intended to be.
While people come from a social context in which they have some sense of a personal identity and occupy different roles, these aspects of their lives are systematically stripped from them as their sense of themselves are mortified, pathogolized and negated, leading to what Goffman defines as "disculturation." Here, instead of curing or reducing the illness, this process leads to demoralization, skill deterioration and role dispossession and renders people less capable of managing life in the outward world. Goffman notes that in addition to disculturation from their identity and previous roles, acculturating patients and inmates to life in a total institution does little, if anything, to prepare them for the contingencies they will encounter again upon  discharge; it prepares them only for remaining within the institutional setting.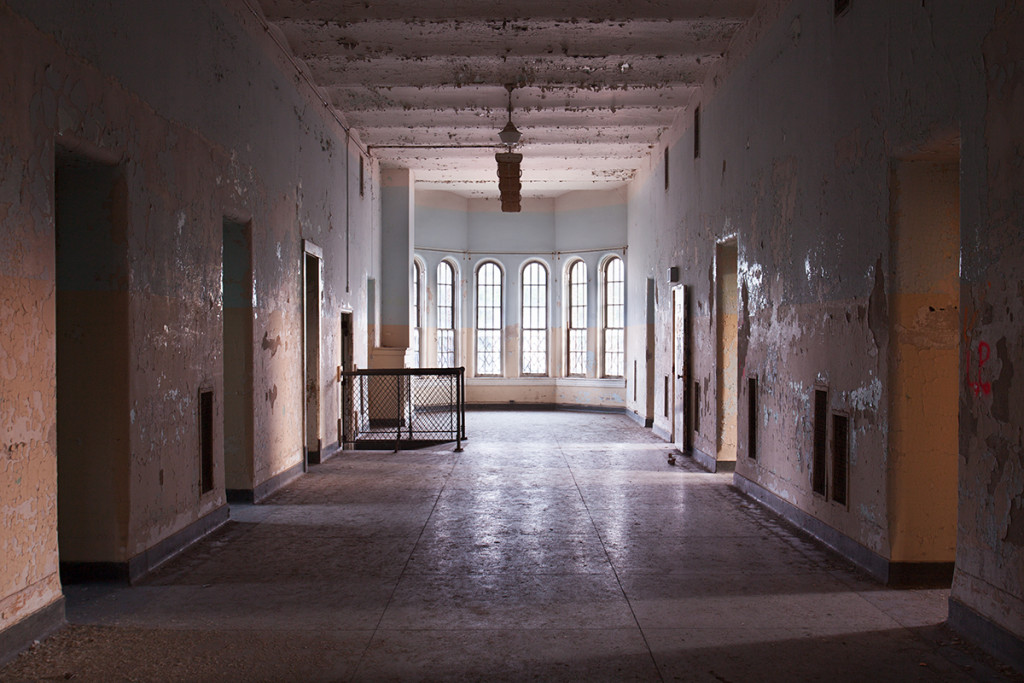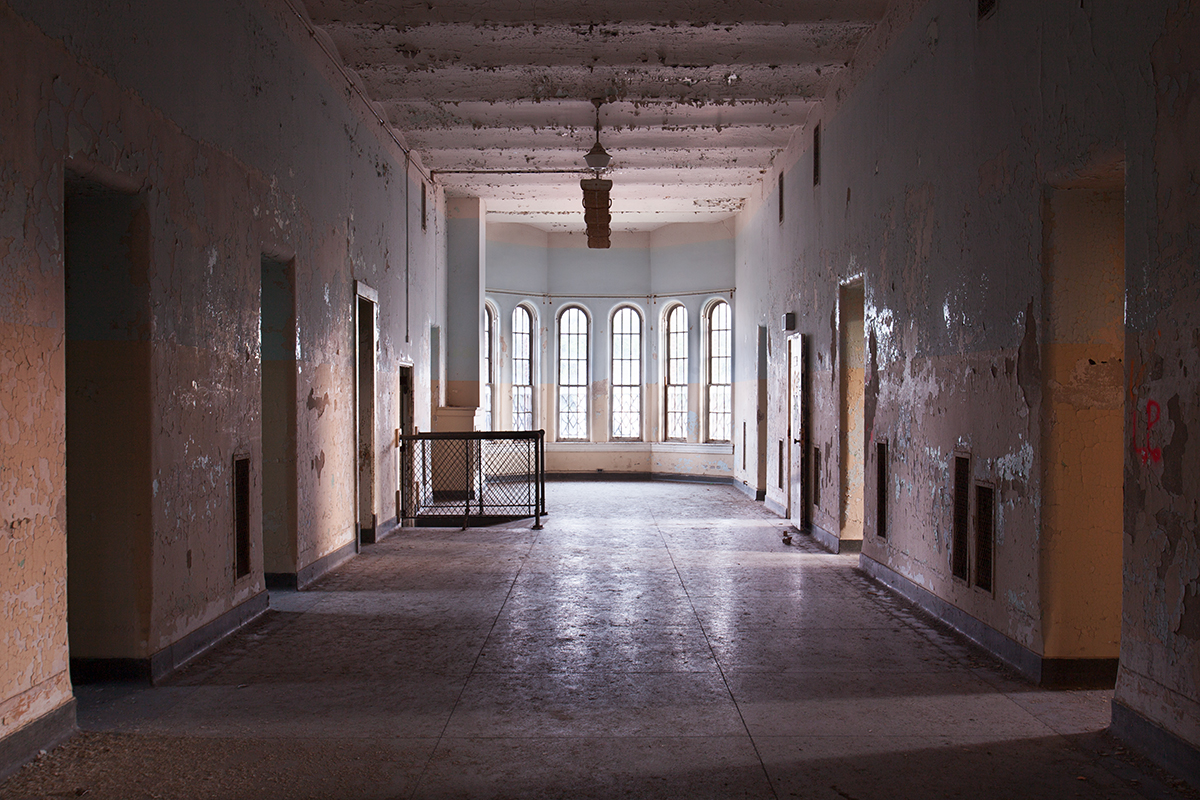 Goffman concludes from his investigation that taking a mentally ill person out of his or her life context, hospitalizing him or her to a psychiatric hospital and then returning the person to the same life context is similar to taking a drowning man out of a lake, teaching him how to ride a bicycle and putting him back into the lake.
During the "inpatient phase," patients arrive at a realization that society has forsaken them.
Over time patient/inmates acquire strong feelings about their time spent there, which they tend to think of as time taken from one's life or time wasted.
Human needs in the asylum are handled in an impersonal and bureaucratic mode.
The social distance between the staff and inmates is great; each group develops and antipathy, where they tend to be unfriendly toward the other.
The book concludes that adjusting the inmates to their role has at least as much importance as "curing" them. In the essay "Notes on the Tinkering Trades" Goffman concluded that the "medicalization" of mental illness and the various treatment modalities are offshoots of the 19th century and the Industrial Revolution; that the so-called "medical model" for treating patients was a variation on the way trades and craftsmen of the late 19th century repaired clocks and other mechanical objects.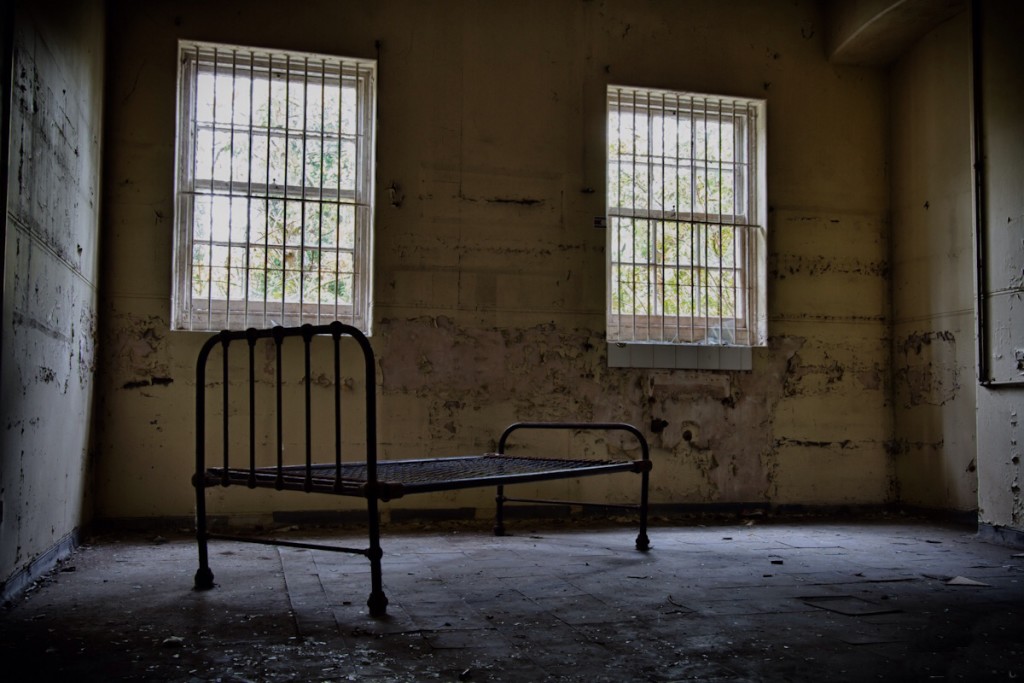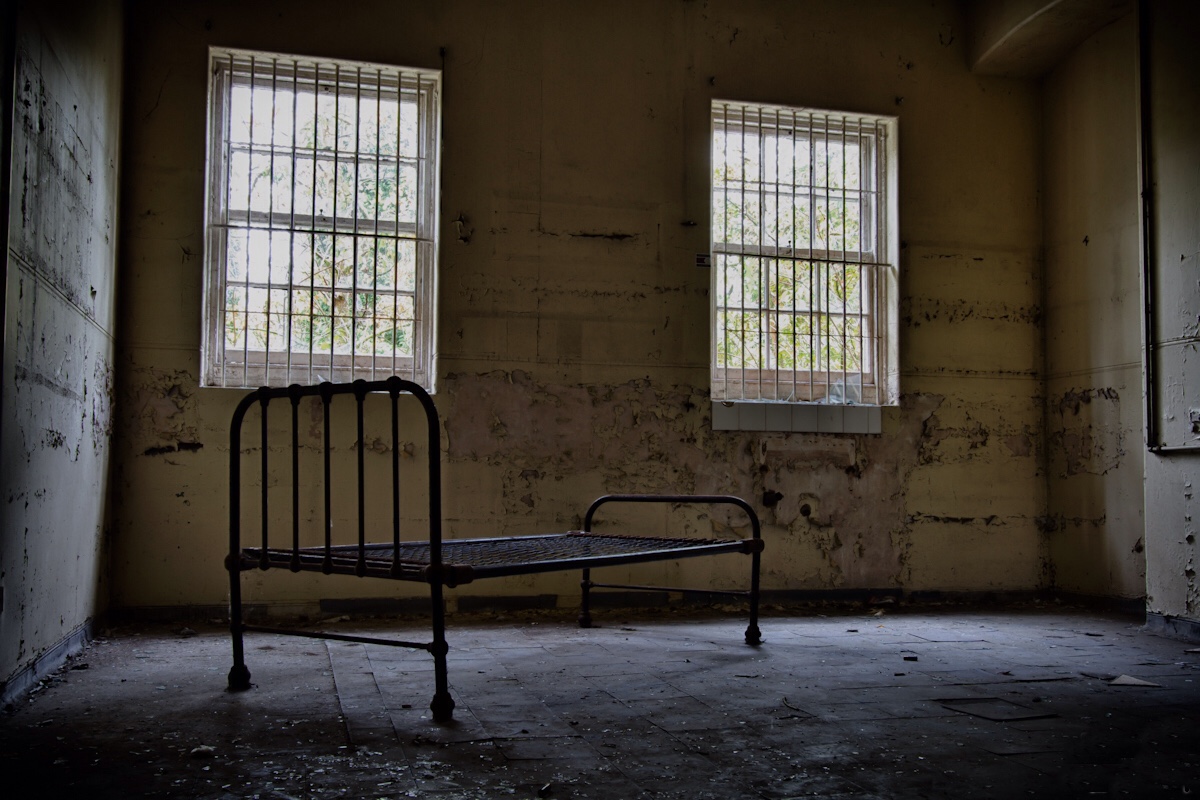 Other Studies & Perspectives
Asylums is one of a number of books published in the 1950s and 1960s that explored the characteristics of psychiatric hospitals, which doubtless had a major impact on patients and affected the course of their illness. Other prominent works include studies by Stanton and Schwartz (1954), Belknap (1956), Dunham and Weinberg (1960), Strauss et al. (1964), and Scheff (1966). These studies all relied on qualitative data in describing the meaning of psychiatric hospitalization for patients, criticized the psychiatric hospital and charged that it had a harmful effect on them.
Belknap (1956), Dunham and Weifiberg (1960), Goffman (1961), Cumming and Cumming (1962) pointed out the fact that closed institutional regimes, with their common accompaniments of neglect, pauperism, and authoritarianism, were not only inhumane but harmful. As was the case in Goffman's work, the hospital was portrayed as an authoritarian system that forces patients to define themselves as mentally ill, change their behavior and thinking, adjust to institutional life, accept restrictions and suffer humiliations.
Franco Basaglia, a leading Italian psychiatrist who inspired and was the architect of psychiatric reform in Italy also defined the mental hospital as an oppressive, locked and total institution, in which prison-like punitive rules are applied to patients, so that the person's self-concept is gradually broken down in such a way as it eliminates its subjective contents. Patients, doctors, and nurses are all similarly subjected (at different levels) to the same process of institutionalism.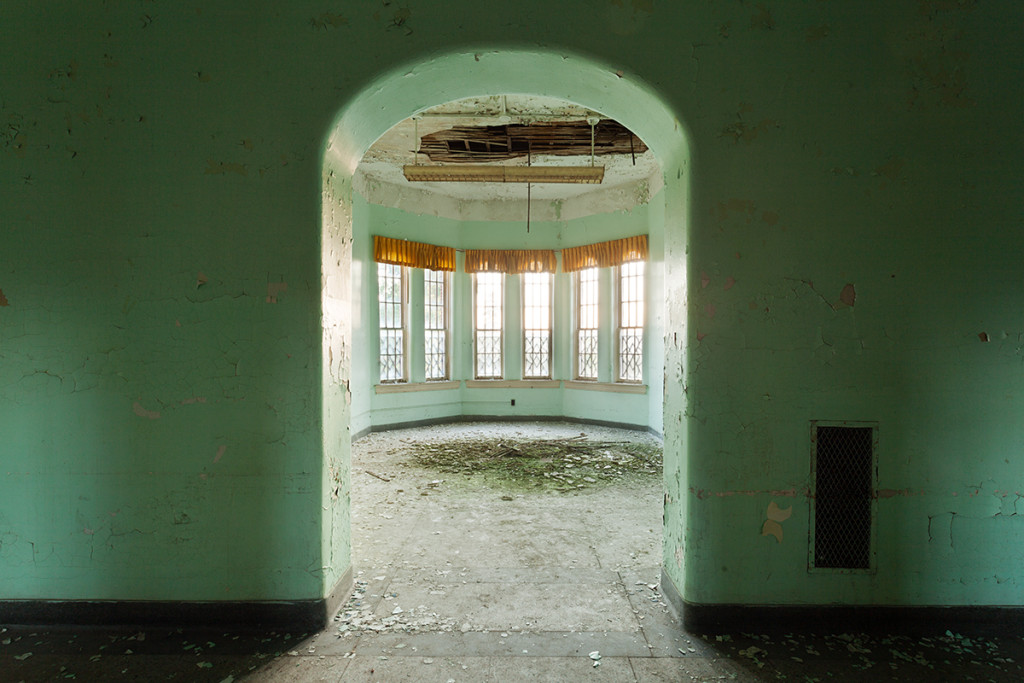 Critics, however, cast doubt on Goffman's claims and question the acuracy of his critique. Numerous studies have been done relevant to Goffman's depiction of the experience of the mental patient, using patient surveys. None of these studies has the theoretical brilliance of Goffman's work or the quality of his insight, but they consistently fail to replicate his view of the patient's experience (Linn 1968a, 1968b; Weinstein 1979, 1983, 1994).
One critic, Raymond Weinstein, reviewed the empirical literature and presented a report that examined the importance and applicability of Goffman's Asylums three decades after its first publication. Goffman's book, he writes:
"Achieved classic status due to its extensive academic citation, anthology reprinting, use in legal proceedings, and public influence. However, over the years the accuracy and generalizability of Goffman's total institution model of mental hospitals have been seriously questioned.
An analysis of the criticisms of Goffman's theories, methods, and conclusions suggested that his work was biased and deficient in a number of ways but at times was misinterpreted or misrepresented. As a research study Asylums may be outdated and of little value to mental health practitioners due to the revolutionary changes in psychiatry that have occurred since the mid-1950s. As an academic work, however, Asylums continues to enjoy a high reputation perhaps because of its theoretical utility and teaching value as well as the popularity of Goffman's many other published works. The total institution model may have been limited from the start and doubts remain as to its validity today, but the longevity of Asylums is assured as Goffman's picture of mental hospitalization is firmly planted in the minds of sociologists, psychiatrists, patients' rights advocates, and students of formal organizations."
It is the view of Weinstein and a number of other researchers that most patients did not report feeling betrayed; many, in fact, reported being helped by hospitalization, and viewed the hospital as a refuge from impossible problems and stresses. Moreover, some patients from disadvantaged backgrounds viewed the hospital experience as less coercive and less depriving than their usual life situation. The studies do provide evidence of stigma associated with mental illness but negate the profoundly negative conception of the experience depicted by Goffman.
Goffman's observations, nonetheless, remain credible because readers of his analysis find his depictions meaningful and convincing, because he makes it easy for them to see themselves as the hypothetical patient in the context he describes. Goffman in this respect conveys a certain kind of "truth" that cannot be easily dismissed. This type of contextual credibility is often persuasive, having the quality of verstehen embodied in the methodology of Max Weber.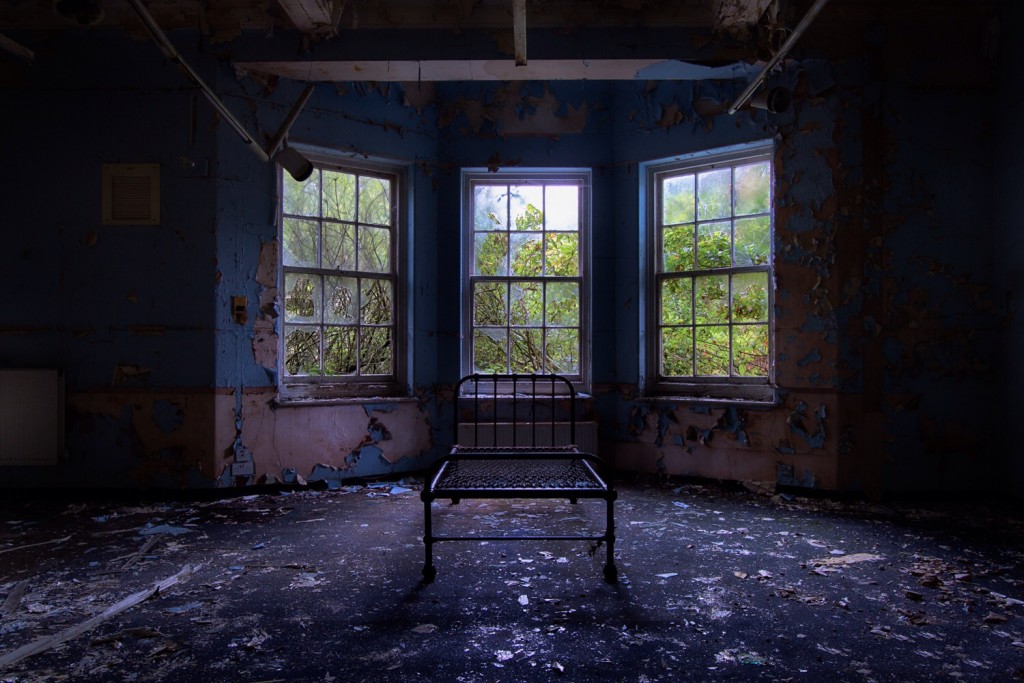 Sources
Erving Goffman (1961) Asylums: Essays on the Social Situation of Mental Patients and Other Inmates.
Raymond M. Weinstein (1994) "Goffman's Asylums and the Social Situation of Mental Patients." Psychiatry, (Nov): 57 (4):348-67.
David Mechanic (1989) "Medical Sociology: Some Tensions Among Theory , Method, and Substance," Journal of Health and Social Behavior, Vol. 30 (June): 147-160.
Cynthia Pelayo (2013) Essential  Guide: Abandoned Insane Asylums. Downloaded from http://www.atlasobscura.com/articles/abandoned-insane-asylums  Last accessed Feb 13, 2016.
Discussion Questions
Institutional social settings establish the categories of persons that are likely to be encountered there; the routines and rules of social intercourse are established in these settings and they permit us to get on with our business without having to committ too much special attention or thought. What are some of the institutional social rules that govern social interaction in college that you picked up on? How did you become "institutionalized" and learn how to assume the role of the "good student?"
Describe a different social setting (using any or as many of Goffman's concepts as you can) in which you have been a participant, such as at a hospital, prison, or any other structured institutional setting. Be sure to cite a specific concept and explain how it applied to your experience.
How might Goffman's work be used to explain what academics refer to as the "School to Prison" pipeline?
How might our present patterns of incarceration in the United States reflect some of these echoes from the past?