The Bell Curve
Let's be real. Most people sitting in a college classroom today were not even born when Charles Murray's co-authored book The Bell Curve: Intelligence and Class Structure in American Life (coauthor Richard J. Herrnstein) was first published in 1994.  Judging by the reception he often gets at schools like Berkely and Middlebury College (New York Times columnist Bob Herbert called it "racial pornography" masquerading as serious scholarship), the book and its author remain controversial.
According to the book's authors, IQ exists and it is both measurable and heritable (because no one can prove it is not). More to the point, black Americans were determined to possess on average a lower IQ than whites. This they believe supports a claim that IQ predicts not only success in life, but also things like criminal behavior.
The Bell Curve further argued that IQ intelligence — much but not all of it inherited genetically — was influential in shaping America's class structure.
More recently, Murray has argued that those with high intelligence, the "cognitive elite," are becoming separated from those of average and below-average intelligence.
In what is the books most controversial claim, Murray and his colleague suggested that that African Americans are genetically coded for lower intelligence. Unfortunately, while not validated by peer-reviewed research, this "opinion" has in many ways been reflected in official government policy. The Bell Curve, in this respect, functioned like an addendum to the culture of poverty thesis (Oscar Lewis's much-maligned theory, which many people erroneously interpreted as evidence that African Americans were beset by defective culture, which explained their poverty).
According to Murray, by encouraging overpopulation of people deemed socially undesirable, government assistance (i.e. welfare) became responsible for perpetuating the cycle of poverty. Social welfare policies, in other words, are causing poverty among people who were genetically inferior. As Murray relates in his own words "For women near the poverty line in most countries in the contemporary West, a baby is either free or even profitable, depending on the specific terms of the welfare system in her country," he wrote.
Redux
Today, and so he is active again on the speaker circuit, recycling old arguments. In 2012, Murray published a new variation of his eugenics arguments, Coming Apart, where
he argued that wealth and poverty are a product of breeding and that the poor are poor because they're genetically inferior types who interbreed with each other. Correspondingly,  the rich are getting richer because they are genetically superior types who are also increasingly interbreeding with each other.
Today, 22 years after the first book's publication, Murray has new books to sell. His 2012 book, Coming Apart: The State of White America, proved to be less controversial than The Bell Curve, although Murray frequently points to the "success" of the former as a means to substantiate the latter. His most recent book is entitled, "By the People: Rebuilding Liberty Without Permission."
In a podcast where he was interviewed by cultural critic, Sam Harris, Murray said that he not only stands by The Bell Curve's conclusion, he feels that his evidence is stronger and more relevant than ever. This book, critics allege, recycles previous versions of racist eugenics theories to "prove" that blacks and Latinos are genetically inferior to whites and that "the lower classes are inferior to the upper classes due to breeding differences" (Murray).
While a fair amount of the research compiled within The Bell Curve is not disputed, it's conclusions are another matter. They continue to be widely criticized for aiding racist ideologies. By stating that inherited intelligence matters more than, for example, socioeconomic status, the Bell Curve suggested that the racial and ethnic groups who have not achieved the educational and economic success of others failed to do so because they lacked the superior genetic makeup to foster these achievements. In other words, it's not simply that they don't work hard; it's that they don't have the genes for it.
Murray argues that he hasn't given a talk on The Bell Curve "in years" and that "today's undergraduates have rarely heard" of it.
Cliff Notes: Herrnstein & Murray's Argument 
1) Intelligence (measured by IQ tests) exists and is accurately measurable across racial, language, and national boundaries; it is a meaningful construct that describes differences in cognitive ability among humans.
2) Individual differences in intelligence can be measured by IQ.
3) IQ/AFQT scores were a better predictor of life outcomes than social class background.
4) Individual differences in intelligence are moderately heritable (40% to 80% heritable).
4) Racial groups differ in their mean scores on IQ tests.
5) Discoveries about genetic ancestry validate commonly used racial groupings.
6) Intelligence is one of, if not the most, important factors correlated to economic, social, and overall success in the United States, and its importance is increasing.
7) The United States has been in denial of these facts. A better public understanding of the nature of intelligence and its social correlates is necessary to guide future policy decisions.
Another finding the book points to is that intelligent people used to be scattered throughout the class structure, but now they are now concentrated at the top. This fact, which is not disputed, is problematically cited as evidence to prove the author's thesis ( almost impossible to prove because the mass administration of IQ tests is a recent phenomenon). High scorers on IQ tests do "bunch up," as Herrnstein and Murray put it, in elite university student bodies. But this logic is tautological, given how any group (like college students) selected to attend a school on the basis of test scores will be composed disproportionately of people who are disposed to score also high on intelligence tests.
Problems with the Argument
Intelligence is a "thing" that is real and measurable
Many scientific psychologists accept this finding. Every clinical psychology program in the country trains students in IQ testing, tens of thousands of IQ tests are given in schools every year, and papers in mainstream scientific journals routinely include information about intelligence, even when IQ is not the main object of study. On a more basic level, who doesn't notice that some people have larger vocabularies than others, can solve harder math problems or organize more complex projects? IQ tests reliably assess these individual differences. Moreover, people who do well on one kind of ability test also tend to do well on others, a phenomenon that is referred to as g, as in general intelligence (Vox).
But observing that some people have greater cognitive ability than others is one thing; assuming that this is because of some biologically based, essential inner quality called g that causes them to be smarter, as Murray claims, is another. There is a vibrant ongoing debate about the biological reality of g, but intelligence tests can be meaningful and useful even if an essential inner g doesn't exist at all. (Vox)
Good thinkers do well at lots of things, so a test that measures the quality of thinking is a good predictor of life outcomes, including how well a person does in school, how well she performs in her job, even how long she lives (Vox).
Intelligence Heritability
To say that intelligence is heritable means that, in general, people who are more similar genetically are also more similar in their IQ. Identical twins, who share all their DNA, have more similar IQs than fraternal twins or siblings, who only share half. Half-siblings' IQs are even less similar than that; cousins, still less (Vox).
Heritability is not unique to IQ; in fact, virtually all human differences among individual humans are somewhat heritable. Pairs of identical twins are more likely to be similar not only in height and weight and skin color compared with fraternal twins, but also in their marital status, their political views, and TV-watching habits (Vox).
Modern DNA science has found hundreds of genetic variants that each have a very, very tiny association with intelligence, but even if you add them all together they predict only a small fraction of someone's IQ score. The ability to add together genetic variants to predict an IQ score is a useful tool in the social sciences, but it has not produced a purely biological understanding of why some people have more cognitive ability than others (Vox)
Murray takes the heritability of intelligence as evidence that it is an essential inborn quality, passed through the genes from parents to children with little modification by environmental factors. This interpretation is too strong — a gross oversimplification (Vox).
Heritability is not a special property of certain traits that have turned out to be genetic; it is a description of the human condition, according to which we are born with certain biological realities that play out in complex ways in concert with social and environmental factors, and are affected by chance events throughout our lives. DNA claims are a double-edged sword, which have led to an ironic discovery: virtually none of the complex human qualities that have been shown to be heritable are associated with a single determinative gene.
In short, there are no "genes" for IQ in any but the very weakest sense (Vox).
Murray's assertion that we are only a few years away from a thorough understanding of IQ at the level of individual genes is scientifically unserious.
Race Differences in IQ
People who identify as black or Hispanic in the US and elsewhere on average obtain lower IQ scores than people who identify as white or Asian. That is simply a fact, and stating it plainly offers no support in itself for a biological interpretation of the difference. To what extent is the observed difference in cognitive function a reflection of the myriad ways black people in the US experience historical, social, and economic disadvantage — earning less money, suffering more from chronic disease, dying younger, living in more dangerous and chaotic neighborhoods, attending inferior schools? Or, following Murray, is IQ an essential inborn characteristic of a group's genetic background, a biologically inherent deficit in cognitive ability that in part causes their other disadvantages? (Vox)
Race and Genetic Ancestry
The topic of whether race is a social or biological construct has been as hotly debated as any topic in the human sciences. The answer, by our lights, isn't that hard: Human evolutionary history is real; the more recent sorting of people into nations and social groups with some degree of ethnic similarity is real; individual and familial ancestry is real. All of these things are correlated with genetics, but they are also all continuous and dynamic, both geographically and historically (Vox).
As many sociologists would argue, however, race is a social construct; one that does not always reside in concurrent relation with what are doubtlessly complex biological realities. That is not to say that socially defined race is meaningless or useless. (Modern genomics can do a good job of determining where in Central Europe or Western Africa your ancestors resided.) However, a willingness to speak casually about modern racial groupings as simplifications of the ancient and turbulent history of human ancestry should not deceive us into conjuring back into existence 19th-century notions of race — Caucasoid, Negroid, Mongoloid, and all that. Murray talks about advances in population genetics as if they have validated modern racial groups. In reality, the racial groups used in the US — white, black, Hispanic, Asian — are such a poor proxy for underlying genetic ancestry that no self-respecting statistical geneticist would undertake a study based only on self-identified racial category as a proxy for genetic ancestry measured from DNA (Vox).
Genetic Group Differences in IQ
On the basis of the above premises, Murray casually concludes that race group differences in IQ are genetically based. But what of the actual evidence on the question?
Murray makes a rhetorical move that is commonly deployed by people supporting his point of view: they stake out the claim that at least some of the difference between racial groups is genetic, and challenge us to defend the claim that none, absolutely zero, of it is. They know that science is not designed for proving absolute negatives, but we will go this far: There is currently no reason at all to think that any significant portion of the IQ differences among socially defined racial groups is genetic in origin (Vox).
Trouble on Campus
Virginia Polytechnic Institute and Middlebury College were each forced to confront the controversy, as both schools endured criticism when officials among others extended invitations to Murray to speak at their respective schools. Many insisted the invitations be withdrawn. Both schools went ahead with planned events.
Virginia Polytechnic
In the case of Virginia, its President, Tim Sands, declined to disinvite Murry, citing principles of academic freedom. At the same time, Sands denounced The Bell Curve as a "largely discredited work linking measures of intelligence to heredity, and specifically to race and ethnicity — a flawed socioeconomic theory that has been used by some to justify fascism, racism, and eugenics." Sands, nonetheless, defended Murray's right to appear on campus, Murray returned the favor and denounced Sands: "President Sands is unfamiliar either with the actual content of The Bell Curve — the book I wrote with Richard J. Herrnstein to which he alludes — or with the state of knowledge in psychometrics," Murray wrote in an open letter to Virginia Tech.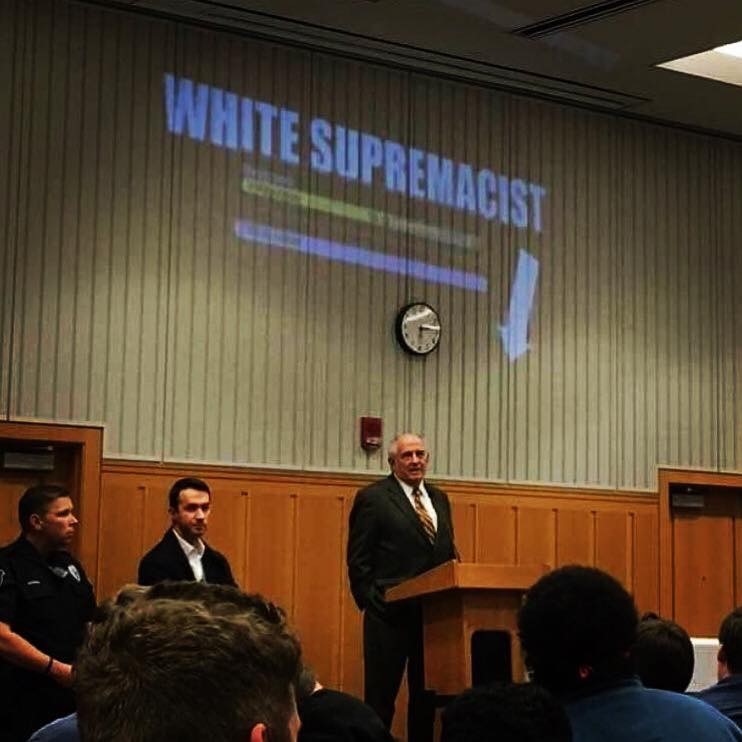 Middlebury College
Things at Middlebury got a little more heated.  On this occasion, the Middlebury students shouted him down and a professor was hurt in a physical confrontation. Campus protests erupted almost immediately as soon as word of Murray's talk in 2014 was made public.  Murray was scheduled to appear after he was invited by students, who were members of the campus' American Enterprise Institute Club. A crowd of more than 400, many carrying signs, filled a hall at the Student Center.
A crowd of more than 400, many carrying signs, filled a hall at the Student Center. When Murray took the stage, many of the students stood up and turned their backs to him (photo below). This initiated a loud protest that lasted for about 20 minutes. Following a backup plan that they had made previously, Murray and Middlebury College Professor Allison Stanger moved the talk to a different room that had been set up as a video studio. Soon after, their conversation was live streamed into the student center as well as on the Middlebury website.
The protests continued to escalate, as fire alarms were pulled. The author and professor Stanger made a quick departure from the building, but not before a group of protestors dressed in black and wearing masks confronted them and attempted to block their way. Middlebury College Public Safety Director Lisa Burchard announced later that they believe these particular protestors were not affiliated with the College. During the physical confrontation, Stanger was injured and was later treated for a neck injury and concussion. For more on Middlebury, check out this blog post.
A video of Murray's talk and Q&A is available here for viewing online: another video can be previewed here: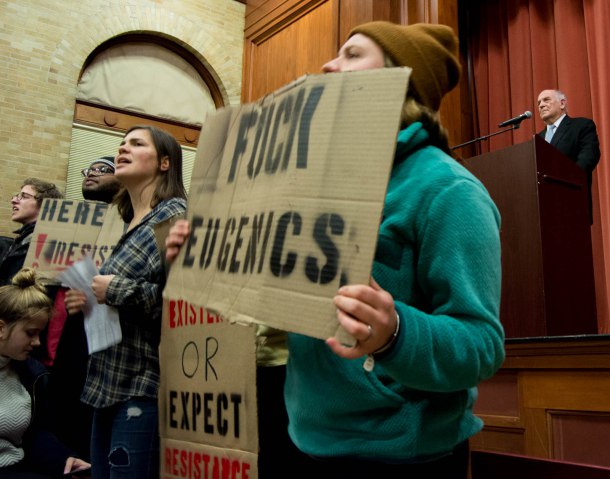 Protesters at Middlebury and Charles Murray
Who is Charles Murray?
Murray is not affiliated with an American University. Rather, he works for the conservative think tank, the American Enterprise Institute. A political scientist, author, and libertarian, he first came to national attention in 1984 with the publication of "Losing Ground," which some have credited as providing an intellectual foundation for the Welfare Reform Act of 1996.
It can be said in many respects that Murray is one of the most influential right-wing architects of the post-Reagan era. His career began in a secret Pentagon counterinsurgency operation in rural Thailand during the Vietnam War, a program whose stated purpose included applying counter-insurgency strategies learned in rural Thailand on America's own restive inner cities and minority populations.
By the late 1970s, Charles Murray was working with the U.S. Justice Department, drawing up plans that called for massively increasing incarceration rates. In the 1980s, backed by an unprecedented marketing campaign, Murray suddenly emerged as the nation's most powerful advocate for abolishing welfare programs for single mothers.
More recently, Murray has embarked on a well-financed speaking tour, where he continues to advocate arguments based on discredited racist eugenics theories "proving" that blacks and Latinos are genetically inferior to whites. His recent claims shift the emphasis to social class, as he argues the lower classes are inferior to the upper classes due to breeding differences.
Early Years
In high school, at the height of the Civil Rights movement, Charles Murray burned a cross on a hill in his Iowa town, according to a New York Times profile of Murray. Murray later claimed he had no idea that his cross-burning had any racial significance.
Murray spent the peak Vietnam War years (1965-71) in Thailand, first with the Peace Corps, and then, from 1968 onward, in a Pentagon-contracted counterinsurgency program run by the American Institutes for Research (AIR), which operated under cover of academic anthropology research. In 1970, the New York Review of Books exposed the AIR program in Thailand where Murray worked as a covert military counter-insurgency program run by the Department of Defense's research and development agency ARPA, in cooperation with the CIA.
In a 1994, New York Times interview, Murray admitted that his work in Thailand laid the foundation for his harsh authoritarian politics and policies he later espoused in the United States under the political label "libertarianism."
1970's
Murray returned to the United States in the early-mid 1970's, and began advising law enforcement agencies to impose harsh zero-tolerance measures on inner-city and minority populations. In 1979, Murray co-authored a series of studies on juvenile crime underwritten by the US Department of Justice, titled "Juvenile Corrections and the Chronic Delinquent" calling for mass-jailings of youths — a plan Murray argued was not "philosophically barbaric and expensive." The Carter Administration rejected Murray's proposals; however, under the Reagan Administration, juvenile and minority incarceration rates soared.
1980's
In 1982, Charles Murray was hired as a research fellow at the Manhattan Institute, a right-wing free-market think tank co-founded by CIA director William Casey. Murray was brought in on the recommendation of Irving Kristol, the godfather of neoconservatism and a board member at the Manhattan Institute.
Two years later, in 1984, Murray published Losing Ground. It was described by the The New York Review of Books as a "persuasive . . . new variation on Social Darwinism." Its central thesis was that all government welfare programs should be abolished, supposedly because welfare hurt the very people it was intended to help by "rewarding bad behavior" such as "illegitimate babies."
Murray also called for ending food stamp programs. The New York Times wrote in 1985 that Losing Ground became "this year's budget-cutters' bible" noting, "in agency after agency, officials cite the Murray book as a philosophical base" for slashing social programs.
1990's
The Bell Curve was published in 1994.
In 1996, Charles Murray's campaign to end welfare for single mothers paid off when President Bill Clinton signed the Personal Responsibility and Work Opportunity Act (PRWA), a bill that essentially killing traditional welfare programs with a specific emphasis on cutting welfare for poor families with children. The bill was influenced in large part by Murray's ideas and policy suggestions.
Clinton praised Murray: "He did the country a great service. I mean, he and I have often disagreed, but I think his analysis is essentially right. … There's no question that it would work," Clinton said in an interview with NBC News in 1993, referring to Murray's argument that welfare payments to single mothers incentivizes out of wedlock births. All of this contradicts data that shows single mothers in the United States have the least social welfare support in the developed world. Moreover, the US poverty rate in 2005 for children of single mothers was 51% – the highest in the world among similarly developed economies and double the average child poverty rate.
2000's
In 2005, Murray wrote a lengthy op-ed defending then-Harvard President Larry Summers after Summers falsely asserted that women are genetically inferior to men in math and science intelligence. Murray described criticism of Summers as "Orwellian disinformation."
During the 2012 presidential elections, Charles Murray wrote an op-ed in the Wall Street Journal supporting Mitt Romney's candidacy because Murray believed that the wealthier the person, the more qualified they are to be president. "Who better to be president of the greatest of all capitalist nations than a man who got rich by being a brilliant capitalist?"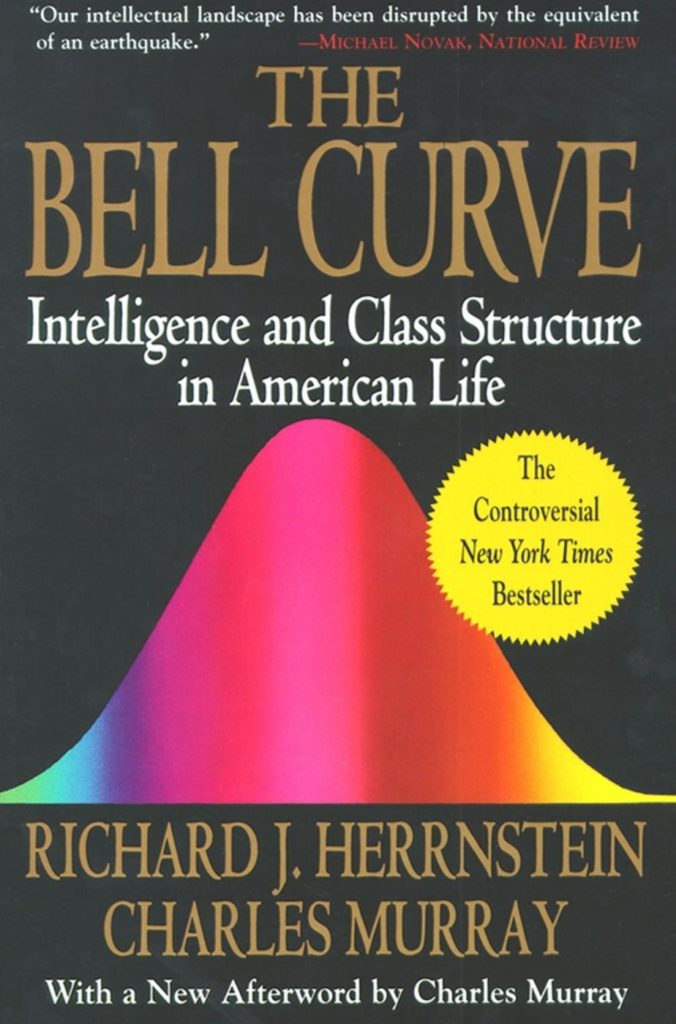 Distorting Data?
Critics and academics attacked Murray's manipulation of data and accused him of producing fraudulent "scholarship" to back up his thesis that liberal welfare programs were the cause of minority poverty, rather than the cure.
Lester Thurow, a former dean of MIT's Sloan School of Management, called out Murray in the Harvard Business Review for ignoring or distorting data.
For example, to "prove" that liberal social welfare spending created poverty, Murray excluded government spending on the elderly from his "evidence." As Thurow noted, in 1983, 86% of federal social welfare spending went to programs to help the elderly; and the poverty rate for the elderly dropped from 25.3% in 1969 to 14.1% in 1983, refuting Murray's thesis.
Thurow concluded: "The purpose of Losing Ground is to help President Reagan shoot a silver bullet into the heart of the monster called social welfare spending."
Despite its fraudulent claims, Murray's scholarship and its promotion of racial eugenics received glowing reviews in the mainstream press.  The New York Times swooned: "The government or society that persists in sweeping their subject matter under the rug will do so at its peril." Washington Post columnist Richard Cohen rushed to Charles Murray's defense: "Both Murray and Herrnstein have been called racists . . . Their findings, though, have been accepted by most others in their field, and it would be wrong—both intellectually and politically—to suppress them." Newsweek told readers not to worry: "the science behind The Bell Curve is overwhelmingly mainstream." Andrew Sullivan, as editor of
Andrew Sullivan, editor of the Conservative publication  The New Republic in 1994, published a 10,000 word article by Charles Murray and co-author Richard J. Herrnstein drawn from The Bell Curve.  He did this in spite of the fact that the "science" behind The Bell Curve has been thoroughly debunked. Sullivan said "I had no interest in this subject until I saw the data in Murray's and Herrnstein's book [The Bell Curve]. I was, frankly, astounded by it. As a highly educated person, I had never been exposed to this data. And yet, it turned out it was undisputed." Sullivan defended Murray's argument that intelligence is determined by race as "not racist," writing in The New Republic: "The notion that there might be resilient ethnic differences in intelligence is not, we believe, an inherently racist belief."
Peer-Review Rejects Murray
It wasn't until a full year or more after The Bell Curve was published that the leading experts on its subject had a chance to go through the underlying data. As time went on, knowledge of the Bell Curve discussion grew, but the attention paid to that discussion inevitably shrank.
In 1995, the most damaging criticism of The Bell Curve began to appear, but mostly in small academic journals. The Bell Curve, it turns out, is full of mistakes ranging from sloppy reasoning to miscitations to outright mathematical errors. Unsurprisingly, all the mistakes are in the direction of supporting the authors' thesis (Lemann).
Put another way, The Bell Curve manipulated statistics in ways that made IQ look bigger, and everything else smaller, in determining Americans' life-chances. In this manner, it reflected "the blinkered vision of one part of the American elite. It constantly tells these people that they are naturally superior, and offers lurid descriptions of aspects of national life that they know about only by rumor" (Lemann).
According to Lemann, "readers who accept The Bell Curve as tough-minded and realistic, and who assume that all criticism of it is ignorant and ideologically motivated, are not as far removed from Plato's cave as they might think"(Lemann).
Do We Really Inheret Intelligence? Is it in Our Genes?
As it has already been stated, one of Herrnstein and Murray's central arguments is that human intelligence is substantially influenced by both inherited and environmental factors; they argue that  IQ intelligence is a good predictor of numerous personal dynamics, including financial income, job performance, birth out of wedlock, and crime involvement – far  more so than an individual's parental socioeconomic status or education level.
While Murray has repeatedly denied being racist, many saw the book as justifying racial and ethnic inequality in the United States. Many said that the book suggested that some groups (black people in particular) were not likely to be intelligent or successful. This argument was used as a basis for supporting/not supporting different social policies. Here, the logic more or less stipulates: why spend money to help people if they are genetically inferior?
In another study compiled from the National Longitudinal Study of Youth (NLSY), a survey conducted by the United States Department of Labor's Bureau of Statistics that tracked thousands of Americans starting in the 1980s, report somewhat different results. All participants in the NLSY took the Armed Services Vocational Aptitude Battery (ASVAB), a battery of ten tests taken by all who apply for entry into the armed services. (Some had taken an IQ test in high school, and the median correlation of the Armed Forces Qualification Test (AFQT) scores and those IQ test scores was .81). Study participants were later evaluated for social and economic outcomes. After statistically controlling for differences in IQ, they claimed differences between racial-ethnic groups disappeared.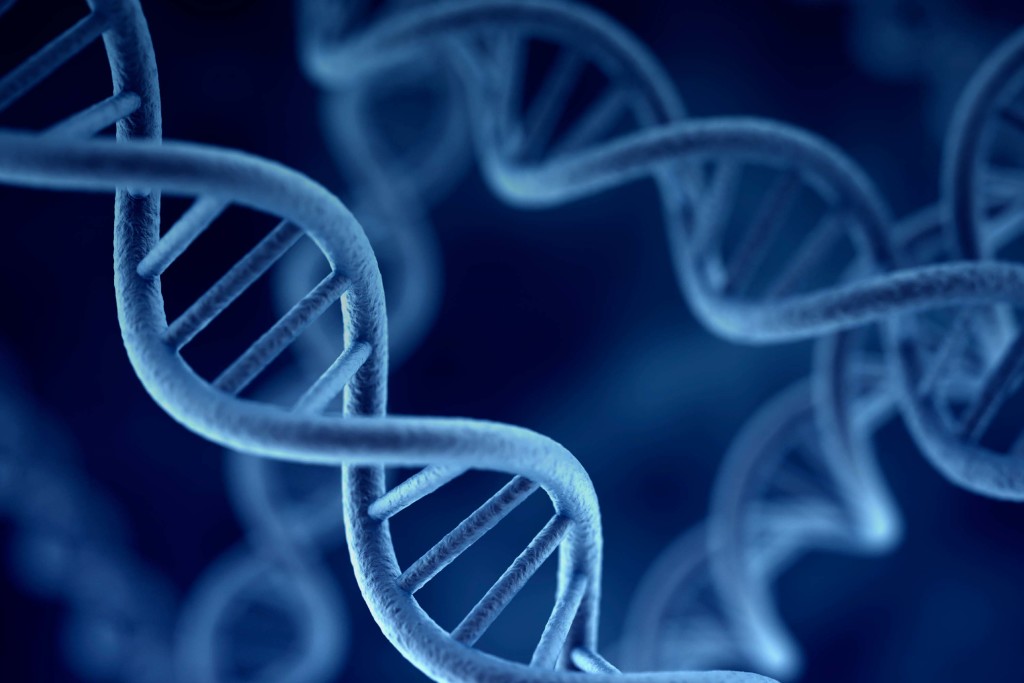 Murray does not account for evidence that contradicts his work:
The black-white IQ gap is decreasing and is now closer to 10 points than the widely cited one standard deviation (15 points), which is the erroneous value Murray cites in the interview. Academic achievement of blacks has also improved by about one-third standard deviation in recent decades.
The Flynn effect, named for the political scientist and IQ researcher James Flynn, is the term many scholars use to describe the remarkable rise in IQ found in many countries over time. There has been an 18-point gain in average IQ in the US from 1948 to 2002. One way to put that into perspective is to note that the IQ gap between black and white people today is only about half the gap between America as a whole now and America as a whole in 1948. When asked about the Flynn effect by Harris, Murray responds with some hand-waving about g, a response that does not make the extraordinary fact of the Flynn effect go away.
Murray's assertion that it is hard to raise the IQs of disadvantaged children leaves out the most important data point. Adoption from a poor family into a better-off one is associated with IQ gains of 12 to 18 points.
It is true (and unsurprising) that poor children exposed to special educational programs such as Head Start tend to regress once the program ends and environmental disadvantages reassert themselves. But the gain in social and intellectual capital from the best available early childhood education can result in an increase of one-third in the likelihood of graduating from high school, can triple the rate of college attendance, can produce a two-year advantage in reading ability of young adults, and can result in a two-thirds increase in the likelihood that they will be either gainfully employed or enrolled in higher education. The best available K-12 programs also result in substantial gains in intellectual and social capital.
The heritability of intelligence, although never zero, is markedly lower among American children raised in poverty. Several interpretations of this fact are possible. The one we find most persuasive is that children raised in those circumstances are unable to take full advantage of their genetic potential because they do not have access to the high-quality environments that could support it (Vox).
Critics
Critics of the book's claims are numerous and some of the more obvious weaknesses are pointed out by anthropologist C. Loring Brace, who suggests that The Bell Curve made six basic assumptions and there are faults in every one of these assumptions:
Human Cognitive ability is a single general entity, depictable as a single number.
Cognitive ability has a heritability of between 40 and 80 percent and is therefore primarily genetically based.
IQ is essentially immutable, fixed over the course of a lifespan.
IQ tests measure how "smart" or "intelligent" people are and are capable of rank ordering people in a linear order.
IQ tests can measure this accurately.
IQ tests are not biased with regard to race, ethnic group or socioeconomic status.
Michael Hout of the University of California, Berkeley, along with five colleagues, recalculated the effect of socioeconomic status, using the same variables as The Bell Curve, but weighted them differently. They found that if IQ scores are corrected, as Herrnstein and Murray did, to eliminate the effect of education, the ability of IQ to predict poverty can be made to look dramatically overstated, by as much as 61 percent for whites and 74 percent for blacks. According to Hout et al., Herrnstein and Murray's finding, that IQ predicts poverty much better than socioeconomic status does, is substantially a result of the way they handled the statistics.
The American Psychiatric Association brought together leading psychometricians at the time to review the book's claims.  Among their findings:
"There is certainly no such support for a genetic interpretation…even if it is sometimes suggested that the Black/White differential in psychometric intelligence is partly due to genetic differences (Jensen, 1972). There is not much direct evidence on this point, but what little there is fails to support the genetic hypothesis."
"The differential between the mean intelligence test scores of Blacks and Whites (about one standard deviation, although it may be diminishing) does not result from any obvious biases in test construction and administration, nor does it simply reflect differences in socio-economic status. Explanations based on factors of caste and culture may be appropriate, but so far have little direct empirical support. At present, no one knows what causes this differential."
In other words, the APA explicitly rejected the genetics component of Bell Curve, equating it with pseudoscience.
Sociologist, Amitai Etzioni, puts the problem into yet another perspective that should end all arguments on the subject:
"One way to show how contrived racial divisions actually are is to recall that practically all of the DNA in human beings is the same. Our differences are truly skin deep. Moreover, the notion that most of us are of one race or another has little basis in science. The Human Genome Project informs us that not only 99.9 percent of genetic material is shared by all humans, but also that variation in the remaining 0.1 percent is greater within racial groups than across them. That is, not only are 99.9 percent of the genes of a black person the same as those of a white person, but the genes of a particular black person may be more similar to the genes of a white person than they are to another black person."
Nevertheless, in spite of this criticism, proponents of the pro-genetic explanation persist in their efforts to draw on a never-ending stream of studies and statistical arguments to continually resurrect their argument–a line of reasoning that is fundamentally problematic because of its underlying conflation of correlation and causation. Critics of the pro-genetic claim are therefore ever in the position of playing intellectual whack-a-mole to expose the problem.
This debate is not likely to end anytime soon, because it is driven not by science but by a fervent desire to preserve, protect and defend white supremacy. The logic offers nothing more than a means to establish a new white nobility while crushing social mobility.
As another critic notes here:
"Murray is not simply a controversial figure or a participant in contentious debates. He is engaged in a mission to use discredited pseudoscience to perpetuate the subordination of people of African descent, Latinos, Native American Indians, the poor, women and the disabled. His work is regarded as fringe pseudoscholarship by people who work in the fields in which he deigns to dabble, but exerts influence on segments of American society who see his voice as one capable of furthering the agenda of turning back the clock of progress."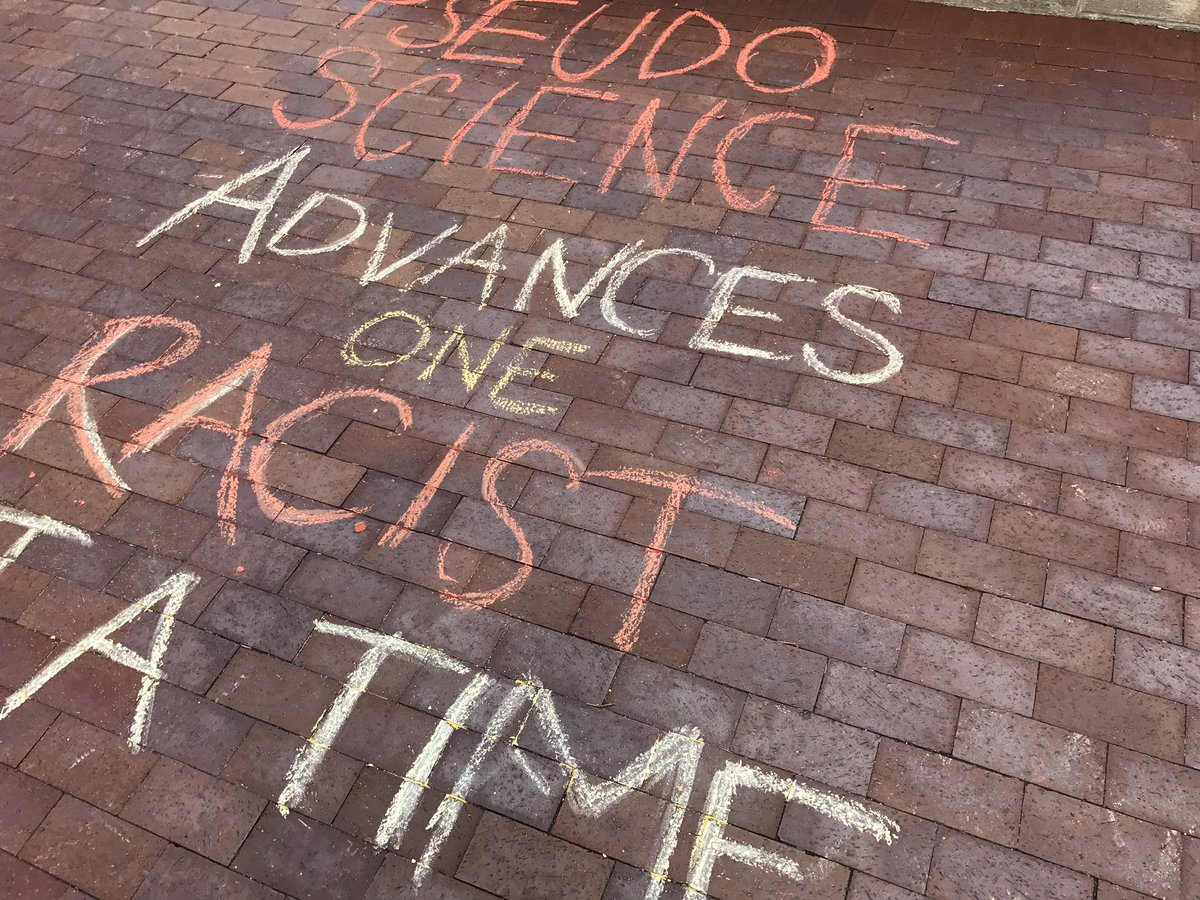 What is the Average American IQ?
The average American IQ ranges between 90 and 100. Individuals with IQ scores between 160 and 165 are considered extraordinary geniuses, and those with scores of 145 to 179 are considered geniuses. A score of 115 to 144 is considered above average, and scores between 85 and 114 are considered average.
Policy Recommendations
Herrnstein and Murray recommended the elimination of welfare policies that encourage poor women to have babies:
"We can imagine no recommendation for using the government to manipulate fertility that does not have dangers. But this highlights the problem: The United States already has policies that inadvertently social-engineer who has babies, and it is encouraging the wrong women. "If the United States did as much to encourage high-IQ women to have babies as it now does to encourage low-IQ women, it would rightly be described as engaging in aggressive manipulation of fertility."
"The technically precise description of America's fertility policy is that it subsidizes births among poor women, who are also disproportionately at the low end of the intelligence distribution. We urge generally that these policies, represented by the extensive network of cash and services for low-income women who have babies, be ended. The government should stop subsidizing births to anyone rich or poor. The other generic recommendation, as close to harmless as any government program we can imagine, is to make it easy for women to make good on their prior decision not to get pregnant by making available birth control mechanisms that are increasingly flexible, foolproof, inexpensive, and safe."
The book also argued for reducing immigration into the U.S. which was alleged to lower the average national IQ.
It also recommended against the use of affirmative action policies.
Murray advocates letting the private sector "fix" the problem with poor people. In one excerpt, to establish the general worthiness of private sector solutions, Murray says: "Compare for example the typical voice that answers the phone when you call a corporation with the typical voice that answers the phone when you call a government agency. Compare the food in government cafeterias to the food in McDonalds."
Peer Review
An early criticism was that Herrnstein and Murray did not submit their work to peer review before publication. Many scholarly reviews of the book arrived later as discussed below. Richard Lynn (1999) wrote that "The book has been the subject of several hundred critical reviews, a number of which have been collected in edited volumes."
Free Speech or Censorship?
"The dichotomies of free speech vs. censorship and civil discourse vs. hostile discourse intersect but are not equivalent. While we cannot prevent others from finding their place on each of these axes, let us set an example for free speech and civil discourse."
In the response he published Tuesday, Murray disputed the idea that the basis of his book doesn't reflect consensus scholarship. "There's no doubt that discussing intelligence and race was asking for trouble in 1994, as it still is in 2016. But that's for political reasons, not scientific ones," he wrote. "Once again, the state of knowledge about the basics is not particularly controversial. The mean scores for all kinds of mental tests vary by ethnicity. No one familiar with the data disputes that most elemental statement."
It may be worth noting, however, that critics of the book are by no means limited to those students at Middlebury and  Virginia Tech and among those who simply don't like Murray's politics. An article in Slate in 1997 reviewed all of the commentary on the book, finding a consensus that was highly critical.
"The Bell Curve is a relentless brief for the conservative position in psychometrics and social policy," says Nicholas Lemann, a journalism professor and dean emeritus at Columbia University.  "Herrnstein and Murray used quasi-nutty studies that support their position and ignore mainstream studies that contradict it (as Richard Nisbett showed in The New Republic). The data in The Bell Curve are consistently massaged to produce conservative conclusions; not once is a finding that contradicts the main thesis reported in the text."
Sources
'The Bell Curve.' Still Incendiary," by Scott Jaschick, Inside Higher Ed.
The Bell Curve Flattened, by Nicholas Lemann
Blog Post "Project S.H.A.M.E.: The Recovered History of Charles Murray," by Yves Smith
Blog Post "Deeply Aggrieved," by Michael Morris
"Charles Murray is once again peddling junk science about race and IQ; Podcaster and author Sam Harris is the latest to fall for it," by Eric Turkheimer, Kathryn Paige Harden, and Richard E. Nisbett, published by Vox Media
Recommend additional reading: "Intelligence: New findings and theoretical developments," in the Feb.-March 2012 issue of American Psychologist, by Nisbett, R. E., Aronson, J., Blair, C., Dickens, W., Flynn, J., Halpern, D. F., and Turkheimer, E.. Nisbett has responded at length to Murray's empirical claims about the race gap in IQ in his book Intelligence and How to Get It.
Note on Vox contributors:
Eric Turkheimer is the Hugh Scott Hamilton Professor of Psychology at the University of Virginia. Kathryn Paige Harden is an associate professor in the department of psychology at the University of Texas at Austin. Richard E. Nisbett is the Theodore M. Newcomb Distinguished University Professor at the University of Michigan.
Discussion Questions
The work of eugenicists was foundational to Nazi claims about the inferiority of the Jews among others. How are Murray's arguments the same/different? Do you think it's okay to say black people are genetically inferior and offer it up as an "intellectual position," even though this is contradicted by reams of scholarship and research?
Given that universities have limited resources, time, and space, does it make sense to give a platform to speakers who do not represent the highest ideals or the leading edge of scholarship? Shouldn't they give that platform to the best people they can find?
Why should a university give a platform to people who advocate eugenics-based science (or in some cases worse – ethnic cleansing and genocide), which has not been validated through a peer review process?
Setting aside the claims made by Murray about IQ, what do you think might account for why we continue to see gaps between the races in the ACT, SAT, Military exams, school performance, Nobel peace prizes etc.?
If reducing births from unwed mothers is one of Murray's policy objectives, why does he not advocate for government paid birth control as a solution? Why not advocate for increased education for women? Supporting both has been shown by researchers to be an effective first step towards eliminating poverty.
Have you ever taken the ASVAB or AFQT?  Have you ever been contacted by a military recruiter as a result of taking one of these "voluntary" exams in high school?
Do you think all perspectives, regardless of how toxic or offensive they might be, should be given public platforms for expression? 
How do you think universities should deal with researchers and speakers who want to discuss non-science based views on campus? Does restricting access also restrict free speech?