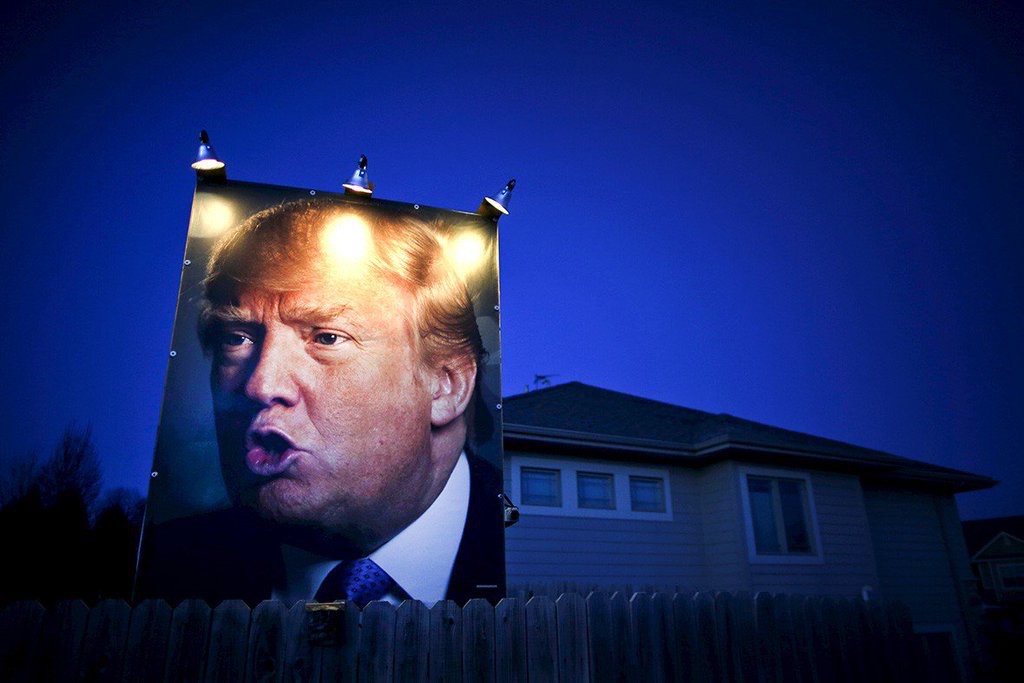 Much has been made of Donald Trump's campaign for the U.S. Presidency as well as his seeming popularity and rise in polls. Questions abound, such as "Is Trump like Hitler?" or "Is Trump like Mussolini?" The crux of what is happening, however, has nothing to do with parsing the political distinctions between fascism in Italy and Nazism in Germany, or unpacking the ways Mussolini was unlike Hitler. Rather, we might look closer into the process of how violent and repressive group social identities may be formed.
What is "Authoritarianism?"
Frederick Solt defined authoritarians are those with "unhesitating obedience to orthodox authorities—and indeed their demands that their fellow citizens similarly obey—such authoritarian individuals are thought to have provided a crucial base of mass support for some of the worst political disasters of the past century, from aggressive wars to genocide."
Solt cites empirical research on authoritarians being "more intolerant of ethnic, religious, sexual, and political minorities." According to him, their greater respect for authority "yields ready support" for the aggressive use of police and military force. Higher levels of authoritarianism "make individuals more likely to condone and even endorse illegal and blatantly undemocratic government."
What is "Totalitarianism?"
Totalitarianism generally refers to centralized control by an autocratic authority; it is a political concept that holds that citizens should be totally subject to an absolute state authority.
What is "Fascism?"
Fascism generally refers to an authoritarian and nationalistic right-wing system of government and social organization. In practice, we can see it operating in extreme right-wing, authoritarian governments, where there is strict intolerance for oppostional views. As a social movement, Fascism came into prominence in early 20th-century Europe under the influence if national syndicalism. One form of Fascism originated in Italy during World War I; it later spread to other European countries.
Fascism opposes liberalism, Marxism, and anarchism. If we look at it from the perspective of the traditional left-right paradigm, Fascism is identified with the far right.During the time period of World War I, Europe underwent massive changes in connection with the Great War; changes in terms of social organization, the state, and technology. Given how the entire society was mobilized for war, distinctions between civilian and combatant easily gave way. As a result, a form of "military citizenship" evolved. Everything in society was oriented towards supporting the war, economics, logistics, and even human procreation. The state, furthermore, achieved unprecedented power to intervene in the lives of citizens.
In terms of ideology, Fascists tend to believe that liberal democracy is obsolete; that it can't be administered effectively and what is needed is a strong leader backed up by an authoritarian/totalitarian one-party state. Such a leader operates, more or less, as a dictator. A martial system of government is typically formed by members of a fascist governing party who work to forge national unity at all costs.
Fascism rejects assertions that violence is automatically negative in nature; political violence, war, and even imperialism are understood to be within the normal range of options that may be exercised in order for the state to achieve its nationalistic goals. Fascists advocate a what might be thought of as a  mixed economy, through a combination of protectionist and interventionist economic policies.
Efforts to lable someone a "fascist" have, at least since the end of World War II, been met with skepticism (the rhetorical move is generally associated with hyperbole). Nevertheless, that does not mean that it is inappropriate to invoke use of the term. Why? Because in contemporary American society, we are witnessing a resurgence of what experts have identified to be "neo-fascist" and "post-fascist" groups. The candidancy of Donald Trump has, furthermore, embraced some of the toxic rhetoric of white supremecists, go so far in many instances to "re-tweet" the actual words of leaders associated with these groups. To be fair then, critiques and comparisons of Trump with Nazis and Nazism are not out of line because they share unusual points of resonance.
Alexander Billet explores the aesthetics of Fascism in Trump's campaign in his article entitled  "Donald Trump and the Aesthetics of Fascism: What a 20th-century Marxist art critic can teach us about a very 21st-century candidate." His article points to "The Freedom Kids," who Trump trotted out on one of his campaign stops.
Cowardice
Are you serious?
Apologies for freedom, I can't handle this.
When freedom rings, answer the call!
On your feet, stand up tall!
Freedom's on our shoulders, USA!
Enemies of freedom face the music, c'mon boys, take them down
President Donald Trump knows how to make America great
Deal from strength or get crushed every time
According to Billet, "This is a cartoon version of American nationalism. The sheer absurdity of the performance is stunning. And yet, Trump's supporters will surely both love it and accuse anyone who doesn't of being a terrorist and a communist."
Trump's Aestheticization of Politics (reposted from article by Alexander Billet)
All of this points to one of the reasons why the discussion about Trump and fascism is such a difficult one to resolve. More than any other American presidential candidate in recent memory, Donald Trump understands the ideological power, the raw manipulative magic, in politics as aesthetics.
The phrase "the aestheticization of politics" is borrowed from the late Marxist philosopher and cultural critic Walter Benjamin. Benjamin's work has experienced a resurgence in interest over the past year. Partially, this has to do with the 75th anniversary of his death (suicide, poignantly enough after the news that he was about to be basically handed over to the Nazis). But what really animates the timeliness of his writings is the brilliant way he was able to diagnose just how capitalism saturates itself into the fabric of culture.
In his 1936 essay "The Work of Art In the Age of Mechanical Reproduction," Benjamin charted the way in which technology had forever changed art. The ability to reproduce an image or a sound countless times had created the potential for the democratization of art. But that democratization was prevented by the means for that reproduction remaining the hands of a few. Thus, it was possible for undemocratic regimes and governments to use art for their own benefit the way it hadn't been previously feasible.
Benjamin was writing with Nazi Germany in mind. This was a regime that knew how to deploy aesthetics ingeniously. Even as Hitler and the Third Reich railed against the poisons of modernity, they both used the latest technology to relay their message. They grabbed people's attention and held it, igniting their imaginations and providing them with a sense of ownership over a system that would just as soon see them driven into dirt. Says Benjamin:
Fascism attempts to organize the newly created proletarian masses without affecting the property structure which the masses strive to eliminate. Fascism sees its salvation in giving these masses not their right, but instead a chance to express themselves. The masses have a right to change property relations; Fascism seeks to give them an expression while preserving property. The logical result of Fascism is the introduction of aesthetics into political life.
The crisp, angular uniforms for party members cranked out by the thousands, the massive orchestrated rallies, the technologically innovative films of Leni Riefenstahl—these are all perfect examples of how fascism aestheticized politics to its own end. All employed the rhythmic regimentation of life, the fetishization of raw power and sacrifice for the Fatherland. Violence was not celebrated for its own sake, but was seen as a necessary and fascinating virtue, even beautiful for its ability to mobilize people's minds and bodies.
The resemblance between these and the Freedom Kids performance, or Trump's descriptions of a "great, beautiful wall" along the Mexico border, are clear. All equate freedom with the ability to exert absolute power. All are the intended substance of the vague slogan "Make America Great Again."
But the aestheticization of politics does not (by itself) equal fascism. Benjamin's argument is that fascism represents merely theintroduction of aesthetics into politics. On the one hand, he is arguing that the manipulative link between politics, art and fascism is not strictly causal. On the other, he's saying that the ability to make human suffering pretty for political gain is something that can persist well beyond the decline of classic fascist dictators like Hitler, Mussolini or Franco.
In fact, if there is anything we can say about the aestheticization of politics in our own age, it is that it's alarmingly quotidian. Contemporary cultural critics like Terry Eagleton, Martin Jay and others have observed this in their own writings. David Harvey, in his 1990 book The Condition of Postmodernity, argues that neoliberalism and its postmodern cultural logic have made meaning and coherence flexible, relative, accountable not to facts, but to subjective feelings. In this landscape, the aestheticization of politics is more effortless than ever.
Telescope this forward to today. Social media has made the individual persona or narrative, regardless of truth, endlessly reproducible through the electronic channels of Twitter and Facebook. Trump clearly knows this. And his time on The Apprentice proved that his Lifestyles of the Rich and Famous manner was ultimately adaptable to a 21st-century cultural tenor. He has a bottomless bank account to back it up. Add in a white, increasingly old middle class, palpably anxious about whether their days are numbered that can seal themselves in a media bubble echo chamber should if they really want to, and you've gone a long way toward explaining what's underneath Trump's poll numbers—and what makes him somewhat exceptional.
His media strategists are masters at detaching meaning from fact, making words accountable only to themselves and how loudly they're shrieked. This makes him a quintessentially postmodern candidate contrasted to an age when the cold, everyday facts of collapse, crisis and apocalypse are unavoidable.
Trump taps into a vein of very real fear, and uses virtually any unmoored fact he can find to mobilize it. It is precisely why, though it is quite incorrect to label his right-wing populism as "fascist," it is not impossible that he could pull a Father Coughlin. That there are open white supremacists campaigning for him shows that the raw materials are there, waiting to be pieced together. That his campaign is able to employ an "aesthetic strategy"—though they would likely never acknowledge it—reveals an ability to do so.
What can be done then? Benjamin, in his essay, posits an intriguing alternative to an obvious "anybody but Trump" voting strategy: Against the aestheticization of politics, the left "responds by politicizing art." It sound likes classic academic hairsplitting, but what each represents is one of the elements that has set apart our side as more thoroughly democratic and bottom-up.
The Freedom Kids' song employs a beat that is simple and one-dimensional, easy to follow, lulling the listener into a sense of security and predictability. It uses buzzwords and phrases that occupy a specific place in the heads of Trump's target audience and are guaranteed to get a rise: "cowardice," "apologize for freedom," "c'mon boys," "enemies of freedom," and yes, "make America great."
Never is there any mention of what these mean or the potential human toll underneath them. That's deliberate. They are intended to whip resignation and fear into a highly emotional and irrational powder-keg that can be ignited or dampened as those as the front of it see fit. Trump is in control, and he wants us to both know this and take comfort in it.
By contrast, the left has a rich and vibrant history of using art, music, literature and performance to gain critical distance, to question why life is the way it is, to make it weird, unfamiliar, anarchic and atonal so that we might see just how little our present condition makes sense. This is art intended to challenge and polarize. It is a disruption; a fundamentally democratic disruption that pulls back the wizard's curtainand reveals the cold, Machiavellian machinations of political and economic elites for what they are. It is a tradition that runs through the revolutionary romanticism of William Blake, socialist surrealists like André Breton, Benjamin Péret, Franklin and Penelope Rosemont, and the best examples of psychedelia, graffiti art and punk rock.
It is an alternative that flips Trump's logic upside down, be it through individual pranks or concerted mobilization. It can be found in the counter-protests that are starting to follow him wherever he goes. Or in workers' unionization efforts and threats of strikes at his casinos (a fitting rebuke to a man whose solution to the Greek debt crisis is to build a hotel on top of the Parthenon). Or the work of Sarah Levy, the Portland, Oregon artist whose painting "Whatever" took the Donald's words about Megyn Kelly's menstrual cycle and turned them (literally!) inside out.
The Freedom Kids' handlers would love nothing more than for us to smile gleefully when the doomsday button is finally pushed. Our side, conversely, must regain the confidence to smash and reshape reality, and push back against the Right's weaponized fatalism.
Trump's Authoritarianism & the "New Wave" – It Can Happen Here
Paula Young Lee's article shifts focus as it takes a look at Trump's authoritarianism. According to Lee, "Americans struggling to understand Donald Trump's domination of the Republican primaries should consider that totalitarianism has already happened on U.S. soil—not as a political movement that swept the nation, but in the petri dish of one high school. The frightening but enlightening story is recounted in The Wave (Die Welle), a gripping 2008 German film that shows how a study in group psychology unexpectedly revealed the seductive lure of fascism. The plot is based on true events that took place in 1967 in a Palo Alto, Calif. high school.
The Wave commensed when "history teacher Ron Jones conducted an experiment with his class of 15-year-olds to sample the experience of the attraction and rise of the Nazis in Germany before World War II. In a matter of days the 'Third Wave' experiment began to get out of control, as those attracted to the movement became aggressive zealots."
For the American teenagers caught up in the Third Wave, the startling discovery was how easily this particular strain of group-based identity could coalesce and harden, descending into cruelty and drowning them in a darkness they didn't know existed. (In 1976, Ron Jones wrote a short story detailing what happened, and there also exists a 2012 documentary, The Lesson Plan, based on the events.)
"Be careful who you follow," warns Mark Hancock, who was in Jones' classroom, "because you never know where they might lead you." For the students, the events of 1967 remain an abject lesson in "the psychology of leaders and followers, when passion for one's cause leads to intolerance and persecution of others, extremist political and religious groups, cults, gangs, bullying, etc."
Lee says "the world is now watching the Wave unfold in real time across the U.S. Given the steady amplification of violence at Trump rallies, it is impossible not to notice the parallels between Donald Trump's ascent to political prominence, and the swift spread of the Wave under Ron Jones/Herr Wenger. Appealing to a disenfranchised working class angered over jobs and immigration, Trump plays to unspoken hopes that he will upend the racial hierarchy destabilized by President Obama and reassert the primacy of whiteness, as Slate's Jamelle Bouie has argued."
"Trump's campaign is itself the monstrous love child of pop culture married to ignorance. The "poorly educated" people Trump "loves" are simultaneously disgusted and enthralled by a media machine cynically profiting off their fears. Covert operators—all white, mostly male—who've managed to infiltrate Trump rallies have attempted to describe the peculiar energy there. They enter with vague expectations of entertaining weirdness and exit with their faith in humanity shaken to its core."
"This isn't politics," says Lee, "it's pure spectacle, right down to the messages from its leader. Trump paradoxically claims his lies are true, because to confirm a lie requires an ontological framework that assumes the possibility of truth. Eliminate truth, dismiss reality as so much media bias, and you automatically eliminate the lie, too."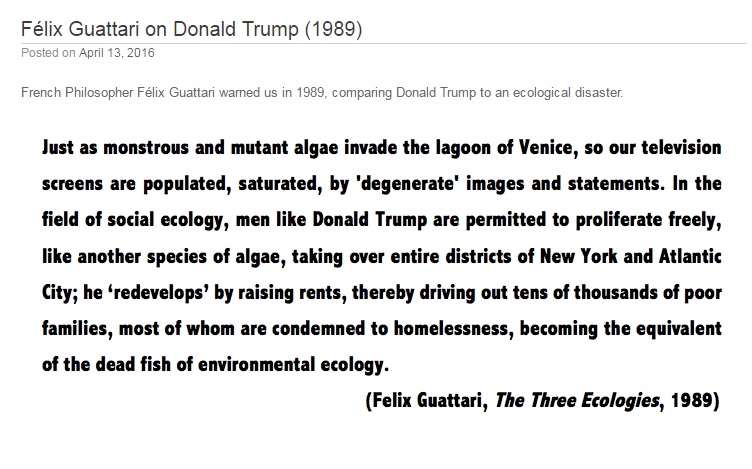 Un-Reason & "Un-truth"
As Horkheimer and Adorno argue in Dialectic of Enlightenment, we are potentially entering an era distinguished by new forms of Barbarism and un-reason. Lee argues similarly, using more plain-spoken language: "if Trump is the first political candidate to understand we have entered the Age of Untruth— an age from which there is no turning back—it is also the case that his adherents are attracted to the glittering promise of a return to authoritarianism for precisely that reason. The greater the epistemological uncertainty, the more vital the need to externalize order through abstract systems such as the Church and the Law, which create bright lines of difference between "us" and "them."
"By orchestrating the chaos and calling it "beautiful," Trump invokes the aesthetics of popular performance in order to legitimize inchoate feelings of anger and despair. Meanwhile, political commentators have been calling on Trump to start "acting presidential," as if being a good actor was a necessary and sufficient condition of being the leader of the free world. What does acting presidential actually mean?
In Trump's case, it means he is likely to eventually step in and impose order on the chaos he created; he will demand that his followers control themselves, but this will succeed only if Trump commands absolute power over their hearts, minds, and bodies. Strength through discipline, strength through community, strength through action."
Social Class, Authoritarianism & Fascism
The American media, over the past year, has been trying to work out something of a mystery: Why is the Republican electorate supporting a far-right, orange-toned populist with no real political experience, who espouses extreme and often bizarre views? How has Trump, seemingly out of nowhere, become so popular?
What's made Trump's rise even more puzzling is that his support seems to cross demographic lines — education, income, age, even religiosity — that usually demarcate candidates. And whereas most Republican candidates might draw strong support from just one segment of the party base, such as Southern evangelicals or coastal moderates, Trump currently does surprisingly well from the Gulf Coast of Florida to the towns of upstate New York, and he won a resounding victory in the Nevada caucuses.
To get at the answer here, we have to think about why people like, relate to, and/or sometimes act like authoritarians.
Solt takes a social learning approach to argue that "contexts of greater economic inequality shape experiences with authority in ways that can be expected to increase authoritarianism." He says:
"Societies with higher inequality have unequal distribution of power, creating hierarchies of wealth and authority; the greater the economic inequality, the more widespread the authoritarianism. Insecurity plays a vital role here. reflexive deference to traditional authority (church, state, etc.) becomes a coping mechanism for social and economic isolation, powerlessness, and above all, fear. These can all be countered by "clinging to the refuge of unquestioning obedience to authority."
Amherst Study
Last September, a PhD student at the University of Massachusetts Amherst named Matthew MacWilliams realized that his dissertation research might hold the answer to not just one but all three of these mysteries. MacWilliams studies authoritarianism — not actual dictators, but rather a psychological profile of individual voters that is characterized by a desire for order and a fear of outsiders. People who score high in authoritarianism, when they feel threatened, look for strong leaders who promise to take whatever action necessary to protect them from outsiders and prevent the changes they fear. So MacWilliams naturally wondered if authoritarianism might correlate with support for Trump.
His research was based on polling a large sample of likely voters, where he looked for correlations between support for Trump and views that align with authoritarianism. What he found was astonishing: Not only did authoritarianism correlate, but it seemed to predict support for Trump more reliably than virtually any other indicator. He later repeated the same poll in South Carolina, shortly before the primary there, and found the same results, which he published in Vox.
As it turns out, MacWilliams wasn't the only one to have this realization. Miles away, in an office at Vanderbilt University, a professor named Marc Hetherington was having his own aha moment. He realized that he and a fellow political scientist, the University of North Carolina's Jonathan Weiler, had essentially predicted Trump's rise back in 2009, when they discovered something that would turn out to be far more significant than they then realized.
That year, Hetherington and Weiler published a book about the effects of authoritarianism on American politics. Through a series of experiments and careful data analysis, they had come to a surprising conclusion: Much of the polarization dividing American politics was fueled not just by gerrymandering or money in politics or the other oft-cited variables, but by an unnoticed but surprisingly large electoral group — authoritarians.
Their book concluded that the GOP, by positioning itself as the party of traditional values and law and order, had unknowingly attracted what would turn out to be a vast and previously bipartisan population of Americans with authoritarian tendencies.
The upshot of all of this research is that social class and psychological pre-dispostions matter – and they have obvious implications for democracies with growing inequalities – increasing inequality will promote the social conditions that lead to support for authoritarians.
Most troublingly, the research also shows that authoritarians prefer the use of force to diplomacy. At home and abroad. Think about that.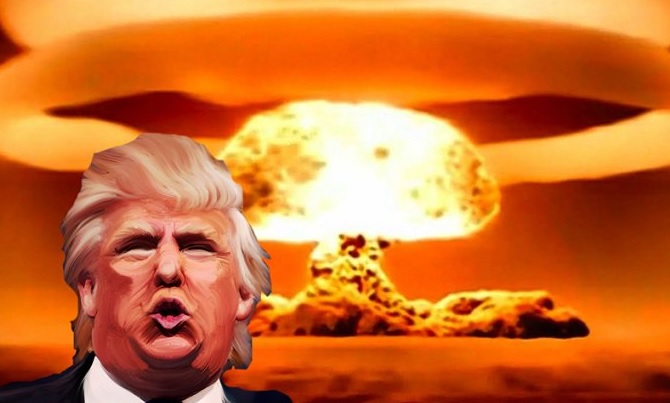 Sources
"An Erie Early Warning of Trump's Authoritarianism," by Paula Young Lee. Last accessed April 2016.
"Authoritarianism's Hidden Root Cause," by Mathew Willis. Last accessed April 2016
"The Rise of American Authoritarianism," by Amanda Taub. Last accessed April 2016
"Donald Trump and the Aesthetics of Fascism: What a 20th-century Marxist art critic can teach us about a very 21st-century candidate."  by Alexander Billet. Last accessed August 4, 2016.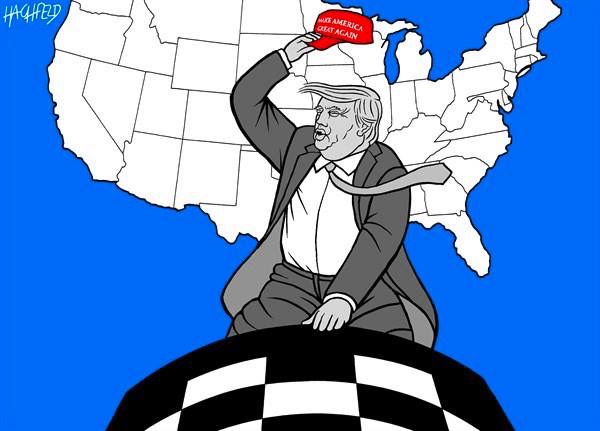 Discussion Questions
What parallels can you draw between the arguments presented in Dialectic of Enlightenment and Donald Trump's political candidacy?
Set aside the Hitler/fascism comparisons – how do you see Trump exemplifying an "authoritarian" personality? What is it about him that resonates such mass-appeal?
What do you think will happen if Trump is not elected? Where will all the angry people direct their anger?
Generally speaking, of the four front-runners for political office, one on the GOP is a man who thinks God talks to him; the other is a egotist who essentially thinks he's God. Forget about the candidates for a moment, what does this say about U.S. society, when we consider how many people do not appear to be turned off by this kind of thinking?