In 2003, the United States pre-emptively attacked Iraq in a war that would last for eight years claiming an estimated 189, 000 lives costing over $2 trilliondollars and causing untold economic and emotional devastation fo the Iraqi people. In this 2007 documentary that originally aired on Bill Moyers Journal, Moyers investigates big media's role as cheerleader in the clamor for war in the months preceding the March 19, 2003 invasion. How did the mainstream press get it so wrong in the run-up to the Iraq War?
The story of how high officials misled the country has been told. But they couldn't have done it on their own; they needed a compliant press, to pass on their propaganda as news and cheer them on. How did the evidence disputing the existence of weapons of mass destruction and the link between Saddam Hussein to 9-11 go largely unreported?
"What the conservative media did was easy to fathom; they had been cheerleaders for the White House from the beginning and were simply continuing to rally the public behind the President — no questions asked. How mainstream journalists suspended skepticism and scrutiny remains an issue of significance that the media has not satisfactorily explored," says Moyers.
"How the administration marketed the war to the American people has been well covered, but critical questions remain: How and why did the press buy it, and what does it say about the role of journalists in helping the public sort out fact from propaganda?"
Background – Mission Accomplished!
The 2003 Mission Accomplished speech gets its name from a banner that read "Mission Accomplished" displayed on the aircraft carrier USS Abraham Lincoln during a televised address by United States President George W. Bush on May 1, 2003. Bush posed for photographs with pilots and members of the ship's crew while wearing a flight suit.
A few hours later, he gave a speech announcing the end of major combat operations in the Iraq War. Bush's assertion—and the sign itself—became controversial after guerrilla warfare in Iraq increased during the Iraqi insurgency. The vast majority of casualties in Iraq, both military and civilian, occurred after the speech. Bush stated in the speech at the time that this was the end to major combat operations in Iraq.
Bush was hailed by media stars as a "breathtaking" example of presidential leadership in toppling Saddam Hussein. Despite profound questions over the failure to locate weapons of mass destruction and the increasing violence in Baghdad, many in the press confirmed the White House's claim that the war was won. MSNBC's Chris Matthews declared, "We're all neo-cons now;" NPR's Bob Edwards said, "The war in Iraq is essentially over;" and Fortune magazine's Jeff Birnbaum said, "It is amazing how thorough the victory in Iraq really was in the broadest context."
Buying the War – the Documentary
In "Buying the War" Bill Moyers and producer Kathleen Hughes document the reporting of Walcott, Landay and Strobel, the Knight Ridder team that burrowed deep into the intelligence agencies to try and determine whether there was any evidence for the Bush Administration's case for war. "Many of the things that were said about Iraq didn't make sense," says Walcott. "And that really prompts you to ask, 'Wait a minute. Is this true? Does everyone agree that this is true? Does anyone think this is not true?'"
"Buying the War" includes interviews with Dan Rather, formerly of CBS; Tim Russert of Meet the Press; Bob Simon of 60 Minutes; Walter Isaacson, former president of CNN; and John Walcott, Jonathan Landay and Warren Strobel of Knight Ridder newspapers, which was acquired by The McClatchy Company in 2006.
In the run-up to war, skepticism was a rarity among journalists inside the Beltway. Journalist Bob Simon of 60 Minutes, who was based in the Middle East, questioned the reporting he was seeing and reading. "I mean we knew things or suspected things that perhaps the Washington press corps could not suspect. For example, the absurdity of putting up a connection between Saddam Hussein and Al Qaeda," he tells Moyers. "Saddam…was a total control freak. To introduce a wild card like Al Qaeda in any sense was just something he would not do. So I just didn't believe it for an instant."
The program analyzes the stream of unchecked information from administration sources and Iraqi defectors to the mainstream print and broadcast press, which was then seized upon and amplified by an army of pundits. While almost all the claims would eventually prove to be false, the drumbeat of misinformation about WMDs went virtually unchallenged by the media. The New York Times reported on Iraq's "worldwide hunt for materials to make an atomic bomb," but according to Landay, claims by the administration about the possibility of nuclear weapons were highly questionable. Yet, his story citing the "lack of hard evidence of Iraqi weapons" got little play. In fact, throughout the media landscape, stories challenging the official view were often pushed aside while the administration's claims were given prominence. "From August 2002 until the war was launched in March of 2003 there were about 140 front page stories in the Washington Post making the administration's case for war," says Howard Kurtz, the Post's media critic. "But there was only a handful of stories that ran on the front page that made the opposite case. Or, if not making the opposite case, raised questions."
"Buying the War" examines the press coverage in the lead-up to the war as evidence of a paradigm shift in the role of journalists in democracy and asks, four years after the invasion, what's changed? "More and more the media become, I think, common carriers of administration statements and critics of the administration," says theWashington Post's Walter Pincus. "We've sort of given up being independent on our own."
Watch the Moyers documentary here:
Iraq for Sale: The War Profiteers
Another well-known critical journalist pursues a somewhat different version of the same story in his 2006 documentary – Iraq for Sale. Robert Greenwald produced his film while the war in Iraq was still raging. The film deals less with the media and more with alleged war profiteering and negligence of private contractors and consultants who went to Iraq as part of the US war effort.
Specifically, the film claims four major contractors – Blackwater, K.B.R.-Halliburton, CACI and Titan  – were all over-billing the U.S. government and doing substandard work while endangering the lives of American soldiers, Iraqi civilians, and their own employees. These corporations were tasked with "virtually everything except the actual killing," including food, laundry, housing, security, intelligence gathering and interrogation.
Almost all of the services provided by these firms were at one point accomplished within the mission and manpower structures of the U.S. armed forces. Now civilians, earning vast sums of compensation beyond what soldiers used to be paid are performing these tasks with very little oversight and accountability. This should anger even politcally conservative people who claim they are advocates "fiscal responsibility."
You can watch Greenwald's film here:
Banks Also Profit From War
There is another important component missing here, when we think about how these different corporations are being financially enabled to do their work. Of course, there is a compliant congress, voting for war, voting for contractor programs, etc. But banks are complicit too. In particular the Fed. Think about this: the Fed prints money out of thin air and loans it out to companies like Haliburton via congressional approval of their contracts. So now Haliburton owes interest on their loans. Who gets paid the interest? The banks.
Put another way, banks lend money that exists in theory on a computer screen. They lend non-existent money called credit. That's it. And guess who was the first one to call attention to the fictional qualities of money? Our supposedly evil communist friend Karl Marx. Talking about commodities in Das Kapital, he famously says:
"A commodity appears, at first sight, a very trivial thing, and easily understood. Its analysis shows that it is, in reality, a very queer thing, abounding in metaphysical subtleties and theological niceties."
This is our first hint that things are not as they appear. And of course, Marx spends the duration of his book explaining how commodities, money, and capital work, much to the chargrin of everyone, who would rather everything remain secret/hidden behind a wall of obfuscation and outright deceit. And now you know why they hate him.
Banks profit massively from war. And so do hedge funds. Wars are an extention of economics by other means. Here's a great dramatization of the concept, as seen in the film, The International, starring Clive Owen.
The Political Economy of War
As the banker/broker in the film points out, the objective of the bank is control – but not to control conflict or even profits, as many people are quick to assume. The objective is to control the debt that conflict produces. Profit comes from both the debt and the risk environments that war creates. This, the banker here explains, "is the very essence of the banking industry."
Think about this as you now ponder why it seems the U.S. isn't "winning" any wars in the classic sense. It's because the rules of the game are now changed. The point of the war is not to end; it's not about "winning" anymore. What you see is exactly the result the banks want – long term instability that creates massive debt and wealth re-distribution upward to the people that control the debt, who then profit enormously and use their wealth to perpetuate this system of wealth accumulation. Their profit requires your and perhaps your kids' sacrifice. Remember that.
Ultimately, what you think about war says more about your social class than it does reflect your careful weighing of the evidence and understanding of the specifics of foreign policy. If you are someone who hails from the moneyed strata of the capitalist class, who is not personally in danger of serving or having friends serve in war, you can support war like a red-blooded patriot and be secure that it's not your blood that will ever be in danger of being spilled.
If you're working class, there's a good chance you look at war and military service as a gamble you are willing to take to get out of a one-horse town, to travel, to have your education paid for, and for reasons perhaps that carrying a gun makes you feel powerful. Because if you're economically vulnerable, there's no power in that. Power is not yours to have, so you're going to have to fake it by carrying a big-ass gun. In all propability, this working class person, much like the wealthy person they wish they could be, is similarly not interested in evidence and the specifics of foreign policy. Nonetheless, unlike the wealthy person, they are going to put their "skin in the game" and hope for the best – hope their war bet pays off and that they get to return home one day with all their arms and legs intact to ride the "hero" train for all it's worth. But maybe not.
Sources
Bill Moyers Journal: "Buying the War" (run time 1:23)
Iraq for Sale. A documentary by Robert Greenwald
The International, starring Clive Owen and Naomi Watts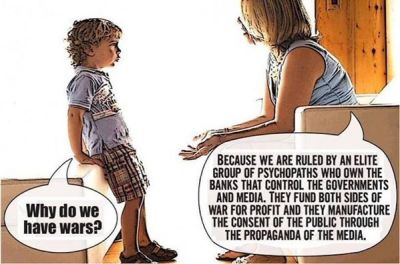 Discussion Questions
What is your understanding of the wars in Iraq and Afghanistan and how do you think your views are potentially shaped by what you see and read in the media?
Why do you think it is that when it comes to war, we never as a nation debate the cost; yet, for example, if someone suggests we provide free college for all, people say we can't afford that? What does this say about our nation's priorities?
Why is that a poor person getting food stamps can summon the anger of thousands, but $99 for a bag of laundry registers no effect?  Why do you think the vast majority of Americans are ignorant about the financial realities of the wars that are fought in their name that they pay for with their hard-earned tax dollars? Bear in mind, we're talking about BILLIONS of dollars being wasted here.
Now when you think about "Why We Fight" can you see how war looks different when you are a banker, as compared to a soldier or the average citizen?
The notion that wars serve "people" – i.e. American freedom and way of life, the freedom of the Iraqi people – rather than class interests in one of the great myths of all time. What do you think it's going to take for people to wake up from their passive acceptance and patriotic fever-dreams to realize the con; to stop sending their kids to war to be sacrificed so that bankers can get rich?