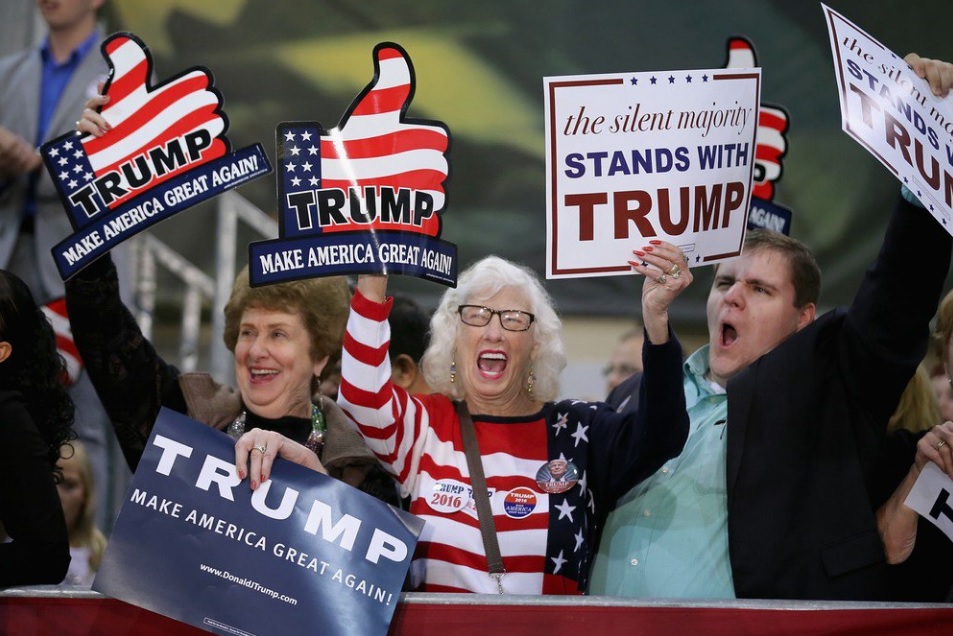 The following article was written by Jared Yates Sexton
American Horror Story: Donald Trump Rally is a Homophobic, Misogynistic, Racist Nightmare
"Bitch!"
The shout came after the first mention of Hillary Clinton's name at Tuesday night's Donald Trump rally in North Carolina: An opening speaker had called her "Crooked Hillary." There was a smattering of laughs inside the Greensboro Coliseum. Many of the attendees were boozy-eyed. Many had turned to their neighbors and rolled their eyes, while a few people clapped in the stands.
But now it was Trump making the case that Clinton wouldn't help the LGBT community because of her ties to countries that openly discriminated against women and gays, all the while belaboring the shooter's Muslim immigrant parents from Afghanistan, the words spit out like they tasted foul.
"And she's no friend of L … G … B … T Americans. She's no friend. Believe me."
"The gays had it coming!" a man shouted and gazed back at the guy who'd called Hillary a bitch. They met eyes, shared a smile, a look of recognition.
As if it were some kind of joke.
As if 49 of his fellow Americans—49 living, breathing human beings—hadn't just been mowed down.
I've spent a good deal of my time on the 2016 campaign trail trying to empathize with the Donald Trump supporter. As the product of Linton, Indiana, a Midwestern town gutted by NAFTA and the son of a working-class family the American Dream left behind, I can, with some effort, put myself in a Trump voter's shoes.
They have, after all, been manipulated for at least the past 50 years to vote against their interests, as wedge issues and social crusades have persuaded them to forget their checkbooks and pledge support to a Republican Party that has promised to protect them from The Other, whether that's been African-Americans, homosexuals, or feminists.
They have, after all, suffered the depletion of their work in the wake of globalism and free-trade initiatives, of which the Democrats have played a part.
They have, after all, been betrayed time and again by both parties in a system that rewards money and power and special interests.
They have, after all, been told incessantly in every medium how the country is being taken over by radicals intent on shredding the Constitution, and a lie can only be told so long before it sounds like a truth.
They have, after all, watched a very real and seismic shift in both demographics and social attitudes, the combination of which has upset the only thing they had: a consistent reality.
When I look at it in those terms, I can understand. Not necessarily condone, but at least understand. Trump, as they say, "speaks his mind." He's the megaphone through which their visceral and terrorizing nightmares could be given voice. It's unreasonable but fathomable. And it explains why his rallies are themselves visceral and terrorizing nightmares.
In the parking lot of the Greensboro Coliseum there were vendors hawking everything from cheap pins of the GOP's elephant mascot wearing Donald Trump's hair-helmet to knock-off "Make America Great Again" hats in red, black, white, and camo. The coveted item for the day, however, were screen-printed anti-Hillary T-shirts.
"Hillary For Prison '16."
"Trump That Bitch."
And the real star, a shirt you could hear vendors peddling from a hundred yards away: "Hillary Sucks, But Not Like Monica."
They were everywhere. People inside were finding their fellow Trumpers wearing it and posing for pictures. Flashing big thumbs up and cheesy grins.
After the rally the vendors were back at it, barking like carnies.
"Hillary sucks, but not like Monica!"
"Come on, now! Hillary sucks, but not like Monica!"
I walked behind a father explaining the shirt to his ten-year-old son by saying the former secretary of the state, the first female presidential nominee of a major political party, had "let her husband have all kinds of oral sex in the White House."
The "Hillary Sucks, But Not Like Monica" shirt wasn't the worst one I saw. I caught a few glimpses of another take on "Hillary For Prison '16," this one featuring a caricature of Clinton. Her waist and thighs were ballooned for effect, trapped in what I have to assume was supposed to be a jail cell but more resembled a cage. Like she was an animal that needed to be tamed.
By the end of Trump's speech, everything had been touched: His successes in the polls. ISIS and illegal immigrants in the same breath. Elizabeth "Pocahontas" Warren. The "dishonest" media and Trump's revocation of the Washington Post's press credentials, during which my section chanted "Kill them all / kill them all."
He'd rambled until he couldn't ramble anymore and seemed spent. He'd exhausted yelling "Shut up, you SILLY WOMAN!" during an odd, misplaced poem that compared immigrants to snakes. At another point, a boy interrupted with "We all bleed red" and was dragged out by security as Trump sarcastically called, "Don't hurt him! Please don't hurt that person!" and the crowd replied, "Hurt him! / Hurt him!" As he was led to the doors, a small pack of supporters broke off from the throng and followed as if they meant to pummel him just past the exit.
Outside, the lot was filled with more vendors and beyond them cars and trucks with Confederate Flag bumper stickers, decals, license plates, and actual Confederate Flags. In the shadow of one I watched a dad spank his child heatedly, as if the man needed somewhere to focus all his anger.
On everybody's lips were strange non-sequiturs of hate.
"You can't trust Latinos. Some maybe, but not most."
"Immigrants aren't people, honey."
"You know them crazy black girls, how they are."
Sickened, I got in my car and watched in the rearview as a group of college boys tailgated out of their pickup. They'd just finished their beers and were taking turns slamming them on the ground, one of them flinging it at the bumper of a passing car. Next to them another group of college boys wearing the telltale uniform of Southern preppiedom: gingham shirts tucked into thigh-length khaki shorts with braided belts and sockless loafers. Their wavy helmets of Bieberish hair tucked under those generic hats.
That's when I realized what had been there all along. This campaign, whose success has long been attributed to the forgotten working and middle classes, the so-called Silent Majority, has been, and always will be, an unholy alliance between the Hateful and the Privileged, the former always on a never-ending search for new venues for their poison and the latter enjoying, for the first time since Reagan's '80s, an opportunity to get out and step on some necks in public.
I considered the odd pairing and its implications as I left the lot and turned onto Coliseum Boulevard. Trump can be defeated, and most likely he will be, but elections cannot cure this disease. It's always been here and perhaps it always will be. Trump's narcissistic quest to "Make America Great Again" has only drawn the insects to the surface, and there's plenty of room to wonder whether he's driving the movement or if it's driving him.
There wasn't much time to mull it over. Parallel to the traffic crawling down US-220 was a green and white sedan, the driver hanging a Mexican flag from his window. "Fuck Trump!" he yelled, succeeding in gaining the ire but failing to earn the attention of the shiny new SUV clogging the lane next to mine. At mind-numbing levels these college boys were playing "I Am a Real American," the theme music of professional wrestling hero-turned-bigot Hulk Hogan, all while flipping off pedestrians with one hand and flashing Trump yard signs with the other.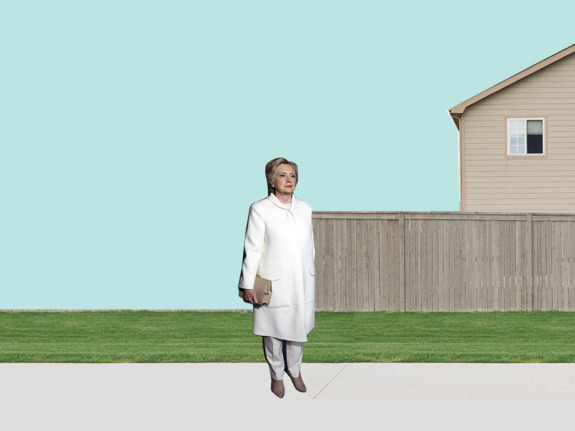 Unconscious Sexism
Post-election discussions were a-buzz with questions about "unconscious sexism," "internalized misogyny/bias," and "implicit bias." But what does this all mean? Likewise, can it even be measured?
Research conducted before the election by (YouGov survey) found that Trump voters had much higher levels of sexism, on average, than Clinton voters, as measured by their level of agreement with statements such as "women seek to gain power by getting control over men." (Bialik). The statistical effect registered as significant even after controlling for other factors like gender and political ideology. Other research reached similar conclusions.
In the case of internalized misogyny/bias, the evidence suggests that both men and women harbor bias career advancement by women. Perhaps more surprising, the research document that women hold more of this bias, on average, than men.
Caroline Heldman, a political scientist at Occidental College, said "I don't think you can understand [Clinton's] candidacy without understanding gender bias is baked into it." According to her, "we don't like women to be ambitious. It rubs men and women the wrong way" (Bialik).
Implicit bias, on the other hand, may be more subtle. Nonetheless, researchers have conducted numerous studies to this end as part of an effort to understand the unconscious tendency to associate different personal attributes and behaviors with certain groups — in this case, the tendency to associate men with strength and careers and women with softness and family. Here again, this kind of bias registers stronger on average in women than in men. Among women, the bias is noted as being particularly strong among those who identify as politically conservative. Data indicate, furthermore, that this bias was especially strong among one group in 2016: women who supported Trump (Bialik).
So how do you test for implicit bias? Researchers have, for example, run online experiments to test how subjects associate words such as "boy" and "lady" with "career" or "family." You can take a version of the test at the website of Project Implicit, a nonprofit research organization (Bialik).
Of course, most of the women who voted in the recent election did, in fact, support Clinton. Her victory margin with women was approximately 14 percentage points. Trump support, on the other hand, registered more prominently with men, by as much as 12.5 percentage points, according to exit polls — the biggest gender gap on record in a presidential election (Bialik).
Unfiltered Comments from Trump Crowds
Election Demographic Data
Trump supporters have often expressed frustration at constantly being labeled racist. But what does the data say? Can the data confirm or deny allegations of racism?
Education
Among whites, Trump won an overwhelming share of those without a college degree; but he also won white college graduates – a group that many identified as key for a potential Clinton victory – Trump outperformed Clinton by a narrow 4-point margin – 49% to 45%. Here, however, the widest gap was evident between those with and without a college degree.
College graduates backed Clinton by a 9-point margin (52%-43%), while those without a college degree backed Trump 52%-44%. By way of comparison, in the last Presidential election, college graduates backed Obama over Romney by 50%-48%; those without a college degree also supported Obama 51%-47% (Tyson & Maniam).
Race
The vast majority of white voters voted for Trump. When we combine the two variables – race and education – we see Trump's margin among whites without a college degree was significant – the largest among any candidate in exit polls since 1980. Two-thirds (67%) of non-college whites backed Trump, compared with just 28% who supported Clinton, resulting in a 39-point advantage for Trump among this group.
While large majorities of black and Latina women voted against Trump and for Hillary Clinton, white women didn't.  Exit polls showed that approximately 53% of white women voted for Trump.
45% of women with college degrees voted for Trump (Beckett).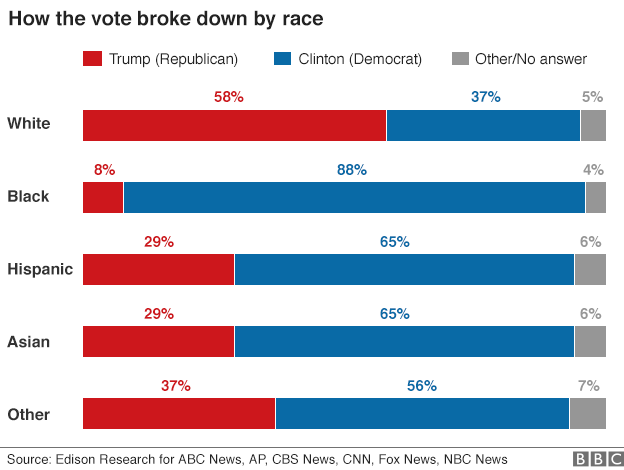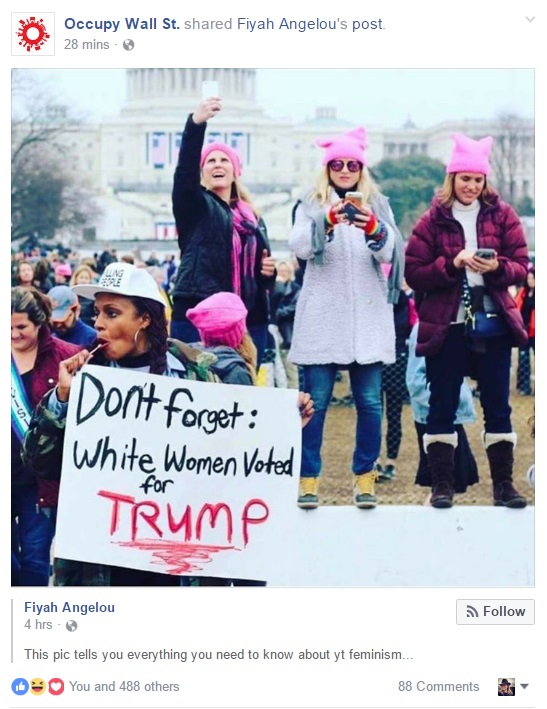 Gender
As stated above, more white women (53%) voted for Trump; this includes 45% of women with college degrees.
By 53% to 41%, more men supported Trump than Clinton.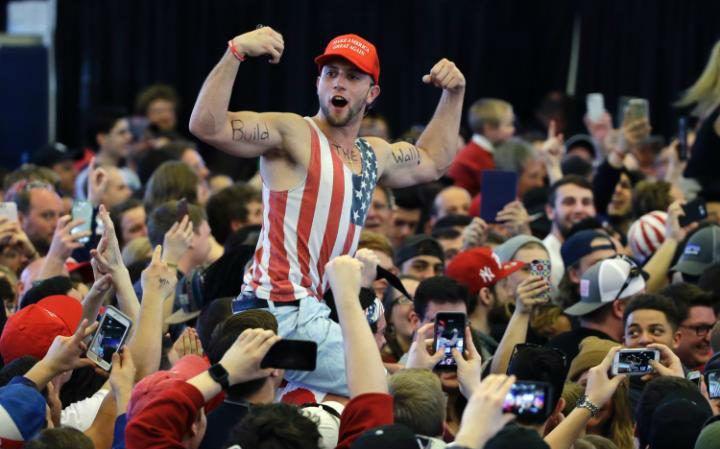 Age
Older voters voted overwhelmingly for Trump. Older voters (ages 65 and older) preferred Trump over Clinton 53%-45%. This result was similar to the previous Presidential election, where older voters backed Romney over Obama 56%-44%.
Clinton received a lower share of the vote among young voters (ages 18-29) than Obama received in 2012 or 2008. Young adults, however (ages 30-64)  preferred Clinton over Trump by a wide 55%-37% margin.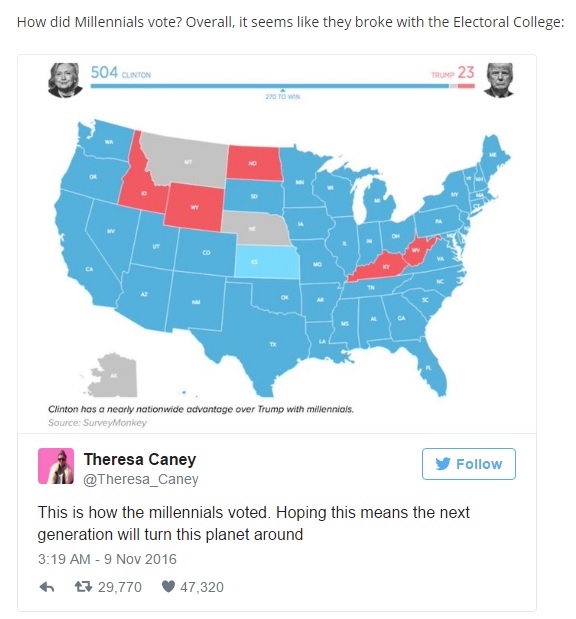 Religiosity
While not studied as much as the preceding variables, religiosity (religious social identity) is also intertwined with politics and support for political candidates. In the United States, a religiously plural society, there are numerous religiously identified groups; many of them hold strong views on a number of politically contentious topics.
Evangelicals, who proved to be strong supporters of Trump (exit polls showed that 81% of self-identified Evangelicals voted Trump) stated they feel they are increasingly under attack by the secular culture – even persecuted. Evangelical leader James Dobson ( spokesperson for the interest/lobbying group Focus on the Family) thus emerged as one of the more prominent supporters of Trump.
According to Dr. Kristin Du Mez, "issues related to gender—from the cultural sea change on gay marriage to transgender bathroom laws to the Hyde Amendment and the contraceptive mandate—are at the center of evangelicals' perceived victimization. The threat of terrorism, she says, also looms large.
There is an articulated fear that American power isn't what it used to be, as nearly two-thirds of white evangelicals harbor fear that a once-powerful nation has become "too soft and feminine"(Du Mez).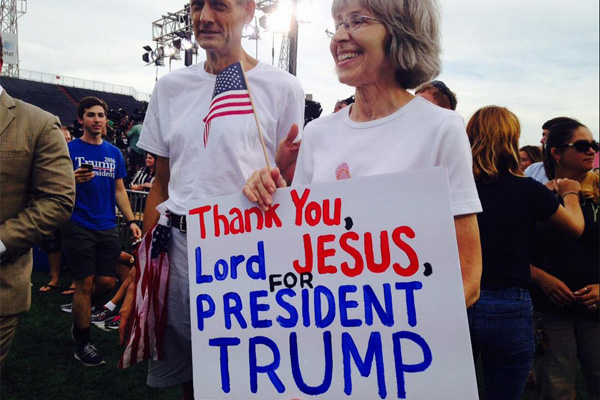 Evangelicals have a tradition of embracing literature that claims men were created in the image of a warrior God. As such, they have been receptive to sentiments like those expressed by the late Jerry Falwell in his 2004 sermon "God is Pro-War."  Researchers have documented in surveys that traditionalist evangelicals are more likely than other Americans to approve of U.S. engagement in a preemptive war, support military action against terrorism, and condone the use of torture (Du Mez).
This brand of militant masculinity, says Du Mez, "helps explain the lack of outrage on the part of many evangelicals when it comes to Trump's character issues. Dobson himself, one of Trump's most influential evangelical supporters, urged fellow Christians 'to cut him some slack.' " More tellingly, the Rev. Robert Jeffress, pastor of First Baptist Church in Dallas and stalwart Trump supporter, explained his endorsement of the unconventional candidate in this way: "I want the meanest, toughest, son-of-a-you-know-what I can find in that role, and I think that's where many evangelicals are." (Du Mez)
In light of this, it would appear that Donald Trump appeared on the scene as the leader they were looking for; a man who embodies the militant masculinity that they feel certain can cure our social ills.
Race & Religiosity
Sean McElwee's report for Demos found the following after analyzing results from the 2016 American National Election Studies (ANES) pilot survey (the survey asked respondents to rank their feelings about politicians and social groups, where a score of 0 indicated cold feelings, up to 100, which meant warmest feelings). His report offers analysis and explanation of feelings for Trump among white respondents, based on their views of government treatment and/or discrimination against whites and Christians.
According to McElwee, "among independents and Republicans, those with strong feelings that whites and Christians faced discrimination were more supportive of Trump in the Republican primaries (the ANES survey was completed in January 2016). Among white Republicans and independents who believe whites face no discrimination, 69 percent supported a Republican candidate other than Trump. Among those who believe whites face a "great deal" of discrimination, only 34 percent did. Among those who believe the government treats whites much better, 72 percent chose a candidate other than Trump, whereas among those who feel the government treats black people much better, 49 percent did.
Among Republicans, but particularly among Trump supporters, feelings of white discrimination and loss were profound. Among white Democrats, 74 percent said whites face "little or no" discrimination, compared to 51 percent of white Republicans. While 75 percent of white Democrats said Christians face "little or no" discrimination, only 30 percent of white Republicans did. As the chart below shows, there are deep partisan divides in perceptions on whether the federal government favors white people or black people (or treats both equally)."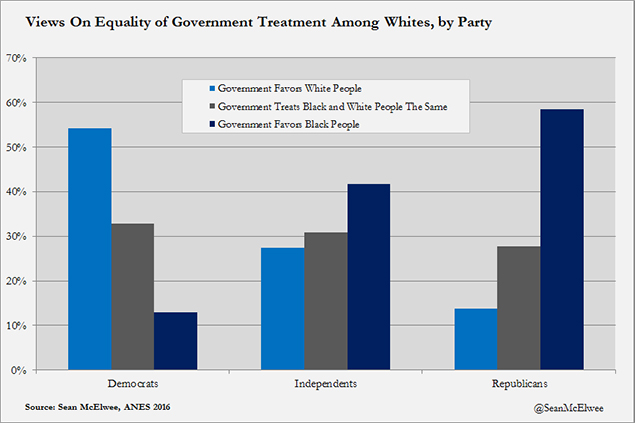 No Vote
50% of eligible voters in the United States did not vote. This one statistic alone goes a long way in explaining Clinton's nearly 3 million popular vote victory over Trump.
Getting Under the Numbers 
While some of the more obvious conclusions jump off the page, the results sometimes suggest additional questions. Why, for example, did so many white women (regardless of socio-economic status) vote for Trump? The answer as Fortune Magazine put it follows:
"The fact that 53% of white women voted for Donald Trump shows that some white women are more aligned with ideas of power and privilege than gender solidarity and racial inclusion.'
Given how few people are willing to admit overtly racial motivations for their vote, the numbers nonetheless betray a strong racial correlation for Trump support. This is one of the reasons that underlies accusations that Trump voters are racists. Unfortunately, the issue is way more complicated than this.
Doubtless, a fair amount of economic resentment fuels racial anxiety. Some of this anxiety, as the video demonstrates, bleeds into open racism. Despite this, to write off the anger of white working class people as nothing more than racism is misleading, for it fails to account for the intersectional complexity of the problem.
In the absence of racial antipathy, one might surmise at the very least significant numbers of white men and women did not feel vulnerable on the basis of their race (they were not a declared target of Trump's rhetoric). Maybe they found it easy to dismiss Trump's racist rhetoric due to an implicit understanding that they were not likely to suffer any consequences. For white women, the story differs somewhat.  Some scholars and analysts have explained their vote as a function of "internalized misogyny" – an internalized form of self-hatred, where they have become so accustomed to being seen as either second-class citizens or having their bodies objectified (dismissing "locker room" talk as boys will be boys) that they were willing to overlook Trumps misogynistic rhetoric and behavior.
For white women, the narrative is different. Some scholars and analysts, as we saw above, explained their vote as a function of "internalized misogyny" – an internalized and highly gendered form of self-hatred, where gender non-conforming behavior (i.e. a woman acting "powerful" and not lady-like) provokes a negative reaction. Many women have become socially accustomed to being seen as either second-class citizens or having their bodies objectified (dismissing "locker room" talk as boys will be boys) by men…so much so, they were willing to overlook Trump's misogynistic rhetoric and behavior in an effort to maintain social solidarity with the men in their life, who are a source of comfort and support for them.
In light of all of this, the numbers constitute evidence that suggests both overt racism and at the very least implicit bias proved to be a significant predictor of Trump support. When a candidate advocates a Muslim registry, thinks Hispanics are rapists and wants to reinstate unconstitutional practices like "Stop and Frisk" (which research proves disproportionately targets people of color), it's hard to escape allegations of racism, even if one personally feels the  label does not apply to them. When racism isn't a "deal-breaker," tolerance of racism makes one complicit in the racist project.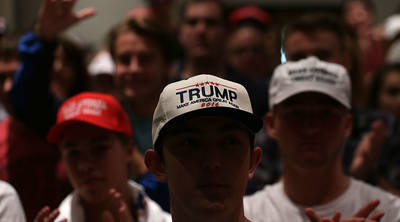 (Photo by Alex Wong/Getty Images)
Toward an Intersectional Analysis
Sociologists draw from "intersectional theory" – a theory that looks at the intertwined nature of social identities based on race, class, and gender – in their efforts to explain things like political party affiliation and candidate support among other things. But here you might be wondering – Why is it important to take into account interpenetrating social identities?
To be sure, it was not only the U.S. electoral politics of 2016 that saw an increase in appeals t populism (exemplified by the election of Trump as US President), England reflected similar sentiments as seen in the highly contentious 'Brexit' vote – the UK's referendum vote to leave the European Union.
Explanations thus far have cited the myriad failures of globalization, which exacerbated white working class anxiety and hostility toward immigrants and those perceived as outside "Others."
While gender, as was pointed out here, figured prominent in analyses, the bulk of critique remained focused on 'alienated working class' nationalism and patriotism. The resulting "whitelash" in these cases caused gendered complexities to recede into the background. But as we saw with the recent Women's March, there remains much to be said about women's voices and perspectives.
It is only by calling upon intersectional theory that we can attempt to move forward and arrive and a more nuanced analysis of what happening; an intersectional analysis that takes into account very complex understandings of social identity and representation and how these are further interpreted by political economic factors.
Sources
The "American Horror Story" article was written by Jared Yates Sexton and was published in The New Republic as  "American Horror Story: A Donald Trump Rally is a Homophobic, Misogynistic, Racist Nightmare."  He is an Assistant Professor of Creative Writing at Georgia Southern University and the author of three collections of stories and a crime novel. He's been covering the 2016 election at The Atticus Review. Tweet him @JYSexton
"A Morning with 'Adorable Deplorables': Why Trump Supporters are Optimistic," by Louis Beckett
"Behind Trump's Victory: Divisions by race, gender, education," by Alec Tyson and Shiva Maniam
"How Unconscious Sexism Could Help Explain Trump's Win," by Carl Bialik
"Donald Trump and Militant Evangelical Masculinity," by Kristen Du Mez
Trump's supporters believe a false narrative of white victimhood — and the data proves it; Trump voters believe that whites and Christians face discrimination — but they call the left sensitive snowflakes" by Sean McElwee
Discussion Questions
What do you think the numbers tell us about voter preferences? 
Was education an effective predictor of how people voted in this election?
What about socio-economic status. Did having/not having money (a proxy for economic anxiety) make a difference in voting patterns? Put differently, did only the people who were suffering economically vote for Trump?
Of the three variables – race, class, gender – which one predicted voting outcomes the best?
What do you think is the source of the rage on display in the videos? Are all the people shown here racist? Do you think they hate, disrespect, or feel threatened by women that operate outside traditional gender roles? Is their rage driven by strictly economic concerns? What does the research say? 
What are we to make of the fact that 50% of voters in the United States did not vote?