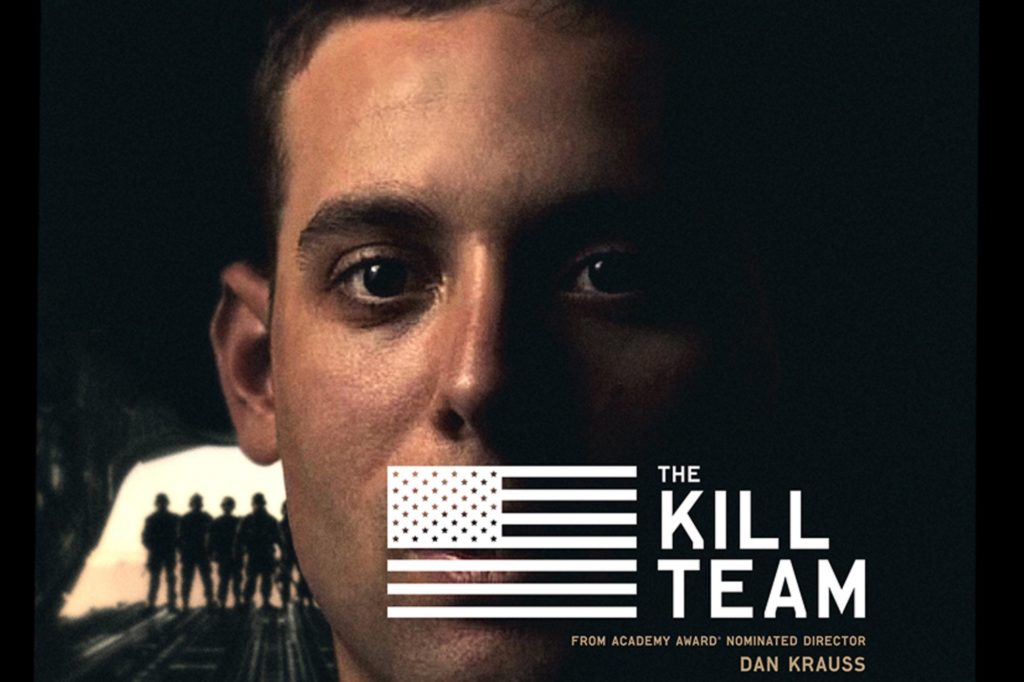 The "Kill Team" as they have come to be known are sadly not characters ripped from a Hollywood movie. They are real American soldiers who committed acts of torture and murder during the war in Afghanistan. Also known as the "Maywand District Murders," located in Kandahar province, the extrajudicial killings were the handy work of young Infantrymen who claimed they were influenced by their charismatic squad leader, Staff Sergeant Calvin Gibbs.
Dan Krauss' 2013 film relates the story of Specialist Adam Winfield, a 21-year-old soldier in southern Afghanistan who tried, with the help of his father, to alert the military to the war crimes that were being committed by his fellow soldiers. Winfield along with the other soldiers were members of the 3rd Platoon, Bravo Company, which was part of the 5th Stryker Brigade based out of Tacoma, Washington.
The film, which you can preview in the trailer below, won first place in the category of Best Documentary Feature at the 2013 Tribeca Film Festival. More recently, filming has begun for a dramatic rendering of the story, starring Alexander Skarsgard in the role of Gibbs. The release is set for 2017.
What Happened?
In an article written by Mark Boal, we learn how a group of American soldiers, all trained Infantrymen, who decided it was "finally time to kill a haji." The squad apparently deliberated at length about how to do it over the course of numerous conversations and "late-night bull sessions." Bagging "savages" as they termed it, carried with it a low probability of getting caught. Some of the soldiers "agonized over the idea; others were gung-ho from the start." Eventually, their talking gave way to action, as the soldiers took steps to execute their murderous plans.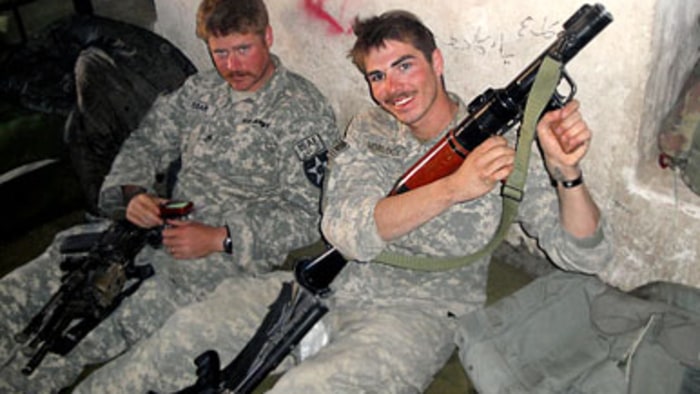 As part of an effort to root out the Taliban located in their sector of responsibility, the platoon made their way to La Mohammad Kalay, an isolated farming village framed by poppy fields. It was here that the soldiers seized upon an opportunity when their officers retreated to the interior of the compound to talk with a village elder. As Boal explains, with their leadership effectively distracted, it was at this point that the soldiers began looking for someone to kill. Later, one soldier confessed to investigators: "The general consensus
As Boal explains, with the unit leadership effectively distracted, it was at this point that the soldiers began to actively look for someone easy to kill. One soldier confessed to investigators: "The general consensus was "if we are going to do something that fucking crazy, no one wanted anybody around to witness it." It was soon afterward that a young Afghan farmer was killed under dubious circumstances.
Boal describes in his article: "He was a smooth-faced kid, about 15 years old. Not much younger than they were (Morlock was 21, Holmes was 19). His name, they would later learn, was Gul Mudin, a common name in Afghanistan. He was wearing a little cap and a Western-style green jacket. He held nothing in his hand that could be interpreted as a weapon, not even a shovel. The expression on his face was welcoming. "He was not a threat," according to Morlock, who later confessed to the killing.
Not having gone far enough taking an innocent life, the soldiers celebrated their kill and took photographs of themselves with the young teen they murdered. One soldier (Holmes) posed for the camera holding a cigarette as he hovered over Mudin's bloody and half-naked corpse; he grabbed the boy by the hair in the same manner as one might hold a deer taken as a trophy. Morlock (shown below) did the same, after which he snipped off the finger of the boy to keep as a souvenir.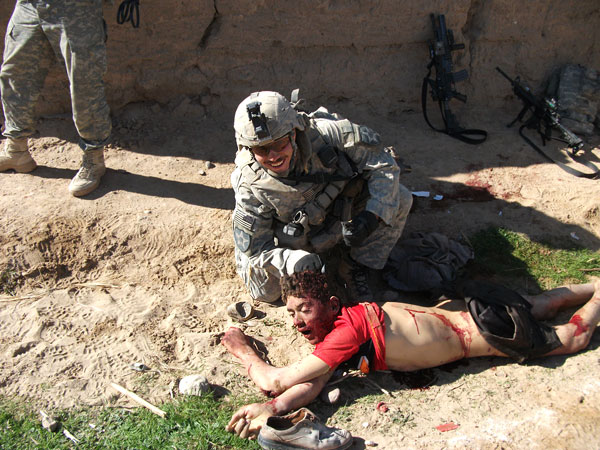 When it was all over and done, Sergeant Gibbs was found guilty by a military court of being the leader of a U.S. Army "thrill kill team" that murdered a total of three (there were likely more) Afghan civilians for sport. He was sentenced to life in prison, although he will be eligible for parole in nine years. Additionally, Gibbs was found guilty of 12 other related charges, which included the taking of body parts from corpses as trophies. In summary, three soldiers, who also pled guilty in the case, testified against Gibbs, whom the accused of masterminding a scheme to kill unarmed civilians, using planted weapons to make the deaths appear justified.
Gibbs testified in his own defense, where he denied murdering civilians, even though he did admit to taking trophies from Afghans that he maintained were killed legitimately. As part of his testimony, he compared his cutting off of fingers from his human kills to "keeping antlers" from deer he'd shot.
In taped testimony obtained by ABC News, Jeremy Morlock told investigators: "He just really doesn't have any problems with f—ing killing these people."
"And so we identify a guy. Gibbs makes a comment, like, you know, you guys wanna wax this guy or what?" Morlock said." And you know, he set it up, like, he grabbed the dude."
Morlock said that killing people came "too easy" to Gibbs.
Specialist Winfield, the lone soldier who had originally warned his parents that his fellow soldiers were executing innocent Afghan civilians, pled guilty to reduced charges; he was sentenced to three years in prison for his role in the third killing. Originally, military prosecutors had charged him with premeditated murder, which would have carried a sentence of life in prison without parole.
"Killing Rag-heads for Jesus"
In the article "Killing Ragheads for Jesus," Chris Hedges dives deep into a discussion of the moral issues and contradictions that characterize military service in the contemporary U.S.  It has become a feature of our culture that people reflexively confer praise on everyone that wears a uniform, "thanking" soldiers for their service. As a result, there is almost no critical thought afforded to how military culture can, by virtue of being good at making good soldiers, simultaneously produce killers and other ambiguous characters like Army sniper Chris Kyle. Our preference is to memorialize, even lionize them as heroes, without giving much thought to human complexity. Deviance, which is to say "murder," was in this case produced as a byproduct of their military training. Our failure to recognize this to some extent dishonors people who serve. When military service is celebrated to the point it is fetishized, soldiers are objectified; they are rendered object-like and emptied of their humanity because we want to indulge collective national fantasies.
Hedges is perhaps best known for his prize winning work, including War Is a Force That Gives Us Meaning (2002) and Empire of Illusion: The End of Literacy and the Triumph of Spectacle (2009). He spent nearly two decades as a foreign correspondent working in Central America, the Balkans, and the Middle East. In 2002 Hedges was part of a group of eight reporters at The New York Times awarded the Pulitzer Prize for that paper's coverage of global terrorism. An educated theologian from Harvard's Divinity School (he is also a Presbyterian Minister), Hedges has taught at Columbia University, New York University, and Princeton University. He now teaches at a maximum security prison in New Jersey.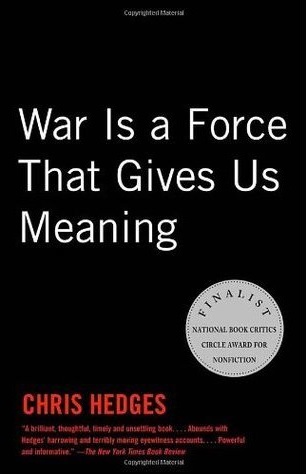 In WFTGUM, Hedges writes about his wartime experiences, where he observes that "in spite of its destructive capacity, war can give us what we long for most….a sense of purpose, meaning, and a reason for living….it allows us to be noble in a life often dominated by trivia and routine." (p.3). Art and filmmaking play an important role in this process, as he asserts that art "becomes infected with the platitudes of patriotism; the use of a nations cultural resources to back up the war effort is essential to mask the contradictions needed to sustain the war." (p.63).
One of the dangers he calls attention to is how culture plays a role in solidifying the wartime narrative. In the U.S. in particular, he points out, children are taught to believe in the superiority of their culture, where the U.S. and by association its soldiers are always depicted on the side of the angels. Once we see ourselves on the side of the angels, where we embrace an ideological belief system that defines itself in terms of goodness and light, its only a matter of HOW we carry out murder (p.9).
"War," he says, "promotes killers and racists; each side reduces the other to objects" (p.21). "Rape, mutilation, sexual abuse are the natural outcome of a world in which human beings are objects" (p.103-104). Thus it follows, the excuse for immoral behavior derives from the belief that the work they carry out is merely their duty, which they carry out for the greater good (p.10).
"A soldier who is able to see the humanity of an enemy is not an effective killer" (p.73) Militaries want "believers" not "thinkers."   Because "thinkers might not follow orders; self awareness and self-criticism must therefore be obliterated (p.74).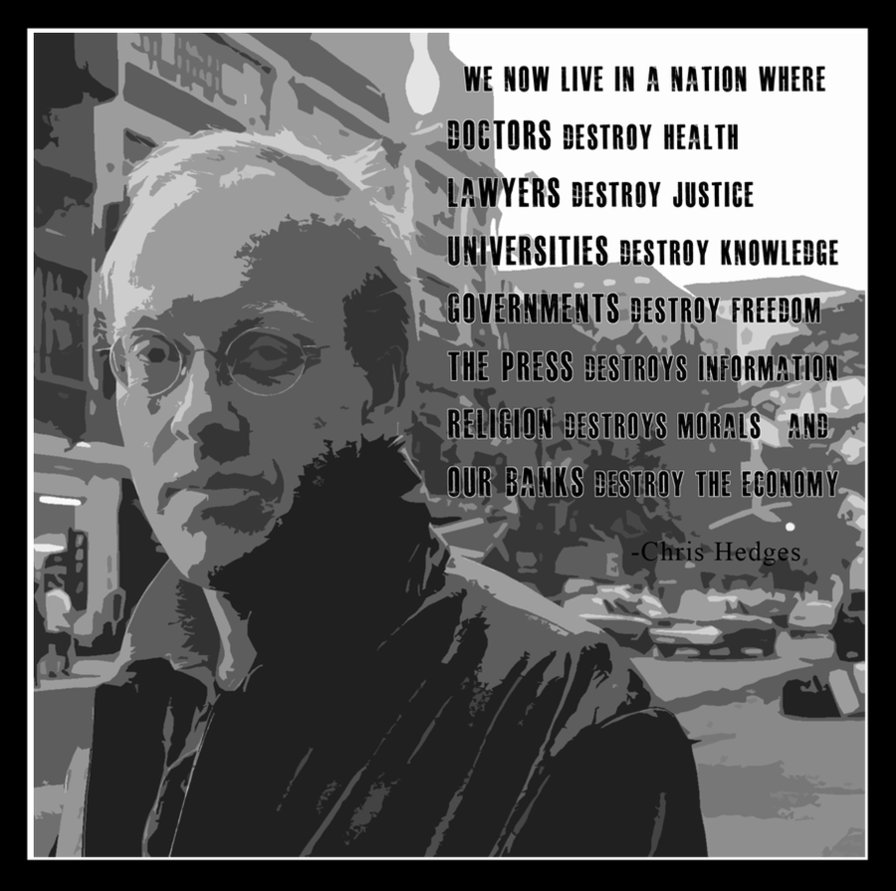 War as Myth
According to Hedges, "the dirty secret of war is that the ideals that propel us into war are myths…and in some cases lies." In light of this, "when wars lose their mythic stature for the public, they are exposed for what they are—organized murder (p.21).
"The potency of myth is that it allows us to make sense of mayhem and violent death; it justifies human cruelty and stupidity; it disguises our powerlessness and hides the impotence and ordinariness of our leaders. It's only when the veneer of the myth is punctured (as in Vietnam) that the press begin to report in a sensory, rather than a mythic manner (the press, in other words, does not lead, it follows) (p.23).
Most national myths, he says, "are at their core racist and fed by ignorance" (p.24).
"The myth of war sells and legitimizes the drug of war" (p. 25).
"The myth of war is necessary to justify the sacrifices of war, for its only by denying the reality of war that it can be turned into a heroic endeavor."
"The rhetoric of patriotism is exposed as myth" (p.39)
"National myths ignite collective amnesia during war; they give past generations a nobility they never had" (p.46).
Inconsistencies are ignored by those who are intoxicated by a new found sense of national pride (p.47).
Nationalist triumphalism was discredited after Vietnam, but surged again under Reagan; they became ascendant once more in the Gulf War" (p.61).
"Peddling the myth of heroism is essential to entice soldiers to war." Without this, recruiters wouldn't be able to do their jobs.
"For those who swallow the nationalist myth, life is transformed; collective glorification permits people to abandon their usual preoccupation with the petty concerns of daily life; they get to see themselves as players in a momentous historical drama. This vision is accepted at the expense of self-annihilation" (p.54).
"The desire to give oneself over to the 'crowd' to become one of the masses is easier; it places fewer mental demands on the individual (See Erich Fromm's work "Escape from Freedom," where he discusses social-psychological escape mechanisms.)
Sources
"The Kill Team: How U.S. Soldiers in Afghanistan Murdered Innocent Civilians," RollingStone Magazine article by Mark Boal
"Calvin Gibbs, Leader of 'Thrill Kill' Soldiers, Guilty of Murder," by Mark Schone and Matthew Cole
Discussion Questions
Why do you think attrocities occcur in war? How does our perception of war and soldiers perhaps differ from reality?
Have you ever been in a situation where you felt morally obligated to "blow the whistle" on someone?
How are social group dynamics (in-group/out-group dynamics) implicated in producing deviant behavior, including murder and torture?
How are institutional dynamics implicated in producing deviant behavior? And if institutions are to blame, does that mean we hold soldiers blameless? Is it merely a fact that they were simply "doing their jobs" and/or just"following orders?"
What does it say about the military as an institution when only low-ranking soldiers are prosecuted for war crimes?
How does "military culture" feed into the social dynamics that produce deviant behavior?
What do you know about Christian "Dominionism?" Are you familiar with the allegations that dominionism is alive and well, particularly among the officer ranks of the U.S. military and among its civilian para-military contractors?
Do you think the crimes of the kill team were isolated incidents committed by a few "bad apples," or might this type of behavior be institutionalized and systemic? If an institution sanctions torture can we blame soldiers for doing the same?