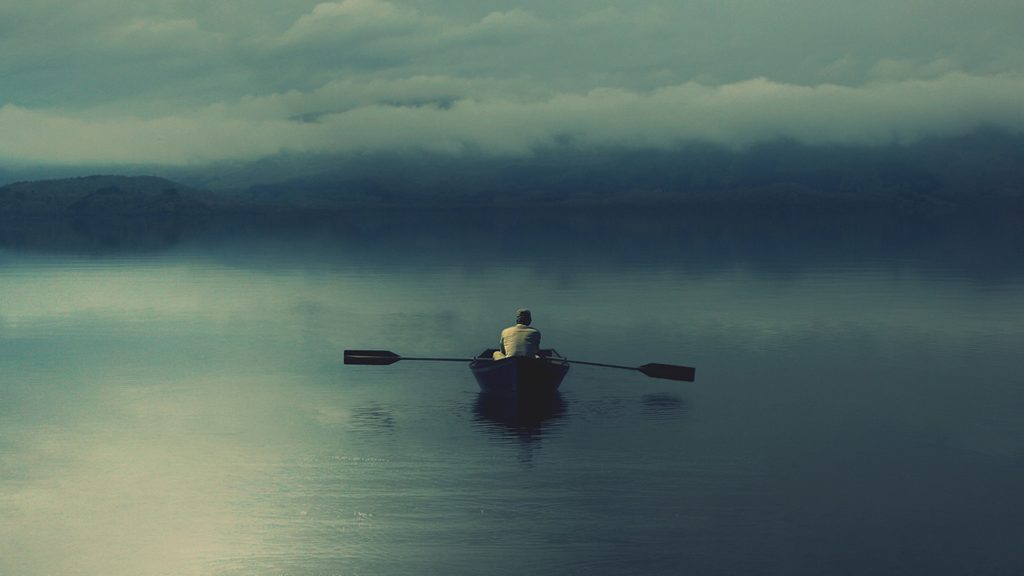 Researchers have found that social isolation – in a word "loneliness" – is a worldwide social problem. According to studies in Britain and the United States, roughly one in 3 people over the age of 65 live alone. U.S. Census Bureau statistics cite that 11 million (or 28% of people aged 65 and older) lived alone in 2010 (Stevenson, 2017). This actually makes sense when you think about it – as people get older, the likelihood that they will live alone increases. Now, take into consideration another trend – increasingly more adults do not have children. The result is the problem is only going to exacerbate, given how there will be fewer family members available to provide care to aging seniors.
Other studies have found overwhelming evidence that links loneliness to physical illness, cognitive decline, and disease. In light of this, loneliness can and should be seen as a potential public health problem. With that, it is important that we study people who live alone.
Not everyone, however, who lives alone is isolated. Social support and social connection vary considerably across populations and this may vary greatly, based on gender, race, and social class. This is essentially the argument presented by Eric Klinenberg, whose research takes a more expansive approach to understanding social isolation. For Klinenberg, social isolation and solo living arrangements are an indicator of social change.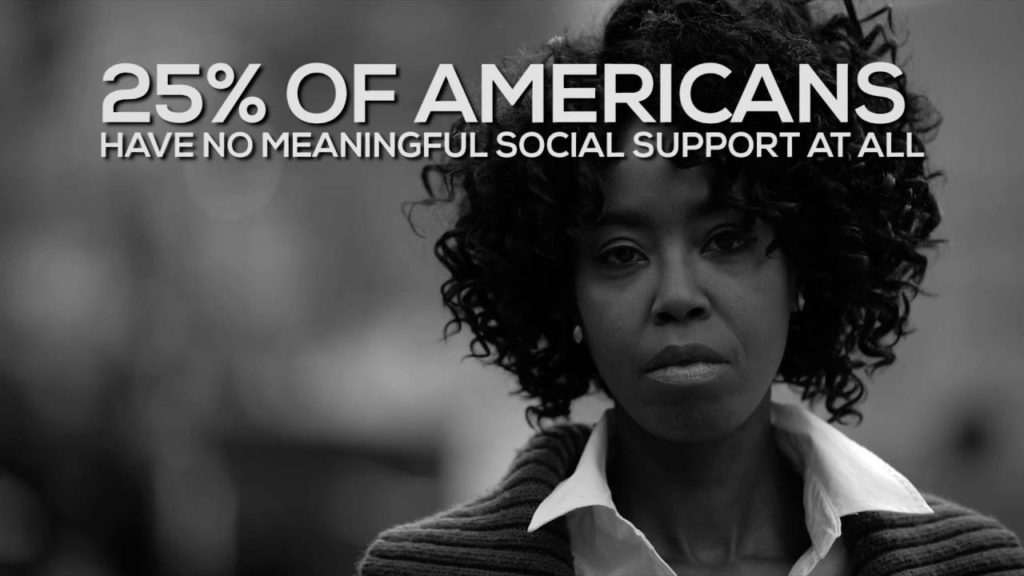 Who is lonely? Who lives alone?
While living alone does not inevitably lead to social isolation, the research shows that it is certainly a predisposing factor. Loneliness affects people of all ages, young as well as old, suburban and urban dwellers, and men as well as women. According to Klinenberg, living alone and being "lonely" are not always the same thing. Historically, his work documents how during the mid-century time period in the United States, approximately 4 million Americans lived alone.  Put another way, slightly less than 10% of U.S. households were one-person households. This type of living arrangement typified life in the Western region of the country – places like Alaska, Montana, and Nevada, which were settled by migrant men (Klinenberg, 2013).
Times have, however, changed. Now, census estimates indicate there are more than 32 million people living alone in the United States. Again, this figure represents approximately 28% of all American households. Regionally, instead of seeing this pattern of living predominate in the West, it is now more common in big cities throughout the country – places like Seattle, and San Francisco, and Denver, and Philadelphia, and Washington, D.C., and Chicago (where between 35 and 45% of the households have just one person). Manhattan exemplifies the pinnacle of solo living, where about 1 of every 2 households is a one-person household. In spite of this what appears to be a major sea change in living arrangements, these increased rates are still lower than rates of solo living in European cities. Manhattan exemplifies the pinnacle of solo living, where about 1 of every 2 households is a one-person household. Nevertheless, despite what appears to be a major sea change in living arrangements, the increased rates in the U.S. are lower than solo living rates in European cities (Stromberg, 2012).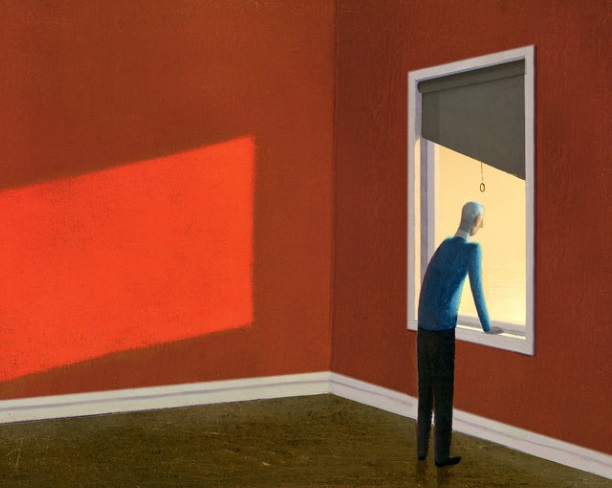 After conducting more than 300 interviews, Klinenberg and his team learned that everyone is connected in some way to a family member or friend who lives on their own. Ironically, given how this living arrangement has become commonplace, that means that it is not always questioned, nor is it necessarily claimed as a social identity. Americans, in particular, are quite anxious about isolation. As Klinenberg points out, we believe in self-reliance, but we also long for community. When we discover there is someone in our life who lives alone, the tendency is to worry there's something wrong; that the person may have difficulty coping and that they don't have what they want or need. Much of this can be attributed to the rugged individualism that infuses that infuses our public discourse often belies a strong desire for community and social bonding (Stromberg).
Lonely Seniors
It is not uncommon for many of our elderly citizens to lead sad, lonely, and isolated lives. Mary Tony is one example of such a person. Tony is 98 years old and spends almost all of her time by herself. Voyager Films stopped by her house to film her on a typical day.
The goal, of course, was to capture a glimpse of how Mary went about the process of navigating a day in her solo life. During the course of filming, Mary admitted that she doesn't communicate too much with her family members. Likewise, she noted an absence of the kind of friendships that are typical of nursing home environments. While it is not uncommon for people Mary's age to live out their lives in retirement homes, keeping company with peers and enjoying organized activities — many like Mary chose a solitary life, preferring the familiar surroundings of their homes. "Aging in place," as it is often termed, people like Mary struggle to find meaning in their days.
Because she tends to sit by herself at home all day, Mary said she found it necessary to come up with different ways to stay occupied. One way she does this is by stripping the junk mail that she receives. After stripping it, she uses scissors to slice the mail into tiny pieces. Afterward, she puts the tiny pieces inside bags and sets them aside for the trash. Watch this short film clip produced by Voyager Films, which poignantly illustrates aging seniors face, who are sometimes forgotten.
What Can be Done?
According to Dr. Carla Perissinotto, a geriatrician at the University of California, San Francisco, "it is no longer medically or ethically acceptable to ignore older adults who feel lonely and marginalized. Using data from a large national survey of older adults, Dr. Perissinotto looked at the relationship between loneliness and health outcomes. She found that individuals who reported they were lonely had higher rates of declining mobility, they exhibited difficulty performing routine tasks, and they experienced death as an outcome during the 6 year follow-up period. These outcomes were found to remain significant even when controlling for socio-economic status, depression, and other health problems (Hafner, 2016).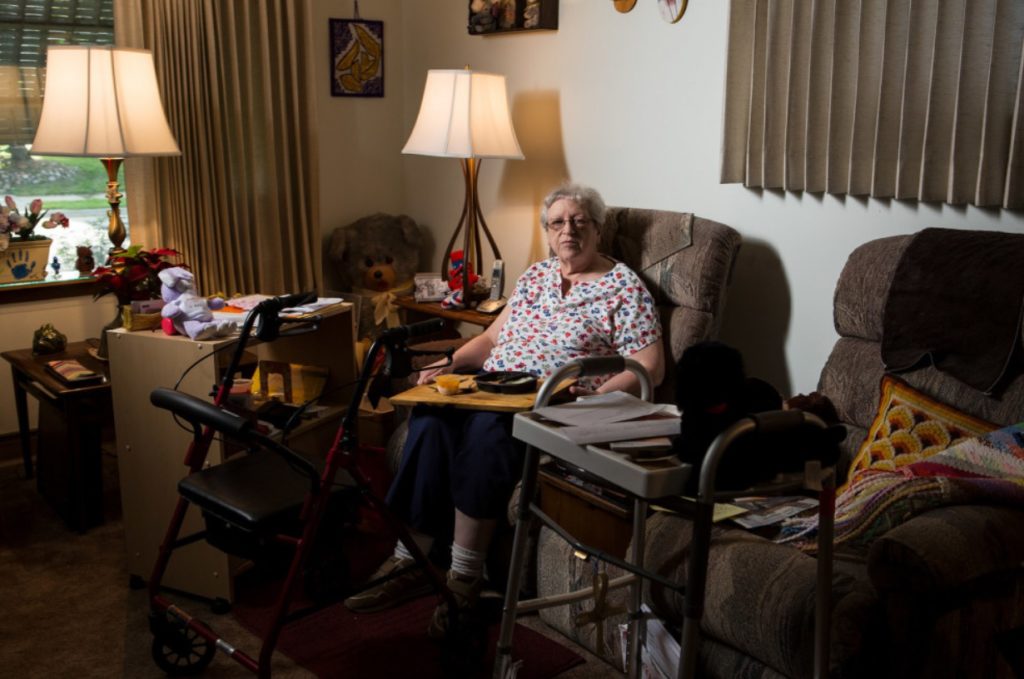 Twenty Facts About Senior Isolation
(re-blogged from Sarah Stevenson, "20 Facts About Senior Living," Senior Living Blog)
1. Senior isolation increases the risk of mortality.
According to a 2012 study in the Proceedings of the National Academy of Sciences, both social isolation and loneliness are associated with a higher risk of mortality in adults aged 52 and older.
One possible explanation: "People who live alone or lack social contacts may be at increased risk of death if acute symptoms develop because there is less of a network of confidantes to prompt medical attention." Efforts to reduce isolation are the key to addressing the issue of mortality, said the study's authors.
2. Feelings of loneliness can negatively affect both physical and mental health.
Regardless of the facts of a person's isolation, seniors who feel lonely and isolated are more likely to report also having poor physical and/or mental health, as reported in a 2009 study using data from the National Social Life, Health, and Aging Project.
Connecting seniors with social resources, such as senior centers and meal delivery programs, is one way to combat subjective feelings of isolation.
3. Perceived loneliness contributes to cognitive decline and risk of dementia.
Dr. John Cacioppo, a neuroscientist and psychologist at the University of Chicago, has been studying social isolation for 30 years. One frightening finding is that feelings of loneliness are linked to poor cognitive performance and quicker cognitive decline.
We evolved to be a social species, says Dr. Cacioppo – it's hard-wired into our brains, and when we don't meet that need, it can have physical and neurological effects.
4. Social isolation makes seniors more vulnerable to elder abuse.
Many studies show a connection between social isolation and higher rates of elder abuse, reports the National Center on Elder Abuse. Whether this is because isolated adults are more likely to fall victim to abuse, or a result of abusers attempting to isolate the elders from others to minimize risk of discovery, researchers aren't certain.
A critical strategy for reducing elder abuse is speaking up: abuse, neglect and exploitation often go unreported. As for prevention, maintaining connections with senior loved ones helps us ensure their safety.
5. LGBT seniors are much more likely to be socially isolated.
LGBT seniors are twice as likely to live alone, according to SAGE (Services & Advocacy for GLBT Elders); they are more likely to be single and they are less likely to have children – and they are more likely to be estranged from their biological families.
Stigma and discrimination are major roadblocks to support for LGBT seniors, but there are more and more community groups and online resources devoted to helping these elders avoid isolation.
6. Social isolation in seniors is linked to long-term illness.
In the PNAS study mentioned above, illnesses and conditions such as chronic lung disease, arthritis, impaired mobility, and depression were associated with social isolation. Ensuring appropriate care for our loved ones' illnesses can help prevent this isolation.
For homebound seniors, phone calls and visits can be a critical part of connecting with loved ones. Others may find that moving to an assisted living community addresses both issues – the need for ongoing care and the desire for companionship.
7. Loneliness in seniors is a major risk factor for depression.
Numerous studies over the past decade have shown that feeling loneliness is associated with more depressive symptoms in both middle-aged and older adults.
One important first step is recognizing those feelings of loneliness, isolation and depression and seeking treatment – whether it's on your own behalf or for the sake of a loved one.
8. Loneliness causes high blood pressure.
A 2010 study in Psychology and Aging indicated a direct relationship between loneliness in older adults and increases in systolic blood pressure over a 4-year period. These increases were independent of race, ethnicity, gender, and other possible contributing factors.
Early interventions for loneliness, say the study's authors, may be key to preventing both the isolation and associated health risks.
9. Socially isolated seniors are more pessimistic about the future.
According to the National Council on Aging, socially isolated seniors are more likely to predict their quality of life will get worse over the next 5-10 years, are more concerned about needing help from community programs as they get older, and are more likely to express concerns about aging in place.
The National Association of Area Agencies on Aging (n4a) says community-based programs and services are critical in helping ward off potential problems and improving quality of life for older people.
10. Physical and geographic isolation often leads to social isolation.
"One in six seniors living alone in the United States faces physical, cultural, and/or geographical barriers that isolate them from their peers and communities," reports the National Council on Aging. "This isolation can prevent them from receiving benefits and services that can improve their economic security and their ability to live healthy, independent lives."
Referring isolated older adults to senior centers, activity programs, and transportation services can go a long way toward creating valuable connections and reducing isolation.
11. Isolated seniors are more likely to need long-term care.
Loneliness and social isolation are major predictors of seniors utilizing home care, as well as entering nursing homes, according to a 2004 report from the Children's, Women's and Seniors Health Branch, British Columbia Ministry of Health.
The positive angle of these findings, says the report, is that using long-term health care services can in itself connect seniors with much-needed support. Particularly for seniors in rural areas, entering a care facility may provide companionship and social contact.
12. Loss of a spouse is a major risk factor for loneliness and isolation.
Losing a spouse, an event which becomes more common as people enter older age, has been shown by numerous studies to increase seniors' vulnerability to emotional and social isolation, says the same report from the British Columbia Ministry of Health. Besides the loneliness brought on by bereavement, the loss of a partner may also mean the loss of social interactions that were facilitated by being part of a couple.
Ensuring seniors have access to family and friendship support can help alleviate this loneliness.
13. Transportation challenges can lead to social isolation.
According to the AARP, "life expectancy exceeds safe driving expectancy after age 70 by about six years for men and 10 years for women." Yet, 41% of seniors do not feel that the transportation support in their community is adequate, says the NCOA.
Having access to adequate public transportation or other senior transportation services is key to seniors' accessing programs and resources, as well as their feelings of connectedness and independence.
14. Caregivers of the elderly are also at risk for social isolation.
Being a family caregiver is an enormous responsibility, whether you are caring for a parent, spouse, or other relative. When that person has Alzheimer's disease, dementia, or a physical impairment, the caregiver may feel even less able to set aside his or her caregiving duties to attend to social relationships they previously enjoyed. This can trigger loneliness and depression.
Seeking support, caring for yourself, and even looking for temporary respite care can help ward off caregiver loneliness and restore your sense of connection.
15. Loneliness can be contagious.
Studies have found that loneliness has a tendency to spread from person to person, due to negative social interactions and other factors. In other words, when one person is lonely, that loneliness is more likely to spread to friends or contacts of the lonely individual. Making things even worse, people have a tendency to further isolate people who are lonely because we have evolved to avoid threats to our social cohesion.
It's a complicated situation, and simply telling seniors to engage in more social activities may not be enough. Considering our loved ones' needs as individuals is a valuable first step to figuring out how to prevent or combat isolation.
16. Lonely people are more likely to engage in unhealthy behavior.
A 2011 study using data from the English Longitudinal Study of Ageing (ELSA) found that people who are socially isolated or lonely are also more likely to report risky health behaviors such as poor diet, lack of physical activity, and smoking. Conversely, social support can help encourage seniors to eat well, exercise, and live healthy lifestyles.
Living in a community situation can be an effective barrier to loneliness, and most senior communities specifically promote wellness through diet and exercise programs.
17. Volunteering can reduce social isolation and loneliness in seniors.
We all know that volunteering is a rewarding activity, and seniors have a unique skill set and oodles of life experience to contribute to their communities. It can also boost longevity and contribute to mental health and well-being, and it ensures that seniors have a source of social connection.
There are plenty of opportunities tailor-made for seniors interested in volunteering.
18. Feeling isolated? Take a class.
A review of studies looking at various types of interventions on senior loneliness found that the most effective programs for combating isolation had an educational or training component: for instance, classes on health-related topics, computer training, or exercise classes.
19. Technology can help senior isolation – but not always.
Even though modern technology provides us with more opportunities than ever for keeping in touch, sometimes the result is that we feel lonelier than ever. The key to finding technological interventions that really do help, says Health Quality Ontario, is matching those interventions to the specific needs of individual seniors.
One simple strategy that does help: for seniors with hearing loss, simply providing a hearing aid can improve communication and reduce loneliness. Phone contact and Web-based support programs were less consistent in their effectiveness, but for some, they might provide a lifeline.
20. Physical activity reduces senior isolation.
Group exercise programs, it turns out, are a wonderfully effective way to reduce isolation and loneliness in seniors – and of course they have the added benefit of being great for physical and mental health. In one study, discussed by Health Quality Ontario, seniors reported greater well-being regardless of whether the activity was aerobic or lower-impact, like stretching.
Senior isolation is neither inevitable nor irreversible. Getting the facts can help us prevent loneliness in our senior loved ones as they face the life changes of aging.
Note: Twenty Facts by Sarah Stevenson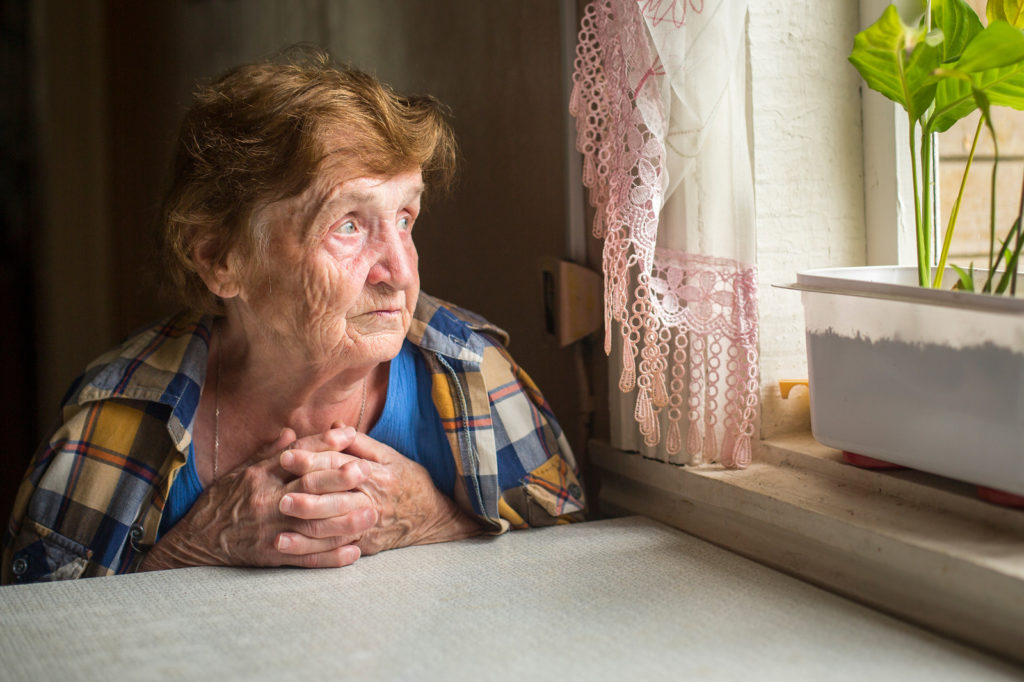 Sources
Stromberg, Joseph. "Eric Klinenberg on Going Solo: The Surprising Benefits, to Oneself and to Society, of Living Alone."  Smithsonian Magazine,  February 2012.
Klinenberg, Eric. Going Solo: The Extraordinary Rise and Surprising Appeal of Living Alone. New York: Penguin, 2013.
Hafner, Katie. "Researchers Confront an Epidemic of Loneliness," The New York Times, September 2016.
Stevenson, Sarah. (2017) "20 Facts About Senior Living," Senior Living Blog
Filming Mary Tony by Voyager films.
Discussion Questions
Do you know anyone that lives alone that gives you pause for concern? Is that person a senior? Have you ever given much thought about how they navigate their solo life?
What do you think we might do as a society to help? What kinds of programs or living arrangements do you think might help improve the problem? How might cities and towns develop programs to promote social interaction and social bonds?
Or do you think, alternatively, that governments should not play a role in the lives of seniors?