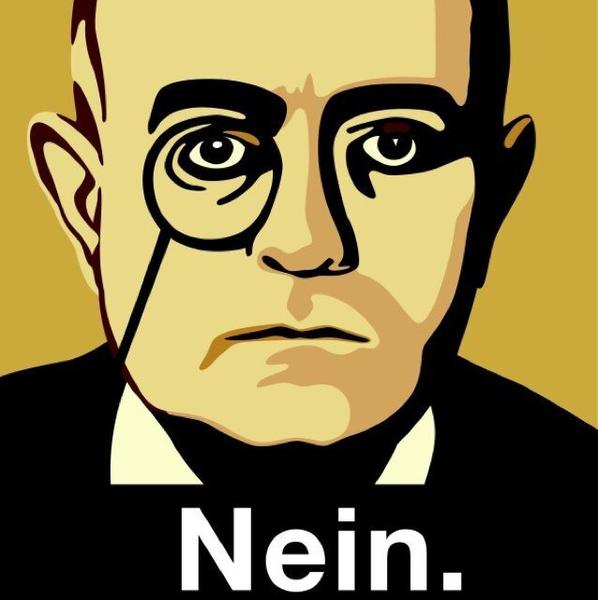 The Frankfurt School
The Frankfurt School, whose members formed part of an intellectual enclave at the Institute of Social Research (Institut für Sozialforschung), was social and political philosophical movement of thought located in Frankfurt am Main, Germany. Established as a result of a donation by Felix Weil in 1923, it was founded with the aim of developing Marxist studies in Germany. Over the course of time, the Institute generated what has become recognized as a specific "school" of thought.
During the run-up to World War II and the time period of 1933, when the Nazis forced the Institute to close and move to the United States, it's members found a new home at Columbia University (later, the Institute would return again to Frankfurt in 1949).
The Frankfurt School is the original source and inspiration for what has come to be known as Critical Theory. Members of the Institute developed the concept of "critical theory" in opposition to "traditional theory." Critical Theory evolved to apply Marxist theories among others in the study of social matters in order to, as Max Horkheimer once said, "liberate human beings from the circumstances that enslave them."
The philosophical impact of the school continues to resonate worldwide. Ironically, the U.S. right wing's favorite insult – "cultural Marxism" –  is now deployed as a weapon against critical thinking. The term, in no uncertain terms, is understood to be a term of derision.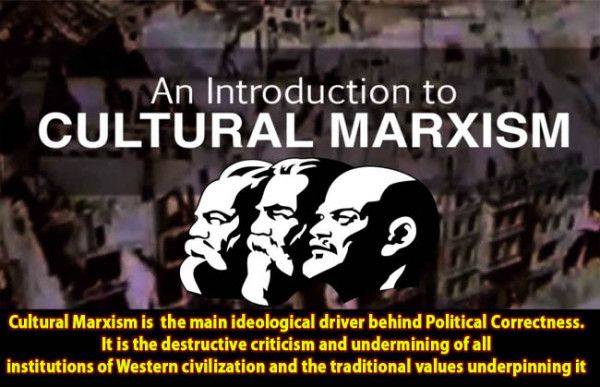 In spite of this, the ideas of the Frankfurt School are perhaps now more relevant than ever. Contemporary audiences, both inside and outside the social sciences humanities, have returned to its canonical works to study the rise of "Trumpism" in the United States.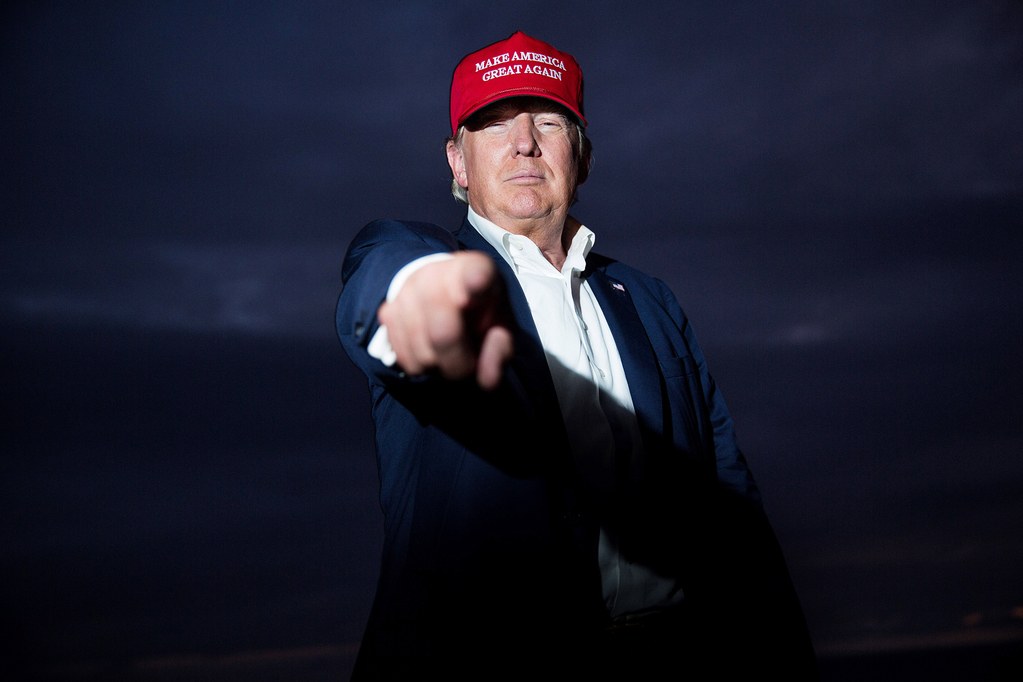 Who Were (Are) They?
Prominent figures of the first generation Critical Theorists include Max Horkheimer (1895-1973), Theodore Adorno (1903-1969), Herbert Marcuse (1898-1979), Walter Benjamin (1892-1940), Friedrich Pollock (1894-1970), Leo Lowenthal (1900-1993), Otto Kirchheimer, and Eric Fromm (1900-1980). From the time period of the 1970s, the second generation was led by Juergen Habermas, whose writing contributed to fostering a dialogue between the so-called "continental" and "analytical" philosophical traditions. This phase of work was further complemented by the works of others, including Klaus Günther, Hauke Brunkhorst, Ralf Dahrendorf, Gerhard Brandt, Alfred Schmidt, Claus Offe, Oskar Negt, Albrecht Wellmer and Ludwig von Friedeburg, Lutz Wingert, Josef Früchtl, Lutz-Bachman. Now, it is possible to speak of a "third generation" of critical theorists, symbolically represented in Germany by the influential work of Axel Honneth [for an comparison between the "inner circle" of the first generation, and the particularly interesting outer circle, see Axel Honneth, "Critical Theory," in Social Theory Today, ed. A. Giddens and J. Turner (Cambridge: Polity Press, 1987), 347ff].
The first generation critical theorists (Horkheimer, Adorno) devoted their work to concerns with the functional and conceptual elaboration of Hegel's dialectics.
Later, under Habermas's influence, there developed a specific focus on understanding the conditions of action coordinated through the underpinning of the conditions of validity for speech-acts.
Third generation theorists, following the works of Honneth, turned back to Hegel's philosophy (especially Hegel's notion of "recognition") which was understood to be a cognitive and pre-linguistic sphere grounding intersubjectivity. They comprise a large group of people, inside and outside Germany, including figures such as  Stanley Aronowitz, Andrew Arato, Kenneth Baynes, Seyla Benhabib, Jay Bernstein, Richard Bernstein, James Bohman, Susan Buck-Morss, Jean Cohen, Fred Dallmayr, Peter Dews, Alessandro Ferrara, Jean-Marc Ferry, Nancy Fraser, David Held, Agnes Heller, David Ingram, Martin Jay, Douglas Kellner, Thomas McCarthy, David Rasmussen, William Rehg, Gillian Rose, Steven Vogel, Georgia Warnke, Stephen K. White, Joel Whitebook, and others – many of whom studied with Habermas or Marcuse.
Habermas students Lutz Wingert, Josef Früchtl, Martin Löw-Beer, and Rainer Forst (though Forst is arguably the leading figure of the nascent fourth generation); Alfred Schmidt students Hauke Brunkhorst, Micha Brumlik, Matthias Lutz-Bachmann, and Gunzelin Schmid Nöerr; Wellmer students Christoph Menke and Martin Seel, Apel students Matthias Kettner and Wolfgang Kuhlmann; as well as Ulrich Beck, Helmut Dubiel, Günter Frankenberg, Klaus Günther, Hans Joas, Gertrud Koch, Ingeborg Maus, Herta Nagl-Docekal, Bernhard Peters, and the late Hinrich Fink-Eitel, comprise yet another generation.
Intellectual Focus
It was under Horkheimer's leadership that members of the Institute were able to critically address a wide variety of economic, social, political and aesthetic topics, ranging from empirical analysis to philosophical theorization. Concerns with the contradictions of public life that were brought about by the psychodynamics of fascism, the manipulation of public opinion, the substitution of information for knowledge, material excess and mass-consumerism, and the breakdown of communication were all themes of major concern. In short, advanced capitalism and its accompanying instrumental rationality were seen as contributing to the deterioration of all social life.
Different interpretations of Marxism and its historical applications explain some of the hardest confrontations on economic themes within the Institute, such as the case of Pollock's criticism of Grossman's standard view on the pauperization of capitalism. This particular confrontation led Grossman to leave the Institute. Pollock's critical reinterpretation of Marx also received support from intellectuals who greatly contributed to the later development of the School: for instance, Leo Lowenthal, Theodor Wiesengrund-Adorno and Erich Fromm. In particular, with Fromm's development of a psychoanalytic trend at the Institute and with an influential philosophical contribution by Horkheimer, it became clear how under his directorship the Institute faced a drastic turning point that came to characterize its future endeavors.
The Frankfurt School provides us with useful perspectives that we can use to study contemporary society; likewise, it provides a solid underpinning of critique for the field of Cultural Studies. We might further combine this work with the theoretical innovations provided by Poststructuralist/postmodern theorists like Foucault, Baudrillard, and Jameson to analyze some of the more salient aspects of the present moment – consumer society, social media, computer and information technologies, fashion and culture, new forms of knowledge and power, and subjectivity and identity.
The "Critical" Method
The academic influence of the "critical" method was far-reaching in terms of the educational institutions that set out to apply this way of thinking to the study of social problems. Key areas of focus included a critique of modernities and capitalist society, the perceived pathologies/problems of society, and the definition of social emancipation, where there was an effort to specify the terms under which people might remain free (or forfeit freedom)
Critical Theory reflects a very specific interpretation of Marxist philosophy: it reinterprets some of Marx's central economic and political notions, including the ideas of commodification, reification, and fetishization. In doing so, it helps us to think about the world in terms of power relations and how individual humans are constituted as subjects, who are subject to those relations or power.
Philosophical Roots of Critical Theory
Critical theory draws from Kantian rationalism and Marxist  Hegelianism, which postulates the following:
humans are rational beings; the world of the real comes not from our senses, but from our rational capacities; therefore, a rational society is possible.
social systems are presented with constant challenge and contradiction; these contradictions produce new syntheses, and out of this change (progress) occurs [dialectical thinking].
Progress does not occur as a result of straight means-end logic (formal rationality); means-end logic is what underlies repression and domination in society; this leads to totalitarianism.
Events are not discrete and isolated; events are part of a social process that implies constant change.
Critical Theory incorporated Hegel's dialectical concept of Self and Other:
Critical Theorists see social progress as contingent upon a self that is able to take/see itself as an object – so to act self-consciously.  Failing to do this, they warn,  guarantees we are all doomed to repeat the errors of the past.
The Problem of Enlightenment
Critical theorists (Horkheimer and Adorno in particular) were concerned with the problem of "Enlightenment" within modernity and post-modernity. So for example, the central premise of the book Dialectic of Enlightenment was that "something went wrong with the Enlightenment." Enlightenment, in their view, became totalitarian; its focus was now about controlling nature and humans.
Enlightenment, furthermore, created a culture that violated individuality by compelling conformity. The potential of the individual was not being destroyed by fascism alone; rather, it was the positivist turn of modern science within the Enlightenment that was now poised to do the most damage. The only way to get out of this modern version of hell is to engage in a Critical Theory of Society – this is the only way to achieve social transformation and progress.
What is "Dialectical" thinking?
Dialectical thinking is a form of analytical reasoning that pursues truth and knowledge as such through a process of reconciling discursive conflict. Social change, in other words, is understood to occur through contradiction (oppositional concepts are different than binary, polar opposites – Levi Strauss). Opposites attract, change takes place, and so you end up with a third order that is not like either the first or the second [bear in mind the dialectic is also about space and time].
Dialectics/the dialectical method can be illustrated as a form of a discourse between two or more people, who hold different points of view. In classical philosophy, the dialectic represents a form of reasoning based upon dialogue of arguments and counter-arguments, where one advocates propositions (theses) and counter-propositions (antitheses). The outcome of such a dialectic might be the refutation of a relevant proposition, or a synthesis, or a newly formulated combination of the opposing assertions.
Hegelian dialectic follows this logic, however, it is usually presented as comprising three dialectical stages of development: a thesis, which gives rise to its reaction, an antithesis, which contradicts or negates the thesis; the tension between the two are resolved by means of some form of synthesis. Although this model is often named after Hegel, he himself never used that specific formulation. Hegel ascribed that terminology to Kant. Carrying on Kant's work, it was Fichte who greatly elaborated on the synthesis model and popularized it.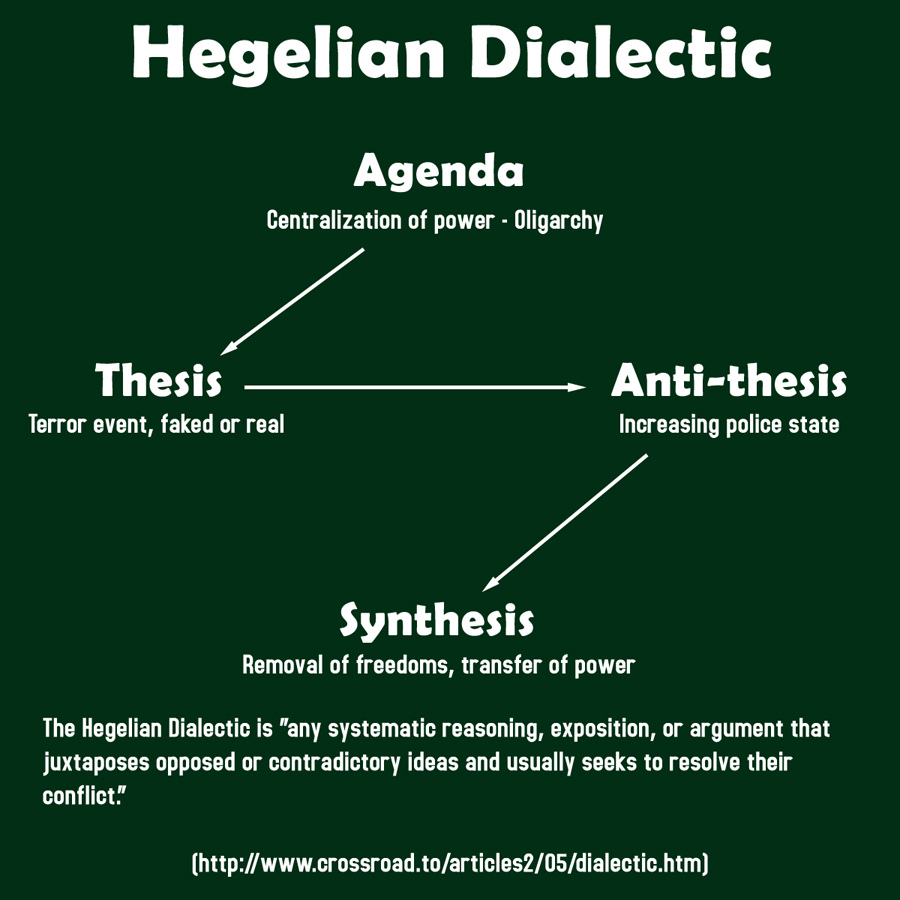 Summary of Dialectics
Dialectics originated with Plato (dialogues)
Kant also uses the dialectic (but different than Hegel does)
In Hegel/Marx, the dialectic is about a relationship between subject and object.
Horkheimer/Adorno examine the dialectic of reason and un-reason, as they look at how modernity's promise of progress produces new forms of barbarism and violence.
Marcuse looks at the dialectic of the individual and society; technology and domination.
Critique of Mass Culture
The critique of mass culture, however, remains as what is perhaps its most well-known social criticism. Writing for The New Yorker, Alex Ross says "Adorno believed that the greatest danger to American democracy lay in the mass-culture apparatus of film, radio, and television. Indeed, in his view, this apparatus operates in dictatorial fashion even when no dictatorship is in place: it enforces conformity, quiets dissent, mutes thought. Nazi Germany was merely the most extreme case of a late-capitalist condition in which people surrender real intellectual freedom in favor of a sham paradise of personal liberation and comfort. Watching wartime newsreels, Adorno concluded that the "culture industry," as he and Horkheimer called it, was replicating fascist methods of mass hypnosis. Above all, he saw a blurring of the line between reality and fiction. In his 1951 book, "Minima Moralia," he wrote:
Lies have long legs: they are ahead of their time. The conversion of all questions of truth into questions of power, a process that truth itself cannot escape if it is not to be annihilated by power, not only suppresses truth as in earlier despotic orders, but has attacked the very heart of the distinction between true and false, which the hirelings of logic were in any case diligently working to abolish. So Hitler, of whom no one can say whether he died or escaped, survives.** **" (Ross)
Psychoanalysis, and the Nietzsche/Marx/Freud Synthesis
From the beginning, psychoanalysis in the Frankfurt School was conceived in terms of a reinterpretation of Freud and Marx. Its consideration in the School was clearly due to Horkheimer, who encouraged his researchers to direct their attention to the subject. It was Fromm, nevertheless, who best produced an advancement of the discipline; his central aim was to provide, through a synthesis of Marxism and psychoanalysis, "the missing link between ideological superstructure and socio-economic base" (Jay 1966, p. 92).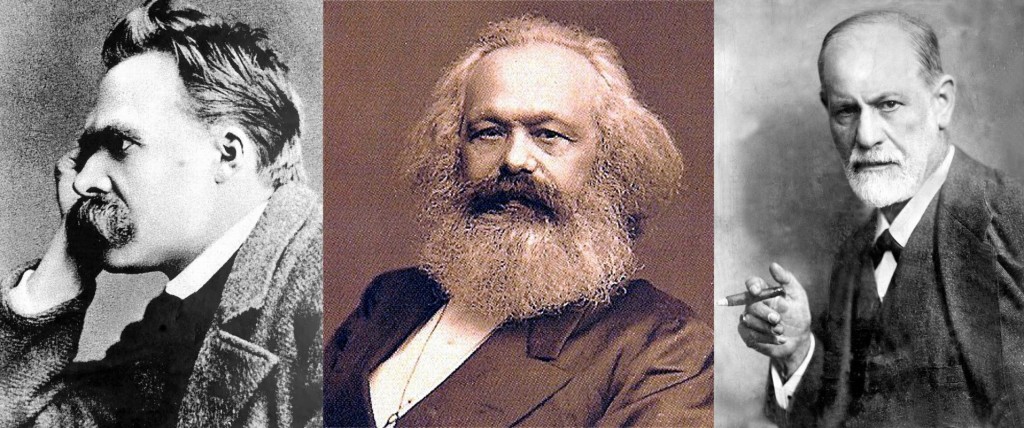 There was a radical shift in the conjunction of the School's interests and psychoanalysis with the coeval entrance of Adorno and Fromm's departure in the late 1930s. Nevertheless, the School retained psychoanalysis, and in particular Freud's instinct theory, as an area of interest. This can be seen in Adorno's later paper "Social Science and Sociological Tendencies in Psychoanalysis" (1946), as well as Marcuse's book Eros and Civilization (1955).
The School's interest in psychoanalysis was characterized by the total abandonment of Marxism as well as by a progressive interest into the relation of psychoanalysis with social change and the maintenance of Fromm's insight into the psychic (or even psychotic) role of the family.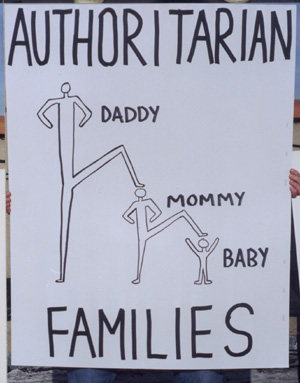 Fascism and Authoritarian Personalities
Interest in the family was crucial in empirical studies in 1940, which culminated in Max Horkheimer and Theodor W. Adorno working together on a volume titled "The Authoritarian Personality," which set out to construct a social-psychological profile of people that might be determined potentially fascist. Through data collection efforts based on the submission of questionnaires and subsequent interviews with American subjects, a "new anthropological type" – the F-type – the hallmark of the authoritarian personality was conceived (Jay). Such a character was found to have specific traits, such as, among others: compliance with conventional values, non-critical thinking, an absence of introspectiveness.
At the same time, Leo Lowenthal and Norbert Guterman's 1949 book, "Prophets of Deceit," studied the Father Coughlin type of rabble-rouser, contemplating the "possibility that a situation will arise in which large numbers of people would be susceptible to his psychological manipulation."
It should be noted here that Nietzsche's influence, particularly his critique of Enlightenment, was significant. According to Rolf Wiggershaus, Adorno aimed to correct/supplement Marx through the use of Nietzsche as a thinker concerned with the "totality of happiness incarnate." Horkheimer, likewise, supported this view, to the extent that he saw in Nietzsche a critic of the "entire [bourgeois] culture of satiety" (Wiggershaus).
Horkheimer, says Wiggershaus, shares Nietzsche's (as opposed to Marx's) "distrust of the bourgeoisie" (Adorno); he also shares their detachment from the proletariat and social democracy, and merely avoids speaking of the superman (Nietzsche's "aristocratism"), since there are those who would allege that, without class-rule and mass-domination, the characteristics and higher culture of the superman would be impossible. Horkheimer sees in this only a problem of release from stultifying toil. He concludes that if Nietzsche had realized that an extremely advanced domination of nature would make stultifying toil superfluous, he would have realized that his conviction that "all excellence [develops]. . .only among those of equal rank" means that either all or none would become supermen.
Thus, in a sharp criticism of Nietzsche, Horkheimer wrote: "Beneath [Nietzsche's] seemingly misanthropic formulations lies . . . not so much this [elitist] error but the hatred of the patient, self-avoiding, passive, and conformist character at peace with the present."
Adorno also said he did not want to adopt Nietzschean concepts like "love" and "longing." Indeed, he and Horkheimer valued Nietzsche above all for his frankness concerning the instinctual nature of cruelty, for his attentiveness to the stirring of repressed instincts without minimizing rationalization. No philosopher, in their view, had brought such anti-Christian, antihumanistic furor to his age as the pastor's son Nietzsche, who interacted almost exclusively with the educated, patricians, and petty nobility.
Likewise, they found no philosopher had attempted so resolutely, without regard for socio-historical trends, to negate and destroy his own origins and training.
On the issue of race, Adorno and Horkheimer insisted in a 1942 discussion that Nietzsche must be rescued from fascist and racist appropriations. They found in his work, perhaps more than any other philosopher, their own fears and desires confirmed and accentuated.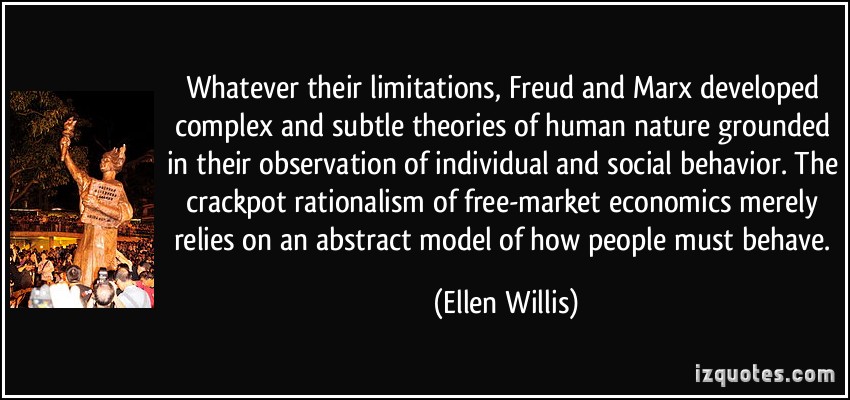 Criticisms of Critical Theory
Critics point to Adorno's cultural pessimism and the fact he and Horkheimer both seem to assume that all life takes place in front of the TV. In this, there is no room for interpretation. Their view of culture is that it comprises a totalizing system, from which they say we must escape, but from which there can never be any form of escape.
Critics, likewise, allege that the products of mass culture would not be popular if people did not enjoy them. Culture is in this sense self-determining – people get what they desire.
Traditional Marxists accused the Critical theorists of claiming the intellectual heritage of Karl Marx without feeling the obligation to apply theory to the project of political action. Again, they argue that Critical Theory offers no practical solutions for societal change.
Positivist philosophers and social scientists accuse Critical theorists of not submitting their theories to empirical tests ( they base this critique on Karl Popper's revision of Logical Positivism).
More recently, neoconservative critics have reduced the entire canon of Critical Theory to what many have termed "Cultural Marxist" rubbish. What they see in the complexity of thought that is being offered is a refuge for the "politically correct," who reject plain language and simple expression, preferring instead to offer long-winded justifications for unworthy and opaque schemes of social engineering. In his book, The Death of the West, former television personality and pundit Pat Buchanan argues "the Frankfurt School must be held as a primary suspect and principle accomplice in the titular catastrophe."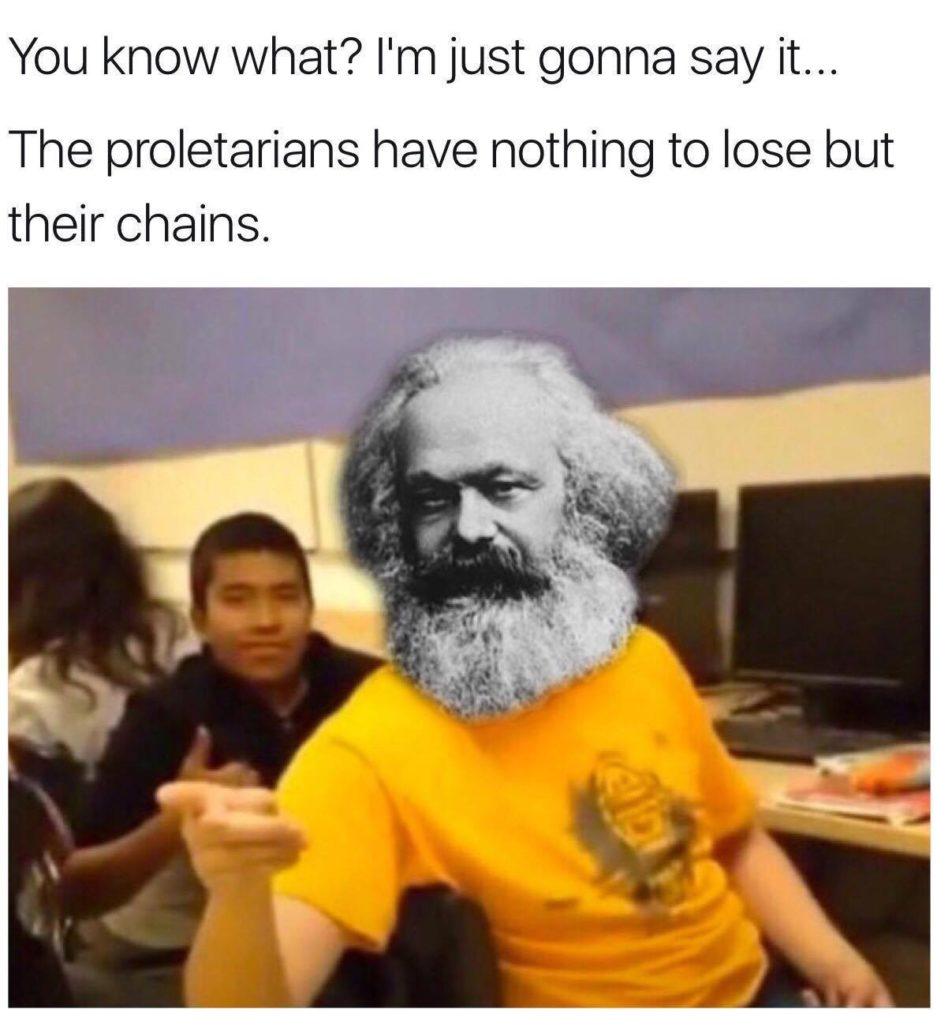 Sources
Rolf Wiggershaus, "The Frankfurt School's 'Nietzschean Moment."
Martin Jay, The dialectical imagination : a history of the Frankfurt School and the Institute of Social Research, 1923-1950 (Boston : Little, Brown, 1973) – provides a history overview.
Susan Buck-Morss, The origin of negative dialectics : Theodor W. Adorno, Walter Benjamin, and the Frankfurt Institute (New York : Free Press, 1977)
Rolf Wiggershaus, The Frankfurt School: Its History, Theories and Political Significance, trans. M. Robertson (Cambridge, Mass.: MIT Press, 1994)
Helmut Dubiel, Theory and Politics: Studies in the Development of Critical Theory, trans. Benjamin Gregg (Cambridge, Mass.: MIT Press, 1985)
Zoltán Tar, The Frankfurt School: The Critical Theories of Max Horkheimer and Theodor W. Adorno (New York: John Wiley and Sons, 1977)
Joel Anderson, "The Third Generation of the Frankfurt School."
Alex Ross, "The Frankfurt School Knew Trump Was Coming."
More Reading
Additional reading might be found on the blog – Introducing the Frankfurt School
For information on the current activity of the Institute, see the following website linked here.
Discussion Questions
How can we use the tools provided by Critical Theory to understand some of the more pressing problems that characterize the present moment in regards to culture and politics? Problems like police brutality, war, racial antipathy, the disappearance of the middle class, and other problems in connection with social inequality.
If the project of modernity was to achieve Enlightenment, do you think this vision has been fulfilled?
What role do you see science playing in this process? Has science been put to good use in a way that allows us to be self-reflective and democratic, or has it too occasioned "new forms of barbarism?"