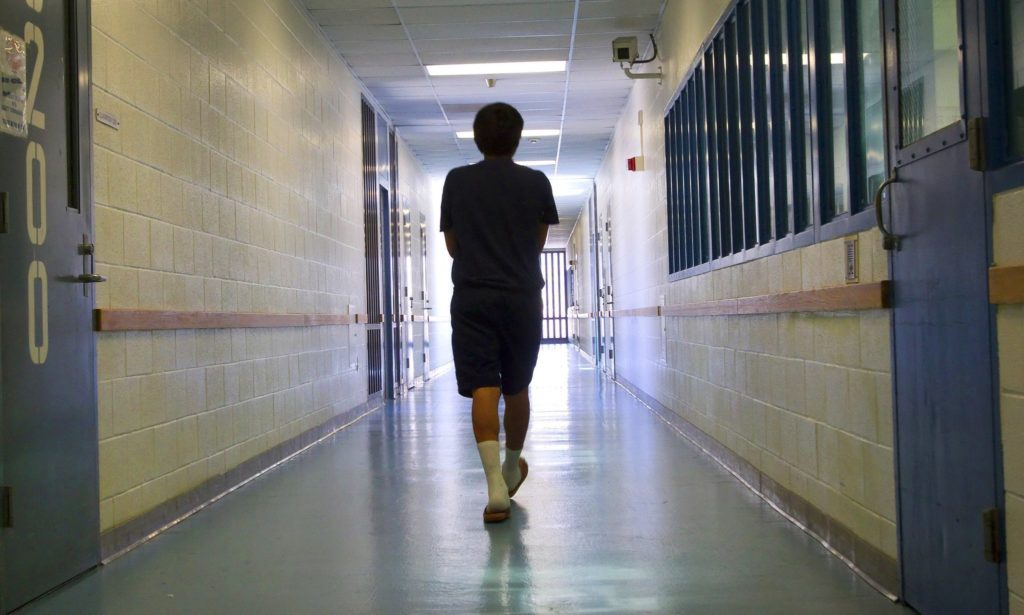 Theories That Explain the Correlates & Causes of Delinquency
No single theoretical orientation can adequately explain the multiple variables and factors that cause delinquent behavior, so a number of criminologists have taken the best parts of different theories and combined them in a single general or integrated theory.
Rational Choice Theory
Classical theory, also called Rational or Choice Theory, is based on the early writings of Cesare Beccaria (1738–1794) and Jeremy Bentham (1748–1832). Their primary concern was not so much to explain criminal behavior but to develop a legal system by which the punishment would fit the crime.
According to classical theory, crime is explained as a free will, voluntary choice. Persons commit crime simply because they made a rational decision to do so. It was assumed that because crime was a rational choice, criminal offenders could be deterred by punishment. Classical theory has thus been referred to as a utilitarian approach to crime. Explanations of crime as a rational choice are popular and widely supported by law enforcement, lawmakers, and academic disciplines such as the economics of crime, political science, and law (see, e.g., Cornish & Clarke, 1986; Akers, 1990). This explanation assumes that crime results from a rational process in which offenders make decisions and choices, often planning their criminal activity so as to maximize the benefits and avoid the risks (see Cornish & Clarke, 1986, pp. 1–2).
Lawrence Cohen and Marcus Felson (1979) developed a version of rational theory called routine activity theory to explain trends and cycles in the crime rate since the 1960s. They concluded that crime is closely related to the interaction of three variables associated with the "routine activities" of everyday life: the availability of suitable targets of crime; the absence of capable guardians; and the presence of motivated offenders. Thus, as more homes are unoccupied due to more persons employed (and fewer neighbors, family members, or relatives looking after them), they are more likely to be targeted by unemployed teens or young adults.
The routine activity approach links delinquency to social changes that increase the opportunities for crime and emphasizes the role the victim's lifestyle and behavior have in the crime process. Felson (1994) described how the growth and social changes in cities, neighborhoods, and schools have increased the likelihood of crime occurring.
Evidence suggests that a lot of juvenile crime reflects rational choice, especially when youth perceive that their chances of being caught are low; and even if caught, many are well aware that the punishment for juvenile crime is often much less than for comparable crimes committed by adults.
Critics of RC Theory
Critics of Rational Choice theory question the degree to which criminal behavior is always a rational, free will process. Ronald Akers (1990) questioned whether offenders really make rational decisions to commit crime based on knowledge of the law and possible punishments; and whether their decision was made in the absence of any situational factors that tend to influence crime.
Rational choice proponents do not always hold to a strict definition of rationality, but acknowledge that situational factors do affect individuals' choices; and efforts have been made to integrate rational choice theory with other explanations (see, e.g., Felson, 1986; Hirschi, 1986). Certainly, many crimes reflect rational choices of persons, and this holds true especially for so-called white-collar crimes often committed by persons in workplace situations that pose relatively little risk of detection, conviction, or punishment.
Strain Theories
Strain theory is a social structure theory. This theory explains delinquency as being caused by the "strain" or frustration of not having an equal opportunity or means to achieve commonly shared goals such as economic or social success. Robert Merton (1957) was an eminent criminologist who formulated strain theory around the concept of "anomie" or "normlessness." Merton applied the concept of anomie to rapidly changing conditions in society where competition for success, wealth, and material goods is highly valued. Persons with little formal education and few economic resources are denied the ability to acquire the goals of American society, thus producing a sense of alienation, hopelessness, and frustration. Merton claimed that this sense of anomie often leads to attaining socially desired goals through criminal or delinquent means. Social disorganization leads to uncertainty, confusion, and shifting moral values, referred to as anomie or normlessness. Conditions of anomie exist when the rule of law is weakened and becomes powerless to maintain social control. Under conditions of anomie, crime may be considered a "normal" response to existing social conditions.
Strain Theory emphasizes that most people share similar values, goals, and aspirations; but many people do not have an equal ability or the means to achieve those goals, such as economic or social success. The discrepancy between what persons want and their limited opportunities to achieve them produces frustration, or "strain." Because opportunities for success are more open for the
Because opportunities for success are more open for the middle and upper classes, strain is experienced most by those in the lower socioeconomic class, where quality education and employment opportunities are more limited. The strain and frustration resulting from blocked opportunities increase the likelihood that some individuals will use deviant and illegitimate means to achieve their goals.
Strain theory explains why many lower-class youth resort to theft, drug dealing, and other delinquent behavior when they perceive fewer legitimate means and opportunities to achieve their goals. Strain and social disorganization are similar because they emphasize the relationship between social variables such as poverty, economic opportunity, and available goods and services to crime and delinquency. Strain is more common among lower-class persons, who live in inner-city urban areas that are characterized more by social problems and crime. Strain theory has been expanded and further developed by other criminologists. The
The opportunity–structure theories (Cloward & Ohlin, 1960) prompted government-funded policies such as "Head Start" and jobs programs for lower-class youths as a way to enhance educational and employment opportunities and reduce delinquency.
Robert Agnew (1992) extended Merton's theory of strain and anomie to better explain varieties of delinquent behavior through the general strain theory. Agnew identified three sources of strain:
Strain caused by the failure to achieve positively valued goals, basically the same as Merton's theory of anomie.
Strain caused by the removal of positively valued stimuli from the individual. Examples include the loss of a girl/boy friend, death of a loved one, divorce or separation of parents, or leaving friends and moving to a new neighborhood or school.
Strain as the presentation of negative stimuli, such as child abuse and neglect, physical punishment, family and peer conflict, stressful life conditions, school failure, and criminal victimization (see Agnew, 1992, p. 57).
 Agnew's general strain theory has made an important contribution to explaining delinquency. The theory helps to explain how stressful incidents and sources of strain in the life course influence patterns of offending. There is ample research support for the general strain theory. Youth who report being "hassled" by peers, have bad peer relationships, or experience victimization or similar "negative life events" are also the persons most likely to engage in delinquency (Agnew & White, 1992).
Research shows that indicators of strain such as family breakup, unemployment, moving, feelings of dissatisfaction with friends and school are positively related to delinquency (Paternoster & Mazerolle, 1994).
Social Process Theories 
Social process explanations of delinquency focus not on societal structures but on social interactions between individuals and environmental influences that may lead to delinquent behavior. Differential association theory holds that delinquency is a learned behavior as youth interact closely with other deviant youth. Control theory is a social process explanation that focuses on social bonds that reduce the risk of delinquent involvement. According to control theory, delinquency is more likely among youth who lack social bonds and positive social interactions among parents and peers.
Differential association theory was developed by Edwin Sutherland, who believed that delinquency is learned behavior as youths interact with each other. The theory is founded on a number of propositions (Sutherland & Cressey, 1970, pp. 75–77):
Criminal behavior is learned.

Criminal behavior is learned in interaction with other persons in a process of communication.

The principal part of the learning of criminal behavior occurs within intimate personal groups.

When criminal behavior is learned, the learning includes (a) techniques of committing the crime; and (b) the specific direction of motives, drives, rationalizations, and attitudes.

The specific direction of the motives and drives is learned from definitions of the legal codes as favorable or unfavorable.

A person becomes delinquent because of an excess of definitions favorable to violation of law over definitions unfavorable to violation of law. This is the principle of differential association.

Differential association may vary in frequency, duration, priority, and intensity.

The process of learning criminal behavior by association with criminal and anticriminal patterns involves all of the mechanisms that are involved in any other learning.

While criminal behavior is an expression of general needs and values, it is not explained by those general needs and values since noncriminal behavior is an expression of the same needs and values.
Sutherland's differential association theory remains an important explanation for juvenile delinquency. It is difficult to argue against a theory that maintains crime is learned like other behaviors. This explanation also has a positive appeal as it holds that youth are changeable and can be taught prosocial behavior. Delinquency prevention efforts may be effective when they are directed at reducing the criminal influence among groups of antisocial youths. Sutherland's differential association theory has stimulated considerable research on explaining delinquent behavior.
Burgess and Akers (1966) reformulated the differential association theory according to operant conditioning principles, and Akers (1985) further developed an explanation of deviant behavior according to a social learning approach.
Sociological explanations of delinquency emphasize social influences on individuals caused by the structure of society, societal change, social disorganization, subcultural differences, and social processes that influence behavior. Social structure theories claim that forces such as social disorganization, status frustration, and cultural deviance lead lower-class youths to become involved in delinquent behavior.
Social process explanations of delinquency focus not on societal structures but on social interactions between individuals and social group influences that lead to delinquency. Social reaction theories focus more on how society, social institutions, and government officials react to crime and delinquency than on why offenders commit crime.
Developmental or life-course explanations attempt to account for differences between offenders who begin offending at an early age and continue offending, and those who begin in adolescence and grow out of it.
Intersectional theories take into account different interpenetrating social dynamics, such as those that involve race, class, and gender.
Ultimately, for juvenile justice researchers and practitioners, the best theory is one that recommends policies, programs, and strategies for effective crime reduction and delinquency prevention.
Critical Criminology 
The critical criminology movement began in the early 1970s (Taylor, et al. 1974), with studies focused primarily on political-economic and class analysis (Michalowski 1985; Reiman and Leighton 2009; Shelden 2001), and it exhibited a decidedly Marxist orientation (Quinney 1980; Lynch and Michalowski 2006; Balkan, et al. 1980). Known by a number of names—left realist, socialist, radical, critical, Marxist, the new criminology (Bohm 1982)—the "criminologies of the left" were gathered under the title "critical criminology" in the late 1980s to recognize the variety of emerging perspectives (Michalowski 1996).
Today, a host of perspectives are associated with critical criminology: radical, political-economic, left-realist, postmodern and semiotic, newsmaking, cultural, critical race, feminist, constitutive, restorative-justice, Marxist, anarchist, convict, and peacemaking. Briefly put then, Critical criminology is a theoretical perspective in criminology which focuses on challenging traditional understandings and uncovering false beliefs about crime and criminal justice, often but not exclusively by taking a conflict perspective that includes multiple and sometimes overlapping perspectives that included Marxism, Feminism, Political Economy Theory, and/or Critical Theory.
Not unlike sociological approaches, critical criminology often adopts a perspective, where it aims to examine the causes of crime and the nature of 'justice' as this occurs within a framework of power that reflects social class and status inequalities. Crime, the law, and punishment of crime are viewed as connected to a system of social inequality that furnishes the means and mechanisms that produce and perpetuate inequality.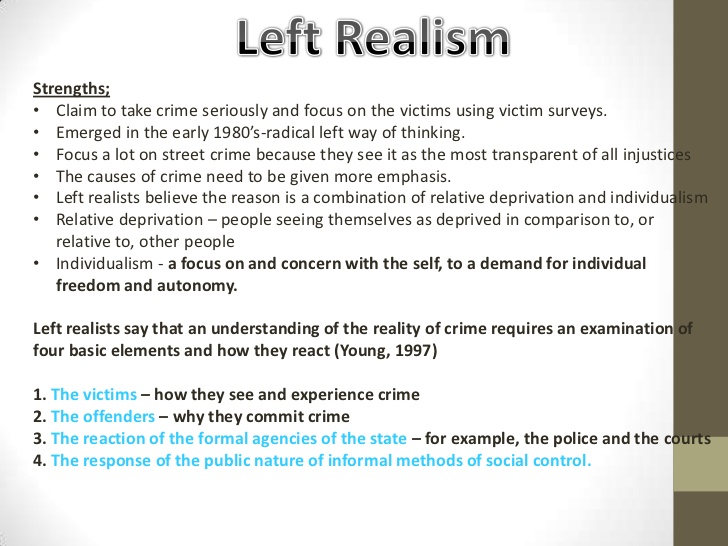 Critical Criminology was typified and in many ways established by the work of Jock Young, whose interests spanned the sociology of crime and deviance, including radical, critical, and cultural criminology; left realism; moral panics; and social bulimia. According to his colleague, David Brotherton, Young focused on the multitude of lenses that individuals use to view the world, and the way that certain types of people are excluded from these views (Brotherton 2013).
In 1973, Young published The New Criminology with Ian Taylor and Paul Walton. This work critiqued criminological theories by considering the effect that structural inequalities within capitalist societies have on crime and deviance. Although the authors did not intend for The New Criminology to blaze the trail for Marxist criminologists, the global success of the book did just that. Taylor, Walton, and Young then published Critical Criminology (1975), which solidified the field of radical/critical criminology and prompted discussions on welfare capitalism, as well as the relationship between the state and the discipline of criminology (Hayward 2010).
Feminist Theories
Most criminological research and theories to explain delinquency are based on boys, so criminologists developed new theories to explain gender differences in delinquency.
Despite this, feminist approaches criminology aim to do more than merely insert the experiences of women into masculine perspectives of crime and criminal justice (to do so would suggest that conventional criminology was gendered to favor the masculine experience).
Feminists contend that previous perspectives in criminology have bee gendered in such a way as to ignore the gendered experiences of women (and to assume the experience of men is normal). Feminist theorists are in this respect engaged in a project to bring a gendered dimension to criminological theory. In some cases, they are engaged in the project to bring to criminological theory insights to be gained from an understanding of taking a particular standpoint; that is, the use of knowledge gained through methods designed to reveal the experience of the real lives of women.
Critics of Feminist Theory
There are many forms of criticism leveled at feminist criminology, some 'facile' (Gelsthorpe 1997) or like those of Bottomley & Pease (1986), or Walker (1987) who suggest that feminist thinking is irrelevant to criminology.
One major criticism argues that feminist theory is guilty of "ethnocentrism" (Rice 1990, Mama 1989, Ahluwalia 1991). That is, it is as silent on the experience of black women as it is biased as male criminology in its ignorance of the experience of women. Criminology, claim these writers, is sexist and racist and that both errors need to be corrected.
Discussion Questions
What might Social Learning theories tell us about what happens when juveniles exposed to different social problems (drugs, violence, poverty) are put into a containment facility together?
How might we use Routine Activity Theory to explain a convenience store robbery (remember the 3 variables – available target, the absence of surveillance, and a motivated perpetrator)?
Think of similar situations that you were in, where you decided to steal or not steal something. Why or why not? What made the difference in your decision? What was missing from the three requirements for crime as a "routine activity"?
How might the fact that we live in a violent society that is perpetually at war contribute to the problem of youth delinquency and violence?