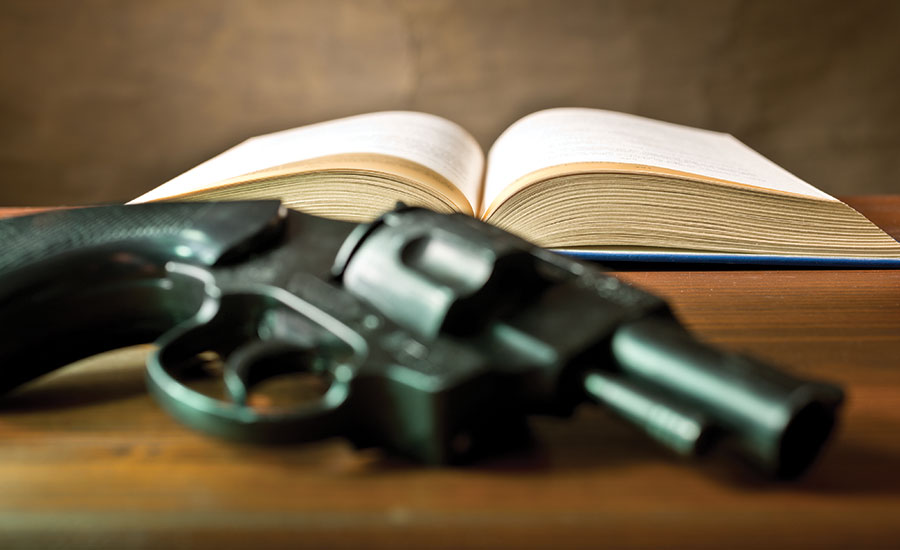 The Current State of Affairs
Eleven states currently permit some form of gun carrying/possession on college campuses. They include Arkansas, Wisconsin, Colorado, Idaho, Kansas, Mississippi, Oregon, Tennessee, Texas, Georgia, and Utah.
The first states to legalize campus carry was Colorado in 2003 followed by Utah in 2004. Subsequently, a debate ensued across the United States as students and administrators at various universities throughout the country as well as state legislators took up questions in regards to how or if this would enhance student safety.
"Campus Carry," as it is conventionally known, refers to state laws that make provision for the carrying of firearms on the campuses of public colleges and universities.
Pennsylvania
Students on some of Pennsylvania's college campuses might be carrying more than books. Pennsylvania is among the states that allow individual colleges or universities to decide if they'll ban concealed weapons on campus, according to the National Conference of State Legislatures. While Pa state law does not prohibit the carrying of weapons, individual institutions make their own rules in regards to where weapons are permitted (USA Today).
Because of changes in Pennsylvania's concealed weapons law in 2012, one of the two major public Higher Education Systems became concerned that they might not be able to constitutionally prohibit concealed weapons permittees from carrying guns on campus.
There are two major public Higher Education Systems in Pennsylvania:
1) The Commonwealth System of Higher Education (CSHE), which oversees Penn State, Pittsburgh, Lincoln Univ, and Temple
2) The Pennsylvania State System of Higher Education (PSSHE) oversees the other 14 state colleges.
In 2012, PASSHE's Chairman, Guido Pichini, stated the following:
"PASSHE universities have the ability to prohibit weapons, including legally registered firearms, in academic buildings, student residence halls, dining facilities, student union buildings, athletic facilities and recreation centers or while attending a sporting, entertainment or educational event on university property or sponsored by the university.  However, PASSHE's policies also must be consistent with Pennsylvania law, which allows individuals who are properly permitted to carry a firearm 'on or about one's person or in a vehicle throughout the Commonwealth.'
As a result, PASSHE's schools changed their policies to allow concealed carry permittees and the ability to carry weapons on certain parts of their campuses.
The PASSHE guidelines do not impact private colleges or the other public colleges and universities in Pennsylvania, including Penn State, Pittsburgh, and Temple.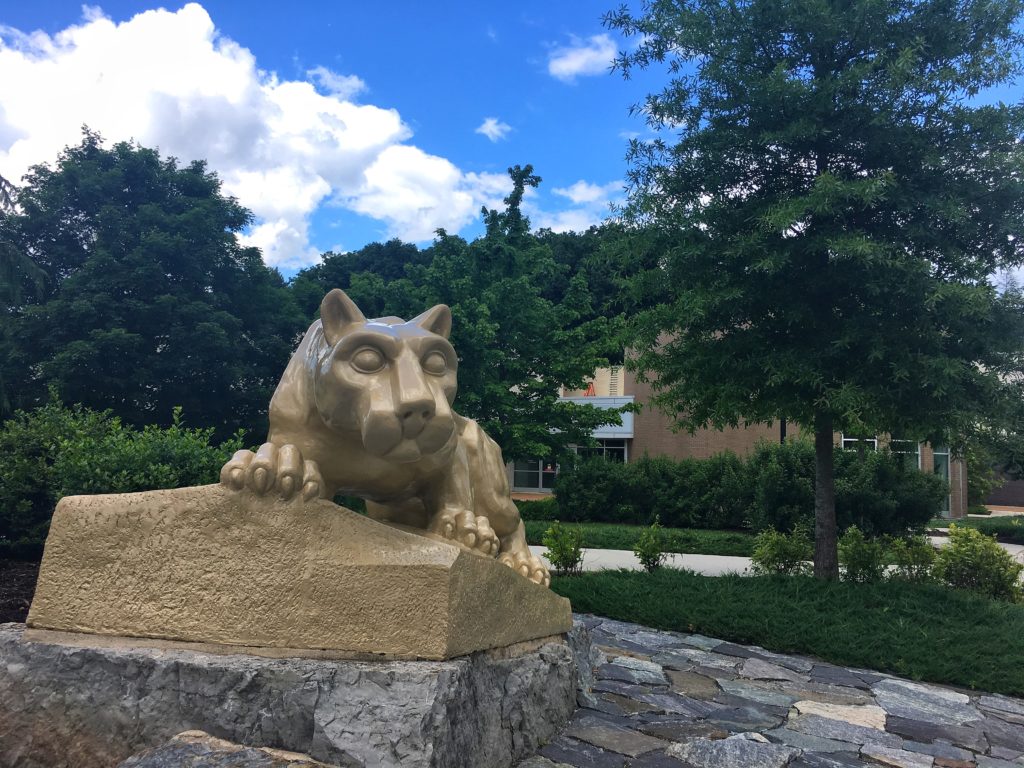 But why are these schools different?
The important distinction here is that these particular schools receive a state appropriation each year, even though they are not owned by the state of Pennsylvania. Penn State, the University of Pittsburgh, etc. are in this manner state-supported but not state-run. In light of this, they are free to make their own decisions about the prohibition of weapons on campus. The only exceptions are for students who hunt or shoot recreationally; they are permitted to store them with police.
Penn State Policy – "University policy prohibits the use, possession, or carrying of firearms while on University-owned or controlled property, or at University sponsored or supervised activities. Likewise, keeping a firearm in any locker or storage area of any building of the University is prohibited. The use, possession or carrying of explosives, fireworks, bows, and arrows, slingshots, knives or other dangerous weapons while on University-owned or controlled property or at University-sponsored or supervised activities is prohibited. Violators of this policy will face disciplinary action via the University discipline system. In certain circumstances (e.g. carrying a loaded firearm concealed in a motor vehicle without a valid concealed firearms permit, possession of an enumerated firearm under the Federal Crime Bill, etc.) such possession may subject the student to criminal prosecution under Commonwealth of Pennsylvania or federal statutes. Any weapon found in violation will be seized and will be returned to the student under proper court order."
Briefly put, if you are carrying a gun at Penn State, you may have committed a crime and will likely be expelled if you are discovered and/or reported.
Firearms That Require a License in Pennsylvania
Pistol or revolver with barrel less than 15 inches
Shotgun with a barrel less than 18 inches
Rifle with a barrel less than 16 inches
Any firearm with an overall length of less than
26 inches
"Loaded" – ammunition in the chamber, nondetachable
magazine, cylinder, or detachable
magazine IF the magazine is with the firearm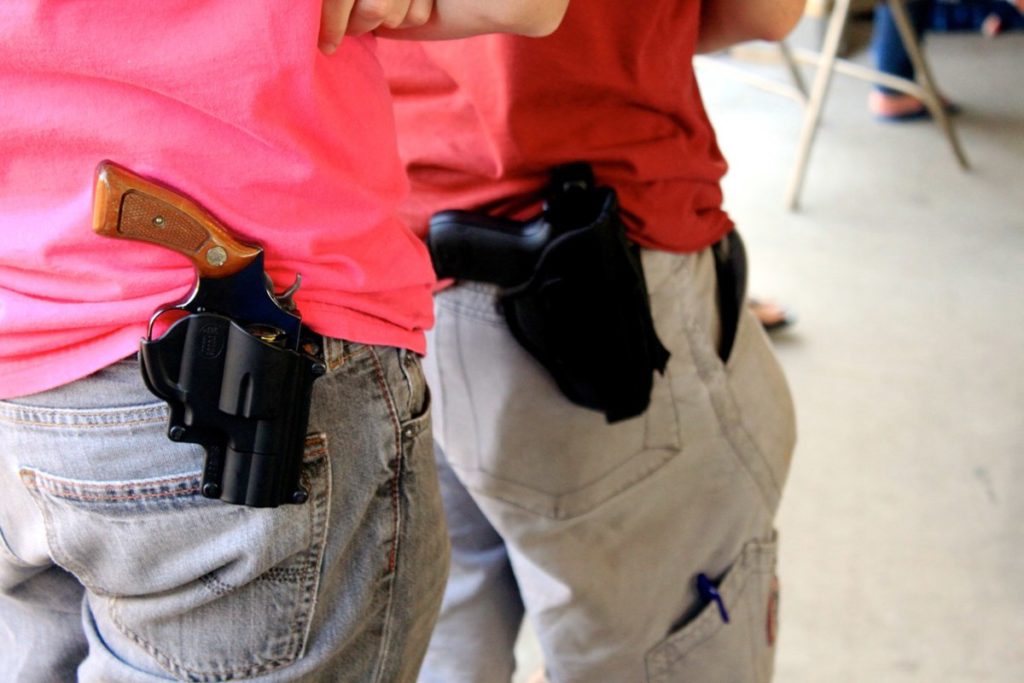 "Open Carry" in Pennsylvania
No one needs a special license to "open" carry in Pa, but if you enter a vehicle with a firearm w/o the proper license to carry you committed a crime. Any person who carries a firearm, where it is concealed on or about his person, except in his place of abode or fixed place of business without a valid and lawfully issued license commits a felony of the third degree.
Concealed Carry in Pennsylvania
To lawfully carry a concealed firearm in Pennsylvania, a person must either:
1 – possess a valid Pennsylvania License to Carry Firearms (LTCF),
2 – maintain residency in, and possess a valid license/permit to carry a firearm from a state with which Pennsylvania has a current reciprocity agreement or
3 – fall within the applicable exceptions in 18 Pa. C.S. §6106(2)(b) as listed above, including §6106(2)(b)(15) regarding licenses/permits to carry a firearm recognized under Pennsylvania law without a formal reciprocity agreement.
Vehicle Carry in Pennsylvania
Car carry in Pennsylvania is governed in part by 18tC Pa.C.S.A. § 6106. In many states, it is no problem to have a firearm (meaning a handgun) in your vehicle whether you have a license to carry a firearm or not. In Pennsylvania, this is not the case. The minute you enter your vehicle with your firearm, however, it becomes covered under 6106.
Under §6106, "any person who carries a firearm in any vehicle or any person who carries a firearm concealed on or about his person, except in his place of abode or fixed place of business, without a valid and lawfully issued license under this chapter commits a felony of the third degree."
In Pennsylvania the issuance of a "License to Carry Firearms" allows individuals to carry a firearm concealed on or about their person or in a vehicle throughout the Commonwealth.  No person, even the holder of a license to carry a firearm, may carry a loaded long gun or handgun in a vehicle.
Pennsylvanians are not breaking the law if they have non-NFA regulated shotguns or rifles (regulated National Firearms Regulated weapons include machine gun, short-barreled rifles (SBR), short-barreled shotguns (SBS), any other weapons AOW or concealable weapons other than pistols or revolvers and silencers) in their car, provided they are not loaded.
Handguns are more tricky (Giaramita). Absent a LTCF, you may only have a handgun in your vehicle if:
You're driving a car which belongs to you, your spouse, or your parent and the gun belongs to a parent or spouse who holds a valid LTCF; or
It's unloaded and you're transporting it

to or from target practice
to or from a Federal Firearms Licensee
Penn State students are never permitted to open carry or carry and store any weapons on campus and/or in their vehicles. They must be stored with the police.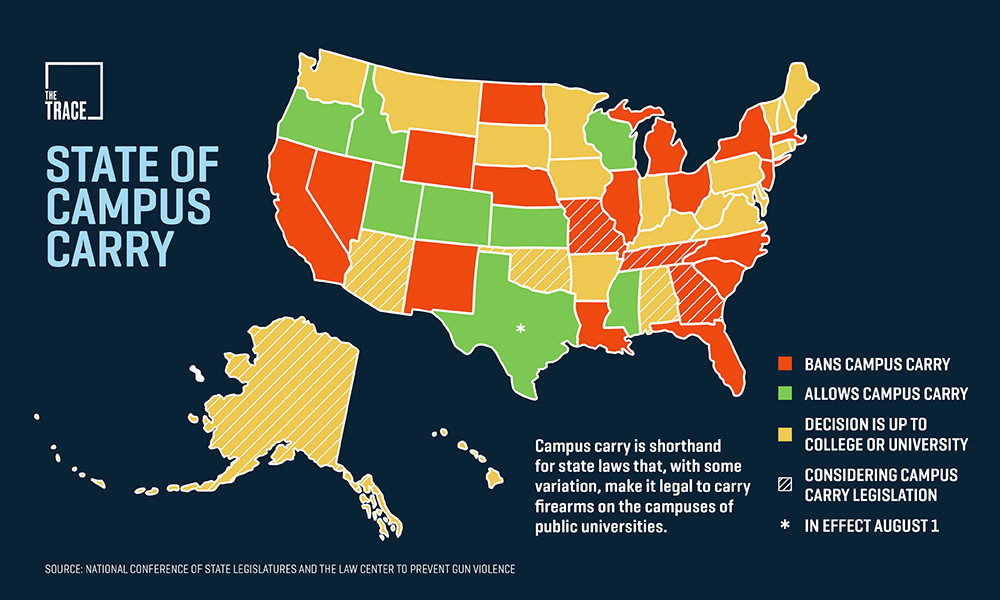 Georgia
The state of Georgia, as of June 2017, is the most recent state to permit guns on campus (new law not reflected on above map). This was done in spite of the results of a survey conducted by Georgia Tech's Student Government Association, which revealed that a majority of students oppose concealed handguns on campus.
According to Georgia officials and House Bill 280, the law leaves it up to the person carrying the gun to know what the rules are and to follow them. This includes whether they are entering a place on campus where guns are banned or if they are taking a class with a high school student — a situation that would also bar them from carrying their weapon.
Georgia law requires anyone seeking a state permit to carry a concealed gun to be at least 21 years old. They must be fingerprinted and pass a background check. No signs will be posted on campus identifying which areas are off-limits. Everyone has been told they are not allowed to ask whether someone is legally carrying a gun.
Guns are supposed to be concealed, carried in a fashion that does not attract attention. Campus police will be responsible for administering the law.
Football game day exceptions: people will be allowed to carry their weapons in tailgating areas where alcohol can be consumed, but not inside athletic facilities.
Storage problems: there remains a question of what to do with firearms when owners are not carrying them if, for example, they live on campus. No campus in Georgia will provide gun storage facilities. Existing state law allows weapons to be locked in cars if the permit holder comes onto campus.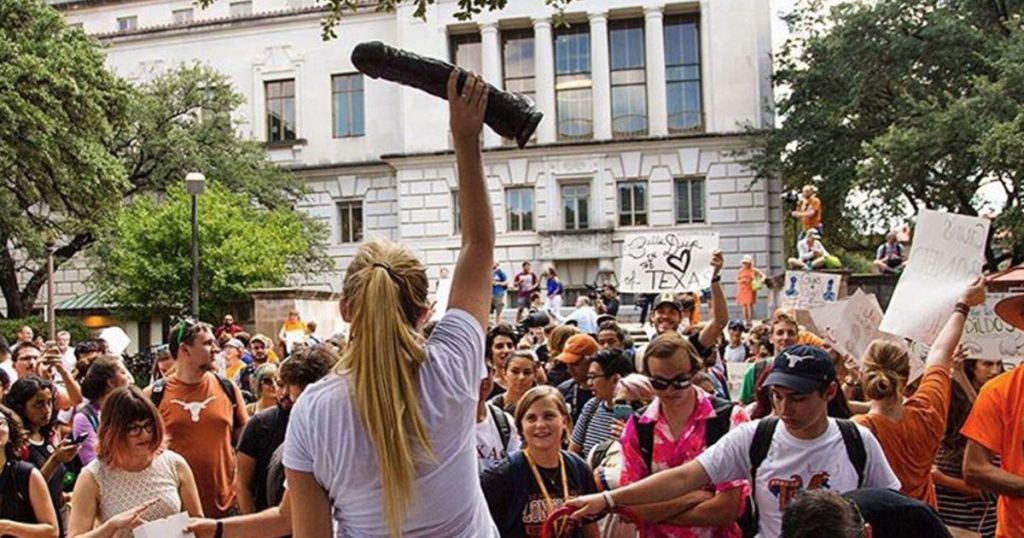 Student advocates at the "Cocks Not Glocks" protest against Texas's "campus carry" law was held on the first day of classes in 2016 at the University of Texas at Austin, which spearheaded resistance to the law from students and faculty members at colleges in the state.
Texas
In 2015, Texas law was changed to permit the carrying of concealed handguns by license holders in public university buildings, classrooms, and dorms. Handgun licenses are available to anyone at least 21 years of age (18 for military service members).  Applicants must pass a classroom and gun range training course. Restrictions may be applied to convicted felons and people charged with felonies, high-level misdemeanors, as well as people with a history of mental illness.
The law allows guns in buildings, classrooms, and dorms, but each campus makes its own rules about where weapons are permitted. By law, campuses must map out where guns are banned. At the University of Texas at Austin, for example, faculty members can declare their offices as gun-free zones. Students residing on campus can have their guns in common areas, including cafeterias and student lounges, but they are not permitted to keep their weapons in their rooms because there is no place to store them. Alternatively, guns are allowed in dorm rooms at Texas A&M University in College Station, where faculty must seek permission to ban guns from their offices.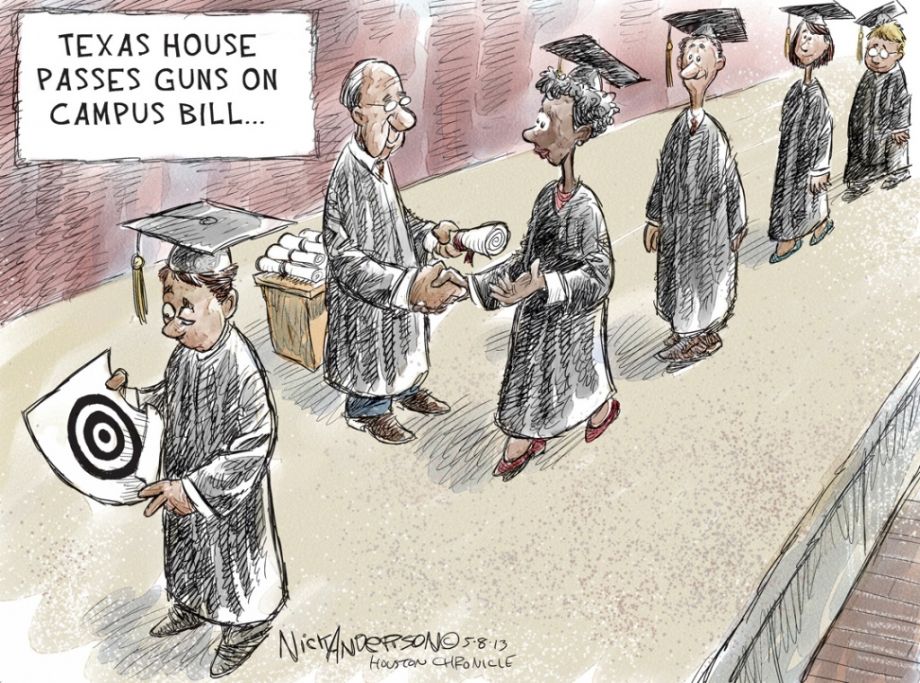 Private schools, including Baylor, Rice, Texas Christian University and others, retained the option of banning or allowing weapons. Amberton University, which doesn't allow students under 21 and has a total enrollment under 2,000, was the first private school that opted to allow guns.
Texas state law still bans weapons campus-operated hospitals and school sporting events.
In one incident that occurred, a Texas Tech University police officer was fatally shot. A student was subsequently arrested for the killing. The student, Hollis A. Daniels, was 19 years old at the time and was not in compliance with the law that required him to register the weapon with Texas Tech, which is required under the state's campus carry law. Daniels was also not 21 years old (IHE).
The law in Texas, it should be pointed out, was adopted against the wishes of higher education leaders in the state, who argued that colleges are safer when police officers are the only ones armed (IHE).
In the first year since the law went into effect, at least 20 Texas universities had no gun-discharge incidents or reports of intimidation with a firearm, the Chronicle's review found. More than a dozen had at least one gun-related report, including aggravated robbery and an accidental discharge in a dorm (IHE).
Campus Safety
The debate is classically polarized around safety concerns, with different views about how to keep people safe. There are those who believe that allowing students to carry would allow them to protect themselves. Following the same logic, they claim that if college campuses are put on a list of venues where guns are prohibited they will become targets for attacks. Alternatively, others say that allowing students to carry would be dangerous because there would be more guns on campus grounds and that this poses a distraction to learning. These arguments, however, have tended to break down and lead nowhere—particularly in states like Texas and Georgia with strong traditions that embrace gun culture and firearms ownership.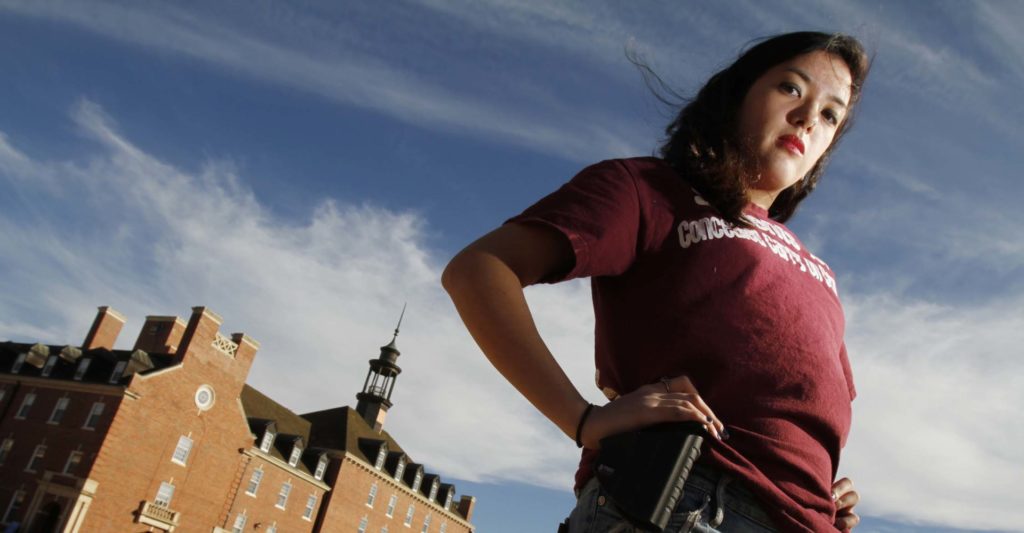 Adrienne O'Reilly, Oklahoma Director for Students for Concealed Carry on Campus, carries an empty gun holster on the Oklahoma State University campus in Stillwater, Okla. (AP Photo/The Tulsa World, James Gibbard).
Anxiety + Fear = A Potentially Lethal Cocktail (re-post from Ian Bogost, The Atlantic)
According to an Atlantic journalist Ian Bogost, there is a "deep and pervasive unease" that already pervades college campuses, and safety and speech worries are just instances of a more general and more universal anxiety.
"Today's college students," he says, "are beset by unease. And it's no wonder why—their whole lives have been lived bathed in vague and constant threat. Today's 21-year-old students were born in 1995. They were kindergarteners on 9/11, and their whole childhoods were backgrounded by forever war. Their primary and secondary schooling took place under the supposed reforms of No Child Left Behind, which meant an education designed around lots of high-stakes testing and the preparation necessary to conduct it.
They entered high school just after the 2008 global financial crisis, after which declines in the tax base led to billions of dollars of funding cuts to primary, secondary, and postsecondary public education. Here in Georgia, the lottery-funded HOPE Scholarship, which had paid full college tuition for students who kept a 3.0 average, increased its achievement requirements for full tuition and eliminated support for books and fees. Meanwhile, tuition rose precipitously—35 percent over the last five years at Georgia Tech—as funding declined. And as state funding has waned, flagships like UGA and Georgia Tech have increasingly pursued more lucrative out-of-state enrollments, while increasingly relying on gifts, endowments, grants, and contracts as state funding has become a minority contributor to institutional budgets.
Getting into college also became harder. In the arms race to raise test scores and thereby rankings, admissions have pushed average SAT scores at Georgia Tech up from 1420 in 2013 to 1449 in 2015, only adding to the anxiety of admission. Twenty-five points doesn't sound like much, but because of the way the SAT is scored, it might amount to a difference of as few as one or two incorrect answers on the exam. A couple answers might measure a differential in academic performance and potential, but it might also represent the accident of a cold testing facility or a stressful commute into the exam. Every aspect of these kids' lives are drawn taut. One badly timed sneeze can spell disaster.
Once enrolled, college campuses are brimming with new anxieties and newly trenchant versions of old ones. The issues of preparation, access, and affordability to create an environment in which mere survival overwhelms learning—let alone indulgences like free speech. Then someone like me comes along and teaches the same class I would have taught five or 10 or 15 years ago, only to find that students are falling apart from the stress rather than from the materials. No wonder they fantasize about kidnapping my family.
Even the successful students still must contend with a much worse economic lot than their cohorts did in the past. At Georgia Tech, even students who pursue "practical" degrees in areas of supposed economic growth, like computing, still face massive competition and pressure for jobs. I have students who have filed hundreds of applications and endured five or 10 separate interviews for a single entry-level job, including time-consuming cross-country trips to all-day interviews, before finally receiving an offer. The only greater motivator than fear is debt.
A concealed-carry campus becomes a campus in which everyone carries a potential gun. And the potential gun is far more powerful than the real gun, because it both issues and revokes a threat all at once. Made habitual and spread atop an already apprehensive base, that sort of mental anguish is nothing short of terrorism."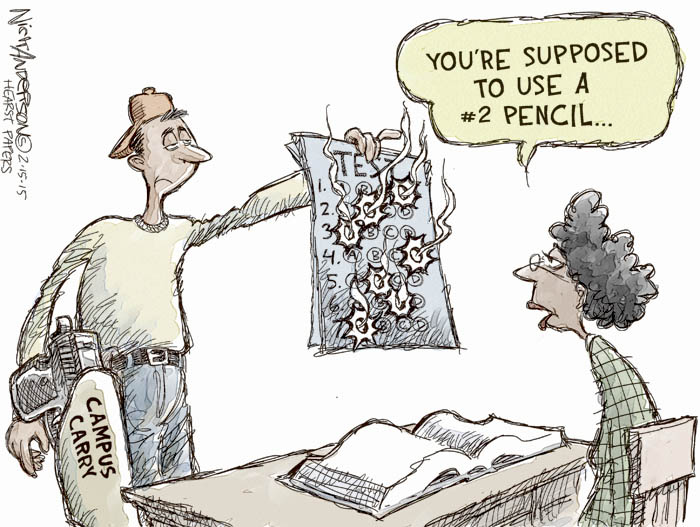 What Does the Research Say?
Researchers at Johns Hopkins University (Bloomberg School of Public Health) released a study that argues the campus-carry movement is based on flawed assumptions about the relationship between civilian gun use, violent crime and mass shootings, including several killings on college campuses. The higher likelihood for college-aged people to engage in reckless behavior — binge drinking, drug use, fighting, suicide — heightens the danger, they said (NBC News).
The Hopkins researchers criticized much of the research cited in the pro-carry movement, saying that it was difficult to corroborate incidents in which gun owners claimed to thwart shootings — both mass shootings and smaller-scale attacks. The researchers also said that emerging research on concealed carry laws contradicted prior studies that concluded that such measures prevented violent crime. They said their data showed that right to carry laws are correlated with increased violence; that most fatal mass shootings occur in places where guns are allowed, and people with guns rarely are able to stop them (NBC News).
Alternatively, economist and author John Lott, whose work is often cited by the National Rifle Association, argues that concealed-carry laws make the public safer because they put guns in the hands of people who are more law-abiding than the general public. The Hopkins researchers also disputed this claim – a central claim of the gun-rights movement – that concealed-carry permit holders are far more law-abiding than the general population. The claim does not hold in states with law-abiding loose gun laws, the researchers said. "Many states relaxed restrictions on concealed and open carrying of firearms based on claims that such policies reduced violent crime," the authors wrote. "But the best available evaluations of these policies indicate that these right-to-carry laws increase violence" (NBC News).
Daniel Webster, director of the Johns Hopkins Center for Gun Policy and Research and one of the report's authors, said in an interview that he hoped the study would be read by policymakers who are in the middle of the debate about campus-carry laws (NBC News).
A Harvard Study found that access to firearms increases the risk of suicide among populations of students, who are already vulnerable. Ecologic studies that compare states with high gun ownership levels to those with low gun ownership levels find that in the U.S., where there are more guns, there are more suicides. "The higher suicide rates result from higher firearm suicides; the non-firearm suicide rate is about equal across states" (Harvard)
Another study (Miller 2007) used survey-based measures of state household firearm ownership (from the CDC's Behavioral Risk Factor Surveillance System) while controlling for state-level measures of mental illness, drug and alcohol abuse, and other factors associated with suicide. The study found that males and females and people of all age groups were at higher risk for suicide if they lived in a state with high firearm prevalence. This is perhaps most concrete when looking not at rates or regression results but at raw numbers. The authors compared the 40 million people who live in the states with the lowest firearm prevalence (HI, MA, RI, NJ, CT, NY) to about the same number living in the states with the highest firearm prevalence (WY, SD, AK, WV, MT, AR, MS, ID, ND, AL, KY, WI, LA, TN, UT). Overall suicides were almost twice as high in the high-gun states, even though non-firearm suicides were about equal (Harvard)
Grossman (2005) found that while the risk of youth suicide is lowest in families with no firearms at home, among gun-owning families, youths living in homes in which all firearms are stored unloaded and locked are at lower risk for suicide than those living in homes in which firearms are stored less securely (Harvard).
It may be worth noting here that gun-rights advocates have helped block federal research into gun violence for years.
Common Arguments Against Guns on Campus
Those against carrying guns on college campuses believe that having more firearms around makes gun crime more likely. They oppose the campus-carry campaign as an extension of broader efforts to allow people to carry concealed weapons in other public areas, which they say raises the risk of violence.
Critics also argue that apart from safety concerns, permitting guns to be carried on campus will have chilling effects on free speech.  College classrooms might be censored as a result, as faculty and students might not be inclined to discuss contentious issues in the open without fear that students, absent rhetorical skills, might pull a gun to prove their point.
In an active shooter situation, the likelihood of another gun-carrying student diffusing the situation safely and responsibly is slim. Heroic notions that promote fighting bullets with bullets, ultimately putting more students in danger and increasing the likelihood of injury by increasing the number of guns on campus.
The question remains – what happens when a licensed gun owner who is permitted to carry a concealed firearm is the person who becomes the danger to other students?
Common Arguments For Guns on Campus
Those in favor of carrying guns on college campuses argue that those who have proper permits are being denied the ability to defend themselves by having to comply with state and campus gun restrictions.
Gun-rights advocates including Students for Concealed Carry — a group launched in the wake of Virginia Tech —maintain that an armed campus is a safer campus because police typically can't respond quickly enough to stop a mass shooter in the act (USA Today).
A Compromise?
If exercising the right to carry a weapon on campus is a deal breaker for a given individual, perhaps attending a university campus where the activity is welcome is a better choice for that person. In spite of the recent spate of mass-shootings and a high-profile shooting on a college campus (VA Tech), college campuses are, for the most part, not social spaces characterized by violent activity. Some people derisively refer to them as "safe spaces" and in this they are not altogether incorrect (sexual assault is another issue).
Though rules can be broken, research and evidence suggest it is better to have rules that keep weapons away from campus than to remove stricter rules and open the door to a greater potential for violence.
Sources
Pennsylvania State Police, Carrying Firearms in Pennsylvania
The Armed Campus in the Anxiety Age, by Ian Bogost
Campus Carry In the Spotlight, by Nick Roll,  Inside Higher Education (IHE)
More Guns on Campuses Won't Make People Safer, Researchers Say, by Jon Schuppe, NBC News
Baxley F, Miller M. Parental misperceptions about children and firearms. Archives of Pediatric and Adolescent Medicine. 2006;160(5):542-7.
Grossman DC, Mueller BA, Riedy C, et al. Gun storage practices and risk of youth suicide and unintentional firearm injuries. JAMA. 2005;293(6):707-14.
Helpful Information on Pennsylvania vehicle carry provided by Mike Giaramita's Pennsylvania Law Abiding Gun Owner Blog.
Discussion Questions (none of this information is being used for research purposes and you may answer anonymously using a pseudonym/nom de plume)
What do you think about your university's policy on the concealing and carrying of guns, firearms, and weapons on campus?
Do you know anyone who conceals/carries on campus? Do you know more than one person who conceals/carries on campus?
If you knew that a classmate was carrying a prohibited concealed firearm, how would feel about it?
Does the idea of other students carrying weapons on campus make you feel safe? Does it make you feel unsafe?
Would you want to conceal carry on the Penn State campus if the rules were changed? If so, why?
Do you agree or disagree with the statement: colleges are safer when police officers are the only ones armed.
Do you feel that owning and/or carrying a gun is essential to your personal freedom?
Do you feel that attempts to regulate firearms represent an infringement on your personal freedom?
Do you think gun violence is a problem in the United States?
Have you ever known anyone who has been shot?
Do you think gun access should be restricted? Or do you think nothing should be done?
Finally, if you don't know anyone that conceals and carries a firearm on campus, you can simply share any other thoughts you might have on the subject that are not covered by these questions.