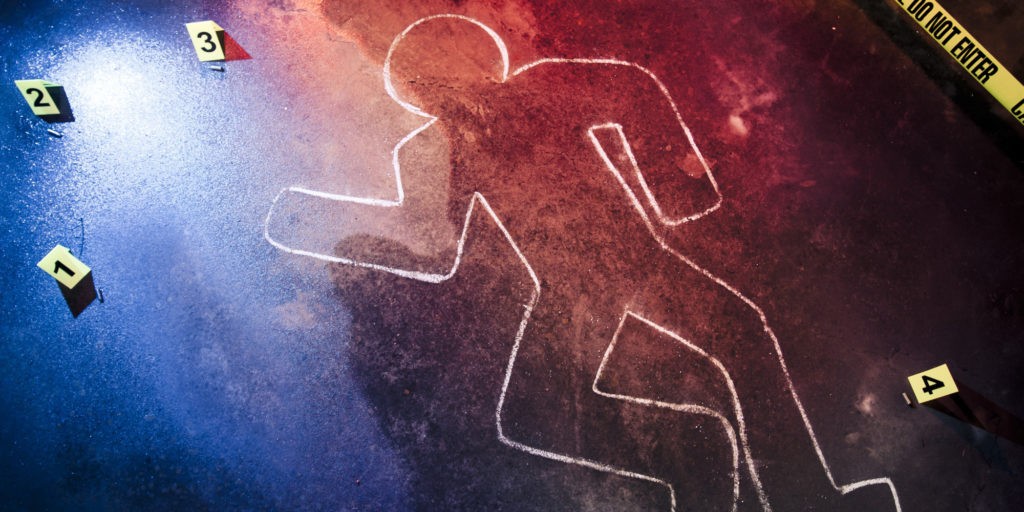 You've heard experts discuss the crime rate often enough on TV. If it's not being sensationalized in order to attract the attention of TV viewing audiences (and often it is) statistics are generally presented within a comparative social context; you might be shown different scenarios that illustrate how crime is higher or lower in some places and how crime changes over time. Of course, this brings up the question of how do we measure crime.
Crime Rate
When talking about the "crime rate," keep in mind this number is expressed as a ratio of crimes in an area to the population of an area in a given year (i.e. per 1000 members of a population).
There are two commonly cited measures of the nation's crime rate. One is an annual report by the FBI of serious crimes reported to police in approximately 18,000 jurisdictions around the country. The other is an annual survey of more than 90,000 households conducted by the Bureau of Justice Statistics, which asks Americans ages 12 and older whether they were the victims of crime in the past six months (regardless of whether they reported those crimes to the police or not).
Both the FBI and BJS data show a substantial decline in the violent crime rate since its peak in the early 1990s.
Using the FBI numbers, the rate fell 50% between 1993 and 2015, the most recent full year available. Using the BJS data, the rate fell by 77% during that span. It's important to note, however, that the FBI reported a 3% increase in the violent crime rate between 2014 and 2015, including a 10% increase in the murder rate. (The BJS figures show a stable violent crime rate between 2014 and 2015, but they do not count murders.) Some experts have projected that the 2016 FBI data will show another increase in the violent crime rate – including another rise in the murder rate – when they are released later this year (Pew report).
Why is the Crime Rate Falling?
A report from the Brennan Center for Justice at NYU School of Law, called What Caused the Crime Decline? finds that the simple answer – increasing incarceration  – is not the answer. As Nobel laureate economist Joseph Stiglitz writes in the foreword, "This prodigious rate of incarceration is not only inhumane, it is economic folly."
So what's the reason? Well, it's complicated. And many experts disagree with one another. One team of economic and criminal justice researchers spent 20 months testing fourteen popular theories for the crime decline.  They delved into over 30 years of data collected from all 50 states and the 50 largest cities. The results are sharply etched and in the words of the researchers "We do not know with precision what caused the crime decline, but the growth in incarceration played only a minor role, and now has a negligible impact."
Variations in Crime Rates. There are large variations in crime rates. The FBI's data allow for geographic comparisons of crime rates and these comparisons can show big differences from state to state and city to city. In 2015, for instance, there were more than 600 violent crimes per 100,000 residents in Alaska, Nevada, New Mexico and Tennessee. By contrast, Maine, New Hampshire, Vermont and Virginia had rates below 200 violent crimes per 100,000 residents.
Chicago has drawn widespread attention for its soaring murder total in recent years, its murder rate in 2015 – 18 murders and non-negligent manslaughters per 100,000 residents – was less than a third of the rate in St. Louis (59 per 100,000) and Baltimore (55 per 100,000). The FBI notes that various factors might influence a particular area's crime rate, including its population density and economic conditions (Pew Report).
Sources of Crime Statistics
Crime and what we know about it is in many ways – to borrow a term from sociology – socially constructed. As a philosophical orientation, social constructionism holds that the meaning of acts, behaviors, and events is not an objective quality of those phenomena but is assigned to them by human beings in social interaction. Meaning, in other words, is socially defined and organized and therefore is subject to social change (Berger and Luckmann, 1967). Without data, however, crime would in many ways not exist because we wouldn't have a way to talk about it; there would be no substance.
Behaviors become crimes through a process of social construction. The same behavior may be considered criminal in one society and an act of honor in another society or in the same society at a different time. The legal status of a behavior—whether it is defined as a crime—lies not in the content of the behavior itself but in the social response to the behavior or to the persons who engage in it. Changes in the legal status of a behavior are often brought about by social movements and may entail considerable social conflict. Examples include the recent controversies over abortion policy and assisted suicide in the United States. Finally, the social response to crime—including many social-science explanations of criminal behavior—are based not only on the qualities of the act but also on the social and moral standing of the offender and the victim.
Some of the most important sources for crime reporting that we will refer to often are among the essential elements in helping to construct crime. They are:
Uniform Crime Reports (UCR) – Part I and Part II Offenses
Supplementary Homicide Reports
The National Incident-Based Reporting System (NIBRS)
National Crime Victimization Survey (NCVS)
The Dark Figure of Crime – Many Crimes are not Reported
The dark figure of crime refers to a term utilized by criminologists and others. The term "dark figure of crime" was first used by the Belgian mathematician and sociologist Adolphe Quetelet in 1832. These are crimes that are known to exist due to the reporting of observers and/or victims, but they tend not to be reported or recorded by law enforcement agencies; they include criminal incidents/occurrences that meet the definition of a recordable crime, but they effectively elude capture by sources of official statistics.
In its annual survey, BJS asks victims of crime whether or not they reported that crime to police. In 2015, the most recent year available, only about half of the violent crime tracked by BJS (47%) was reported to police. And in the much more common category of property crime, only about a third (35%) was reported. The proportion was substantially higher for offenses classified as serious violent crime (55%), a category that includes serious domestic violence (61% of which was reported), serious violent crime involving injury (59%) and serious violent crime involving weapons (56%). There are a variety of reasons why crime might not be reported, including a feeling that police "would not or could not do anything to help" or that the crime is "a personal issue or too trivial to report," according to BJS (Pew Report).
Why is the Dark Figure of Crime so Important?
Crimes go unreported for various reasons, whether it's from fear of reporting the crimes or from a fear of the police. The important takeaway here is that the failure to report these crimes calls into question the accuracy of official sources of crime statistics.
Public perceptions about crime in the U.S. often don't align with the data.
Opinion surveys regularly find that Americans believe crime is up, even when the data show it is down. In 21 Gallup surveys conducted since 1989, a majority of Americans said there was more crime in the U.S.compared with the year before, despite the generally downward trend in both violent and property crime rates during much of that period. In a Pew Research Center survey in late 2016, 57% of registered voters said crime had gotten worse since 2008, even though BJS and FBI data show that violent and property crime rates declined by double-digit percentages during that span (Pew Report).
Sources
"5 Facts About Crime in the U.S.," Pew Report
"The Many Causes of America's Decline in Crime," The Atlantic
Discussion Questions
How is crime "socially constructed?"
What are the major sources of crime statistics?
What are some of the potential reasons that explain the falling rate of crime in the U.S.?
What is the "dark figure of crime" and why is it important?