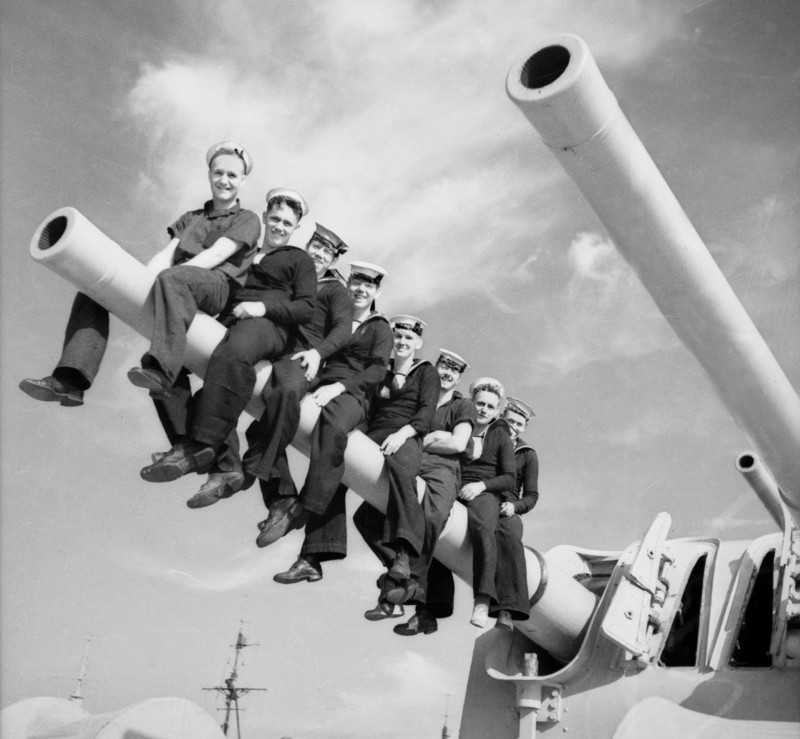 Who Owns Firearms and Guns in the United States?
Americans have a long history that informs a complex relationship with firearms, guns, and weaponry. For some, to have and hold a weapon is a way to express pride and carry on family traditions. For others, firearms help them confront their fear of others. Whatever the reason, the subject of personal firearms, guns, and weapons instigate sharp debates in U.S. society.
Even the nomenclature for how we talk about guns in the United States is tricky because it varies from state to state. For example, when I say "guns" I'm talking about long guns – like shotguns and hunting rifles. The term "firearms" is often used to denote handguns – that's how Pennsylvania defines it. But this varies with usage, as some people slide easily from one term to the other without being specific. "Guns" is short and simple. As a side note, if you are in the military, you probably don't want to say "gun."
A 2017 Pew study, nearly 4 out of 10 Americans say they either own a gun themselves or live in a household with guns; 48% say they grew up in a household with guns. At least two-thirds of adults say they've lived in a household with a gun at some point in their lives. And roughly 7 out of 10 – including 55% of those who have never personally owned a gun – say they have fired a gun at some point (Igielnik and Brown).
Nevertheless, while the total number of guns in circulation in the United States is increasing, the number of people buying guns is decreasing. More interesting (or troubling?) is the fact that those who are acquiring firearms and guns represent a concentrated demographic of people – they are predominantly middle-class white men.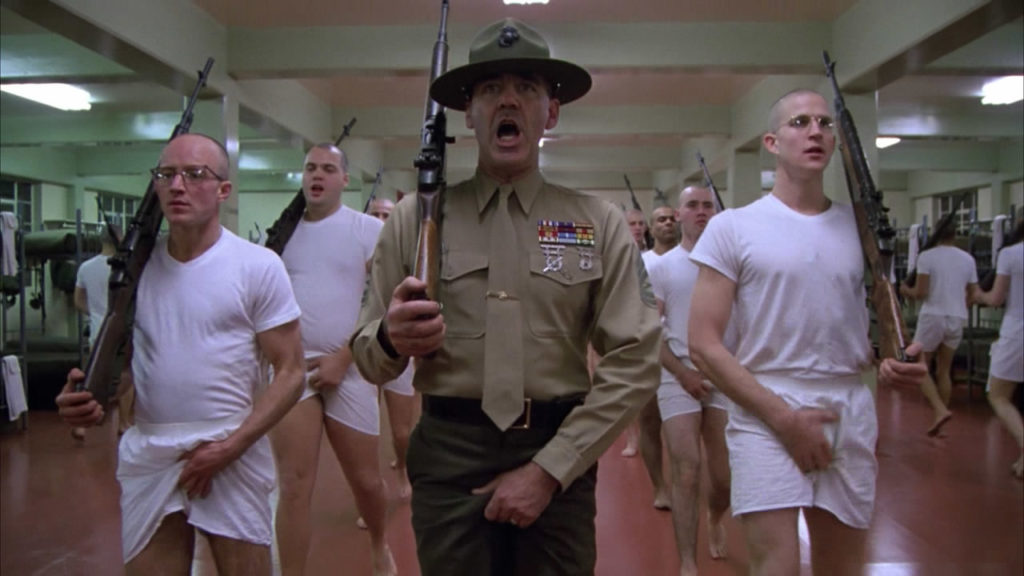 "This is my rife, this is my 'gun.' "
Guns & Violence
Not only is the United States the runaway world leader for gun ownership – it also suffers mass shootings at more than 11 times the rate of any other developed country, according to a 2014 study published in the International Journal of Criminal Justice Sciences (McCarthy, Beckett, Glenza, 2017).
Journalists writing for The Guardian point out: "The US is home to 88 guns for every 100 people and sees mass shootings more than 11 times as often as any other developed country." Check out the following statistics included in their report:
73%
Proportion of firearm murders among all murders in 2016 – the highest ever on record in the United States, according to FBI statistics. While murders in the United States are well down from historic highs, gun murders represent a greater share of the overall total.
70%
Proportion of gun murders in the United States in which a handgun is the weapon, according to FBI statistics.
127
The number of US cities and towns accountable for half of America's gun homicides in 2015, according to a geographic analysis by the Guardian.
71%
Increase in number of handguns owned in the United States since 1994.
38%
Increase in total number of guns owned in the United States since 1994.
3%
The proportion of people who own half of the country's guns. Anchoring this group are America's gun super-owners – an estimated 7.7 million Americans who own between eight and 140 guns.
The Pew study reported similar findings; in this study two-thirds (66%) of gun owners indicated they own more than one firearm; roughly three-in-ten (29%) say they personally have five or more guns. Among those who own just one gun, handguns are by far the most popular: 62% say they own a handgun, compared with 22% who say they own a rifle and 16% who own a shotgun (Pew study).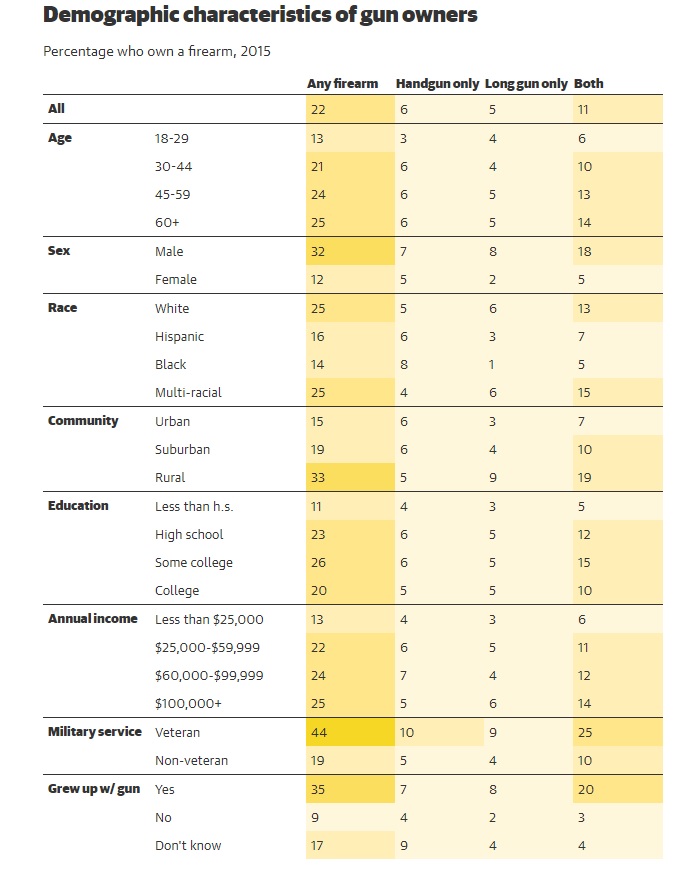 An early study in 2007  conducted by Hepburn, Miller, and Hemenway examined the size and composition of the privately held firearm stock in the US; this study aimed to describe the demographic patterns of firearm ownership as well as the motivations for ownership. They found that 13 percent of Americans, most of whom are men, own four or more guns; 20 percent of these gun owners with the most guns possess the equivalent of 2/3rds of the nation's stockpile.
Building on that work, a 2017 Harvard/Northeastern study  conducted by the same researchers found that the number of privately-owned guns in America grew by more than 70 million—to approximately 265 million—between 1994 and 2015. According to this study, half of the gun stock in the U.S. is owned by only 3 percent of the population (Miller et al). This survey is the first nationally representative survey of firearm ownership and use in more than a decade, according to Miller, a professor of health sciences and epidemiology at Northeastern.
So why are such a small proportion of white Americans stockpiling guns? Who are these people? Where do they live? What kinds of guns do they own? Why do they feel they need so many guns? Who do they imagine they might have to shoot?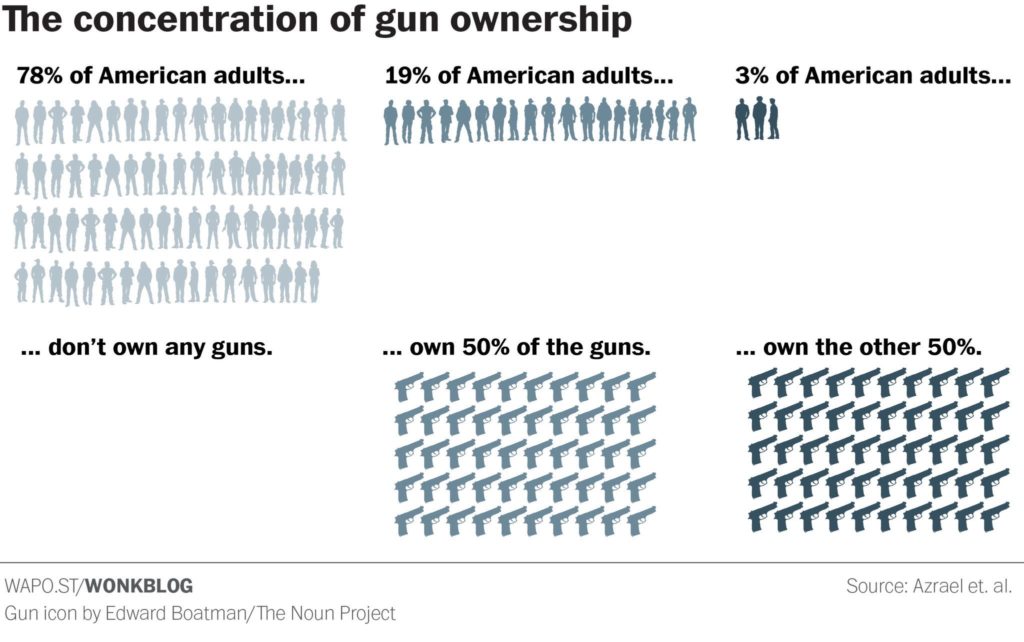 As indicated by Pew, 3 in 10 American adults say they own a gun. As the concentration data indicate, gun ownership cuts across demographic groups but is more concentrated among middle-class white men. That is, white adults are more likely than blacks or Hispanics to own guns: 48 percent of white men say they own a gun, compared to 24 percent each for nonwhite men and white women, who all say they own one. The percentage ownership rate for non-white women is low at 16% (Pew study). Americans with less education are also more likely to be gun owners – a gap that is again noted to be widest among whites.
As for the women, despite these reported statistics, the gun industry believes the potential female market may actually be much larger. White women outnumber non-white women in terms of gun ownership.
What is the Top Reason for Owning a Gun?
Again, according to the Pew Study, protection tops the list of reasons for owning a gun. Even though gun owners cite more than one reason for owning a firearm, 67% still cite protection as a major reason. About 4 in 10 gun owners (38%) say hunting is a major reason, and 30% cite sport shooting. Smaller shares cite a gun collection or their job as major reasons (Pew study).
Rural/Urban Divide
Majorities of gun owners who live in cities, suburbs and rural areas say protection is a major reason they own firearms. But when we focus on owners who live in rural areas, they are significantly more likely to cite hunting as a major reason for owning a gun (Pew study). A question to consider then is how do we measure this? Median distance from home to a major city?Population density or some measure of zip code ID?
To complicate matters, even though studies show that rural men are statistically more likely to own a gun for hunting purposes, trends show there is some movement in this area. Data reported by the General Social Survey (which contains a panel of questions about hunting) find fewer men reporting over time that they own weapons for hunting purposes. In 2012, when the survey asked men if they hunted, 25% responded positively. Compare this to the roughly 40 percent of men who responded positively in 1977 – that's a significant decrease.
Put another way, during the time span of 30-40 years, guns ownership has evolved – guns are no longer a mere functioning "tool" – a simple piece of hardware used to enjoy outdoor sports and hunting. To what then do we attribute the increasing preference for handguns among rural men? How might the desire to carry (easier to do with a handgun than a rifle) partially explain this trend? It is possible that carrying a handgun may be important to men for symbolic reasons (as opposed to practical ones); that men may be relying on them to help establish a social identity that they perceive is under attack – a particular kind of identity and manhood that has traditionally been revered and important to white, middle-American, rural and suburban men.
The Political Economy of Gun Sales
Gun sales are often tracked by proxy in light of the number of U.S. federal background checks. Basically, when someone wants to buy a gun (from a dealer), the dealer submits paperwork to the FBI, who runs a background check. While this figure does not technically represent the number of guns sold (for that you would have to rely on industry self-reports) the total number of checks initiated through the NCIC (National Crime Information Center) are documented and available for analysis (see FBI.gov).
Fears of new gun regulations throughout the Obama presidency were instrumental in helping to boost gun sales for gun manufacturers and retailers. Increases in incidents of mass shootings have also helped to stoke fear and fatten the industry's bottom line. The trend only continued as people anticipated a Hillary Clinton victory in the 2016 election. The expectation was that she would be more aggressive about pushing gun controls that never materialized during Obama's tenure.
Trump's victory, however, took a toll on the gun trade almost immediately, as fears about gun control receded and gun demand reached an all-time low in 2017. During the months of January through July 2017, approximately 4.3 million background checks were performed; a figure down by comparison from 16 million checks performed in the same period during the prior year. In light of this, the first half of the year saw Sturm, Ruger & Co.'s net sales fall to $299.2 million from $341.1 million in the first half of 2016. But Killoy, the CEO, points to its more diverse consumer base, including "a lot more women shooters," as a reason for optimism (Schultz).
To make up for the shortfall and overcome the "Trump slump," the industry initiated new promotions that targeted women. As reported above, the ownership rate for women is 24 percent. Consequently, industry researchers estimate there is a much larger potential upside for the female market. "With the overall decrease in demand for guns, the increasing prevalence of female consumers is more important to gun manufacturers than ever before," said Kevin Cassidy, an industry analyst for Moody's (Schultz).
Men & Guns
So what are the important trends as it pertains to men? As it has already been discussed, both men and women gun owners are equally likely to say protection is a major reason (65% and 71%, respectively); men, however, are reported as more likely than women to say hunting and sport shooting are central to why they own a gun (Pew study). Among the men, middle-aged white men (who have the disposable income) are buying more and more of the guns and firearms. Again, it is this demographic group in particular where we see the highest concentration of gun ownership. But why? And more to the point, what are they afraid of?
Gender dynamics in advertising are also important to consider, given the stark differences that distinguish the marketing of guns to men and men. Take a look here at an example of how the advertising of gun industry manufacturers is designed to appeal to male customers. The advertisements are rife with what gender scholars refer to as "toxic masculinity." Toxic masculinity here being one form of masculinity among different "masculinities," where there is a distinct appeal to dominance narratives. As the ads below insinuate, real men carry guns and dominate others through violence if necessary; if you don't carry a gun, you're not only a failed man – you're a woman…you might even be gay.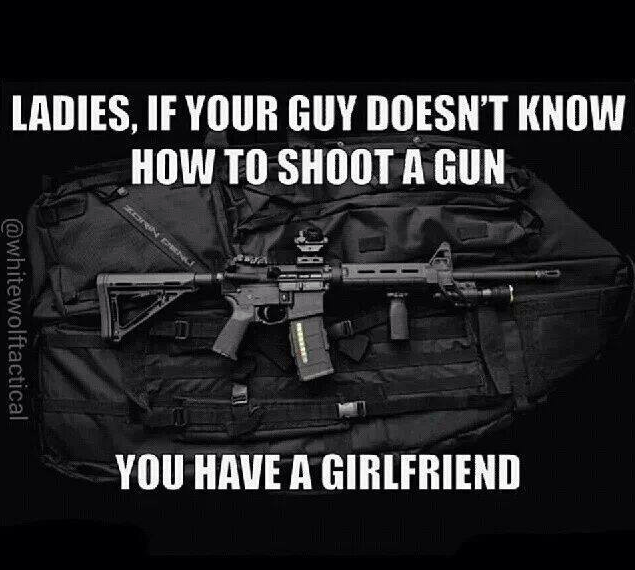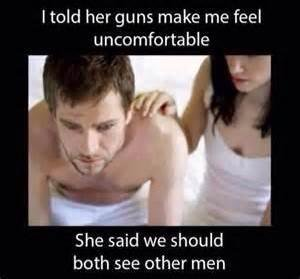 As Leonard Steinhorn reports, "Glock guns give men "confidence to live your life." The Walther PPX handgun is "Tough. Very Tough." The Tavor Semi-Automatic Rifle, promises to restore the "balance of power" to anyone holding the gun. Buying a Bushmaster semi-automatic "confirms that you are a Man's Man, the last of a dying breed, with all the rights and privileges duly afforded" (Steinhorn).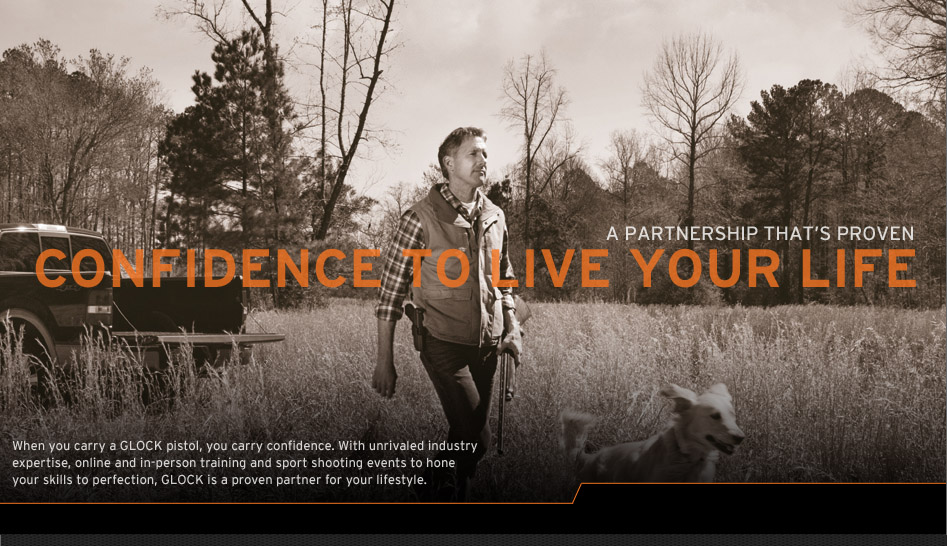 Not to be underestimated is the symbolic power of military chic that is being marketed. Gun advertisers are quick to exploit the demographic fact that the vast majority of American men (roughly 99%) have not experienced military service. Considering the social changes that have taken place since the 1950's in the wake of World War II, many men were/are left questioning their place in the world, as major changes in the economy brought about changes at home and at work. Relations between men and women were radically reformulated. For many many men, their jobs became outdated and "feminized" as office work replaced the stereotypical masculine heavy industry occupations that were the mainstay of previous generations.
This is why the 1950's are forever ensconced in the minds of many men as a "golden era." The "real men" of the Greatest Generation – the thick-cut, muscular mans' man – is no longer the ideal….or so we are told by Hollywood and Madison Ave. This man of old has effectively been replaced by a highly stylized/refined image of man; the one we see depicted so often in films and popular media – the well-groomed, lithesome, chiseled model, who fronts bikini briefs. These new men aren't "real men" in the traditional sense; they're feminized "gay" men. In other words, they are men who have been neutered and domesticated.
Having effectively called into question what it means to be a man, the new developments have left many men feeling adrift and unsure of their place in a world that seems to have left them behind. What does it mean to be masculine? What can a man do? What would it take to make men "great again."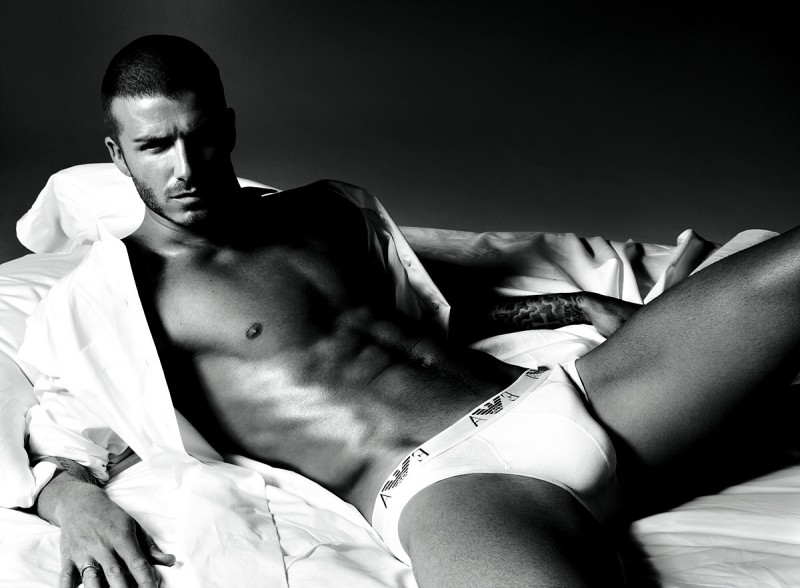 Men have been domesticated. In other words, they're not "real men" anymore. Having effectively called into question what it means to be a man, these developments have left many men feeling hopelessly adrift; they're unsure of their place in a world that seems to have left them behind. What does it mean to be masculine? What can a man do? What would it take to make men "great again."
In light of these changes, the ads suggest men might vicariously affiliate their personal identity with the identity of military men – the last remaining vestige of proper manhood. The best part is that they can do this without any of the inconvenient blood sacrifice. A simple gun purchase and salutary "thank you for your service" makes everyone feel good. Violence fixes everything.
Always the astute observer of social and demographic changes, the NRA (National Rifle Association) stepped in during the 1970's to help men shore up their creeping anxiety, while maintaining the flow of new weapons into U.S. society. This occured during a time when statistics were revealing that men were hunting less and buying less guns. Guns represent power; they offer a way for wounded men to reclaim their manhood. This is the easy path to greatness that many men choose. The problem is, not all of us are going to live as they figure out how to adjust.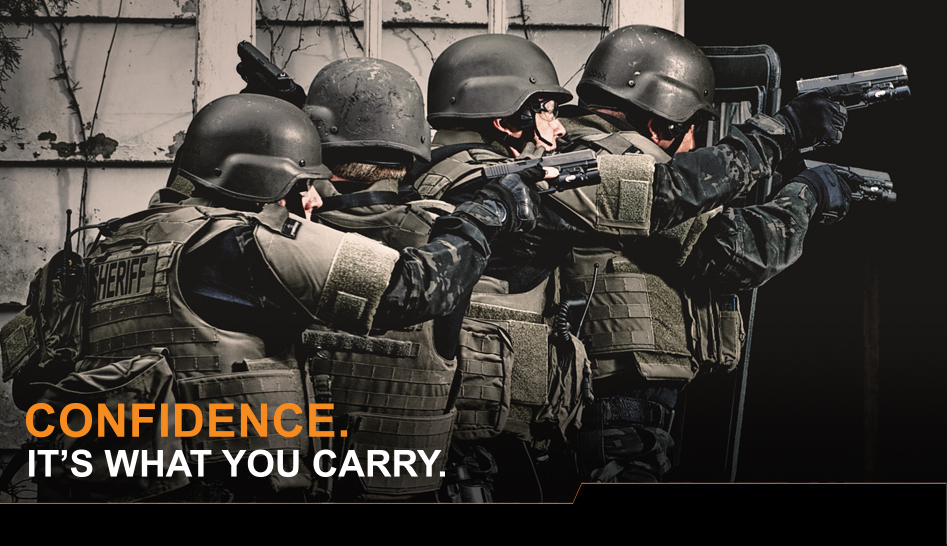 Girls & Guns: Pretty Guns for Pretty Ladies
Magazines, online ads, and gun/firearm manufacturers are increasingly making direct appeals to women. But the sales pitch to women is distinctly different from the way guns are marketed to men. For women, it's all about keeping other men from hurting and killing them.
The typical female gun owner favors a handgun, not a rifle. Studies document that women, not unlike men, also want access to a firearm for protection purposes.  Yet unlike the trend established for men, women who own guns are more likely than male gun owners to live in an urban area; further, they are less likely to have grown up in a gun-friendly household (based on a survey by the Guardian). Again, this trend for women contributes to why the gun industry views them as a growth opportunity.
"Confident Women Carry the Cross" states a banner ad for gun holster brand CrossBreed that recently ran on Women's Outdoor News. A Smith & Wesson ad shows a woman grasping a handgun with the copy, "Where protection meets performance." In the ad below, we move into the realm of desire, where we are given a sense of what women want in terms of men and guns.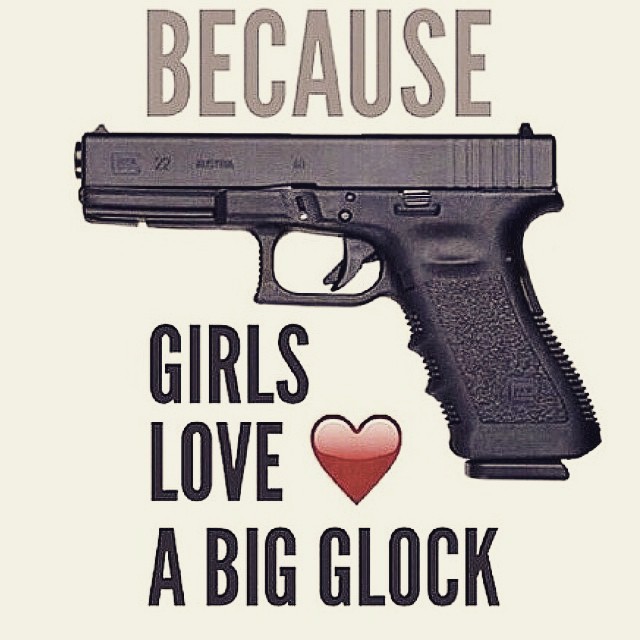 The website for Miss Concealed includes a variety of female gear that they refer to as "hidden heat." These include stylish concealed carry purses and lacy corset belts that contain pouches for your Glock, lipstick, and passport. Boise, Idaho, resident Lorelei Fay founded the retailer in 2014 after she noticed a problem with guns for women. In her view, "there is nothing out there that's even remotely feminine" (Schultz).
Women gun owners appear to be more accepting of at least some restrictive gun policies. Of gun-owning Republican women, 60 percent favor banning assault weapons and 57 percent support creation of a federal gun-sales tracking database, according to a recent Pew survey. That compares with 28 percent and 35 percent, respectively, for Republican men gun owners. (Pew did not include a similar statistic for Democrats) (Schultz).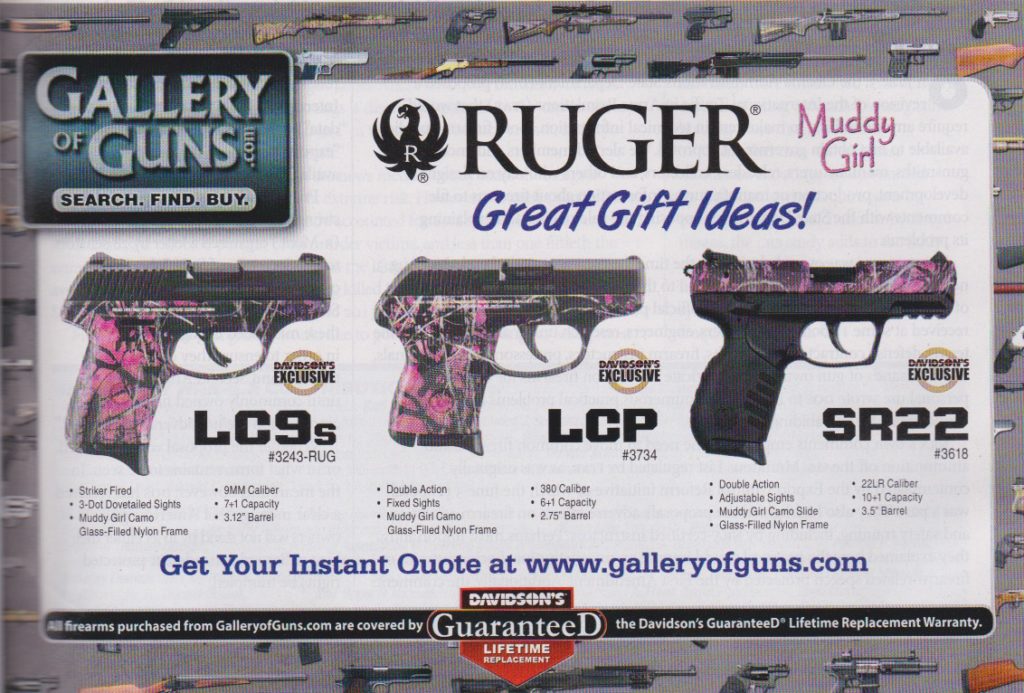 Narrowing the Gender Gap
It's not exactly a surprise that the gun industry is male-dominated; its sales, likewise, are targeted to men – real men, who support an arms trade in guns and ammunition that generates nearly $13 billion in sales. While the targeting of women customers is not new, efforts to do so have been reinvigorated due to the softening of product demand in the post-Obama era. According to one market research firm, Southwick Associates, who specializes in market research for hunting, shooting and sportfishing, they find that women account for 46.8 percent of the 24 million Americans who have yet to purchase a firearm but are interested (Schultz).
"More women are working, more women are single, more women are in their own homes and they have a very unique interest in self-protection that they never had before," says Deb Ferns, co-founder of Babes with Bullets, which runs a traveling firearms academy geared to female first-time gun buyers (Schultz).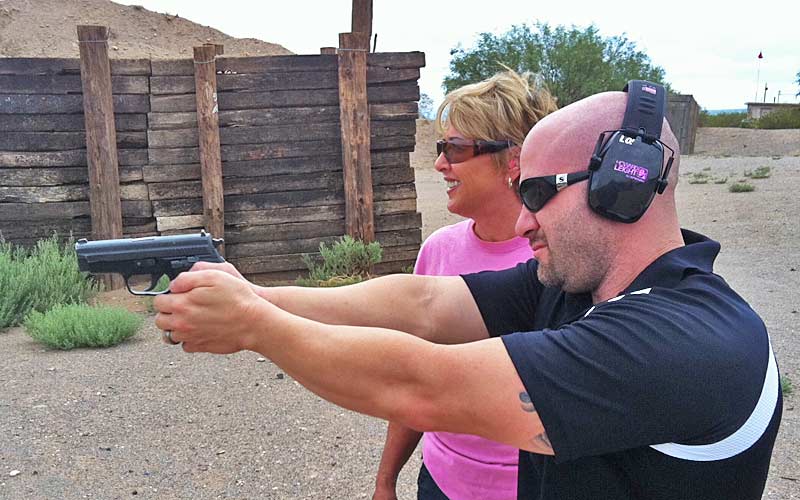 Deb Ferns of Babes with Bullets
Babes with Bullets is backed by manufacturers like Smith & Wesson, who have contributed to sponsoring female training camps (a total of 11 in 2017), which spanned states from California to New Hampshire. Contributions furnished the camps with loaner guns, holsters and other financial support, including gun-range fees. Guns were not made available for purchase at the camps (Schultz).
A forthcoming study by Northeastern and Harvard universities also paints a tightening gender gap, albeit a lower percentage of female owners. Gun ownership among American men dropped from 42 percent in 1994 to 32 percent in 2015 while female ownership increased from 9 percent to 12 percent, according to the Guardian, which got an early look at the data last year (Schultz).
Marketing Rape Scripts
The National Rifle Association is actively promoting the narrative that women need to purchase guns to protect themselves from rapists and domestic abusers. The most visible female supporter of the NRA is the well-known conservative talk show host Dana Loesch, who was last year named as an NRA special adviser on women's policy issues. Her videos are currently running on the NRA TV online network, which is currently promoting female gun ownership at the same time as it attacking Second Amendment critics.
In one video that drew national headlines and backlash, she targeted The New York Times, calling it "an old gray hag," while saying, "We're going to fist the New York Times." "We're coming for you."
In another video, she directly addresses rapists and domestic abusers. "Your life expectancy just got shorter, because there's a very good chance your next target will be armed, trained and ready to exercise her right to choose her life over yours," she says. "This is what real empowerment looks like." (Schultz).
NRA Critics: The Mother Movement
Gun control proponents, including one female-led organization called Moms Demand Action for Gun Sense in America have been pushing back hard against the NRA's marketing initiatives.
Moms Demand Action for Gun Sense in America, founded in 2012, pushes its gun-control agenda with a variety of tactics, including an attention-grabbing one called "stroller jams." These involve crowding statehouse halls with babies and moms armed with infant gear like diaper bags, making it "impossible for lawmakers to get by without answering our questions," says the organization's founder, Shannon Watts, a mother of five who founded the group in the wake of the 2012 Sandy Hook Elementary School shooting (Schultz).
When Sandy Hook happened, "it really spoke to me as a mom," says Watts, a former corporate communications executive who at the time was a stay-at-home mom in Indiana. She looked to join an organization like Mothers Against Drunk Driving, but for gun safety, and couldn't find one. So she started a Facebook page that evolved into an organization created to demand action from legislators, companies and educational institutions to establish gun reforms (Schultz).
Last year, the group won the North American Grand Effie for a campaign called "Groceries Not Guns" by Grey Canada that pressured Kroger and other retailers to ban open carry of guns
in stores (Schultz).
The group says it supports the Second Amendment, but wants "common-sense solutions" to help "decrease the escalating epidemic of gun violence that kills too many of our children and loved ones every day," according to its website. "There's never been a grassroots movement in gun violence prevention. It's really been male-run think tanks mainly to shape federal legislation," says Watts, who now resides in Boulder, Colorado. "For decades the NRA has been able to generate emails and calls and industry meetings and outrage with the flip of a switch, and we needed that kind of power on our side. And we have that now"(Schultz).
According to one spokesperson, "the NRA has figured out … they have to create a culture war now to sell guns. They don't have a bogeyman in the White House to use in their marketing campaign, so they have to make Americans afraid of one another," says Watts (Schultz).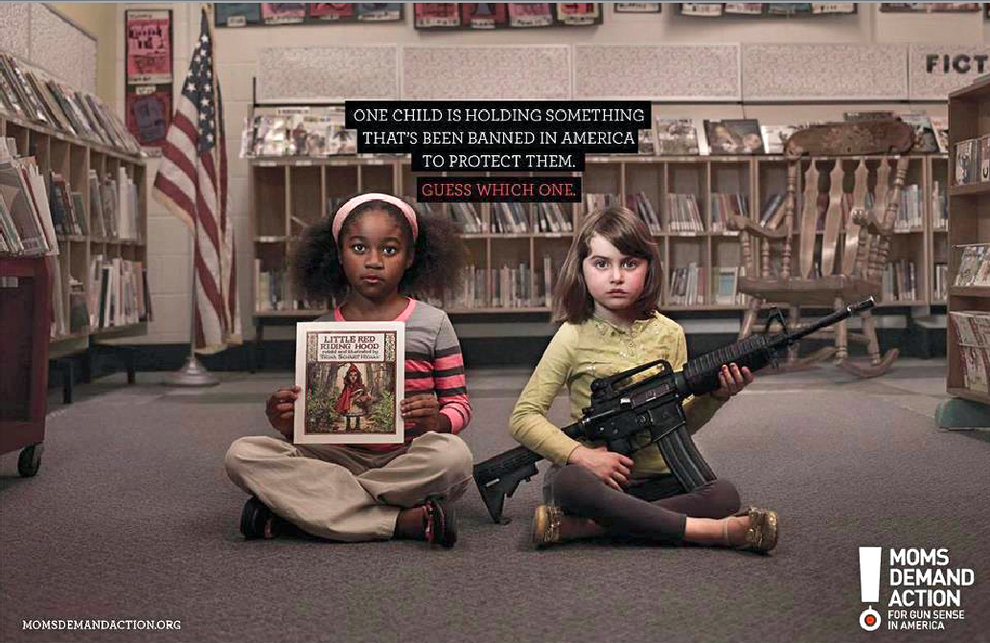 How Do Federal Background Checks for Guns Work?
At the point of purchase (when it's a dealer/retailer) the licensed gun dealer submits paperwork to the FBI, who in turn initiates the background check. There are three databases that together comprise what is known as the NICS (National Instant Criminal Background Check System). The National Crime Information Center contains information on restraining orders and warrants; the Interstate Identification Index holds convictions; and the NICS Index contains records on mental health commitments and dishonorable discharges from the military (Pane).
According to the Northeastern and Harvard study, 1 out of 5 U.S. gun owners who obtained a firearm in the past two years did so without a background check, according to a new national survey conducted by researchers at Northeastern University and Harvard University.
State Law
Complicating matters is the fact that state standards that regulate who can carry a gun in public are often different from the federal standards that regulate who can buy a firearm. Background checks at the state level can also be different.
In Texas, someone applying for a permit can be turned down for being charged with or convicted of certain misdemeanors or for being delinquent in child support — things that don't prevent someone from buying a gun. Texas uses a variety of databases, including NICS as well as statewide criminal databases.
In Hawaii, the standards are more strict. There you need to demonstrate to the local police chief that you have an "exceptional case" and a very specific reason for needing to carry a gun in public. Other states, such as Vermont, don't require a license to carry a firearm (Pane).
Pennsylvania state law regulates people two ways – upon application and at the point of purchase.
APPLICATION: individuals who are 21 years of age or older can apply for a license by submitting a completed application for a Pennsylvania "License to Carry Firearms" (LTCF) to any Pennsylvania County Sheriff's office along with the required fee. The sheriff has 45 days to conduct an investigation to determine an individual's eligibility to be issued a license. Included in the investigation is a background check conducted on the individual through the Pennsylvania Instant Check System (PICS) to determine if the records indicate the individual is prohibited by law. The license is valid for a period of five (5) years unless sooner revoked(PA.gov website).
An individual who is age 18 or older and is licensed to hunt, trap or fish, or who has been issued a permit relating to hunting dogs, may apply for a Sportsman's Firearm Permit by submitting a completed application along with the required fee to the county treasurer's office.  A Sportsman's Firearm Permit is NOT a License to Carry Firearms concealed.
In accordance with 18 PA C.S. §6109, a sheriff may deny an individual the right to a License to Carry Firearms if there is a reason to believe that the character and reputation of the individual are such that they would be likely to act in a manner dangerous to public safety. If the PICS check is approved and the subject is of good character, the sheriff may issue a License to Carry Firearms.
PURCHASE: a license to "carry" firearms in Pa, however, is NOT the same as a license to purchase. Individuals who purchase a firearm from a licensed dealer are required to have a background check conducted regardless of whether they have a license to carry firearms or not (PA.gov website).
VEHICLES: 
Car carry in Pennsylvania is governed in part by 18tC Pa.C.S.A. § 6106. In many states, it is no problem to have a firearm (meaning a handgun) in your vehicle whether you have a license to carry a firearm or not. In Pennsylvania, this is not the case. The minute you enter your vehicle with your firearm, however, it becomes covered under 6106.
Under §6106, "any person who carries a firearm in any vehicle or any person who carries a firearm concealed on or about his person, except in his place of abode or fixed place of business, without a valid and lawfully issued license under this chapter commits a felony of the third degree."
In Pennsylvania the issuance of a "License to Carry Firearms" allows individuals to carry a firearm (not a long gun) concealed on or about their person or in a vehicle throughout the Commonwealth.
Even if your handgun is on your hip, open and exposed, and even if it is on the dash so everyone can see it, the minute you get in the car, it might as well be in your shoulder rig under a jacket.
Pennsylvanians are not breaking the law if they have non-NFA regulated shotguns or rifles (regulated National Firearms Act regulated weapons include machine guns, short-barreled rifles, short-barreled shotguns (SBS), any other weapons AOW or concealable weapons other than pistols or revolvers and silencers) in their car, provided they are not loaded.
No person, even the holder of a LCTF, may carry a loaded long gun in a vehicle.
Pennsylvania, it is worth noting, does not prohibit the carrying of weapons on college campuses, leaving it up to individual institutions make their own rules in regards to where weapons are permitted. Penn State, the University of Pittsburgh, and Temple do not permit the carrying of weapons on campus (USA Today).
"Open Carry" in Pennsylvania
No one needs a special license to open" carry in Pa, but if you enter a vehicle with a firearm w/o the proper license to carry you committed a crime.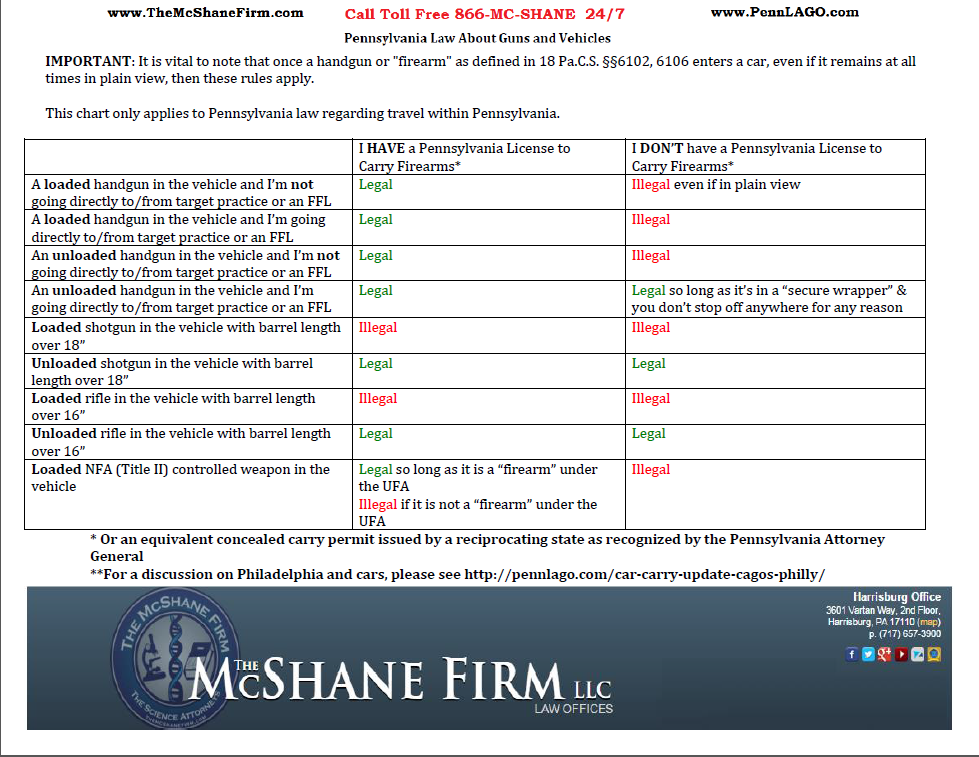 Problematic Social Identities
How Are "Bad Guys" – like Devon Kelly – able to buy guns? Given that federal law forbids anyone convicted of domestic violence from purchasing a firearm, and it also forbids sale to people dishonorably charged from the military – he failed on both counts – how did he get his hands on weapons so easily? For one, the Air Force (his former employer) failed to inform federal law enforcement authorities that Kelley had been court-martialed for assaulting his wife and child (he cracked her son's skull). Consequently, when went to buy guns after he was released from military prison, there was no conviction registered in the database system that was used for the background check. As a result, the purchase was allowed (Pane).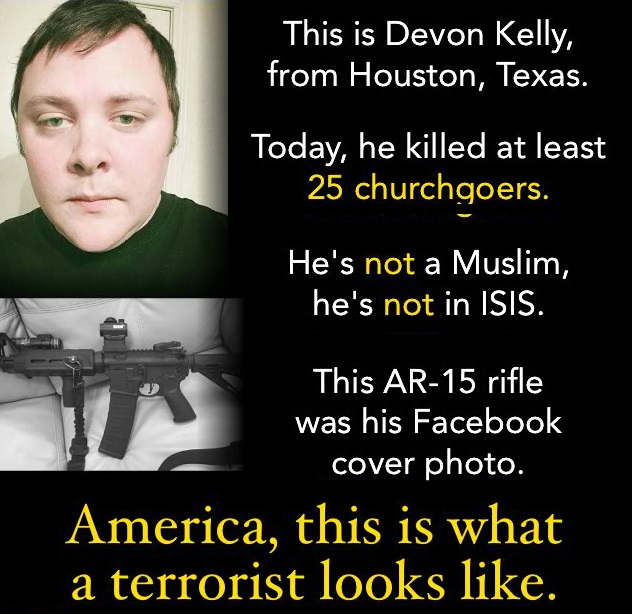 As it turns out, the state of Texas, where Kelly lived, produced documentation that showed Kelley sought a permit in 2015. His application was delayed "due to a possibly disqualifying issue." Kelley at that time failed to respond to the agency's request for additional information and so he was denied. The "disqualifying issue" was not identified, but his 2014 misdemeanor animal-cruelty conviction for beating his dog in Colorado could have been enough (Pane). In short, Kelly was authorized at the Federal level even as he was flagged and denied at the state level.
Trouble in Western Pennsylvania – "Guns Don't Kill People, I Kill People"
Social media was the platform of choice for a Western Pennsylvania man, George Shallenberger, who was arrested on charges of making terroristic threats via Facebook after posting the status update: "Guns Don't Kill People, I Kill People." His threat was directed at teachers on strike in the Ringold School District. Shallenberger also wrote: "f—ing school teachers need to get real jobs. Damn snowflakes." "shoot them and start over." Another post on his page said: "Happiness is a warm gun," which also happens to be the name of a Beatles song.
Holes in the System
The shooting in Texas by Devon Kelly points to what is apparently a gaping hole in the system. Journalists from the Huffington Post submitted requests for comment from the Air Force, Department of Defense, FBI and Department of Justice, all of whom failed to provide a clear explanation on the question of whether or not the the military is routinely submitting domestic violence records to the background check system, as they are required to do under federal law (Miller and Jeltsen).
Consequently, no one knows if the Kelly case was a simple case of one person "falling through the cracks" or if it is an indicator of a systemic failure. There could theoretically be "potentially hundreds or thousands of other convicted domestic abusers whose records were not entered into the background check system by the military"(Miller and Jeltsen).
And what about Law Enforcement Officers (LEOs)? According to peer-reviewed research, Law Enforcement Officers are documented as having disturbingly high rates of domestic abuse. What are the potential problems associated with this? Should law enforcement officers who are convicted of domestic violence lose their right to carry a firearm?
The initial review conducted by journalists found, given a review of military procedural documents, that there was a problematic lack of shared protocol across federal agencies, where reporting variances  across different federal bureaucracies may be preventing the federal background check system, National Instant Background Check System (NICS), from performing effectively (Miller and Jeltsen).
Towards a Theory of Social Identity
Concepts of identity, community, and social solidarity are foundational to the discipline of sociology. These themes, nonetheless, are also highly contested. Broadly defined, researchers have documented that over the course of the last 30 years, guns have evolved from being a simple "tool" used to enjoy sporting activities like hunting. Recently, they have been shown to take on a distinctive symbolic power, where firearms and guns may be implicated in defining a distinctly American form of what gender researchers refer to as "aggrieved entitlement" (Kimmel, 2014) fueled by "toxic masculinity" (R.W. Connell, 2005; Trappen, 2017)
Current theory and research focus on the intersectionality of multiple social identities and how they interact within the context of societal inequality (Patricia Hill Collins, 1990; Crenshaw, 1989). People have identities that situate them within both privileged groups (i.e. white, male, heterosexual, middle and/or upper class) and oppressed groups (i.e. female, person of color, poor, gay, disabled, or working class) (Twine, 2013). In this respect, it is critical that we understand the complexity of the self-making process and how it may interact with violence, as people develop their social awareness and in some cases change their social positions. An intersectional approach, taking into account race, class, gender, sexuality, can perhaps explain the complex and often contradictory experiences of differently situated people when it comes to understanding how they process their social identity in connection with firearms and guns (Trappen, 2017).
"Knowledge Wars: Firearms, College Students, and Social Identity," Paper Presented at the American Society of Criminology Annual Meeting, Philadelphia, Pa, by Sandra L. Trappen, 2017.
Girls With Guns: Firearms, Feminism, and Militarism, by Francine Widdance Twine, 2013.
Angry White Men: American Masculinity at the End of an Era, by Michael Kimmel, 2015.
Masculinities. Second Edition, by R. W. Connell, (1995) 2005.
Discussion Questions (none of this information is being used for research purposes and you may answer anonymously using a pseudonym/nom de plume)
How do you identify yourself – man, woman, nonbinary? Middle class or working class?
Did you grow up in a household with guns or have you lived in a house at some point in your life where there were guns?
Have you ever owned a gun? If you own a gun, what does owning a gun mean to you?
Have you ever fired a gun? If so, what does it feel like to fire a gun?
Of the people you know that own guns, do they tend to be men or women?
Do you feel that attempts to regulate firearms represent an assault on your personal freedom?
Do you think young people who are civilians have different perspectives on firearms than their military peers?
Military men and women generally live in accordance with restrictions on their access to firearms. Why do you think many civilians feel that they should have more/easier access to weapons than members of the military?
If you served in the military, how might this experience influence your perspective on firearms? What did the military teach you about firearms that may be lacking in civilians?