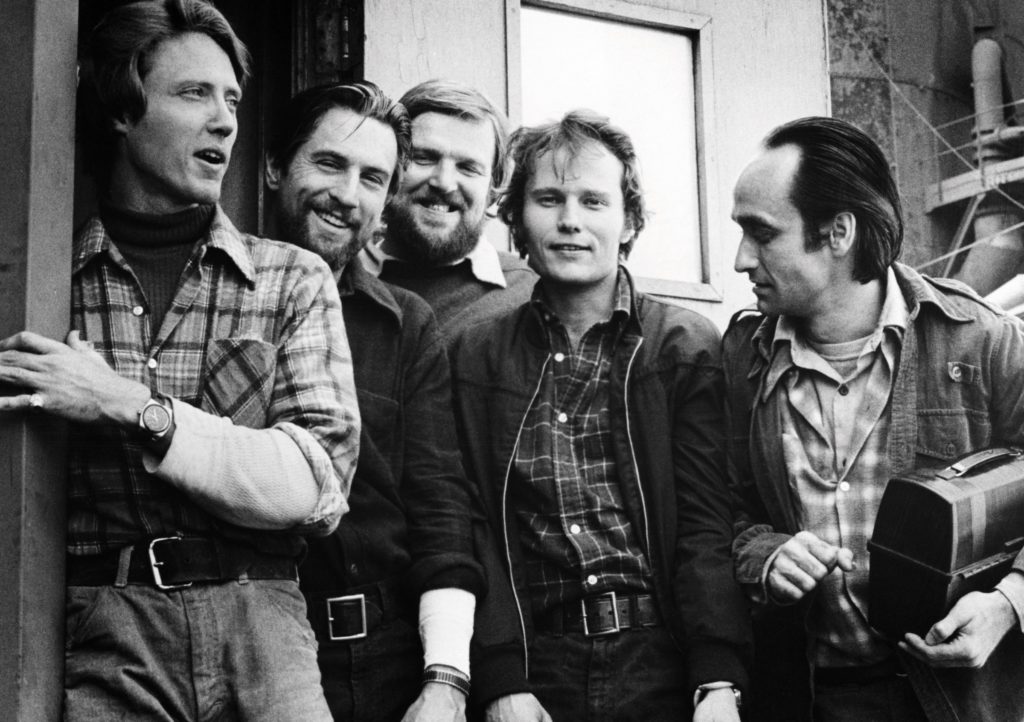 Michael Cimino's 1978 film, "The Deer Hunter," tells the story of the Vietnam war from the perspective of a close-knit group of Eastern European ethnic-American steelworkers, who enlist in the Army to fight in Vietnam. Major scenes in the movie were filmed at various locations in the old steel towns that dot the shores of the Ohio and Monongahela Rivers near Pittsburgh. Significantly, mills like the one in Clairton (pictured below) produced the steel for the auto industry. Their blast furnaces forged steel beams that gave rise to cities and they helped prime the pump of America's war machine; yet to be clear, this was bought with the purchase of working-class men and women not unlike those depicted in the film, who volunteered for military service and were themselves served up like hominoid grist for the mill.
While the war experience and the personal narratives of the film's main characters constitute the central plotline, lingering under the surface is a story about loss that is also a story about race, place, identity, and economic decline. Not listed among the film credits is an unnamed but no less powerful character – violence – which is the social glue that binds them all together.
In the opening sequence, we are treated to images of a steel mill that hulks in the distance behind a dilapidated house. Cimino never intended the story to be set in one town, but rather drew from an amalgam of iconographic industrial scenes from locations in the Mon Valley, including Mckeesport, Duquesne, Clairton, and beyond.  Bar and mill scenes were shot in a bar in Mingo Junction, Ohio; whereas, the wedding scenes were filmed inside St. Theodosius Russian Orthodox Church in Cleveland, Ohio.
Becoming Broken
The landscape of Clairton suggests to me a coming into being of multiple actors including humans, objects, ecologies, and affects. Pictured below, the town and its mill evoke a "Blade Runner" aesthetic: saturated in purple-blue haze, it stands at a crossroads in time. The smokestacks billowing acrid smoke still bring tears to my eyes. I recall trying to hold my breath as a child to avoid inhaling the particulates that fouled the air when I visited with my family. The chimney carcasses stand like grave markers watching over an abandoned landscape of a not quite dead yet town, where many had their lives undone by the forces of deindustrialization that ravaged the region during the late 1970's and early 1980's. I paid my respects at these memorials last summer.
To look at the streets here is to experience void. The absent presence of people, many of whom passed long ago, can still be felt. There is an attraction that I find here is irresistible; the ghost-town-like quality of the area resonates with abandonment "porn" that appeals enormously to the imagination.  You can walk through places like Clairton or Mckeesport, where I was born, and imagine the past in the present. You can make it your own. You can write yourself into the script, as Cimino did, filling that void by inventing a life story for his characters who were people who might have lived here, there, and everywhere.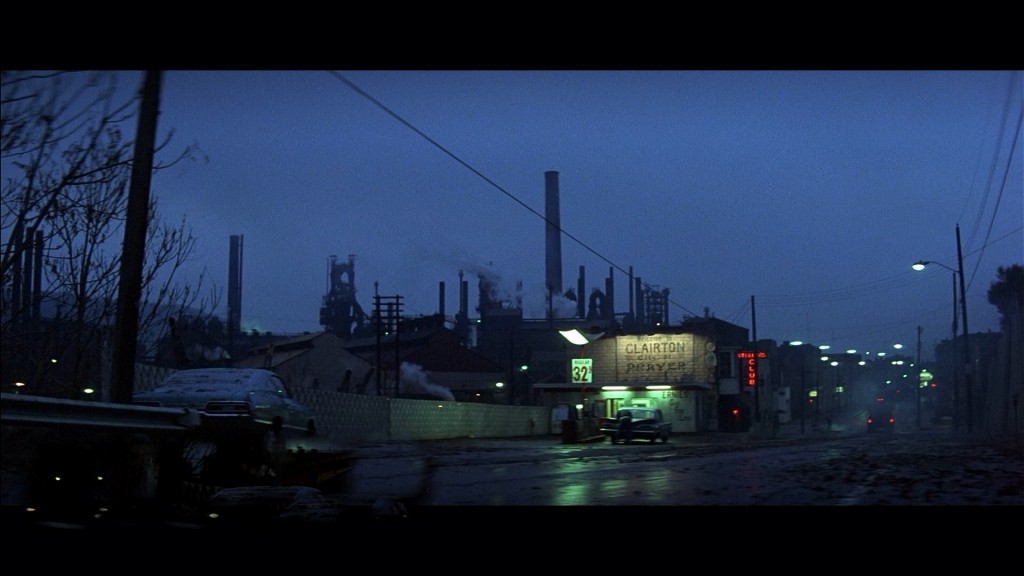 Clairton, Pennsylvania, "City of Prayer"
Lethal Nostalgia
Cities are born and then they die. Perhaps this is why they touch us, because they are ephemeral like the humans that create and inhabit them. The steel towns of the Mon Valley may be in decline, nonetheless, they still inspire. There is comfort in the familiar here even as there is estrangement. To pass through these valleys and hollows is to experience at once identity continuity on one level but also loss and despair. Author Deborah Rudacille refers to this feeling as "smokestack nostalgia" – the feeling of yearning for a vanishing industrial past in the United States (Rudacille, 2010). The human industrial landscape that I am writing about is a terrain with which I am personally well-acquainted. My own father grew up in this place during the time period that pre-dates the film (1950's and 60's) where he attended Clairton high school. An odd point of fact, we often drove past this dimly lit billboard when visiting his father, who worked in the mill. Frozen in time, these scenes form a backdrop for both the film and my own life story. As such, I find it difficult to avoid comparisons when I watch the film – comparisons between the slow death of the town's socio-economic and environmental vitality and the cinematic death that we see valorized in the film – a kill shot from a single bullet to the head. Man and animal meet the same fate, where meat meets metal and all that is solid melts into a wisp of gun smoke.
Bachelor Machines: A Wedding, A War, and a Funeral
The film story begins with men at work in a steel mill somewhere in Pennsylvania. After work, they retire to the local tavern to drink and sing "I Love You Baby" playing on the jukebox. This is life as good as it gets. But even the audience knows now that things are going to get a lot worse before they get better. Or not.
Cut to a scene at a local American Legion. The wedding of one of the major characters signifies a classic right of passage and there is some cinematic foreshadowing of the lives that will soon be forever changed. At the end of the night, the friends gather together for one last deer hunting trip. Afterwards, the narrative transitions to war – to Vietnam – where the focus is on the men's experience and what happens when they return.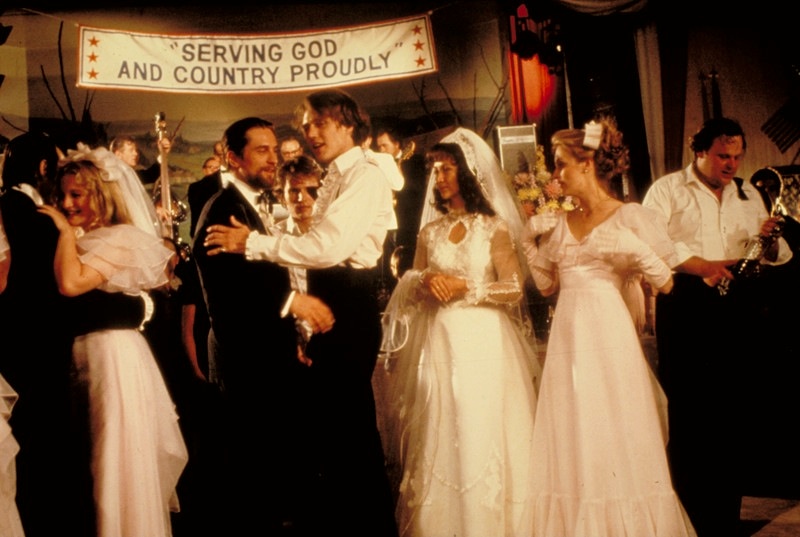 Oddly enough, despite the casting of Meryl Streep here, there is little focus or development on the lives of the women. But then this portrayal was and still remains somewhat consistent with the local culture. In this, the film renders an accurate depiction of the vicissitudes of steel-town life. This is a place where men are the primary actors.  The plot, much like life in general here, revolves around men and so it is fitting that we learn the most about their desires and failed dreams. The women are merely decorative; they are surface without depth. They support. And they wait with desires repressed and referred to an unknowable future that never arrives by the film's end.
The Deer Hunter, as a film, engages a number of narrative tropes that are by now familiar to reading as well as viewing audiences: rights of passage, male bonding, escaping life in a small town, moral dilemmas, unfulfilled desire, and senseless violence. But it also goes far beyond these plot devices, as it challenges us to think about the transformative powers of war and violence and the concept of the "American Dream" – notably its failure to be achieved — within the context of small-town rituals and interpersonal relationships, which people turn to in order to find meaning in a difficult and violent world.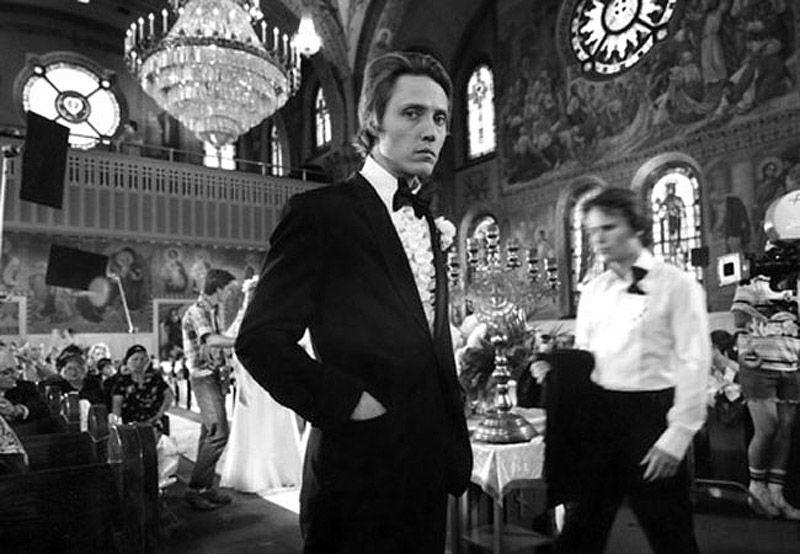 The Hunt – One Shot is What It's All About
In what remains one of the film's most riveting scenes – Robert DeNiro's "one shot/one kill" sequence – we are still at a point in the film where we imagine shooting a deer is supposed to mean something. The question What does it mean to shoot a deer elides an even deeper more important question – What does it mean to shoot a person?  And once a person crosses that line, we can't help but wonder- can they ever come back again?
That the film takes place during the time period that follows the celebratory post-WWII era is not a coincidence. "American Celebration" narratives, to borrow C. Wright Mills term (and the more recent "Wounded Warrior" narratives) evoke different forms of the Horatio Alger myth to tell the story of war and combat injury. They follow a predictable arc, which we see play out in different ways in the film, as the men attempt to overcome the trauma they experienced through affected dramatic efforts. The overcoming of injury and physical adversity is the elemental core of this "redemption narrative" which I want to suggest here that we rethink as a regeneration narrative – what Casandra Crawford refers to as "prostheticized rebirth." In the case of the former, while they may be emotionally engaging, redemption narratives tend to be problematic for reasons that they are non-critical.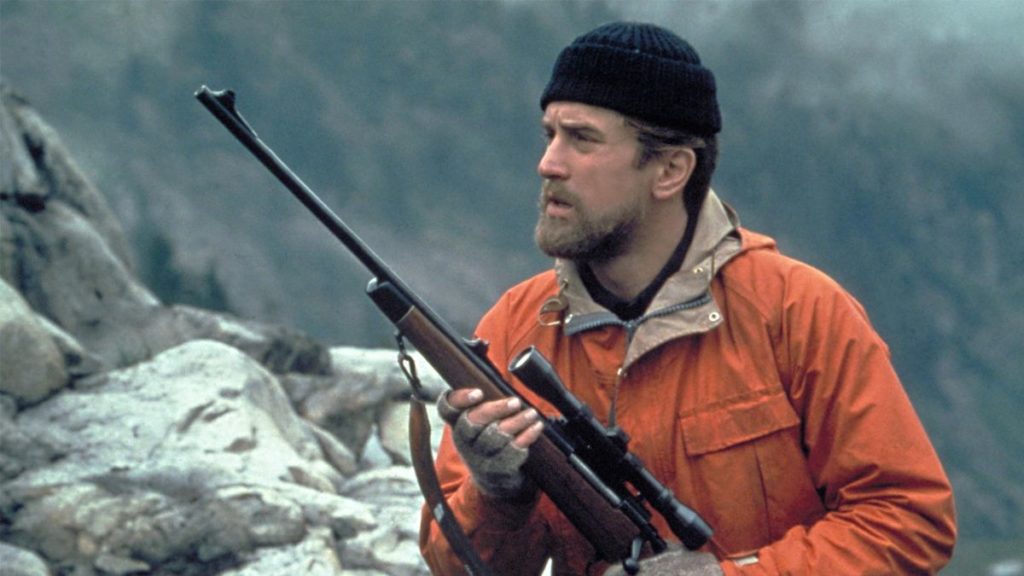 If we consider the World War II time period was a second industrial revolution (given technology innovations in automobiles, airplanes, radio, and film) the period of the 1970's signaled a transition away from economic prosperity, as many men (and women too) lost their way and were treated as discards of a broken system.  In this respect, the people from broken steel towns are in many ways like DiNiro's Michael. As collateral damage in human form, they share dynamic resonance with the empty metal jacket/shell casings that eject from a rifle after a round is fired. The metaphor in this instance is further suggestive of Freud's concept of the "skin ego" —a  notional term he used to address the problem of mind-body dualism, which he conceived as "a mental projection of the surface of the body." This concept aimed to describe the conceptual interface between inside and outside, which he understood as relevant to understanding the container/contained relationship, which was essential to human psychic development (for more on this see Freud, S. The Ego and the Id. In J. Strachey (Ed. and Trans.), [1923] 1961).
Freud used the terms "binding" and "unbinding" to describe different states of human instinctual energy: bound (submits to control) unbound (open to discharge). When the ego is breached, such as the case when a person undergoes a shock – war – the process of ego integration is threatened. This produces a need to shield the ego subsequent to its breaching, fortify it. But this also has an impact on both body and body image; it tortures a body for reasons that their inside/outside are forced to contend with doubt as well as a desire to return to the "pre-war" state of mind and body. Body armoring and aggressive tendencies are suspended and held in dynamic tension via the bodily ego. The retreat into silence and self – a self divided from itself – is a compensation.  Though in some cases, this unresolved tension produces a desire to destroy one's self.
Without question then, this picture serves up one of the greatest trauma narratives in film history. Symbolically speaking, the rifle exemplifies what the cultural studies scholar, Hal Foster (and Freud too) refers to as both a "magnificent" extension of the body and a "troubled" constriction of it. The man-machine conjunction is necessary for him to thrive, indeed to survive, the post military-industrial epoch of capitalism, where men like Michael are left with no choice but to embrace a fetishistic process of reification, such that man, weapon, and body become one. Note that this is a fetishistic operation because the rifle, as an agent of trauma, is idealized and turned into a shield against trauma.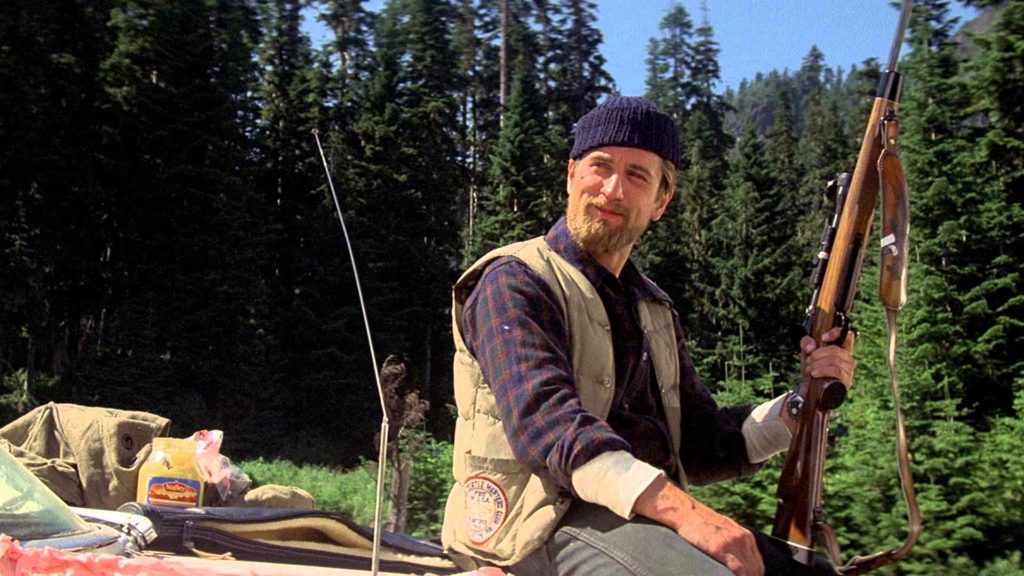 There are two separate but related fantasies operating here: to be self-born (procreation without the need of a woman) and to become a machine-phallus. The forging of weapon and body produces, theoretically if not always practically, a technological hybrid. Michael, in this instance, typifies the men who are empty metal jackets; he uses the rifle and the hunt to undertake what is essentially a self-making project: he fashions himself into a hard surface projection in an effort to help reinforce the skin of his bullet-body. He fuses his desiring impulse to create (and procreate) with the impulse to destroy.  Michael achieves a form of physical rebirth, as his object aim (shooting the deer) helps him experience transcendence through technological enhancement.
This "new man"/body/subject, however, can only emerge as a result of the death of the old one. Men like Michael are forced to confront a kind of death, even if it is only a living death, in order to stake out a future life, where technology offers a way to move beyond death; true peace and solace are only to be found when the inorganic-technological becomes the epitome of the human. Put into other words, the hunt is a fantasy about phallic extension and technological procreation; it further suggests we may have arrived in a place in history where women may no longer be needed, as gender too may be subject to collapse.
This course of development, which can be seen as a variation of Simone De Beauvoir's "becoming flesh," resonates with Marx's classical theory of the "fetish" and Deleuze's notion of a "becoming" body; though here, I think contemporary work in affect theory potentially offers greater insight into how we might conceive the entanglement of flesh and machine. Ultimately, the problem Foster explains is that the best protection against this form of modern mass death is to be deader than dead. Reification thus yields to a libidinal process, as man desires and pursues self-alienation, even his own destruction, as the most sublime of modern experiences (Foster, 2006).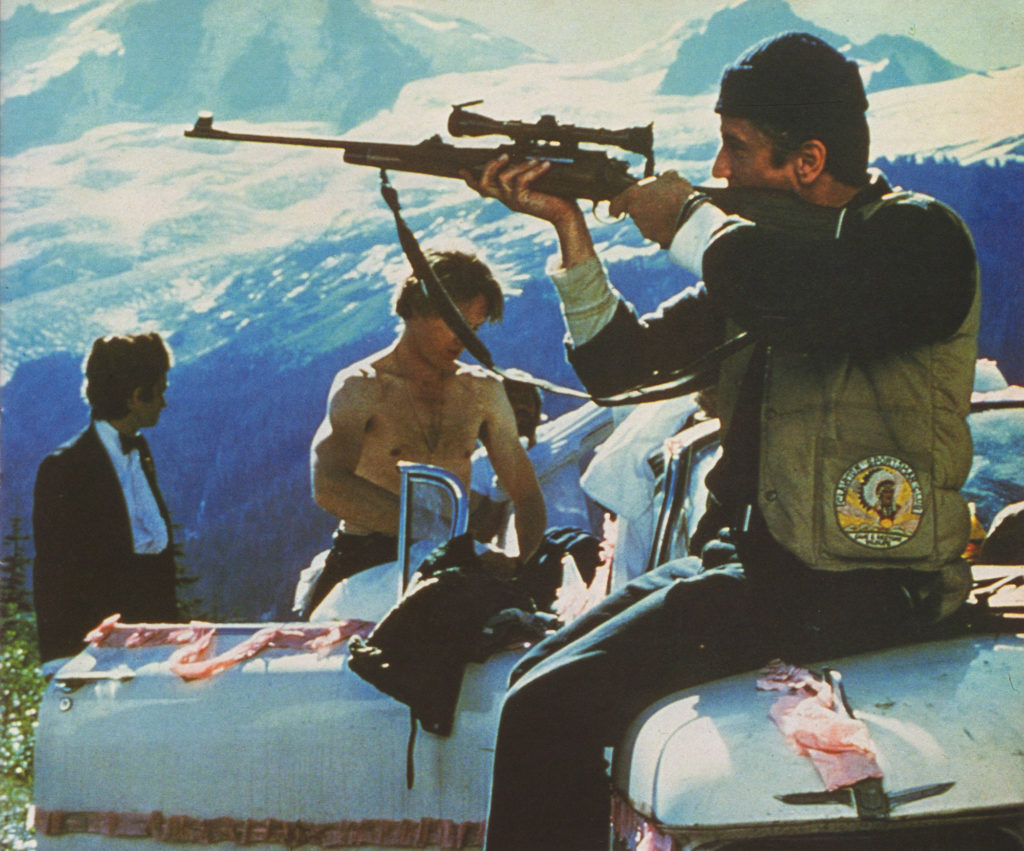 The Political Economy of Violence
In the Deer Hunter, it is difficult to escape the vortex of violence that envelops everyone – the interconnected social currents of life-taking and life-making. The film, in this respect, provides philosophical insight into the cycles of violence that continue to shape our world and what it means to be human. The causes of the violence represented in the film are not always distinct. In this, they remain elusive much like the hopes, dreams, and feelings of everyone depicted here. The hollowed out bodies of the major characters, who represent us all, are revealed to be disposable. This occurs even as their bodies comprise a form of intelligible, communicable terrain, where death, pain, and injury enter into a circulation that constitutes the raw matter of knowledge production. Everyone in this film is a casualty of war – even those who remained behind on the homefront.
At the film's center is perhaps one of the most psychologically disturbing sequences ever created in modern filmmaking. The three main characters are taken prisoner and are forced to play a game of Russian roulette, while their captors watch and place bets on who will blow their brains out first. The game here obviously epitomizes the brutality of war, but it also calls into question war's calculus of combat death.  For it is in this moment we see reflected how the speculative wagering on the men is not unlike the actual life circumstances of many men who were drafted to fight during the Vietnam war. The human lottery that determined their draft selection was no less brutal; and it certainly wasn't random as people were led to believe. Efforts were undertaken by local draft boards to make an individual's selection only appear to be random. Lottery selection procedures were deliberately unassuming in their design – a simple blue capsule withdrawn from a glass bowl. Unseen was the apparatus of power that held everything together — raw power expressed via the act of performing a game of human coin toss – one that put actual lives at stake. The small game depicted in the film thus belies a much bigger game that continues to be played in our current time. (Trappen, 2013).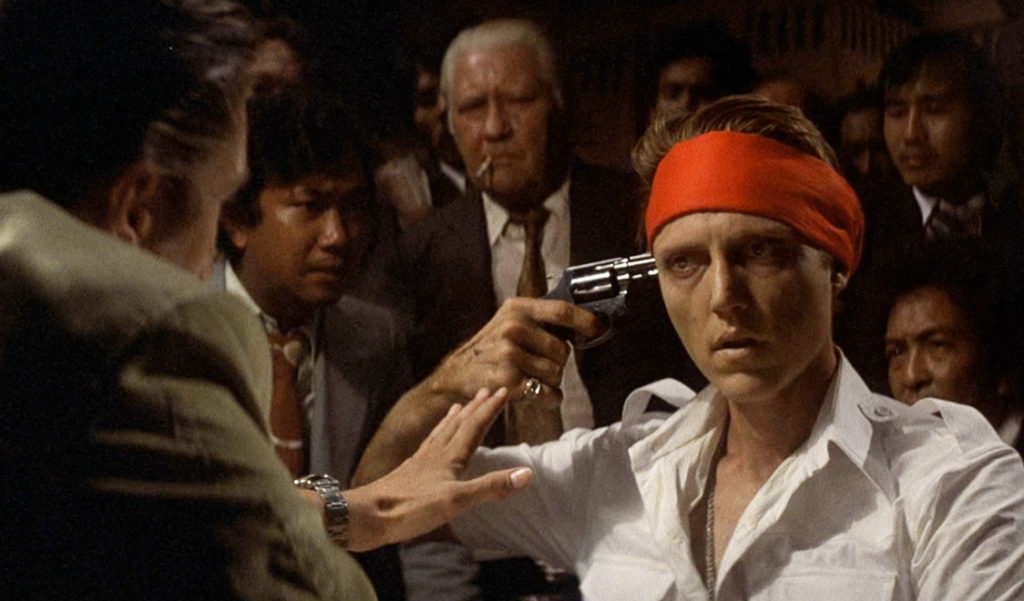 The allegorical power of the game is noteworthy, even masterful. For what happens in this scene applies to the war as a whole: violence is random, senseless, and devoid of any meaning. The speculative realism of the game of life reduced to a trigger pull as it at the same time serves to authenticate war's human carnage. As a result, there was no need for Cimino to foreground polemics by making ideological statements about the war. He presents his audience with a series of contradictions and conflicts that, much like the war, are never fully resolved.
Thus we are left to wrestle with untangling deeply interconnected social forces  – economic, cultural, and political – which are felt to be inevitable and are at times overwhelming. They produce a heavy sense of foreboding that stands in contrast with the opening celebration in the film.
The Return of Odysseus & Oedipus
Odysseus, King of Ithaca and hero of Homer's epic poem the Odyssey, plays a key role here through the narrative lived by Michael's character. Odysseus is the archetypal wanderer, whose defining trait is his not so much his brawn, but his intellect. Michael, of course, shares this trait; he's the thinking man's warrior; a stranger in a strange land. Both men took up a journey that we see unfold not only in the material world but also in the immaterial world of depth psychology. It is through Michael's different journeys to Vietnam and his return to Pennsylvania – the return to "life and light" – that we are provided an opportunity to think about what happens to men (and now women) when they go to war. How does war change them? What must they do to survive? Can they return to their "normal" life if they manage to live through the shock of such an experience? For answers, I suggest a turn to psychology.
In what might be seen as a creative elaboration of the Oedipus myth, rather than imagining his own conception in such a way that he is father, mother, and son, DeNiro's (Cimino's) man-machine conjunction signifies a return to a pre-Oedipal state, where there is no conflict over sex, sex difference, and lack. The hunt, in this respect, represents a technological rite of passage. The man that emerged was a technological phallus free from the anxiety of human castration, but not free from the anxiety produced by the desire to self-immolate.
Unlike the character played by Christopher Walken (Nick), De Niro's Michael is the one who survives. He escapes the prison camp and helps the others. At last, when our 'hero" Michael returns home, he is forced to confront the silence that is within him and all around him. Everything is changed. He is changed. Michael is touched briefly by desire for his best friend's girl (Streep), though he doesn't follow through on that desire. He is beyond desire. The hometown people, while they celebrate his return, don't quite know what to make of him. Even Streep's character is both attracted and repelled. Michael, like Odysseus before him, seems torn between remembering and forgetting.
During his visit at home, he stops by the VA hospital to see his friend (Savage) who is there recovering as a result of losing both legs. It was here that he learned his other friend (Walken) was not dead, but still alive and playing Russian roulette professionally in Vietnam. Recalling his youthful promise made at the wedding – that he would never leave him in Vietnam – the stage is set for another kind of return that is in many ways evocative of Joseph Conrad's "Heart of Darkness."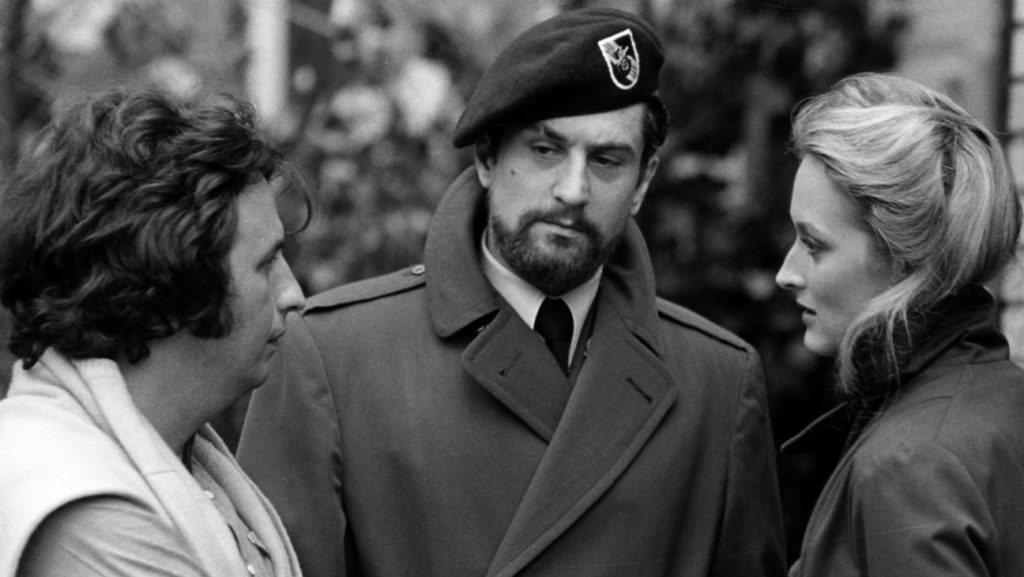 Toward a Feminist Theory of War – War is SCUM
Valerie Solanas, writing at the height of the Vietnam War, expressed a radically unique if not an altogether colorful vision of a world without war and men when she conceived "the Society for Cutting Up Men" (SCUM). Her now infamous fantasy world was one she hoped to realize through the deliberate act of cutting up men -"in the dark with a 6 -inch blade." The central argument of this work, of course, was that men ruined the world, leaving only women to fix it (Solanas, 1967). I incorporate some elements of this critique into my own theorizing about the impact that war and violence have on people and their bodies.
As for war, she was clear about the role men played: they were compensating for not being female, intent on only one thing — getting their "Big Gun off" (Solanas, 1967).  This suggests to me that an epistemology of violence is operating here; one that might be used to produce "cutting knowledge," which I want to focus on as I propose we rethink the problem of war and violence through a focus on the body and subjectivity. This might, in turn, inform a feminist theory of war — one that interrogates the gendered ways of knowing that undergird the logic and ethics of not only war, but the ecologies of violence war produces. Wounded bodies produced as a result of war are potentially bound up with other bodies and social problems that are of concern to scholars that study violence (crime, poverty, school shootings, police militarization). For example, wounded veterans may become violent police officers. The violent culture that war produces potentially imbricates the violence that motivates school shooters – structural violence and interpersonal violence are thus potentially linked.
In suggesting this approach, I return the problem of war to analytical ground that is conventionally associated with women – to the body and life itself. I will argue among other things that war's human terrain demonstrates how institutions do not so much aim to fully assimilate and/or incorporate female identity- one of the assumptions of progressive politics – but to distinguish it, even as this identity is rendered unstable, never fully discarding gender as a productive mechanism of social control.
This understanding has implications for gender theory, as my framing of the problem of war and violence as a problem of the body does not rely upon the more classic social identity critique of "boys" and "girls" bodies. Rather, I position my work to demonstrate the increasingly complex ways that war and violence objectify and produce bodies across a more diverse relational spectrum.  Fixed identities and gendered notions of personhood,  while they remain superficially meaningful to many, cannot alone explain the contradictions of embodiment and subjectivity when it comes to armed conflict. Injuries might be put to labor in ways that both reify and obliterate gender, and thereby challenge the very idea of "who makes and who is made" (Haraway, 1991). Gender critique, particularly identity-based critique, must be adapted in order to remain relevant.
In making their triumphant return, strong men like Michael were revealed to be conflicted, broken, passive, and ineffectual. But even in failure, they might still take comfort in the fact that they are not women. Ironically, their fate in the film is one that is shared in common with the women, who are similarly captives of their own life choices. The women characters, for the most part, lack self-definition; what is more, they only achieve definition through their relationship to marriage and men. In the end, this suggests war produces men and women without regard for their differentiated bodies and social status; war makes damaged people and discards them, only to reassemble them in new and perhaps unimagined bodily configurations, where they may be left with a body that is unmarked by gender.
Toward this end, the political economy of war is such that capitalism, under neoliberalism, progressively demonstrates that it no longer needs to produce distinctly articulated bodies. War unbinds and undoes a body so that it can be valued on the basis of pieces and parts; whole bodies are not essential nor are they always essentialized. War and violence, in this manner, work in different ways to facilitate social reproduction through means that approximate techno-industrial procreation –  a process that historically and perhaps now more than ever depends on the mutilation, suffering, and cutting up of men. War is destructive but is also generative.
My efforts to consider how we might think about war and violence through the bodies and subjects they produce again requires a re-thinking about how multiple actors including humans, objects, ecologies, and affects might be brought together, where they construct, contest, and constitute new capital formations. Likewise, this leads to questions about how all of this intervenes in economic conditions in multiple and heterogeneous ways.
With that, it is through this effort to link war with subjective, ontological, corporeal, psychological, and the social, that I make a feminist case for why it is essential to understand the role that violence plays in social theory in these times.
Coda: Human Arbitrage
Equally important is what is left unsaid in the film. Not one of the major characters ever questions their participation in the war. They passively accept their fate as draftees and economic refugees. This contradiction illustrates the psychoanalytic dynamic of "power" and "powerlessness" that characterizes in one sense how broken men resort to guns as a way to demonstrate mastery. In this example, powerlessness gives way to acceptance of fate. The ways in which they all lose their bodies, minds, and sense of self is to some degree one of the more frightening aspects of the film.
I also want to add here that this narrative about war and wounding is part of a long-standing discourse that represents an attempt to shape discussion about who is the victim in American history. This brings up questions like: Whose sacrifice matters? Whose pain matters? Whose dreams matter? For many people, the answer is white men. While the film itself does not address issues of race, the narrative clearly foregrounds the lives of working-class white men; the non-white men who inhabit these social spaces are thus invisible. As such, they too have been rendered disposable like their white counterparts, even though they remain out of the frame. In the film, as in war, the ideology of white supremacy works to help white people remember what they want to remember and forget what they want to forget. In the end, we are left with more questions than answers. I think about the contradictions implied here as I approach my current empirical research on guns and social identity. Where to go from here?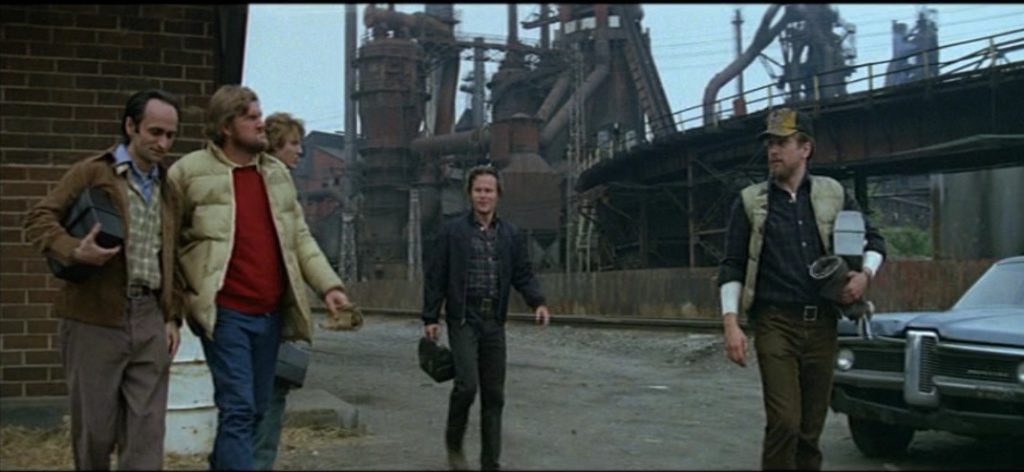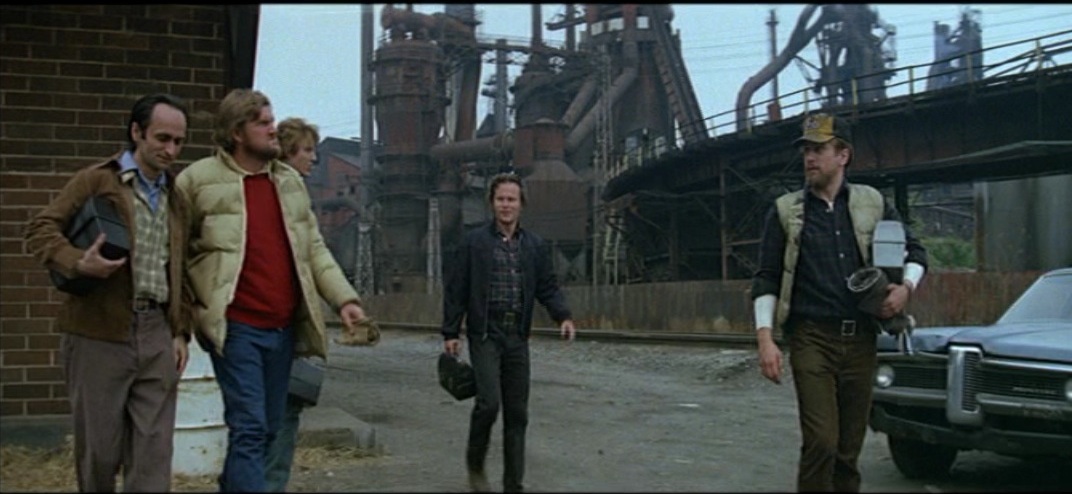 Sources
Sigmund Freud, The Ego and the Id. In J. Strachey (Ed. and Trans.). The standard edition of the complete psychological works of Sigmund Freud. Vol. 19, pp. 3 – 66. London: Hogarth Press, [1923] 1961).
Hal Foster, Prosthetic Gods. The MIT Press: Cambridge, Massachusetts and London, England, 2006: p. 109.
Donna Haraway, "A Cyborg Manifesto: Science, Technology, and Socialist-Feminism in the Late Twentieth Century." in Simians, Cyborgs and Women: The Reinvention of Nature. New York: Routledge, 1991: p. 219.
Deborah Rudicille, "A Lethal Nostalgia: Steel mills, coal mines and blast furnaces have killed and poisoned thousands of Americans – so why mourn their passing?" 2010.
Sandra Trappen, "Mayberry R.F.D. Will Not Be Presented Tonight." Social TextPeriscope, June 17, 2013.
Discussion Questions
What is the appeal of military service to working class people? 
Why do you think the people who stand to benefit the least financially from war sacrifice the most (namely, the bodies and lives of their kids) to advance the cause of war in society? What do they get out of their military service?
What does the research say is the reason most people join the military? How are these reasons different from the way "service" is portrayed in the media and popular discourse?
How do race, social class, and gender define how we see the characters and how they see themselves in terms of their aspirations and how they see their future?
How does violence function in a world where social and economic bonds come under stress? Are war, conflict, and violence the cause or the effect?
Film Trailer, 1978