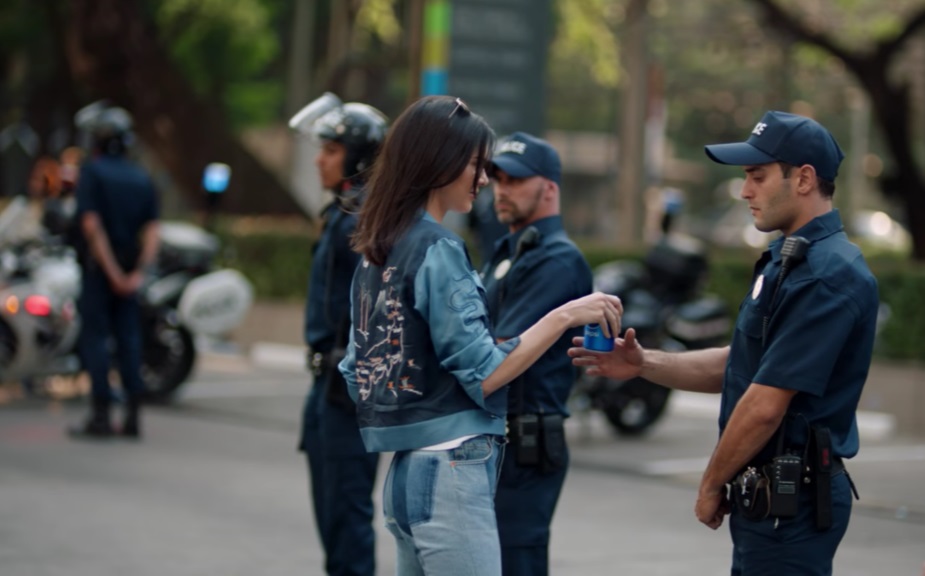 Kendall Protests in the Theater of the Absurd
In the latest chapter of the soda wars, spokesmodel and Social Justice Warrior Kendall Jenner figures out the root cause of all the public protest and rioting isn't state-sanctioned violence; it's thirsty police! We're not really sure from the clip what blissfully generic cause Kendall and her friends are protesting – #BlackLivesMatter? #ReisistTrump? It's anybody's guess. Whatevs. Hot cop alert! Everyone drink Pepsi!
The ad manages to hit all the right SJW notes, as it offers us a parade of cool diverse young people marching in the street: there's a black man giving daps, a goateed music man playing the cello, a hijab-wearing Muslim woman making signs, and a group of young brunchers passively enjoying a side of protest ambiance with their vegan omelettes.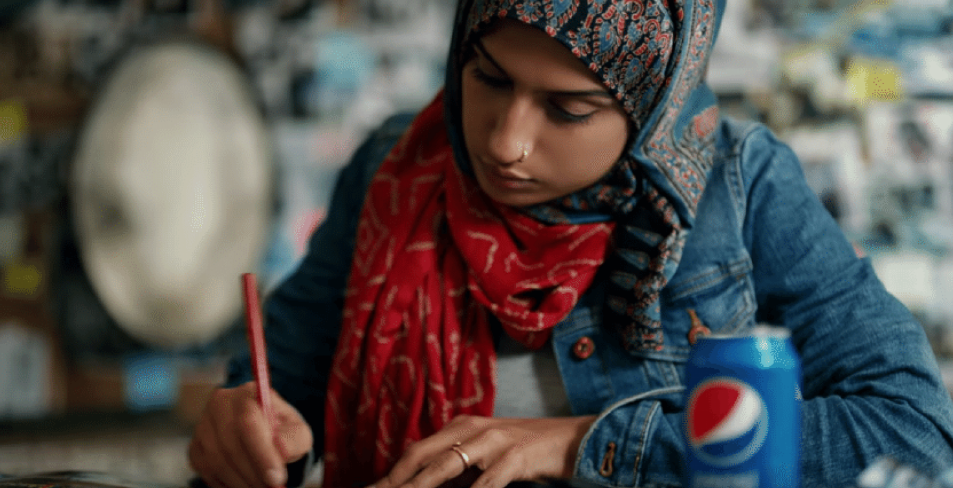 By the closing scene of the clip, Kendall completes her transformation from disinterested blonde model to raven cropped "woke" social justice warrior. She rallies the crowd with her simple act of bravery by offering the cute police officer a cold beverage – a symbolic gesture aimed at overcoming the social division between protestors and authorities. The crowd goes wild. Thanks for bringing us freedom, Kendall! "Live Bolder" says Pepsi. Ain't social justice cool?
Not surprisingly, social media backlash against the ad was overwhelmingly negative. Pepsi issued a swift apology on Twitter after pulling the ad in less than 24 hours.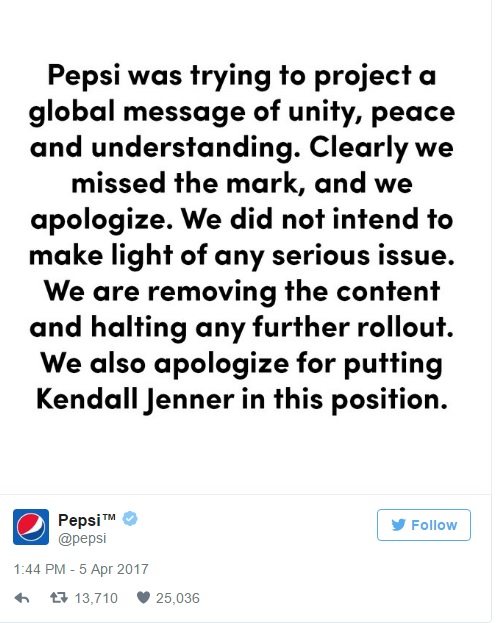 The disturbing premise underneath it all was that a reality TV star/model could stop a protest and end America's systemic violence problem with a can of soda. Charles Blow, a columnist for the New York Times, tweeted he would boycott Pepsi products until the brand apologized for "this blasphemy," as the ad invited comparisons with the now iconic Black Lives Matter photo of nurse Ieshia Evans being arrested in Baton Rouge, Louisiana in July 2016 (Nicholson).
Watch the Pepsi Ad here (the most effective Coke commercial ever). It looks like Kendall is "complicit."
The History of the Soda Wars
Nicholson's Guardian article highlighted the history of the soda wars, where she reported the following:
"In 1964, Pepsi first used the slogan "the Pepsi Generation", which targeted young people and offered its customers an identity based on their allegiance to Pepsi, rather than its competitor, Coca-Cola. In an attempt to win over young, broke people that might also resonate with millennials, Pepsi highlighted the fact that it was cheaper than Coke. "Who is the Pepsi Generation?" asked a voiceover on one of its ads. "Just about everyone with the young view of things. Livelier, active people with a liking for Pepsi-Cola!" This, in turn, inspired perhaps the most famous use of activism in advertising history: Coca-Cola's "I'd like to buy the world a Coke" ad from 1971. According to its songwriter, Roger Greenaway, using bohemian-looking, racially diverse young people to sing about togetherness did have a point to make. "I think it was the flower-power era, and most of America was tiring of the Vietnam war. The lyric, although not overtly anti-war, delivered a message of peace and camaraderie," he explained in 2015."
1971 Coke Ad
What's the Big Deal?
So what's the problem here? Isn't protesting the hot new trend? Why everyone so turnt? PC culture run amok? Why do people have to be so sensitive?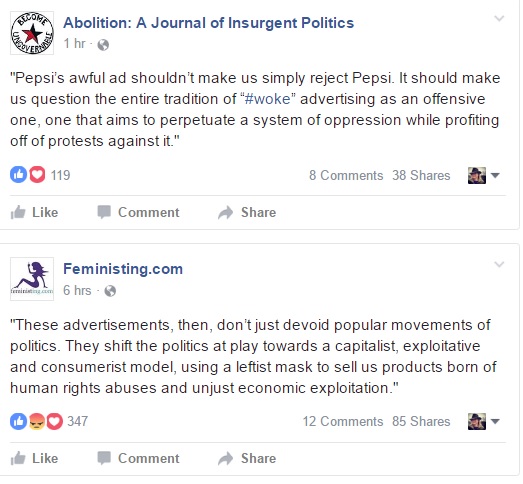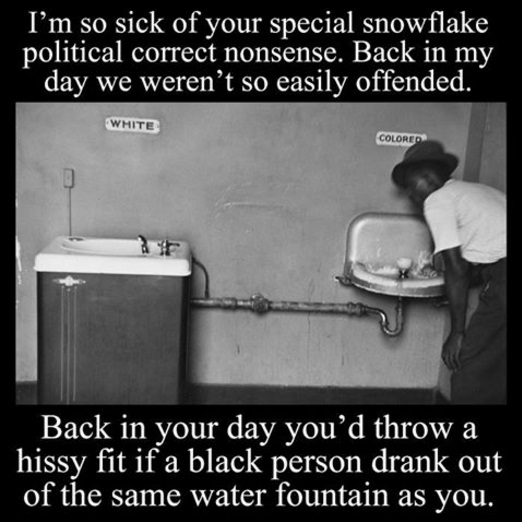 Random Internet Philosopher Says: "How dense do you have to be to think that a privileged white chick handing a damn soda can to a privileged white cop would bode well with any person of color, more specifically the POC who are unjustly targeted by the cops? I just don't get it."
The Wrath of Twitter
In what had to have been one of the wildest days on Twitter, creative people got to work and went off on the ad for trying to make money off of important, real socio-political issues. Civil rights movement photos furnished a backdrop for the kind of punishing humor only the Internet hivemind can deliver, as a hilarious series of memes were created to punish Pepsi for being so tone deaf.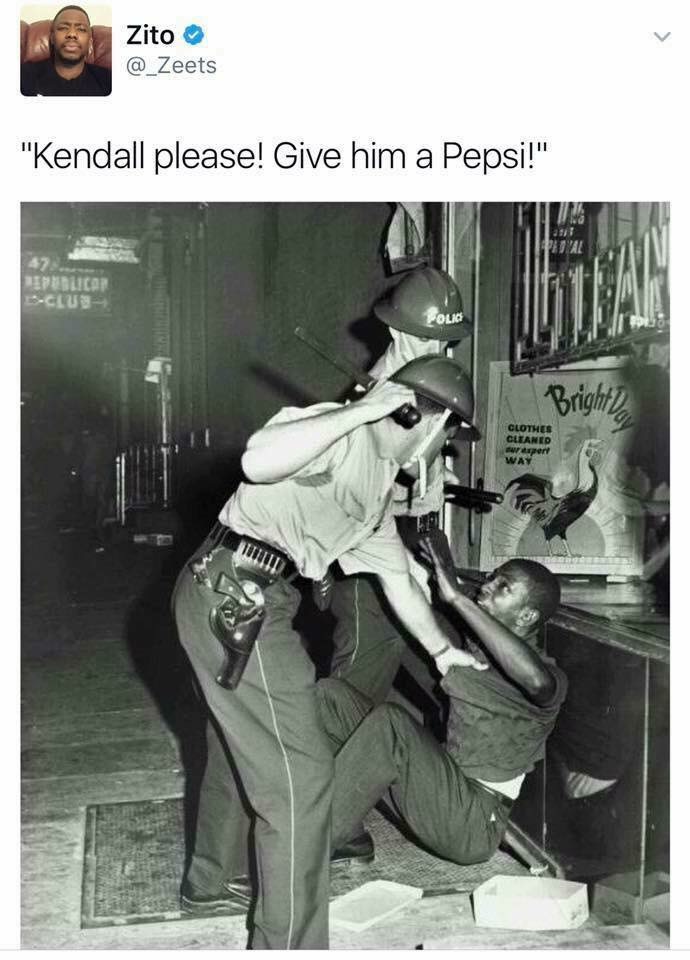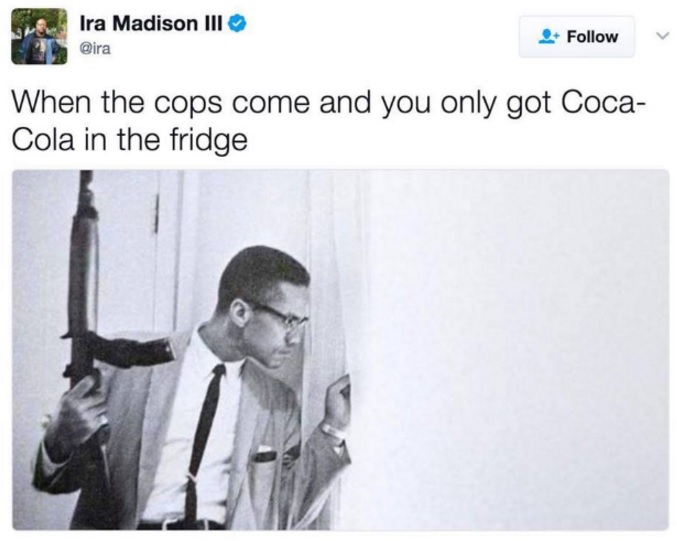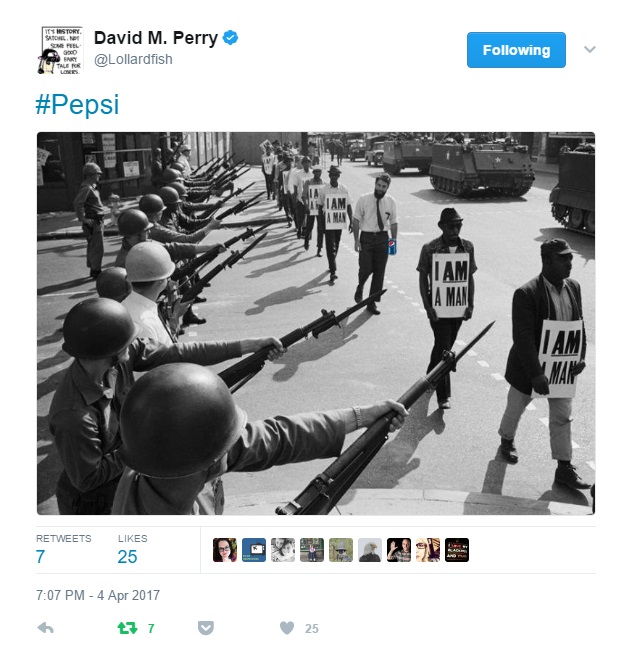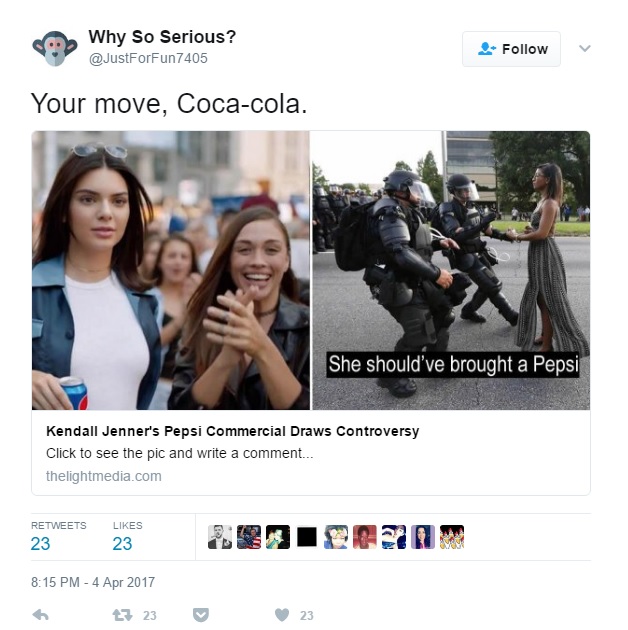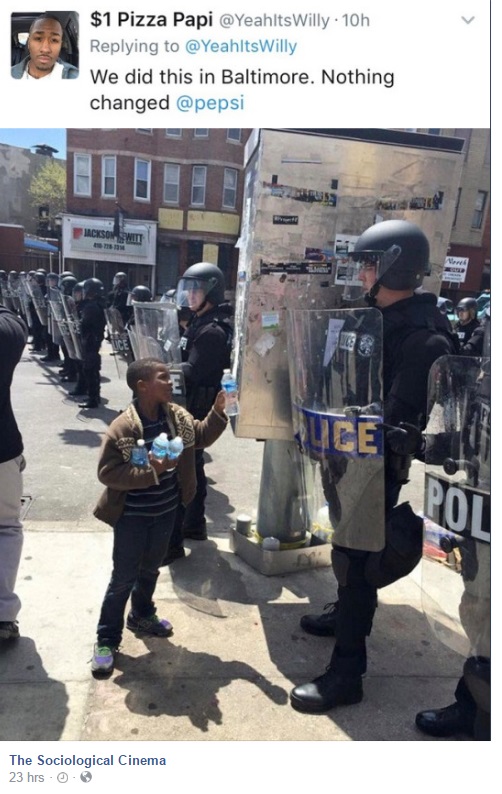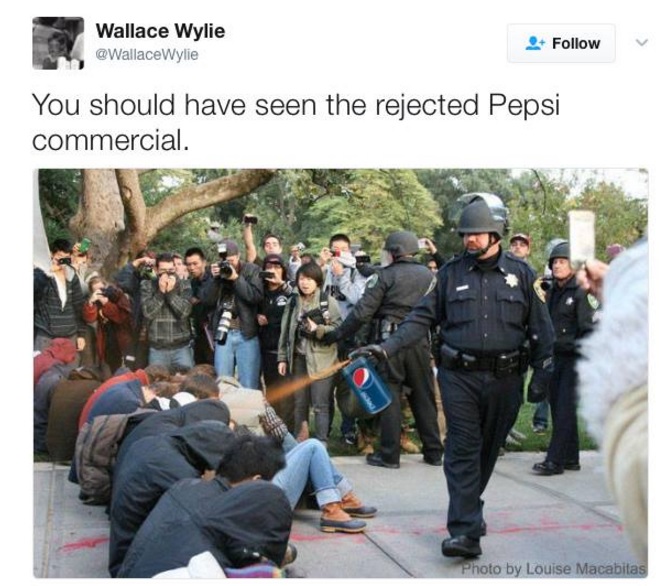 Maybe You Should've Run That Ad By A Few People?
In the sketch from Saturday night that reveals everything happening "behind the scenes," Beck Bennett is featured as a tone-deaf writer-director taking on his first big directorial gig. At first glance, he appears excited and his production assistant (Kyle Mooney) congratulates him on his idea. Then his sister calls and everything falls apart.
The sketch ends with Cecily Strong as Jenner giggling on the phone with a friend: "I stop the police from shooting black people by handing them a Pepsi. I know, it's cute, right?"
At the end of the day, "The Kendall Jenner Pepsi fiasco is a perfect example of what happens when there's no black people in the room when decisions are being made," tweeted Travon Free (@Travon).
The Edited Version
Unlike the Pepsi ad, this version summons a little help from "X-ray" glasses to reveal everything that's wrong with the world and the ad in one fell swoop.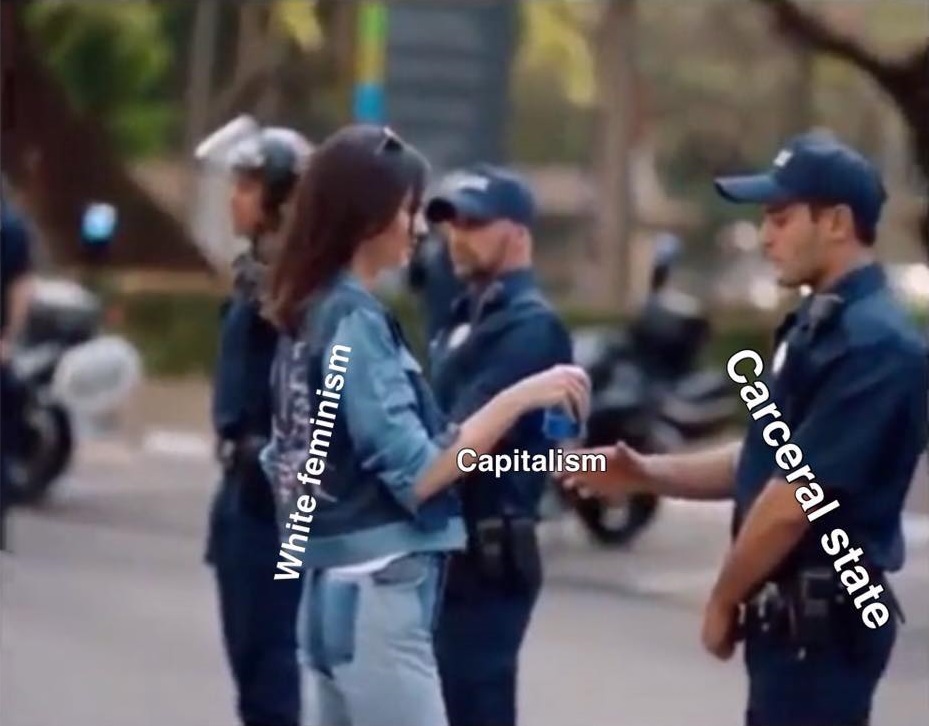 Sources
"From Coke's Flower Power to Kendall Jenner's Pepsi Ad – How Ads Co-opt Protest," by Rebecca Nicholson
Discussion Questions
Did you think the Pepsi ad was offensive? Do you think the Pepsi ad glosses over the issue of political protests as it occurs within the context of police brutality and repression?
Setting aside your personal feelings on the matter, what do you think about how consumerism is being used to make political protest seem "hip" and cool? Do you think this may trivialize the problems that give rise to protesting? 
Do you think political protest should be criminalized if it makes life uncomfortable for people (blocks a highway, ruins a night out at the theater)?
What would Kanye say?