Selections from my peer-reviewed scholarly and public writing can be found by clicking the links embedded here:
Peer Reviewed Publications
2017. Trappen, Sandra L. "Knowledge is for Cutting: Waging War on the Human Terrain." Transmissions: Journal of Film and Media Studies. September 30, 2017, Vol 2; pp. 100-116.
2013. "Always at War: Economy, Labor, Life, and Blood." Sandra L. Trappen and Patricia Clough (Eds.)Social Text Periscope. Spring 2013. Journal Guest Editor.
2013. "Mayberry R.F.D. Will Not Be Presented Tonight." Social TextPeriscope, June 17, 2013.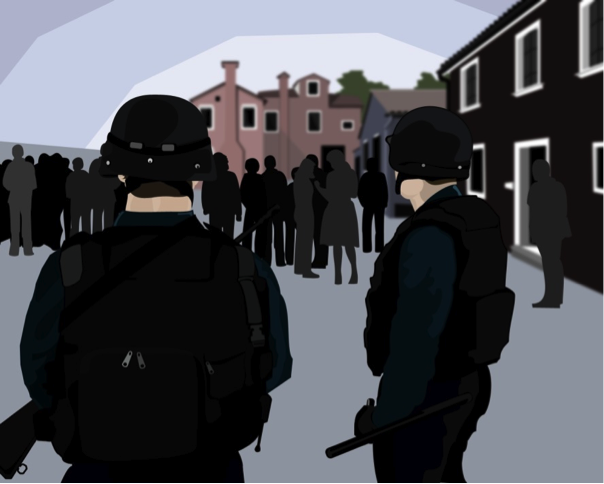 Social Media & Open-Access
2014. "War and Disability." The Feminist Wire, November 25, 2014.
Book Reviews
2018. (forthcoming) Trappen, Sandra L. Review of "The Frankfurt School in the 21st Century," by Diana Boros and James M. Glass (Palgrave-Macmillian, 2014). Perspectives on Politics, Vol. 16, Issue 1, Jan 2018.
Edited Collections
2018 (forthcoming) Trappen, Sandra L. Veterans and Disability  In. (Heller, T., Parker Harris, S., Gill, C. and Gould, R. (Eds.) Disability in American Life: An Encyclopedia of Policies, Concepts, and Controversies. Santa Barbara, CA: ABC-CLIO. July, 31, 2018.
Media 
Guest panelist on "Open Dialogue" – a discussion panel show produced by Accessible Media Inc.,(AMI) of Toronto, Canada. AMI is a not-for-profit multimedia organization, whose mission is to provide programming for Canadians who are blind, partially sighted, deaf, hard of hearing, mobility or print restricted. The program's focus was war and disability. Programming broadcast on cable TV, Bell Aliant 66, Rogers 196, Shaw & Telus 889, and Sirius XM channel 172.
Manuscripts in Progress
Book – Wounding Warriors: The Violent Ecology of Combat Injury