RESEARCH
"Empty Metal Jacket: The Biopolitical Economy of War & Medicine" explores the research question: how does war shaped the social organization of medicine? I address this through a study that examines the history of how combat injury and disability are drawn into a political economy of conflict, violence, and war.
I employ a mixed methodology, which combines Foucauldian genealogical methods, covert ethnographic methods, and archival/historical interpretive methods to assemble case data that argues combat    casualties—the wounded flesh of soldiers—serve (and continue to serve) as a material nexus for medical knowledge production. Here, I build on a body of literature as well as theory, including cutting-edge theories in body studies, science studies, trauma studies, and theories of affect and biopolitics to address how war has become a problem-solving paradigm, as it organizes knowledge across different realms of scientific endeavor. I expand this work and, by way of contrast, challenge the boundaries set by more traditional policy-focused studies combat injury and medicine. To this end, my research brings into focus how knowledge production and technology innovation enter control domains through their imbrication with war. Findings discuss not only the impact of war on medicine; they illustrate how institutions (military and medical) employ violence to maintain social differences that become embodied. In light of this, I suggest we re-think the transcendence of medicine through war and neoliberal capitalism: funding medicine through war makes human subjects out of soldiers, who cannot ethically consent to having their bodies radically undone any more than medicine can be practiced ethically when its advance depends on violence.
This work makes a contribution to theorizing war and violence, as it calls attention to the instrumental role played by wounded soldiers to life-saving medical advance. I situate important developments in medicine within in an expansive social context to show how war and military ideas are not only increasingly penetrating the social spaces of everyday life, they are influencing technology development that is helping  determine the conditions of possibility for life, living, and what it means to be human.
Future Research
Future research draws on proficiencies and expertise developed in my doctoral studies. Presently, I am in the preliminary stages of organizing a study that looks at college students, guns, and social identity, which incorporates survey research methods. Another project will look at the problem of police brutality, which I will examine in light of the discourses and practices of U.S. state-sponsored counterinsurgency strategy. These projects continue to examine the military's socializing influence over civilian institutions, as they aim to call attention to specific military logics, practices, and protocols that are increasingly coming to define how we address and solve important social problems.
Feminist Methods – War is SCUM
Valerie Solanas, writing at the height of the Vietnam War, expressed a unique if not drastic vision of a world without war when she conceived the Society for the Cutting Up of Men (SCUM). I call upon her radical critique, which might also be read as a critique of war to some extent, as I theorize and advance my own criticism of war's impact on the gendered body. Using "cutting" words and decidedly more colorful language than I do, Solanas imagined a world without war; a world she envisioned might be realized by establishing what she called "the Society for the Cutting Up of Men" (SCUM). The central argument of this work, of course, was that men ruined the world, leaving only women to fix it. As for war, she was clear about the role men played: they were compensating for not being female, as they were intent only on one thing – getting their "Big Gun off."
The feminist vision that my work conveys demands we rethink the problem of war through a focus on the body; this requires a feminist epistemology and methodology — a feminist theory of war — one that can break down gendered ways of knowing that undergird the logic and ethics of not only war but, as I illustrate, also medicine. In suggesting this ontological turn, I return the problem of war to an analytical ground more traditionally associated with women – to the body and life itself. I argue that war's human terrain demonstrates how institutions do not aim fully assimilate and/or incorporate female identity- one of the assumptions of progressive politics – but to distinguish it, even as the identity becomes unstable, so as not to discard it as a productive mechanism of social control. Military and medical institutions, I argue, work together to facilitate their social reproduction through means that approximate techno-industrial procreation – a process that historically and perhaps now more than ever depends on the mutilation, suffering, and cutting up of men.
This research has implications here for gender theory, as my framing of the problem of war as a problem of the body does not rely exclusively on the more classic identity critique of "boys" and "girls" bodies. The theory of violence I conceive explains war and wounding as a circulation of capitalism, which has become accelerated under neoliberalism, as it increasingly demonstrates it no longer needs to produce distinctly articulated bodies. Bodies, I argue, are progressively undone and valued on the basis of their pieces and parts; whole bodies are not essential nor are they always essentialized.
With that, it is through these efforts to link war with subjective, ontological, corporeal, psychological, and affective social dynamics, that I make a feminist case for why it is essential to understand the wounded body and war for social theory in these times.
Student Impact
The problem of war and institutional violence affects everyone. Students, in particular, are still in the process of formulating their beliefs in this regard. The idea, for example, that war and violence are regrettable but "natural" parts of the social order is often reflective of their current thinking. But this I would argue is the result of being raised in a culture that cultivates, nurtures, and even venerates to some extent the idea that violence solves problems.
As an educator, I feel ethically compelled to challenge students to think about why violence is not an effective way to engage problem-solving; I focus how our social institutions – education among them – can play a role in the social reproduction of violence. Violence studies, therefore, do not only form a basis for interesting scholarship; they help us to reflexively think about our role as educators, who care about students, where we might create a dialog, discussing violence as a part of a pedagogy that seeks to promote critical thinking and good citizenship through non-violence.
Violence studies, therefore, do not only form a basis for interesting scholarship; they help us to reflexively think about our role as educators, who care about students, where we might create a dialog, discussing violence as a part of a pedagogy that seeks to promote critical thinking and good citizenship through non-violence.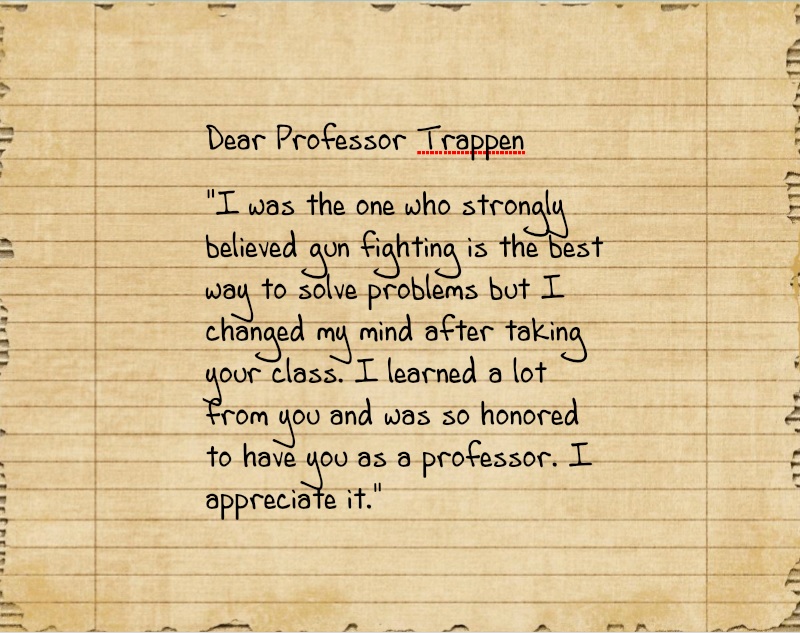 Teaching Interest
My teaching is committed to presenting students with work that is theoretically grounded and methodologically rigorous, while keeping with the traditions of sociology that are relevant to today's key issues and challenges, both in the United States and around the globe. Through my research, I strive to contribute to public discourse and disseminate knowledge. My teaching aims to foster awareness of the social forces at play in everyday life along with the critical thinking, data literacy, and analytical skills that prepare students to be well-informed members of society. In doing so, it is my goal to provide a learning foundation that will lead my students to satisfying and meaningful careers, where they can make social contributions in a wide variety of settings.
The sociology majors that I have taught at CUNY and beyond are taught in such a way as to prepare them for entry-level work in a variety of occupations, ranging from applied marketing and research careers in the private sector to work in government and non-profit agencies, including social work. In light of this, my teaching has been focused to providing a solid foundation in the research methods, skills, and theoretical perspectives of sociology. I have taught all of these foundations courses in addition to many others, including course in Race, Class, and Gender, Criminology, and studies in social inequality.
Teaching Philosophy
I have been teaching for the past 8 years – both as an Adjunct Lecturer and as a Graduate Teaching Fellow. Teaching while studying and doing research is one of the hallmarks of the CUNY system, which aims to incorporate active teaching into Ph.D. program studies. In light of this, all of my courses were designed and taught by me. It was easy for me to become comfortable in the role of teaching, given my previous military and corporate experience. Students want their professors to be engaging, humorous, wise, and informative; and they also appreciate when they have a good sense of the job market and how they might ideally translate their studies to career success. I am more than qualified to help them with their goals in this regard. Judging from my classroom discussions, it is an added bonus that they seem to appreciate. I also tell a lot of stories.
With that, I would say that my teaching philosophy is an ever-evolving set of ideas and practices informed by my knowledge of sociology, passion for cultivating critical thinking, and belief in the importance of employing education and communication skills to the reduction of social inequality.
In my classes at CUNY and beyond I have encountered diverse populations of students. Not only have these students comprised widely divergent racial, ethnic, and religious backgrounds, they represented traditional undergraduates as well as non-traditional adult learners, like veterans, all of whom demonstrated different levels of ability and academic preparedness.
Consequently, as a sociologist who has studied extensively the ways in which inequalities based on race, class, and gender are perpetuated, one of my primary motives in teaching college students is to foster empowerment through an awareness of why and how social inequalities are reproduced in society. I want my students to become adept at using the theoretical tools offered by sociology to critique the taken-for-granted aspect of many social problems; to challenge, for example, the idea that "poverty is natural" or that "war and violence are natural." Without this understanding, I caution students that despite their best efforts and good intentions, they are at risk of reproducing social inequalities through their own behavior patterns, which can in the long run prevent them and others from realizing their full potential.
I should also like to note here that I like teaching large introductory classes. These are referred to as service courses in my department and I am happy to teach more than my share. Teaching these classes puts me in the position of being the first person to present material that is new and sometimes controversial to students. It gives them a chance to rise to the occasion of being in a critical conversation that feels different from what they are typically used to because it is not necessarily "criticizing." I enjoy helping students work through many different angles of a problem, this way they can appreciate that a lot of what they are being exposed to in the media and through family and friends might not always afford them a comprehensive perspective on important issues.
Because I hope to teach students how to integrate sociological thinking into their lives and careers, as well as how to be good sociologists, my courses incorporate a significant applied emphasis. Helping students define projects and engage in problem solving for their local communities is a great passion of mine. Course assignments stress field work that empowers students to solve problems through research. In this regard, I have had students pursue community-based projects that address diabetes, nutrition, and self-efficacy; loneliness among aging populations; as well as domestic violence and partner communication studies with the spouses of law enforcement officers.
Teaching Techniques
Throughout my teaching tenure, it has been important for me to take advantage of new technologies that facilitate critical thinking, using writing formats that are not always intuitively familiar to students. Understanding the role of science and technology in society, particularly the Internet, digital media, and other web-based tools is, I believe, an essential part of the learning process. My proficiency with a variety of different digital media software  (Tumblr/Wordpress) is incorporated into my teaching pedagogy. Additionally, I developed the website that you are presently navigating using WordPress – a site I personally maintain and continue work on to improve. The aim of this development project was to provide students with a visual medium through which they might interact; I also wanted to incorporate public writing into course work. Students are encouraged to produce their own media projects using visual methodologies, which I stress in assignments as well as field work.
My general belief is that students learn through a multi-dimensional process whereby they gain from lecture, discussion, practice, and teaching each other. Consequently, my classes are never solely lecture-based, but involve group and individual problem-solving. I believe in "learning by doing," so that students are not passive recipients of information, but instead learn by putting knowledge into practice. These general beliefs have been instrumental in developing my commitment to student performance and excellence.
Not surprisingly, I take a deep interest in students learning to write well. To that end, my hands-on experience teaching writing courses using the university's Writing Across the Curriculum (WAC) pedagogy has been seminal to my teaching philosophy. WAC maintains that learning is achieved through writing, and so therefore writing must be integrally incorporated into classes. I have learned the value of incorporating "low-stakes" writing into all courses taught, as this provides students with an opportunity to learn through writing. So for example, students are required to post on social media and maintain reading journals as a means to document their thoughts. Along the way, I integrate into my lectures relevant insights from films and social media, where I encourage students to assimilate ideas drawn from different media artifacts as an additional step in the direction of developing an informed basis of critique. Later, they are required to write synthesis papers that bring together ideas they acquire from these different sources―formal and informal, academic and social media. What is important here is that students learn to develop work in incremental stages, so as to move toward completion of a longer research paper [where they must also demonstrate familiarity with the formalities of academic language and citation, which I know can be very challenging in the age of Twitter and Yik-Yak].Throughout this staged process, I also incorporate peer review and have students help each other by sharing written criticisms and feedback.
The process of revision is the most important in learning to write. In critiquing writing, I do not try to comment on every aspect of a manuscript, but focus on a few points to make a given work better. I also try to help with writing by always saying something positive and not trying to say everything.
Preparation
My approach to teaching is to spend a good deal of effort prior to class in preparation and then to attend to the students very carefully to determine what they want and need to hear at any point in the lecture. For each class, I always prepare far more material than I can present while bearing in mind which material must be presented and which is optional. The dynamics of each class determine how the optional material is employed. Student questions, facial expressions, and indications of fatigue are all important indicators for me. Many of my students work multiple part-time jobs, attend to children, and endure long commutes on public transportation to get to class. I take all of these factors into consideration when I decide what kind of reading to assign and what classroom pedagogical techniques might best be used to maintain interest and attention.
Advising Responsibilities
I taught 3-5 courses per academic term during the course of my graduate studies at CUNY. This means I teach between 75 and 150 students in a given term. Most of these courses were taught during the course of my graduate studies within the CUNY system; however, I performed similar work for other universities in the New York tri-state area.
Specific to advising, it is the policy of CUNY to have full-time faculty perform student advising. Notwithstanding, because I often teach on the weekends when full-time faculty are not in residence, I tend to generate a number of informal advisees, whose work schedules do not permit interaction with faculty outside of their weekend schedules.
My work with the CUNY Justice Academy also put me in direct touch with students to provide vocational and career guidance. I helped students put together professional development plans to facilitate their transfer to senior colleges at CUNY.
Teaching Assessment
I have used mid-semester and end of course evaluations for assessment. The mid-semester evaluations that I employ ask very specific questions about what is great and what should change, which I read and respond to in class by discussing them with students. I thank my students for this and let them know what were the most frequent responses and what I can do to change those things I can change (and why I will not change others). So for example, when 20% of an Intro class mentioned they did not like writing a 5 page final term paper, and preferred films instead, I let them know I was not willing to change this. On the other hand, when students mentioned they particularly enjoyed our discussions of social media or a particular reading that I assigned, I was able to tailor my teaching pedagogy to reflect their interest.
Teaching Evaluations & Effectiveness
While I do not believe in innovation for its own sake, I do treat each of my courses as an experience from which I, too, can learn something. The object is to find ways to teach more effectively with available resources. Despite the burdens imposed by travel between campuses on top of teaching a full schedule, my teaching evaluations from peers and students have always reflected a high level of effectiveness (typically around 4.5 on a 5.0 scale).