RESEARCH
"Empty Metal Jacket: The Biopolitical Economy of War & Medicine" explores the research question: how did war shape the social organization of medicine? I address this through a study that examines the history of war and combat injury, where I demonstrate how violence shaped the political economy of medicine. I employ a mixed methodology, which combines genealogical methods, covert ethnographic methods, and archival/historical interpretive methods to produce case data that argues combat casualties—wounded soldiers—serve (and continue to serve) as a material nexus for knowledge production. This work builds on a literature and theory addressed to the study of violence, science studies, trauma studies, and theories of affect and biopolitics to address how war became a problem-solving paradigm for institutions. Findings call attention to how military logics, practices, and protocols are exerting a profound impact on institutions which are critical to public welfare and public trust. They, furthermore, attest to the role institutions play in creating violent ecologies, which produce social differences that become embodied. And perhaps more pointedly, they speak to the history of white social groups hurting themselves in order to maintain gender and racial dominance.
Contribution
This research makes a contribution to theorizing the role that violence plays in the social organization of medicine. Situating developments in medicine within a social context shaped by war demonstrates how military violence is increasingly penetrating the social spaces of everyday life. By calling attention to the infrastructural aspects of war and violence that benefit medicine, I illustrate how medical innovation relies on a political economy that is primed by ongoing violence, death, and injury. War casualties, that is to say, wounded soldiers, constitute a material nexus for medical knowledge production; yet they are simultaneously part of an institutional circulation that relies on violence to advance and reproduce themselves.
Future Research
I am beginning work on a survey research project that looks at geographies of rage – "Knowledge Wars: Firearms, College Students, and Social Identity Formation."  This project represents a continuation of work undertaken in my dissertation insofar as it critically evaluates violence, militarization, and the role of martial social cultures in institutions, including schools, colleges, and universities. In this work, I will endeavor yet again to
Student Impact
The problem of institutional violence affects everyone. Students, in particular, are impacted, when we take into account that many of them are still in the process of developing socially and formulating their personal thoughts and beliefs in this regard. The idea, for example, that violence is "natural" to maintaining social order is typical of current thinking. Yet we should not be surprised by this considering the different ways that violence is celebrated and even valorized in a U.S. culture, which cultivates, nurtures, and promotes the idea that violence solves problems.
As an educator, I feel ethically compelled to challenge students to think about why violence is not an effective way to engage problem-solving. My work focuses on how our social institutions can passively as well as actively play a role in the social reproduction of violence.
Violence studies thus do not only form a basis for interesting scholarship; they represent a form of Praxis for me, where I use my role as an educator/researcher who cares about students to actively seek dialog with them. My personal activism in this regard informs pedagogy that seeks to promote critical thinking and good citizenship through non-violence.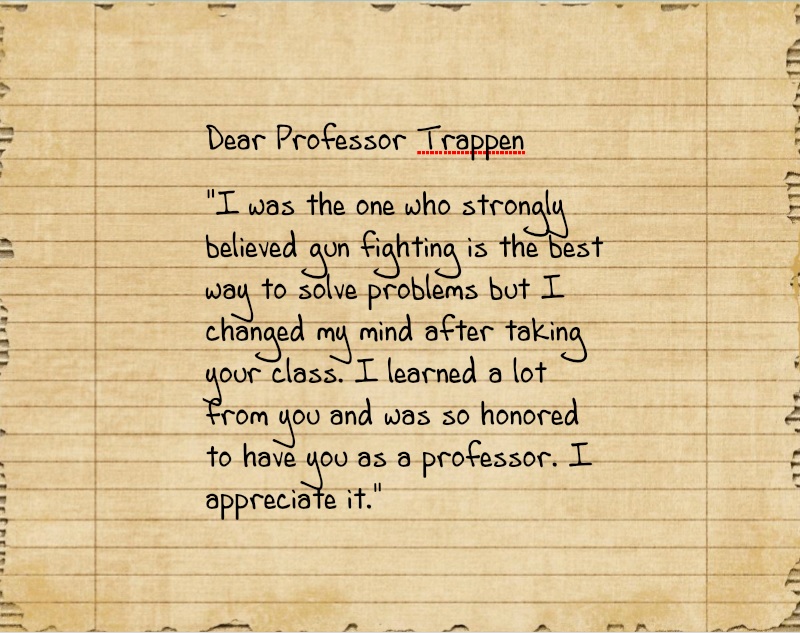 Teaching Interest
I am interested and prepared to teach courses in criminology and criminal justice, social problems and social theory. Furthermore, I can teach special interest courses that address youth violence, war crimes, and police studies.
My teaching is committed to presenting students with work that is theoretically grounded and methodologically rigorous, while keeping alive the tradition of critical theory within the social sciences that are relevant to today's key issues and social problems, both in the United States and around the globe. Through my research, I strive to contribute to public as well as academic discourses. My teaching aims to foster awareness of the social dynamics that shape everyday life along, where I impart to my students the skills that are necessary for them to be successful in their future careers – critical thinking, communication, data literacy, and analytical skills  – all of which will enable them to be well-informed members of society.
The sociology and criminology majors that I have taught were taught in such a way as to prepare them for entry-level work across the occupational spectrum, from applied marketing and research careers in the private sector to work in policing, corrections, courts, and government non-profit agencies, including social work. In light of this, my teaching is focused on providing a foundation in analytical, research, writing, and communication skills.
Based on my experience, it is important to have a clear understanding when working in Criminology what the program's goals are in light of the students that make up the program. Some programs where I have worked provided the full range of career options for students – academic and research support in addition to vocational support. Others have been strictly vocational in their focus. I can be of service in any capacity, depending on program needs.
Teaching Philosophy
I have been teaching for the past 9 years – as an Adjunct Lecturer during my Ph.D. studies and more recently in a Visiting Assistant Professor role. Learning about different institutional environments and campus cultures and in the process making the adjustment to different student populations has characterized my experience throughout my teaching tenure. These different teaching experiences have provided me with valuable insight that I have incorporated into my teaching philosophy.
Previous military and corporate experience have complemented my academic training in many ways that have been beneficial for my students. Students want their professors to be engaging, humorous, wise, and informative; they especially appreciate when their professor has a good sense of the job market and how they might translate their studies to career success. I am more than qualified to help them with their goals in this regard. Judging from my classroom discussions, it is an added bonus that they seem to enjoy. I also tell a lot of stories.
In my classes at CUNY and beyond I encountered diverse populations of students. Not only have these students comprised widely divergent racial, ethnic, and religious backgrounds, they represented traditional undergraduates as well as non-traditional adult learners, like veterans, all of whom demonstrated different levels of ability and academic preparedness.
As a social scientist, who has studied extensively the ways in which inequalities based on race, class, and gender are perpetuated, one of my primary motives in teaching college students is to foster empowerment through an awareness of why and how social inequalities are reproduced in society. I want my students to become adept at using the theoretical tools offered by sociology to critique the taken-for-granted aspect of many social problems; to challenge, for example, the idea that "poverty is natural" or that "war and violence are natural." Without this understanding, I caution students that despite their best efforts and good intentions, they are at risk of reproducing social inequalities through their own behavior patterns, which can, in the long run, prevent them and others from realizing their full potential. This is perhaps especially true for criminal justice majors, whom I have found are more challenged by these ideas for reasons that relate to teaching pedagogy as well as curriculum.
I should also like to note that I like teaching introductory classes or what are sometimes referred to as service courses. Teaching these classes puts me in the position of being the first person to present material that is new and sometimes controversial to students. It gives them a chance to rise to the occasion of being in a critical conversation that feels different from what they are typically used to because it is not necessarily "criticizing." I enjoy helping students work through many different angles of a problem, this way they can appreciate that a lot of what they are being exposed to in the media and through family and friends might not always afford them a comprehensive perspective on important issues.
Because I hope to teach students how to integrate social science research methods and thinking into their lives and careers, my courses are very applied in their focus. For example, when I find I am teaching future police officers, I try to expose them to the relevant theories and research that have a direct impact on policing practice. Helping students define projects and engage in problem-solving with their local communities is a great passion of mine. Course assignments stress field work that empowers students to solve problems through research. In this regard, I have had students pursue community-based projects that address diabetes, nutrition, and self-efficacy; loneliness among aging populations; as well as domestic violence and partner communication studies with the spouses of law enforcement officers.
Teaching Techniques
Throughout my teaching tenure, it has been important for me to take advantage of new technologies that facilitate critical thinking, using writing formats that are not always intuitively familiar to students. Understanding the role of science and technology in society, particularly the Internet, digital media, and other web-based tools is, I believe, an essential part of the learning process. My proficiency with a variety of different digital media software  (Tumblr/Wordpress) is incorporated into my teaching pedagogy. During my tenure at Penn State, I have worked closely with the Teaching and Learning staff, who are deeply involved with helping faculty incorporate more dynamic technologies into their coursework and classrooms. I was recently awarded a course pedagogy grant and am in the process of acquiring a certification in digital teaching pedagogy from Penn State.
Also noteworthy, I developed the website that you are presently navigating using WordPress – a site I personally maintain and continue work on to improve. The aim of this development project was to provide students with a visual medium through which they might interact; I also wanted to incorporate public writing into coursework. Students are encouraged to produce their own media projects using visual methodologies, which I stress in assignments as well as fieldwork.
My general belief is that students learn through a multi-dimensional process whereby they gain from lecture, discussion, practice, and teaching each other. Consequently, my classes are never solely lecture-based, but involve group and individual problem-solving. I believe in "learning by doing," so that students are not passive recipients of information, but instead, learn by putting knowledge into practice. These general beliefs have been instrumental in developing my commitment to student performance and excellence.
Additionally, I take a deep interest in students learning to write well. My hands-on writing experiences (not to mention my undergraduate experience as an English major) draw from Writing Across the Curriculum (WAC) pedagogy, which is foundational to my teaching philosophy. WAC maintains that learning is achieved through writing and that writing helps to clarify thinking. In my view, there are three keys to designing successful writing projects: agency, engagement, and portability.
Agency means that I like to give students the freedom to pursue their own topic of interest. This is especially important for students in survey courses, where the format makes it difficult for them to dive deep into topics that they find they enjoy. The key here, however, is to strike a balance between agency and structure, where I provide guidance within boundaries. To do this, I provide a list of suggested topics while conveying that I am open to discussion of their ideas. This keeps them focused on a path that will lead them to research success.
Engagement means I work to make the writing process interactive. This is the exact opposite of a passive writing assignment, where students write on their own, using content from class or their own research, and afterward turn in a finished paper. Students get feedback on multiple drafts from not only me but also their peers; they evaluate one another's drafts in peer-review sessions, or I have them conduct these sessions outside of class. The process of revision among the most important in learning to write. In critiquing writing, I do not try to comment on every aspect of a manuscript but focus on a few points to make a given work better. I also try to help with writing by always saying something positive and not trying to say everything.  Finally, I provide opportunities for them to connect their writing project to their personal experiences.
Portability means that students carry information from the context in which they originally learned it and apply it to a new context to solve questions, problems, and challenges. This means two things: they use my writing assignment as an opportunity to showcase prior learning; they use my writing assignment to help them develop skills that they can apply to future coursework.
Preparation
My approach to teaching is to spend a good deal of effort prior to class in preparation and then to attend to the students very carefully to determine what they want and need to hear at any point in the lecture. For each class, I always prepare far more material than I can present while bearing in mind which material must be presented and which is optional. The dynamics of each class determine how the optional material is employed. Student questions, facial expressions, and indications of fatigue are all important indicators for me. Many of my students work multiple part-time jobs, attend to children, and endure long commutes on public transportation to get to class. I take all of these factors into consideration when I decide what kind of reading to assign and what classroom pedagogical techniques might best be used to maintain interest and attention.
Advising Responsibilities
As a Visiting Professor, I teach 4 courses per academic term (this means I teach between 75 and 150 students at any one time). In regard to advising, it has been the policy of institutions with whom I have been affiliated to have full-time faculty perform student advising. Notwithstanding, because I often teach when full-time faculty are not in residence, I tend to generate a number of informal advisees, whose work schedules do not permit interaction with faculty outside of their weekend schedules. At Penn State, I was assigned a research intern with whom I am actively engaged to launch my new research project.
As a veteran, I have also become a point of contact for students, both those with prior military service as well as those contemplating military careers after graduation.
My work with the CUNY Justice Academy also put me in touch with students to provide vocational and career guidance, as I helped students put together professional development plans to facilitate their transfer to senior colleges at CUNY.
Teaching Assessment
I have used mid-semester and end of course evaluations for assessment. The mid-semester evaluations that I employ ask students to share constructive ideas about how to improve my courses. I read them and respond in class by discussing them with students. I thank my students for this and let them know what were the most frequent responses and what I can do to change those things I can change (and why I will not change others). So for example, when 20% of an Intro class mentioned they did not like writing a 5 page final term paper, and preferred films instead, I let them know I was not willing to change this. On the other hand, when students mentioned they particularly enjoyed our discussions of social media or a particular reading that I assigned, I was able to tailor my teaching pedagogy to reflect their interest.
Teaching Evaluations & Effectiveness
While I do not believe in innovation for its own sake, I do treat each of my courses as an experience from which I, too, can learn something. The object is to find ways to teach more effectively with available resources. Despite the burdens imposed by travel between campuses on top of teaching a full schedule, my teaching evaluations from peers and students have always reflected a high level of effectiveness (typically around 4.5 on a 5.0 scale).