Current Research
As a research scientist, my work addresses the intersections between culture, politics, economy, and society. Research and publications contribute to the intellectual discourses of sociology and criminology, which include: the Sociology of Violence, Youth Violence, and Political Economy. My research has been presented at the American Society of Criminology, the Society for the Study of Social Problems, and the Eastern Sociological Association.
My current work is a survey research project that looks at geographies of rage – "Knowledge Wars: College Students, Guns, and Social Identity." The research documents descriptive statistics as this pertains to how college students understand firearms, how/whether or not they carry them, and how they process firearms ownership as part of their expressed social identities. Data are derived from an anonymous online Qualtrics survey and from focus groups. My work aims to fill a gap in criminological accounts for crime as it pertains to youth violence; for not only is youth violence shown to be statistically increasing, it is becoming more lethal through the use of firearms. It also fills a gap insofar as it focuses on college-aged youth – this is particularly relevant considering the increased proliferation of campus carry campaigns and students carrying guns on campus.
This new research represents a continuation of previous research undertaken in my doctoral project (which critically evaluates how violence operates within and across institutions). Violence studies thus not only form the basis for interesting scholarship; they represent a form of praxis for me, where I use my role as an educator/scholar who cares about students to actively seek dialog with them on issues that might trouble them. This ethic informs my teaching pedagogy, which seeks to promote critical thinking and good citizenship through non-violence. I feel ethically compelled to challenge students to think about why violence is not an effective way to solve problems, even though violence is shown to be a favored problem-solving paradigm, as evidenced by current U.S. domestic and foreign policies. Consequently, social institutions, even schools, might passively play a role in the social reproduction of violence. Though it is possible, through the support of informed scholarship, that schools might be part of the solution to remedy the problem.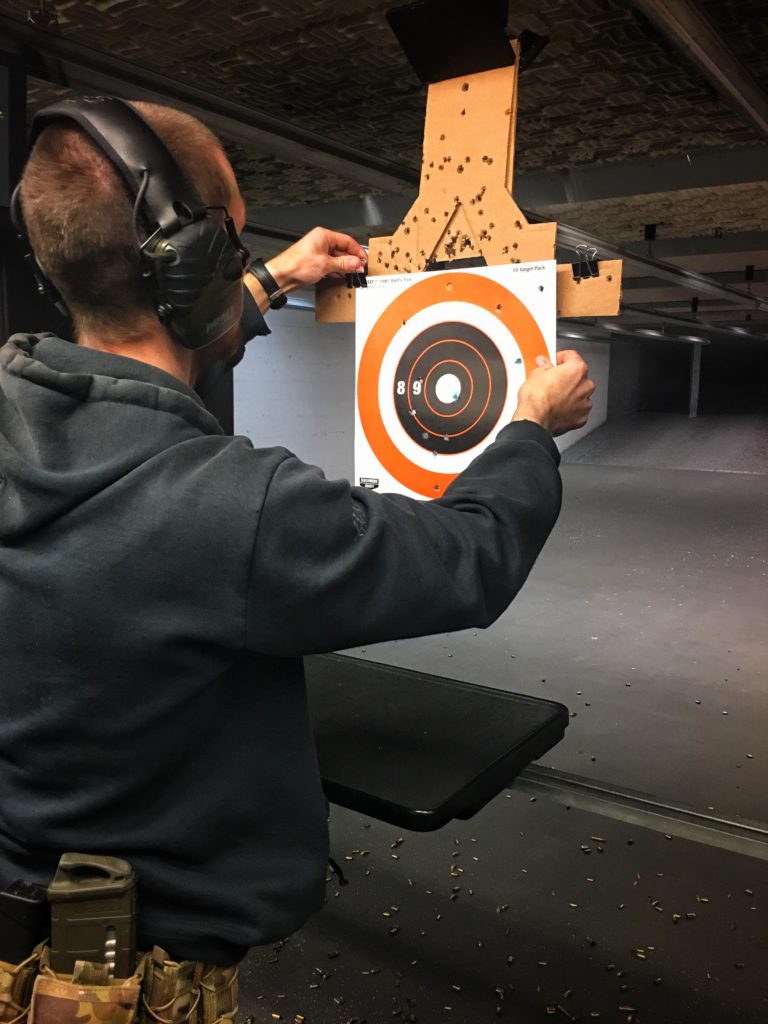 Penn State research assistant works at the firing range
Significance
The first step in preventing school violence is to understand the extent and nature of the problem. The Centers for Disease Control and Prevention (CDC), the U.S. Department of Education, and the U.S. Department of Justice gather and analyze data from a variety of sources to gain a more complete understanding of school violence. School shootings and mass shootings continue to be a problem in the United States. According to the CDC, based on a nationally representative sample of youth in grades 9-12, 7.8% reported being in a physical fight on school property in the 12 months before the survey; 6% reported being threatened or injured with a weapon on school property one or more times in the 12 months before the survey. Homicide continues to grow as a leading cause of death for young people, where 4 out of every 5 murder victims aged 15-17 were killed with a firearm. Among homicide victims ages 10 to 24 years old in 2014, 86% were killed with a firearm (CDC report, 2016).
To build on this work, I draw from the descriptive literature on firearms as well as from the crime literature and other research on trauma, personality, and social identity to understand the role that violence and other social factors play in shaping the personhood of young people. The problem of violence affects everyone. Students, in particular, are subject to influence, considering how many are in the process of developing socially while they are in college, as they experiment with different thoughts, beliefs, and social identities. Preliminary results from a pilot study indicate that violence is understood to be "natural" to the gender expression of young men and for maintaining social order; not surprisingly, this finding typified the thinking of both college men and women. Guns are for many students an elective part of how they express agency and conceptualize themselves. Coincidentally, while many students asserted that violence is not an important part of their self-expression, violence was, nonetheless, shown to be relevant to how they narrate the story of their gender and make sense of the world they live in.
The implications for this research are a matter of vital national interest in addition to being of interest to colleges and universities in the United States. In this instance, it is hoped that by learning more about their student populations, schools might step in and work as a partner, where they might help students foster healthy non-violent social identities while they are enrolled in school and undergoing an intensive process of identity exploration and personal growth.
Previous Research
My doctoral project explored combat injury and casualty statistics as racialized productions of violence.  "Empty Metal Jacket: The Biopolitical Economy of War & Medicine" explores the research question: how did war shape the social organization of medicine? This is addressed through a study that examines the history of war and combat injury. Using a mixed methodology, which combines genealogical methods, covert ethnographic methods, and archival/historical interpretive methods, this research produced case data to argue that combat casualties—wounded soldiers—serve (and continue to serve) as a material nexus for knowledge production. Findings call attention to how military logics, practices, and protocols are having a profound impact on institutions that are critical to public welfare and public trust. They, furthermore, attest to the role institutions play in creating violent ecologies, which produce social differences that become embodied. And perhaps more pointedly, they speak to the history of white social groups hurting themselves in order to maintain gender and racial dominance.
This work builds on literature and theory addressed to the study of violence, science studies, trauma studies, and theories of affect and biopolitics to address how war became a problem-solving paradigm for American institutions.
Contribution
My research program is grounded in the vibrant tradition of the sociological imagination that challenges scholars to situate everyday life in the complex structures of history and social power. As such, my work makes a contribution by theorizing the role that violence plays in shaping public institutions. Situating developments in medicine and looking at student challenges within the context of university life, given how they are all on some level shaped by war, helps illustrate how military violence is increasingly penetrating the social spaces of everyday life. By calling attention to the infrastructural aspects of violence and how it works within and across institutions, I am able to demonstrate how social institutions are reproduced within a political economy that profits from the ongoing violence, death, and injury of less privileged social groups.
In this manner, my work extends debates in the social sciences about war and socio-political violence beyond a mere focus on policy, as it aims to question empirical research methodology and the boundaries of the disciplines themselves. I suggest we might understand that war is more than a violent episodic socio-political phenomenon, as it reveals how the body and life itself become sites for the creative interplay of sociality, militarized power, and economic interest. Consequently, my work establishes as a matter of theory and practice that military science is a life science; that "life itself" is mobilized for war.
In regards to gender and social identity theory, my research breaks new ground as it frames the problem of war through the problem of the body. As such, it does not rely on what is a classic identity critique that points to differences between "boys" and "girls" bodies. Rather, it is shown that capitalism under neoliberalism obviates the need to always produce distinctly articulated bodies. Bodies, furthermore, can be valued on the basis of their pieces and parts; whole bodies are not always essential nor are they always essentialized.
Finally, in rethinking the problem of violence through a focus on the body and social identity, my work suggests there are productive, even generative, links between war, the subjective, the ontological, the corporeal, and the affective. As such, my work makes a case for why it is essential to understand the role that violence plays for social theory in these times.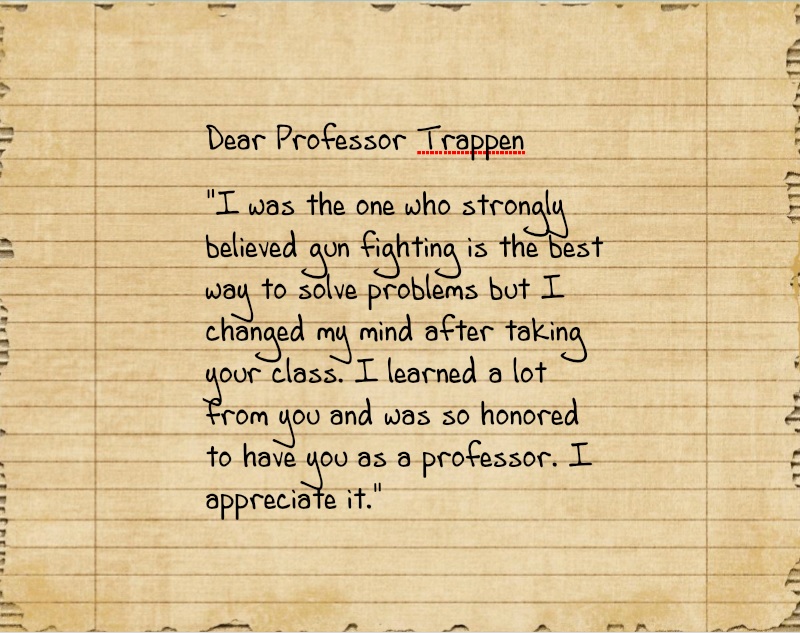 Research Publications
Violence studies informs an interdisciplinary literature. Consequently, I find my work speaks to an audience of readers in Politics, Criminology, Sociology, Anthropology, International Relations, Cultural Studies, and Disability Studies. With that, my research led to me being invited to edit as well as contribute to Social Text for a special issue on war and violence: Always At War: Economy, Labor, Life, and Blood.  My article, "Mayberry R.F.D. Will Not Be Presented Tonight," was published as part of this series. Another article, "War and Disability," was published by The Feminist Wire.
 "Knowledge is for Cutting: Waging War on the Human Terrain." is an article addressed to research methods in the social sciences and the evolutionary history that it shares with war, which was published in a special edition of a Polish journal. Forthcoming is an article for Security Dialogue entitled: Mutilating Milieus, which looks at violence through the lens of population politics and political economy.
My work was accepted to American Society of Criminology annual conference in 2017, where I presented preliminary findings from a pilot study on college students, guns, and social identity.
Additionally, my work was accepted for regular sessions by both SSSP and the Cultural Studies Association in 2018.
Book plans are in progress for my dissertation research – Wounding Warriors: The Violent Ecology of Combat Casualties
Teaching Interest
I am interested and prepared to teach courses in Criminology, Criminal Justice, Juvenile Delinquency, Deviance, Research Methods, Social Problems, and Social Theory. Furthermore, I can teach special interest courses in my research area that address youth violence.
Because I aim to teach students how to integrate social and criminological research into their lives and careers, my courses tend to be applied in their focus. I am committed to presenting students with work that is theoretically grounded and methodologically rigorous, while keeping alive the tradition of critical theory within the social sciences, as they remain relevant to understanding contemporary issues and social problems. Through my research, I strive to contribute to public as well as academic discourses. To this end, classroom pedagogy aims to foster awareness of the social dynamics that shape everyday life.
At the same time, I strive to impart to my students the skills that will be necessary for them to be successful in their future careers – critical thinking, communication, data literacy, and analytical skills  – all are necessary for them to be well-informed members of society. Some programs where I worked have provided traditional academic preparation for academic careers and careers in research, whereas others have been more vocational in their focus. I can be of service in any capacity, depending on program needs. My sociology and criminology majors are well-prepared for entry-level work across the occupational spectrum, from work in applied research to careers in policing, corrections, the courts, and government non-profit agencies, including social work.  I have, furthermore, demonstrated an ability to involve students in their communities, as I have helped them develop practical skills related to citizen engagement, including community organizing for social justice, advocacy for marginalized communities, and citizen involvement in just policy creation.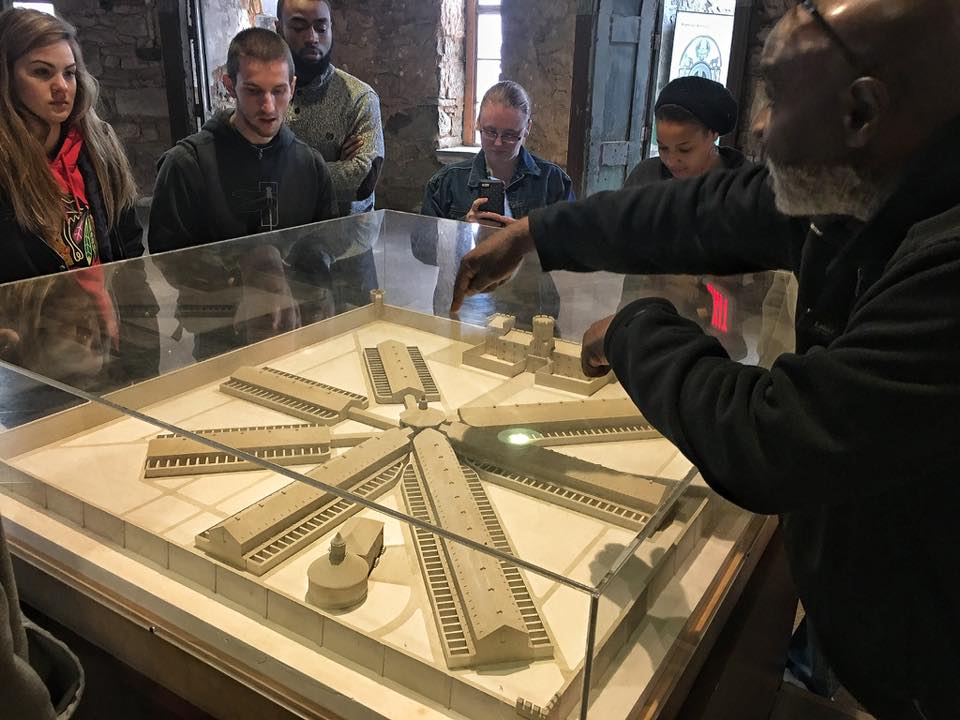 My Advanced Criminology Theory class visiting Eastern Penitentiary in Philadelphia
Teaching Philosophy
I have been teaching for the past 9 years – as an Adjunct Lecturer during the course of my Ph.D. studies and more recently as a Visiting Assistant Professor for both Penn State and Loyola University Maryland. Learning about different institutional environments and campus cultures and in the process making the adjustment to different student populations has characterized my experience throughout my tenure. This has provided me with valuable insight that I now incorporate into my teaching philosophy.
As a social scientist, who has studied extensively the ways in which inequalities based on race, class, and gender are perpetuated, one of my primary motives in teaching college students is to foster empowerment through an awareness of why and how social inequalities are reproduced in society. I want my students to become adept at using the theoretical tools offered by sociology to critique the taken-for-granted aspect of many social problems; to challenge, for example, the idea that "poverty is natural" or that war and violence are "natural." Without this understanding, I caution students that despite their best efforts and good intentions, they are at risk of reproducing social inequalities and marginalizing others through their own behavior patterns, which can, in the long run, prevent them from realizing their full potential.
This is perhaps especially true for criminal justice majors, who I find can be especially challenged by these ideas for the following reasons that I have observed: 1) social and personality factors that correspond to self-selection into the major and 2) curriculums that may be too institution-focused, where there is a failure to incorporate critical pedagogy.  In the case of the latter, this is particularly important in light of contemporary problems in the criminal justice system. Students will either become part of the problem or they will be part of the solution. I have made it part of my personal accountability that they be problem solvers, who work with their communities to serve all people with justice and fairness, particularly the poor and the marginalized.
Helping students to be problem-solvers in their local communities is, in this manner, a great passion of mine. Course assignments stress field work that empowers students to solve problems through research. In this regard, I have had students pursue community-based projects that address topics that range from drug injection management, nutrition, and occupational self-efficacy; likewise, they have studied loneliness among aging populations in addition to domestic violence issues in connection with law enforcement professions.
I should also like to note that I enjoy teaching introductory classes or what are sometimes referred to as service courses. Teaching these classes puts me in the position of being the first person to present material that is new and sometimes controversial to students. It gives them a chance to rise to the occasion of being in a critical conversation that feels different from what they are typically used to because this is different from pedestrian "criticizing." I enjoy helping students work through many different angles of a problem, this way they can appreciate that a lot of what they are exposed to in the media and through family and friends does not always afford them a comprehensive perspective on important issues.
Finally, students, I find, want their professors to be engaging, humorous, and wise; they especially appreciate when their professor has a good sense of the job market and how they might translate their studies to career success. For example, when I am teaching future police officers, I try to expose them to not only the relevant theories and research, but my own previous experience supervising police officers when I worked in city government. I help them to relate textbook theory to practical on-the-ground policing practice. Previous military and corporate experiences have complemented my academic training in many ways that have been beneficial for my students. I am also a first-generation college student, which helps me to relate to many of my students who are embarking on what can be a difficult rite of passage. Judging from my classroom discussions, this is experience that they seem to value. I also tell a lot of stories.
Teaching Techniques
Throughout my teaching tenure, it has been important for me to take advantage of new technologies that facilitate critical thinking, using writing formats that are not always intuitively familiar to students. Understanding the role of science and technology in society, particularly the Internet, digital media, and other web-based tools is, I believe, an essential part of the learning process. My proficiency with a variety of different digital media software  (Tumblr/Wordpress) is incorporated into my teaching pedagogy.
During my tenure at Penn State, I have worked closely with the Teaching and Learning staff, who are deeply involved with helping faculty incorporate more dynamic technologies into their coursework and classrooms. I was recently awarded a course pedagogy grant and am in the process of acquiring a certification in digital teaching pedagogy from Penn State.
Also noteworthy, I developed the website that you are presently navigating using WordPress – a site I personally maintain and continue work on to improve. The aim of this development project was to provide students with a visual medium through which they might interact; I also wanted to incorporate public writing into coursework. Students are encouraged to produce their own media projects using visual methodologies, which I stress in assignments as well as fieldwork.
My general belief is that students learn through a multi-dimensional process whereby they gain from lecture, discussion, practice, and teaching each other. Consequently, my classes are never solely lecture-based, but involve group and individual problem-solving. I believe in "learning by doing," so that students are not passive recipients of information, but instead, learn by putting knowledge into practice. These general beliefs have been instrumental in developing my commitment to student performance and excellence.
Additionally, I take a deep interest in students learning to write well. My hands-on writing experiences (not to mention my undergraduate experience as an English major) draw from Writing Across the Curriculum (WAC) pedagogy, which is foundational to my teaching philosophy. WAC maintains that learning is achieved through writing and that writing helps to clarify thinking. In my view, there are three keys to designing successful writing projects: agency, engagement, and portability.
Agency means that I like to give students the freedom to pursue their own topic of interest. This is especially important for students in survey courses, where the format makes it difficult for them to dive deep into topics that they find they enjoy. The key here, however, is to strike a balance between agency and structure, where I provide guidance within boundaries. To do this, I provide a list of suggested topics while conveying that I am open to discussion of their ideas. This keeps them focused on a path that will lead them to research success.
Engagement means I work to make the writing process interactive. This is the exact opposite of a passive writing assignment, where students write on their own, using content from class or their own research, and afterward turn in a finished paper. Students get feedback on multiple drafts from not only me but also their peers; they evaluate one another's drafts in peer-review sessions, or I have them conduct these sessions outside of class. The process of revision among the most important in learning to write. In critiquing writing, I do not try to comment on every aspect of a manuscript but focus on a few points to make a given work better. I also try to help with writing by always saying something positive and not trying to say everything.  Finally, I provide opportunities for them to connect their writing project to their personal experiences.
Portability means that students carry information from the context in which they originally learned it and apply it to a new context to solve questions, problems, and challenges. This means two things: they use my writing assignment as an opportunity to showcase prior learning; they use my writing assignment to help them develop skills that they can apply to future coursework.
Preparation
My approach to teaching is to spend a good deal of effort prior to class in preparation and then to attend to the students very carefully to determine what they want and need to hear at any point in the lecture. For each class, I always prepare far more material than I can present while bearing in mind which material must be presented and which is optional. The dynamics of each class determine how the optional material is employed. Student questions, facial expressions, and indications of fatigue are all important indicators for me. Many of my students work multiple part-time jobs, attend to children, and endure long commutes on public transportation to get to class. I take all of these factors into consideration when I decide what kind of reading to assign and what classroom pedagogical techniques might best be used to maintain interest and attention.
Advising Responsibilities
As a Visiting Professor, I teach 4 courses per academic term (this means I teach between 100 and 150 students at any one time). In regards to advising, it has been the policy of institutions with whom I have been affiliated to have full-time faculty perform student advising. Nonetheless, I was still assigned a few advisees of my own to whom I provide research guidance and internship support. At Penn State, I was assigned a research intern with whom I am now actively working to conduct my new research project.
As a veteran, I have also become a point of contact for students, both those with prior military service as well as those contemplating military careers after graduation.
My previous work with the CUNY Justice Academy also put me in touch with students to provide vocational and career guidance, as I helped students put together professional development plans to facilitate their transfer to senior colleges at CUNY.
Teaching Assessment
I use mid-semester and end of course evaluations for assessment. The mid-semester evaluations that I employ ask students to share constructive ideas about how to improve my courses. I read them and respond in class by discussing them with students. I also make it a point to thank my students for this and let them know what were the most frequent responses, what I will do to change those things I can change (and why I will not change others). So for example, when 20% of an Intro class mentioned they did not like writing a 5-page final term paper, and preferred films instead, I let them know I was not willing to change this. On the other hand, when students mentioned they particularly enjoyed our discussions of social media or a particular reading that I assigned, I was able to tailor my teaching pedagogy to reflect their interest.
Teaching Evaluations & Effectiveness
While I do not believe in innovation for its own sake, I do treat each of my courses as an experience from which I, too, can learn something. The object is to find ways to teach more effectively with available resources. Despite the burdens imposed by travel between campuses and acquiring new students with limited information provided about their particular needs, my teaching evaluations from peers and students have always reflected a high level of effectiveness (typically around 4.5 on a 5.0 scale).