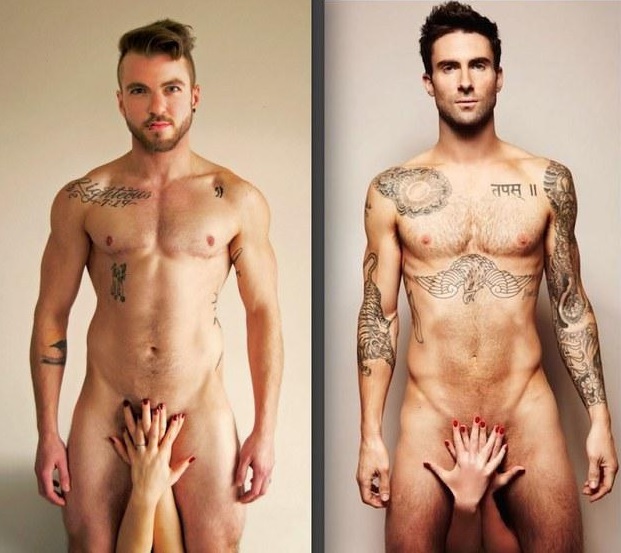 Left: transgender activist, model, and vlogger Aydian Dowling; right: musician and entertainer, Adam Levine
Half of all Millennials believe that gender exists on a spectrum, and shouldn't be limited to the categories of male and female. These are the findings according to Fusion's Massive Millennial Poll, which surveyed 1,000 people aged 18-34 about everything from politics to dating to race issues.
Poll results also suggest young people are moving away from a binary conception of gender, a major shift from previous generations.
Some subsets of Millennials are even more progressive on the issue: 57 percent of female Millennials believe that gender falls on a spectrum, according to the poll, compared with 44 percent of men. And Millennials in the Northeast were even more likely to say so – up to 58 percent! (In the South, that number fell to 42 percent.)
The poll found that a respondent's race identification was associated with substantial differences with regard to views of gender identity. White Millennials were the most likely to support the concept of a non-binary gender system — 55 percent of whites said gender is on a spectrum, compared to 47 percent of Latinos and 32 percent of African Americans.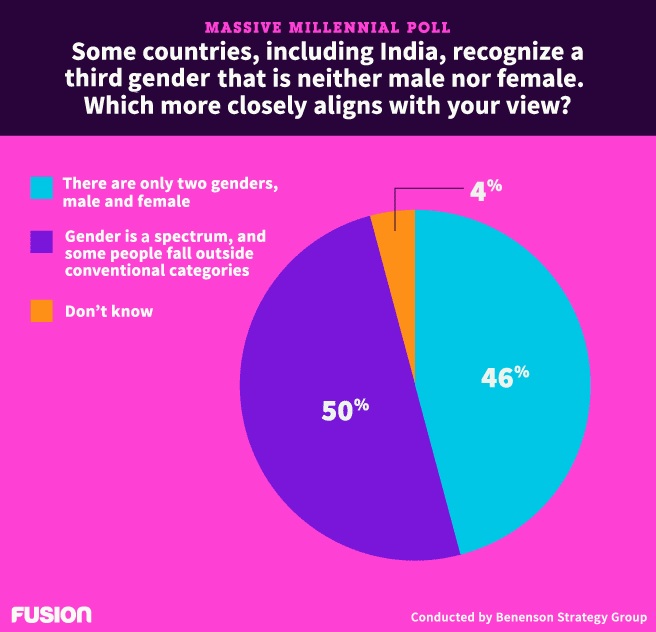 Transgender and Non-Binary IDs
Non-binary people are people who don't feel male or female. They may feel like both or something in between. They may think of their gender as changing over time or they may not relate to gender at all.
Countries like India recognize a third gender, but in the U.S. there is no such federal recognition or policy that recongizes non-binary gender identification. Increasingly, some cities are creating ID cards for municipal services that do not include gender. San Francisco and Oakland CA, for example, both have municipal ID cards that don't specify gender at all.
Young people entering universities today are also more likely to see gender-neutral restrooms, ID cards, and on-campus housing options. In recognition of this trend, students at San Francisco State University have housing options that include "other gender-identity roommate pairings, regardless of biological sex." Recently (2013), Colorado College made national headlines when a job seeker complained the job application asked applicants to check one of five genders: "not disclosed," "male," "female," "transgender," or "queer."
A recent BBC News program discussed the story of Leo. Leo is 10 years old. For most of his life he's lived as a girl, but this past summer he began to speak openly about his sense that this didn't feel quite right. With research help for his parents, he's decided he is non-binary – in his case, both masculine and feminine – though for the moment he dresses as a boy and has taken a male name. Leo explains:
I'm not a boy.
I thought I was a boy, because I'm not entirely a girl. We tried that for a bit, and I thought: "No, this is not right."
Then we did some research and we found the word is gender non-binary… and it really works, it's just me.
I don't know what age I was when I identified that I wasn't feeling right.
Actually I told my teacher first. I got really frustrated because I asked why none of the girls got boys' parts in a play that we were doing. It wasn't right.
I pulled her over and said: "I'm not a girl."
For more on Leo's story, refer to the program link.
Gender as a Spectrum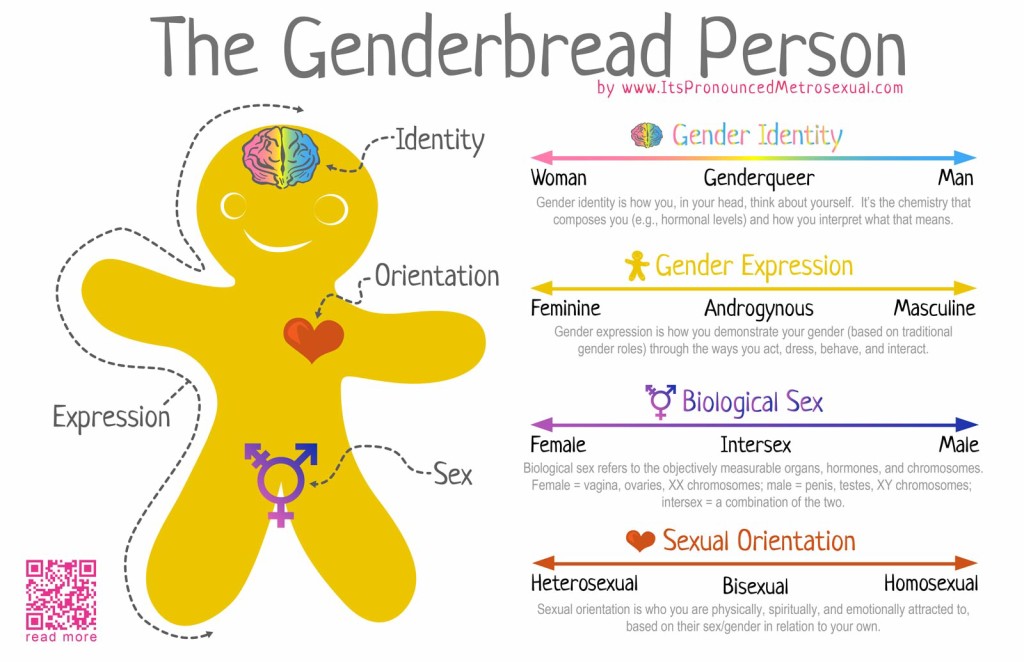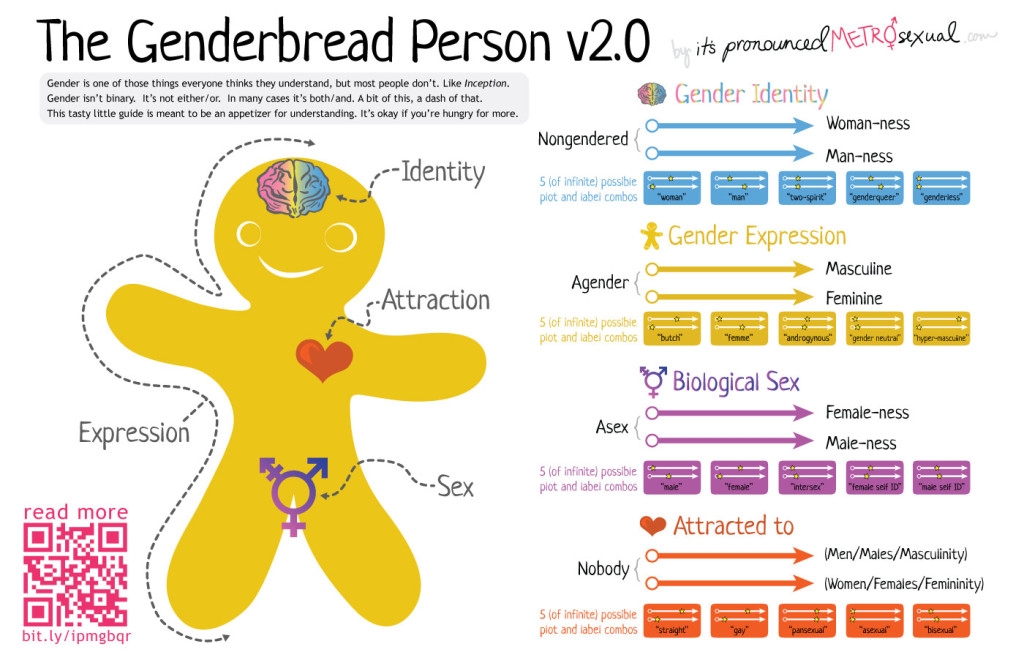 Gender is Socially Constructed
Historically, many feminists and sociologists have understood sex, gender, and terms like 'woman' as gender terms that depend on social and cultural factors (like social position). In so doing, they distinguished sex (being female or male) from gender (being a woman or a man), although most ordinary language users appear to treat the two interchangeably. More recently this distinction has come under sustained attack and many view it nowadays with (at least some) suspicion.
Simone deBeauvoir famously claimed that "one is not born, but becomes a woman." In what follows in her work "The Second Sex," she enters into the process of revealing how the traditional ways in which we think about sex and gender are a product of socialization. Females become women through a social process, where they acquire feminine traits and learn what has come to be recognized as natural feminine behavior. Masculinity and femininity are thought to be products of nurture or how individuals are brought up. They are
Both femininity and masculinity are in this regard understood to be products of a nurturing process – it's about how individuals are brought up. They are causally constructed (Haslanger 1995, 98): social forces either have a causal role in bringing gendered individuals into existence or (to some substantial sense) shape the way we are qua women and men. And the mechanism of construction is social learning.
Feminist theorist Kate Millett argues further that gender differences have "essentially cultural, rather than biological bases" that result from differential treatment (1971, 28–9). For her, gender is "the sum total of the parents', the peers', and the culture's notions of what is appropriate to each gender by way of temperament, character, interests, status, worth, gesture, and expression" (Millett 1971, 31). Feminine and masculine gender-norms, however, are problematic in that gendered behaviour conveniently fits with and reinforces women's subordination so that women are socialised into subordinate social roles: they learn to be passive, ignorant, docile, emotional helpmeets for men (Millett 1971, 26). The idea here is that since these roles are merely learned, we can create more equal societies by 'unlearning' social roles. Feminists, she says, should aim to diminish the influence of socialisation (for more on this, look at Social Learning Theory).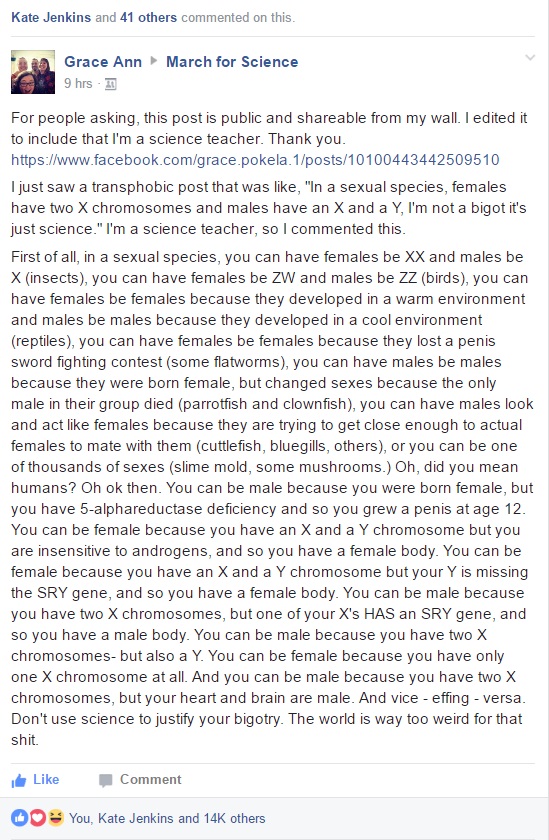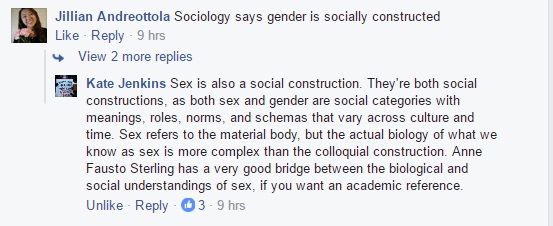 Gender is Performative
One of the central concepts that animates gender theory is the idea that your gender is constructed. Theorists like Judith Butler take that one step further to argue that you gender is constructed as a direct result of your repetitive perfomances of gender – things you do and discourses you engage in which have the effect of creating a "subject" position for you.
Butler is thus questioning the belief that certain gendered behaviors are natural, as she illustrates how one's learned performance of gendered behavior (what we commonly associate with femininity and masculinity) is an act of sorts; it's a performance imposed upon us by the norms bound up in heterosexuality. Her theory does not accept gender identity as being stable and/or coherent. Rather, she understands gender is "a stylized repetition of acts . . . which are internally discontinuous . . .[so that] the appearance of substance is precisely that, a constructed identity, a performative accomplishment which the mundane social audience, including the actors themselves, come to believe and to perform in the mode of belief" (Gender Trouble). To say that gender is performative is to argue that gender is "real only to the extent that it is performed" (Gender Trouble).
What is at stake here, of course, is the ideology of hegemonic heterosexuality. And this is precisely what makes many people so uncomfortable. Because it means they can't take for granted things like their gender that they have always accepted as natural and normal.
For to claim that "all gender is like drag, or is drag, is to suggest that 'imitation' is at the heart of the heterosexual project and its gender binarism, that drag is not a secondary imitation that presupposes a prior and original gender, but that hegemonic heterosexuality is itself a constant and repeated effort to imitate its own idealizations. That it must repeat this imitation, that it sets up pathologizing practices and normalizing sciences in order to produce and consecrate its own claim on originality and propriety, suggests that heterosexual performativity is beset by an anxiety that it can never fully overcome….that its effort to become its own idealizations can never be finally or fully achieved, and that it is constantly haunted by that domain of sexual possibility that must be excluded for heterosexualized gender to produce itself" (Judith Butler, Bodies that Matter).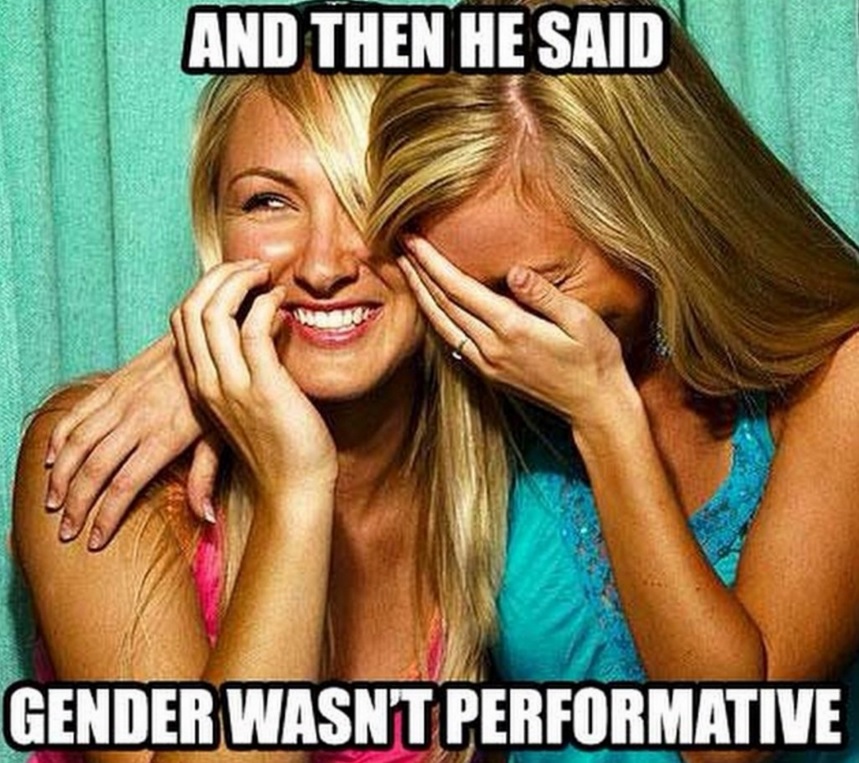 Sources:
Check out R.W. Connell's "Social Organization of Masculinity."
Judith Butler's "Gender Trouble" and "Bodies That Matter."
Stanford Encyclopedia of Philosophy
BBC News program, "I'm a non-binary 10 year old."
Fusion's Massive Millennial Poll surveyed 1,000 people between the ages of 18 to 34, with a general population sample and an overall margin of error of plus-minus 3.1 percentage points. The interviews were conducted via telephone from Jan. 6 to Jan. 11. For more information on Fusion's research methodology and poll results, refer to their proprietary website.
Discussion Questions:
What is your gender identity?
How did you get the gender identity that you have?
What are some examples of your own gender expression?
Can you share an example of how you might "perform" your gender?
Do you understand your gender as an ongoing identity project, or is it something that you don't particularly think about? In other words – "it is what it is."