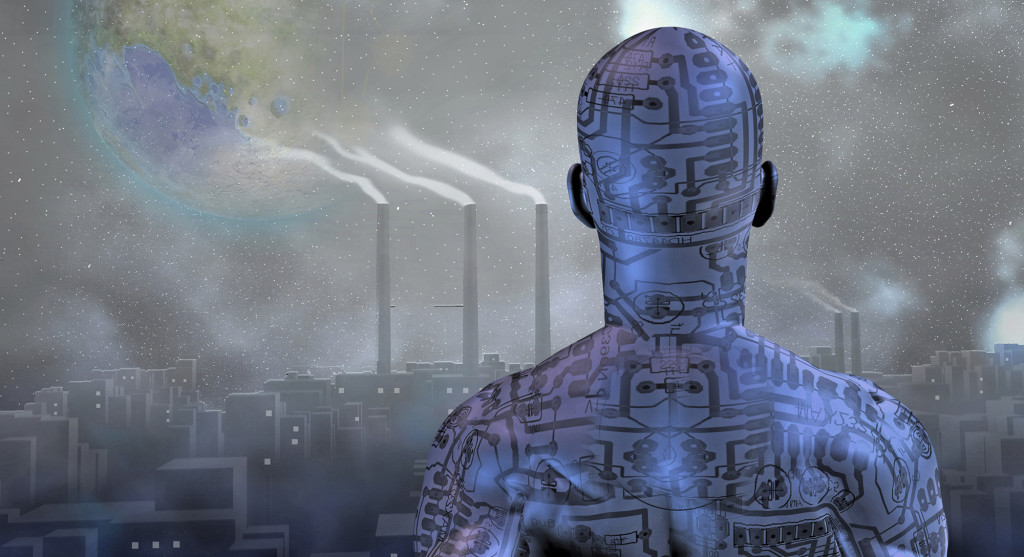 We Are All Bored – My Dinner With Andre
The film My Dinner With Andre consists of one meal and one conversation between Andre Gregory and Wallace Shawn, which takes place at an upscale restaurant in New York. Gregory tells Shawn of his varied (and in some cases, quite bizarre) experiences since abruptly leaving the theatre five years prior. The two men then dive into a lengthy discussion in which Gregory skewers modern life as insincere and complacent, and Shawn defends it, asserting that humans should be entitled to certain creature comforts in their lives. By the end of the discussion (and the film), the two men essentially agree to disagree, and yet Shawn seems particularly moved by the exchange, connecting Gregory's ideas to his own childhood and life on the cab ride home.
Two theme questions tie the entire dialog together: (1) should we live spontaneously in the moment, disconnecting ourselves from the totalitarian social forces of culture and rational purposive action; and (2) what does it mean to be human in the modern world?
Structure/Format
In Act 1, Wally displays reluctance to meet with Andre, thus creating the tension that is carried throughout the film. For about a half hour, Andre, with brilliant story-telling ability, describes his quests around the world in an attempt to find meaning. In Act 2, Andre defends his philosophy of life (point 1 above), while Wally uncomfortably listens and politely even concedes some points. In Act 3, Wally reveals his true opinion of Andre's views and, defending common sense, hammers away at Andre's notions of purposeless action, outposts of enlightenment, and the supernatural.
The discussion is intense and thought-provoking, as the two men invite the audience to participate with them, pondering what it means to be human in our ever-changing modern society. Andre, the spiritualist and skeptic, asserts that the life lived by most New Yorkers in modern times is like living a dream: people only experience what they want to experience and perceive what they want to perceive.
Andre suggests that people must simplify their lives in order to fully experience reality; that the path to enlightenment is to eschew unnecessary material comforts in exchange for "real" – if not necessarily pleasant or comfortable – experiences, feelings, and emotions. Shawn doesn't exactly disagree with Andre, but he argues that not everybody is capable of climbing Mount Everest in order to experience "real life," nor should they have to. He contends that people can live perfectly simple and content lives even with their electric blankets and morning coffee and New York Times.
In truth, both men make excellent points, and that's part of the point of "My Dinner With Andre:" in modern society, one must find a way to strike a balance between the material comforts that make us happy and the simple and "real" experiences that keep us grounded. Shawn and Gregory both represent an extreme at each end of the spectrum, and the conversation aims to strike a harmony between them by proving that neither man can completely disprove the other's argument.
Andre listens graciously to the attack. Both leave the dinner unconvinced of the others' views, but rewarded by the debate. Like philosophy itself, this movie is for selective audiences, which the filmmakers themselves clearly understood.
"My Dinner with Andre" has influenced two other philosophical movies. In "The Quarrel" (1991), a conservative and a liberal Jew discuss the moral implications of the Nazi Holocaust. In "Mind Walk" (1991), a poet, politician and physicist discuss the relation between quantum physics and environmentalism.

Philosophy – Perception in the Life World
The existential-phenomenological tradition in philosophy is asserting a major influence here, particularly the German romantic and hermeneutic traditions – they explore among other ideas the notion that we are thrown into being, thrown into interpretation, and that meaning is both constructed and revealed through responding to that thrownness with "givenness," attentiveness and care.
Heidegger, for one, aimed to turn away from "ontic" questions about beings to ontological questions about Being, in order to recover the most fundamental philosophical question: the question of Being, of what it means for something to be. Heidegger, Kant, Hegel, Husserl thus were all philosophers that were motivated by a derire to explain the world and our place as humans in it.
Heidegger approached the question through an inquiry into the being that has an understanding of Being. Human being is understood in terms of his concept Dasein ("being-there"). Dasein, Heidegger argued, is defined by "Care" in a practically engaged and concernful mode of Being-in-the-world. This conceptual framework stands in contradistinction to Rationalist thinkers like René Descartes, whose notion of cogito ergo sum, located the essence of man in his rational thinking abilities. Descartes says rationalism and empiricism, which are at the heart of the modern scientific method, can save us as a species.
For Heidegger thinking is thinking about things originally discovered in our everyday practical engagements. The consequence of this is that our capacity to think cannot be the most central quality of our being because thinking is a reflecting upon this more original way of discovering the world. In the second division, Heidegger argues that human being is even more fundamentally structured by its Temporality, or its concern with, and relationship to time, existing as a structurally open "possibility-for-being." He emphasized the importance of Authenticity in human existence, involving a truthful relationship to our thrownness into a world which we are "always already" concerned with, and to our Being-towards-death, the Finitude of the time and being we are given, and the closing down of our various possibilities for being through time.[10]
Later, we add Nietzsche, Horkheimer, Adorno, and Marcuse to the list, all of whom are chanelling these concepts and arguments to some extent in their work.
Discussion Questions
How can you connect Marcuse and Dialectic of Enlightenment to the movie clip?
Wally states near the end of the film that in the normal world of jobs, bills, and other responsibilities, there's no need to seek the awareness-outposts that Andre describes (Mt. Everest). Happiness, he says, can be achieved within our routine. Is Wally correct, or is he just a content robot?
More pointedly, do you ever feel that are yourself becoming a content robot?
Do you ever think of escaping New York?
Do you think you might be "trapped" in a prison of your own making?