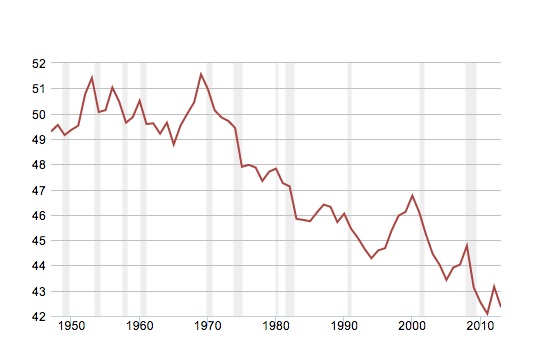 Wage and salary information indicated as a share of GDP. Statistics provided by the Federal Reserve Bank of St. Louis
Wages Are Declining
The chart pictured above offers a graphic representation of the trajectory of working people's wages as a share of GDP since 1950. The downward decline indicates that over the course of the last 30 years since 1970 in particular, economic growth has stalled because people's earning power and living standards have been eroded. To make matters worse, economic indicators since the Wall Street generated Financial Crisis of 2008 reveal that while the US economy has grown, worker wages have fallen sharply. Those individuals in low to middle income jobs are the ones who are seeing their wages suppressed, while the wages of top earners are reaching all-time highs. The number of workers making $5 million or more grew almost 27 percent since 2009, to 8,982 workers, up from 7,082 workers in 2011. Total wages earned by these highly paid workers grew 40 percent — 13 times the overall increase in compensation for workers.
For over thirty-five years American workers' wages have been stuck. This comes while we've seen tremendous growth in our country's productivity and soaring corporate profits.
What happened? Why is the middle class dissolving and childhood poverty rising while the economy continues to create more millionaires and billionaires?
The answer is simple. Our elected officials in Washington and across the country have adopted policies, written by the very wealthy, which are meant to ensure that the lions' share of income growth continues to go to the top 1 percent while the rest of the country is left behind.
Wealth and Perception of Social Inequality
The video below which represents work conducted by a research group at Harvard is troubling for a number of reasons. Not only does it graphically illustrate income distribution and income inequality in the United States, it touch on another important issue – people's perceptions of inequality. Why is this troubling? Because you can't fix something if people don't recognize the nature and depth of the problem.
To be sure, people have a "sense" that something is askew. An NBC News/Wall Street Journal poll of American adults found that in spite of the fact that the economy is registering record economic gains, 57 percent still think the economy is in recession. This is occuring at the same time that people don't think social inequiality is a problem. How do we accout for these contradictions? What other social factors combined with a tangible knowledge deficit might be driving these perceptions?
One reason is that there both a wealth and a wage gap.
Robert Reich shared some statistics on social media that were recently published by the French economist Thomas Piketty. Notice how the bar chart dramatically illustrates almost ALL of the economic gains acrued in the recent recovery are going to the top 10%. Almost nothing is acruing to the vast majority of wage earners, who are within their rights to question: economic recovery for who?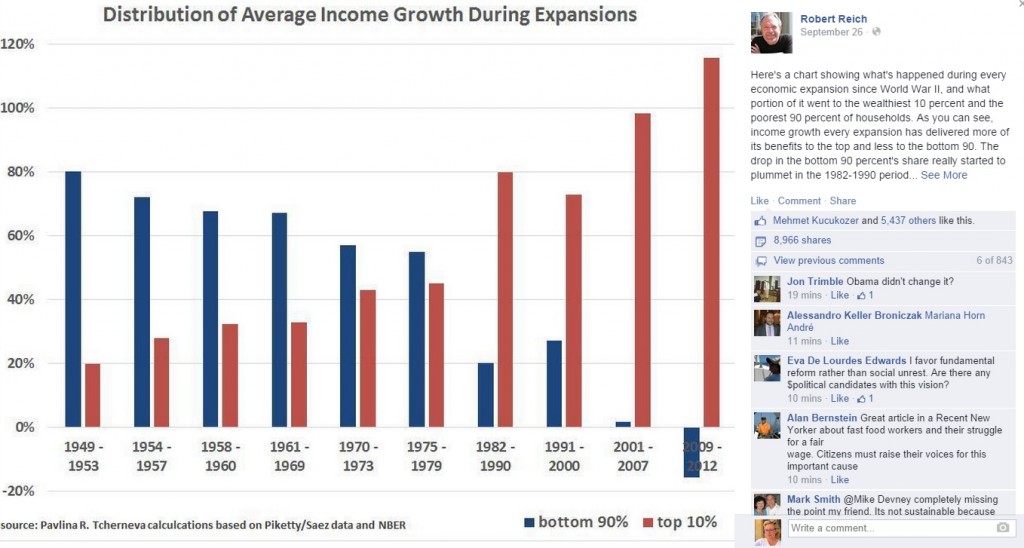 To put this in terms Marx would use, the economy is growing, however, the growth is disproportionately accruing to the owners of capital, who are not sharing any of the profits with their proletarian wage earners. When you combine the weak job growth with abundant (increasingly desperate) cheap labor, toxic ideologies about "makers and takers," "welfare cheats," and immigration opportunists, the ability to mobilize public action to reverse the policies creating the pattern is virtually impossible.
So Where Are the Jobs?
Americans have for more than 30 years been deceived by the mythical narrative of "trickle down" economics, which assured them that all they had to do was support cutting taxes for the rich, who would in turn take all that money and pass it along to everyone else in the form job creation. The problem, as many economists and researchers note,  is that despite all indicators that corporations are reaping record profits, the promised jobs never materialized. Almost none of the profits realized from increased worker productivity from the last 30 years have accrued to workers. All of it went to the owners of capital. Put differently, corporations have realized the profits of their dreams, which they accomplished on the backs of their workers,  who made all of the labor concessions, contributed all of the productivity, and assumed more of the public tax burden in order that their employers could achieve these market gains.
Young people are especially hurt by these regressive economic policies. Often scolded and told to "stop whining" and "get a better job," young people are facing increasing obstacles to realizing their goals and dreams. Much unlike college students who lived in the 1070's and 80's, today's college students are often forced to work full-time while going to school; others who are not favorably positioned to attend college are forced to work a never ending series of unstable low-paid minimum wage jobs that not only don't confer a living wage, they make it impossible for anyone to "work their way out of it" by getting the education that would permit them to escape that situation.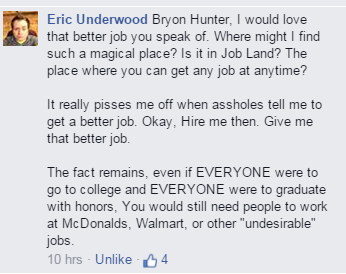 Discussion Questions:
Based on current demographics, among what social groups do we find wealth concentrated in the United States?
Do you think things like poverty and joblessness are chosen or deserved, due to deliberate choices made by individuals not to work hard, or are there perhaps other social factors that influence these outcomes?
After watching the video, do you think "bootstrapping" individualism alone can keep people out of poverty, or do you think there is a potential role for government to play (through social policy) to control the power of money and capital to make markets serve only the interests of the wealthy?
Do you think social policies should address the problem of social inequality or should everything should be left to "the free market."
Do you think social policies should only be concerned with equal "opportunity" and not be concerned about unequal outcomes?
Which of your "beliefs" are challenged by what the video portrays?
Why do you think it is more often than not working class people who register the loudest complaint about redistributive politics and programs labeled "socialism" perceived to benefit poor people? Why is there not a similar outrage expressed about the redistribution of middle class wealth to support people who are wealthy (i.e. banks, wall street, etc.)?
Given that most of the wealth is concentrated among the top 1% of wage earners and given that most government and social programs are paid for by wage taxes extracted from the middle class (because neither the very poor or the very rich pay a high percentage of their income in taxes), why are so many convinced that the way to solve fiscal problems is by making poor pay more?
Why do you think that programs that benefit poor people (Food stamps/SNAP benefits) are referred to as "welfare," but programs that benefit the middle class (home mortgage interest deduction, unemployment compensation), wealthy (capital gains taxes), and corporations (subsidies) are not similarly thought of as corporate "welfare?"